wow.. this weekend has been go, go, go for me. we have been here, there, and basically everywhere.. out and about all weekend long. i am finally finding a chance to sit down to tell you all about it! grab a snack.. this could get lengthy.
friday after work i headed straight to the gym and did a short lower body workout before quickly getting ready to go out with friends.  our friends james & janelle moved to vegas this weekend (sad) so we all got together at the pie for a farewell dinner.
the pie is dark and noisy and crowded.. so i didn't bother with my camera, but i did snap an iPhone shot of mine & marshall's pizza, the greek: tzatziki, chicken, mozzarella, feta, fresh tomatoes and onions, and a lemon wedge.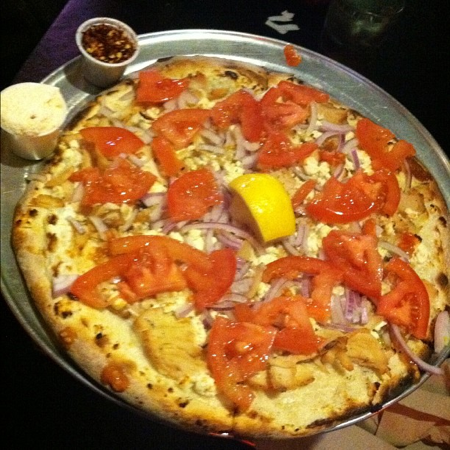 i had a couple slices and then also stole some cheese bread from a friend. naturally, i dipped it in the pie's homemade ranch. there is no other way to eat cheese bread.
marshall and i had a sweet tooth after dinner. we ducked out early so we could hit up luna berry before they closed. i had a frozen yogurt with blueberries and strawberries. marshall had a mango pineapple smoothie with boba. perfect ending to a fun night.
i managed to sleep in until 11 on saturday, because that's what i am good at. think i could find a job as a professional sleeper-inner? i'd be rich!
i cleaned my house and did some laundry while drinking juice and eating yogurt, cereal, and granola. typical. around 1 o'clock i finally made it to the gym for a shoulders & abs workout. i didn't have a minute to spare afterward.. i quickly got ready so marshall and i could head out to fashion place mall.
i had been wanting to get some loose leaf tea from teavana, a tea shop at the mall. i honestly didn't think it would be THAT pricey.. but boy, was i wrong. i found a nice tasting loose leaf tea that was recommended for digestion: monkey picked oolong. the person helping me tried to sell me a pound of it. um, guess how much a pound of it was?
just $250.  no big deal.
i ended up buying two and a half ounces.. which was more than enough for little old me. we also bought a peach momotaro that marshall liked. it's pretty rad because the tea comes in balls and the balls bloom into flowers when you brew the tea. i will be sure to show you sometime.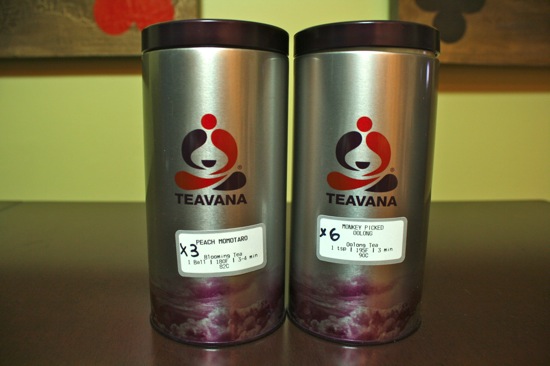 they tried to sell us tea pots and mugs and other random tea paraphernalia, but the canisters alone cost $12.. i wasn't about to buy a $100 tea pot. we managed to get out of there spending around $60, but i was pretty floored at how much tea costs. that isn't typical, is it? am i just that naive when it comes to tea? or is teavana just ridiculously priced? either way, the tea is great, so i guess that's what matters.
we also stopped by crate & barrel because i wanted a new turquoise spoon. mine broke a few months back and it was my favorite color. priorities, people.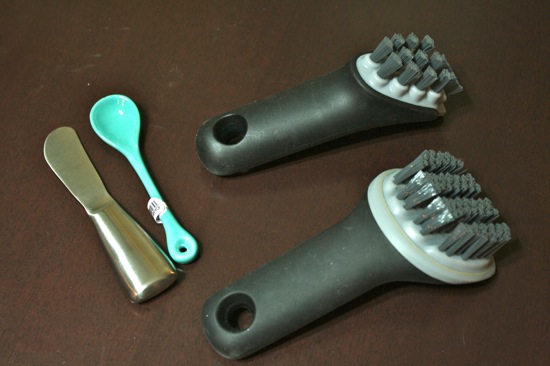 we also got a cute lil' butter knife and a few cleaning brushes: one for our panini press and one for our cast iron skillets.
we also had a few greeting card recipients on our list, so YAY, we spent a chunk of time in hallmark. I LOVE LOOKING AT GREETING CARDS!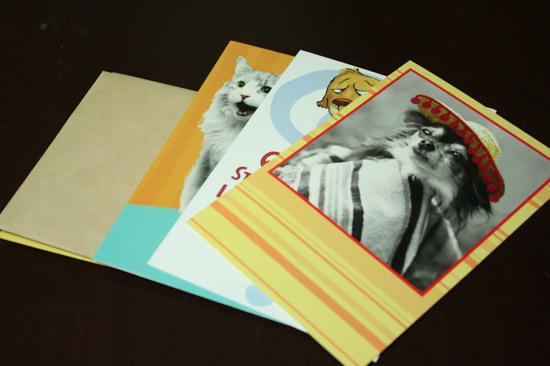 after all that shopping, we'd worked up quite an appetite. it was about 6 PM, so we opted for an early dinner. yes, 6 PM is an early dinner time for me and marshall. we usually eat dinner between 8 and 9.
we headed to mazza, a delicious mediterranean spot on 15th and 15th in salt lake city. i have been there twice before, and always have the hummus with warm pita bread to start. this time was no different.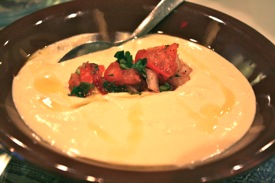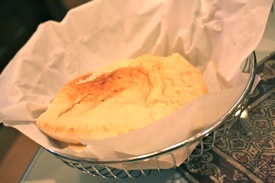 i wanted to try something new, so i went with the chicken & cauliflower kabseh: seasoned morsels of chicken braised in a rich broth of tomatoes, onions and fragrant spices served with rice and cauliflower that has been cooked using the broth. garnished with fried raisins and pine nuts and served with garlic yogurt cucumber sauce.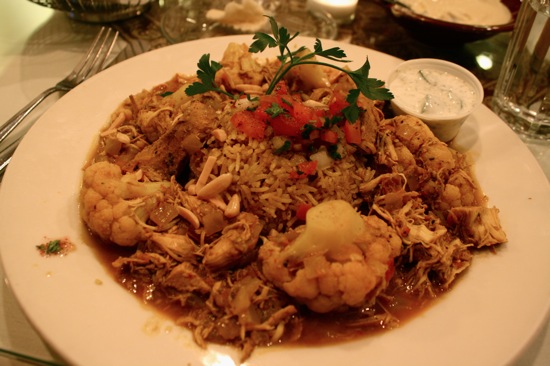 the portion was HUGE. i made a little dent in this pile of delicious before giving up.. but what i was able to eat was very flavorful. i probably won't order this again just because it was $17 and the portion was way bigger than anything i would ever be able to eat.. plus, i am not big on taking home leftovers. not sure why, i love leftovers at home, but not so much from restaurants. plus, the majority of what was left over was sauce and rice.
marshall's dish was even tastier than mine. he ordered the chicken & potatoes mutabbak, a mazza signature dish. it was made up of seasoned layers of chicken breasts, potatoes, and sweet golden onion slices and then baked in a tangy tamarind sauce. it came with a mighty pile of basmati rice, just like mine did.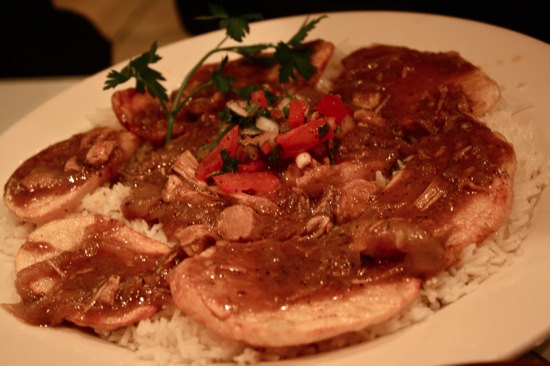 looking back, these dishes aren't visually appealing, but it's the taste that matters. marshall said that the sauce and chicken were great, but it was the crispy potatoes that really took this dish over the top. he loved it!
we headed home after our early dinner and spent the rest of the evening hanging with the pups, watching the dunk contest, and being boring, old, married people. i did end my night with a large bowl of vanilla bean ice cream, at least.
next up: sunday and another jam-packed agenda.
i woke up this morning at 8 AM (unheard of for me on a sunday) and hit the gym for a 40 minute elliptical session. i headed straight home, quickly showered, and we were back out the door again in no time. marshall and i headed to fiddler's elbow to meet some friends for brunch and soccer on the big screen. ermm.. i mean football. but you know, soccer.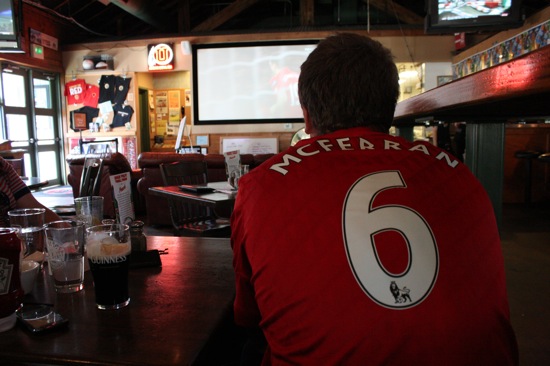 we'd been to fiddler's elbow numerous times for dinner, but never for brunch. they had a buffet in the back so we hopped on that train.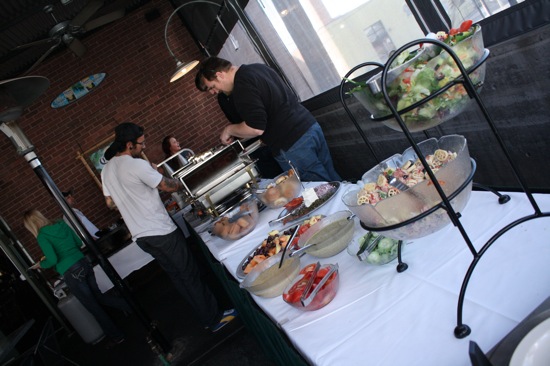 there were lots of options, including fruit, salads, muffins, bagels, salmon with cream cheese & capers, eggs benedict, french toast, various breakfast meats, potatoes, waffles, and omelets made to order.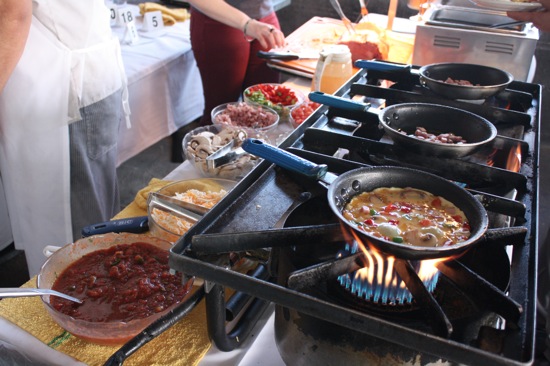 i ordered a veggie omelet and grabbed a few other things from the buffet: french toast, fruit, bacon, and potatoes.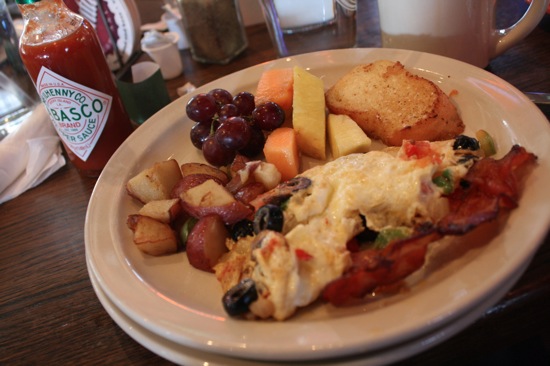 a buffet isn't a buffet unless you go back for more, right? had to get my $14 worth. i went back and grabbed an eggs benedict and more fruit.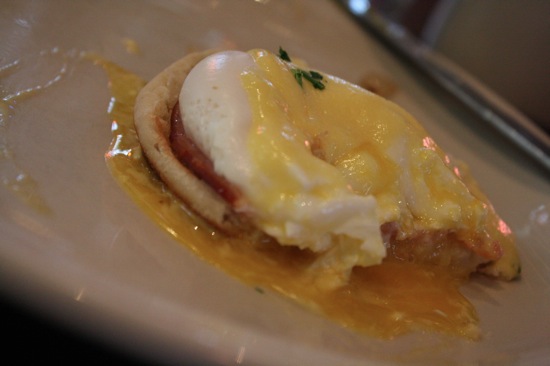 i love runny eggs.
i also love kristen and jessica.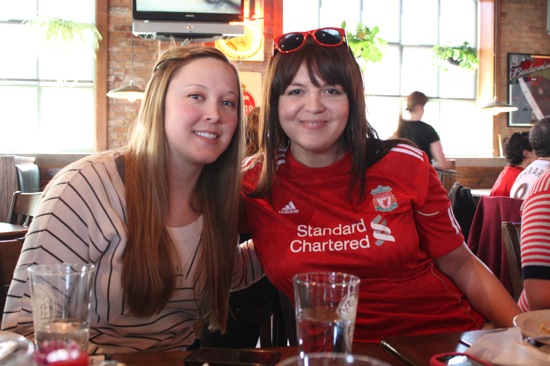 the game (match?) was super intense.. it went into overtime and then sudden death–um, i know those terms are totally wrong, but you know what i mean. in the end, liverpool (our team!) won. simon (who is from liverpool) was extremely excited! so was another guy at the restaurant who also happened to be from liverpool, small world.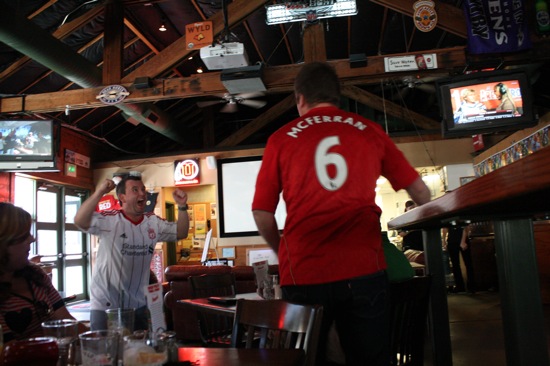 i love the excitement on that dude's face! he was pumped!
after the big game, marshall and i headed to not one but two malls. because the one on saturday just was NOT enough fun. we snagged a birthday gift for my sister, marisa, (HAPPY BIRTHDAY, REE! it's today) and a few other odds & ends that we were after. i really want a pair of all black toms, but after checking more than 7 stores, i still can't find any in my miniature size. aye aye aye, guess i will have to order online.
we made it home around 2 PM and then it was straight back out the door for me AGAIN. i headed out to do my weekly grocery shopping. i always head to harmon's in farmington on sunday because A) i LOVE that grocery store and they have the best meats & produce and B) they are conveniently located right next to a marshall's, ross, and home goods. fabulous.
i spent FOUR HOURS at the stores. four hours! i know, i am ridiculous. i absolutely LOVE walking up and down every aisle of the grocery store and every aisle of stores like marshall's, ross, and home goods. i had nothing better to do, i'd already done my workout for the day, so i took my sweet time browsing the aisles of all the stores. it's kind of therapeutic for me, actually! AND i scored four jars of vanilla bean paste at ross. i've been on the prowl for months!!
in between stores, i broke out a new-to-me protein bar.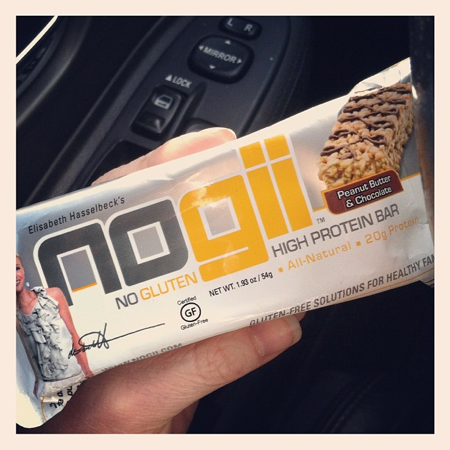 oh my gosh. IT WAS SO GOOD!!!!!! i cannot stress that enough. i ordered it online–only one–because it had good stats. 230 calories, 20g carbs, 20g protein, 8g fat. i thought it was worth a shot. um, sure wish i had ordered more. i loved it!
i also nabbed a kombucha to drink while walking around the grocery store.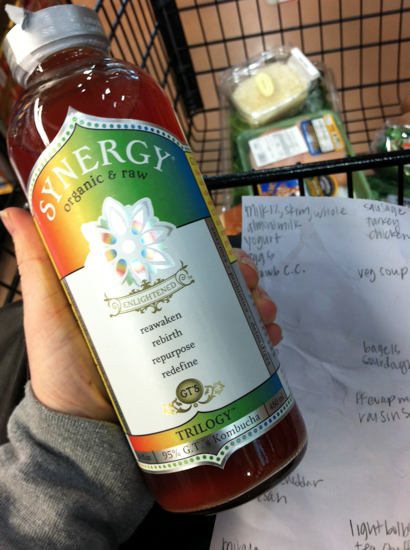 second favorite flavor, next to citrus. side note: raisins on my grocery list.. i never thought i'd see the day! i hated raisins my whole life, up until 2010. now i can tolerate them.. i wouldn't say i love them, but i definitely will eat them. i bought them today to make some rice pudding. i was going to do that tonight.. but i had a kitchen flop that pissed me off and now i am not in the mood to cook anymore.
sigh.
so, about that flop.  i got home from the grocery store, put things away, and started making dinner at 7 PM. the meal i had in mind was pretty labor intensive.. but that's okay, i like to cook. i was planning to make a chicken pasta with a few kinds of cheese, caramelized onions, and arugula. something went terribly wrong in the sauce-making process, and the texture was way off. an hour later, i ended up with a whole pot of gross.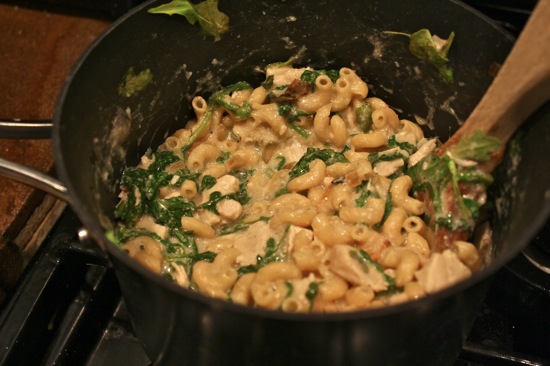 recipe creating isn't always a walk in the park, my friends. we all have our flops, and tonight it was my turn. oh well, ya win some, ya lose some.
i told marshall that dinner was disgusting and he would have to figure something else out. he managed.. he made himself a peanut butter chocolate protein shake, a bowl of cereal and granola with whole milk, and a half a bag of trail mix. bless his wanting-to-gain-weight heart.
i also blended up some juice for us to share. it had spinach, kale, a granny smith apple, celery, carrots, and a splash of pomegranate juice. it was good to the last drop. i LOVE making juice in our vitamix.. that thing pulverizes the fruit and veggies in seconds. plus, it's such an easy clean up. i know it's not considered "real" juice since i use a blender and not a juicer, but it's just as tasty and healthy as the juice that comes from a juicer. i'll take it.
whelp, now it is 9:30 PM and i still haven't had anything for dinner. i picked a bunch of the chicken out of my failure recipe shown above and had a piece of sourdough toast with jam, but i need a little something else. probably in the form of cereal. hey, i should botch recipes more often if it means i get to have cereal for dinner!
well, if you made it this far, congratulations. you now know way more than you needed to know about my weekend and you learned absolutely nothing new. sorry about that.
until next time!
Q~ were you out & about this weekend? where did you go.. what did you do?
xo. janetha g.