hello! loved all your short stories from yesterday. there were some good ones.. especially the ones about basset hounds. call me partial, that's ok.
last night we had our first of many traveling family dinners. this one was at my brother's house and the theme was mexican. the way our family dinners work is the host family makes the main course and everyone else brings some sort of contribution to the meal. yesterday's main dish was pulled pork taco salads!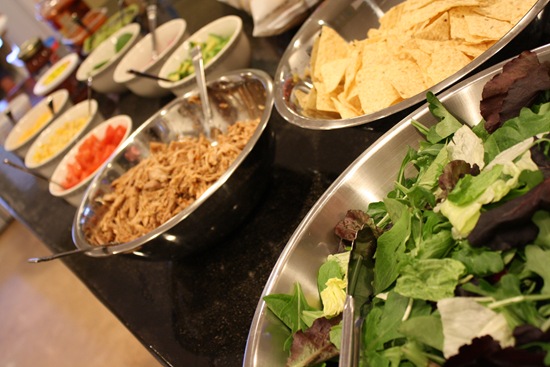 lettuce, chips, pulled pork, and lots of toppings.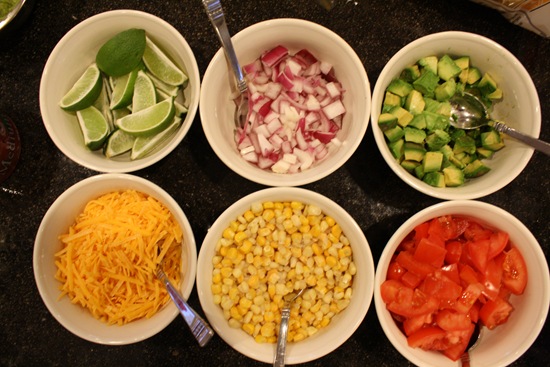 momma b had asked me to bring some "healthy chips" and i found two kinds at whole foods…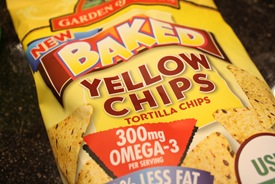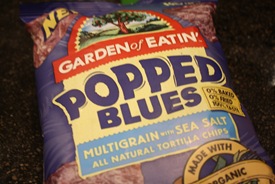 baked chips and popped chips. of course there was a healthy chip showdown.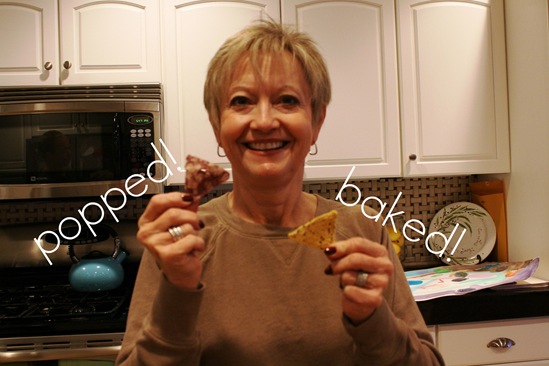 the results were mixed.. half of those who tried the chips preferred the baked, the other half preferred the popped. i personally liked the baked, so that's what i went with for my taco salad.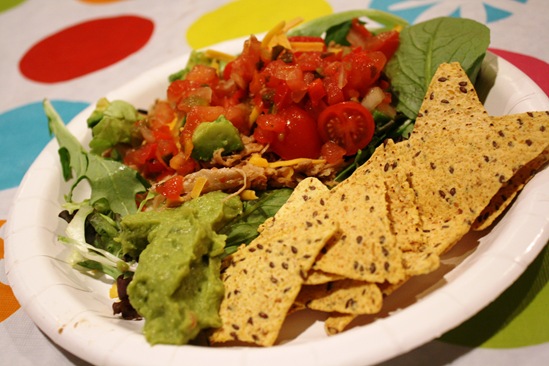 there were a couple festive beverages at the fiesta.
margaritas & pina coladas made to order in the blender. virgin, of course, except for the one year olds. their tropical drinks contained rum.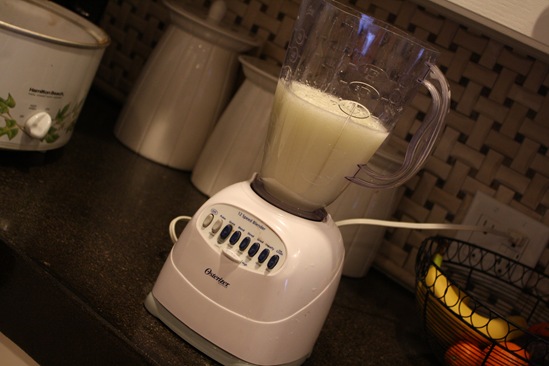 and then there was the horchata that i made from scratch, based off this recipe.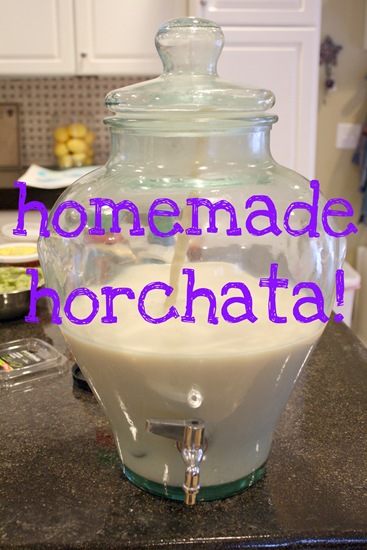 to make enough horchata, i did two batches. for each batch, i combined 1 1/2 cups long grain white rice (uncooked) with 3 cinnamon sticks (about 3" long each) and 7 cups of water in the blender.  i blended this mixture for about 3 minutes on high, then put it in the fridge overnight. i repeated with another batch.
the next morning, i strained the mixture using cheesecloth and a sieve (extra, extra strained! this was marshall's idea.) i strained BOTH batches into the large pitcher together. once it was strained, i added 3 T mexican vanilla, 1 cup half & half, 1 cup skim milk (it's all we had, i would have used whole or 2% here if i had it), and ~1 cup evaporated cane juice (you could use white sugar here, too.) i gave it a good stir and then set it in the snow to chill until we headed to dinner. horchata is meant to be consumed cold, so i served it over ice cubes.
i tested it out on the one year olds.. even though it contained no rum. that was a letdown, i am sure.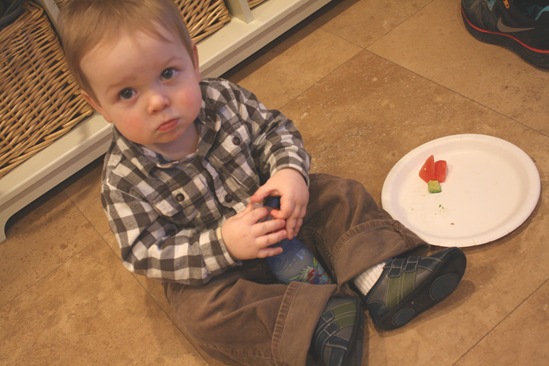 they gave it a try, despite the lack of booze.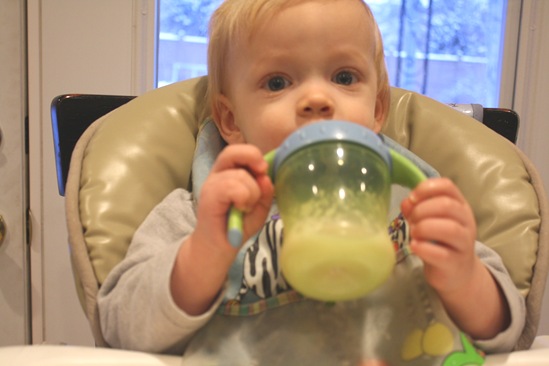 um, i think it was a hit. wouldn't you agree??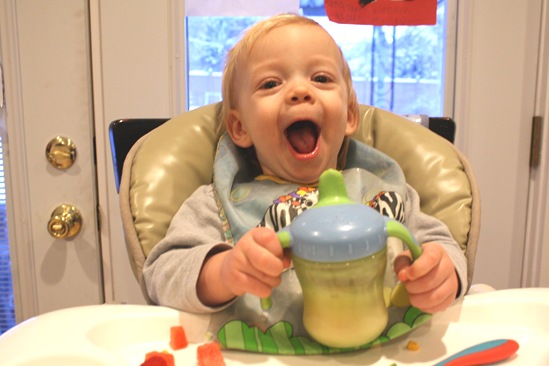 goofball.
no fiesta is complete without dessert. i was in charge of that and made alton brown's tres leches cake.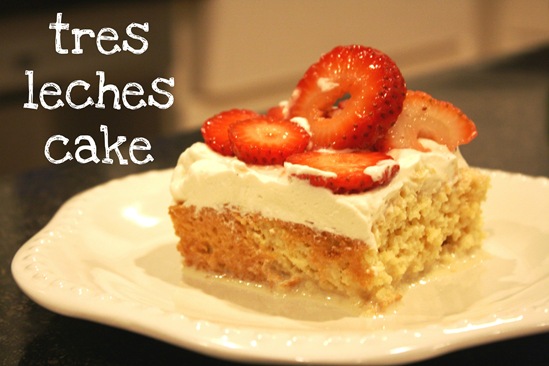 i followed the cake recipe exactly. alton brown's recipes are always a hit in my kitchen, so i figured i better not mess with a good thing! i did omit a bit of the sugar in the whipped topping and i added strawberries for a little extra pizzazz!
tres leches cake is basically sponge cake that is soaked in three types of milk overnight, then topped with whipped cream.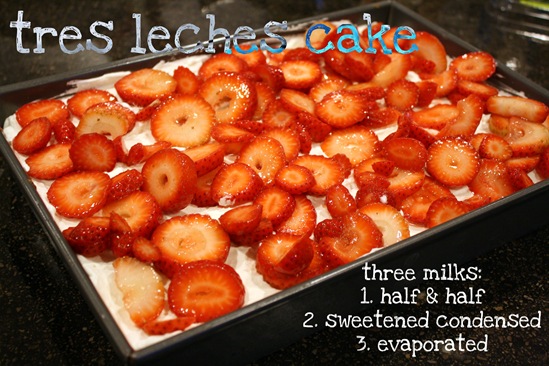 it's as ridiculously tasty as it sounds. the milks started seeping out right when i cut into the cake.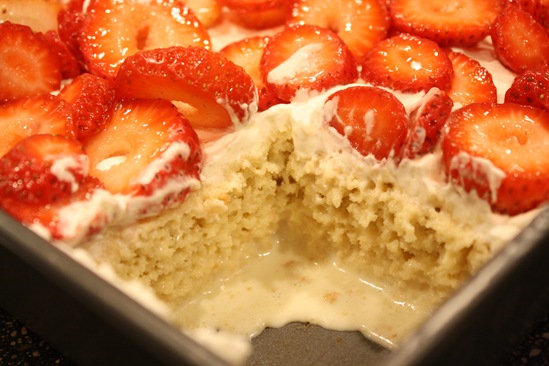 you can see how dense the cake is and it's completely drenched in the triple dose of milks. this creates the perfect texture.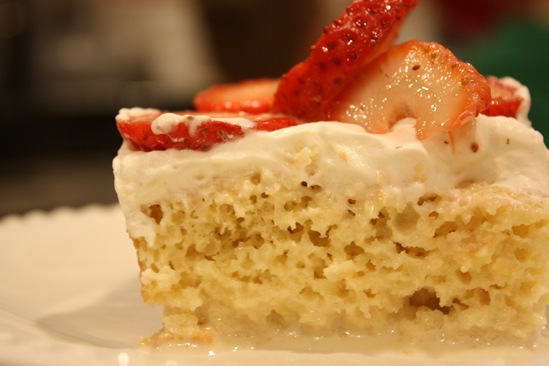 my niece, izzy, wasn't sure she would like the cake.. so she started with a sample.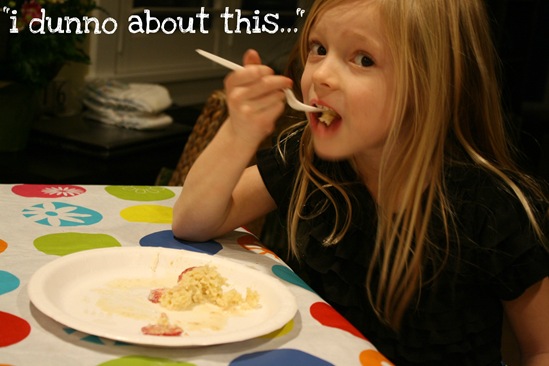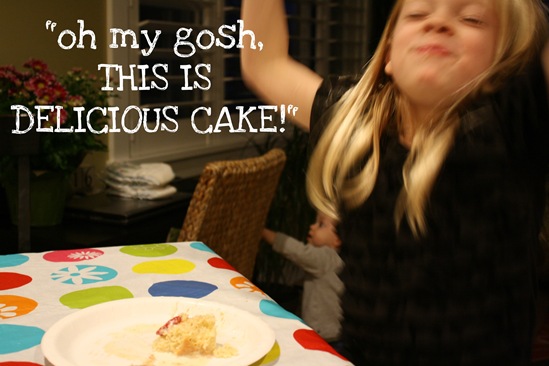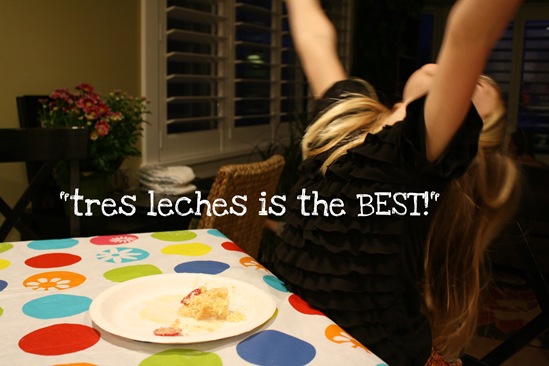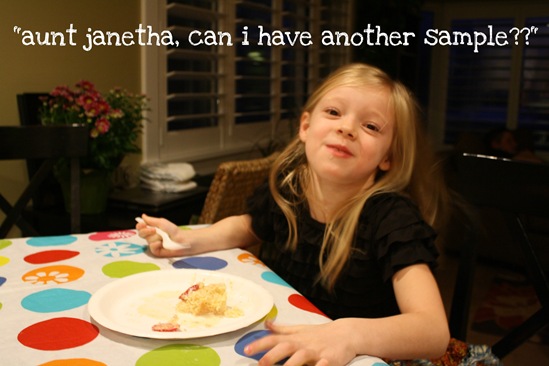 yeah.
it was good.
thanks to doug and linds for having us all over for dinner! next month it is at our place.. can't wait to have everyone over! i am trying to get some ideas for what to serve.. which brings me to my question!
what main dish would you serve for a family dinner?
oh, and in other news.. i have come down with some sort of sore throat/cough/cold thing. i haven't worked out since last thursday and i feel like butt. speaking of butt, yeah i had my colon hydrotherapy session on saturday. it went well. i am not quite ready to write about it yet. those sort of posts take a lot out of me.. and it's a lot easier to write about cake. so that's what you get for today :)
xo. janetha g.