hey guys.. it's hard to believe, but blend retreat will be here in just over two short months.

*squeal*
i cannot wait to see so many of you and hang out in person! it's gonna be a blast.
we (me and my co-hosts: lindsay and katie) wanted to find a way to have a giveaway for the retreat. since several people have already purchased their tickets, we want to be able to include them in the giveaway.. so here is what we have come up with!
on friday, february 24, we will draw FIVE names from the blend attendees. those five people will get to come to blend for free! meaning, we will reimburse their $75 ticket!
to enter into the giveaway, all you have to do is register for blend here before friday, the 24th! that's it! if you were on the fence about the conference or you were waiting to register, now is a good time to do so.
and, if you have already registered, you do nothing. you're already entered in the giveaway.
for those of you who aren't sure what blend is all about, you can check out my detailed post here.
a few fun facts about blend retreat:
tickets are only $75, compared to the typical blogging conference price tag of $250+.. this is a flipping steal!
you do NOT have to have a blog to come! this is for bloggers and readers.
chobani is our official sponsor, so there is going to be yogurt coming out of your ears all weekend.
the price of admission gets you:

three meals, including a breakfast by xagave, a breakfast by chobani, and a fancy dinner complete with drinks and hors d'oeuvres
three fitness classes, including yoga and boot camp
free hiking with pre- and post-hike snacks provided by the simply bar
blend retreat t-shirt
amazing swag bag chock full of goodies from over 20 sponsors
entry into a huge closing ceremony raffle with big ticket items from our sponsors

on-site lodging is available in COZY CABINS complete with kitchens! it's like summer camp! you can opt to stay at a hotel off-site, but i don't see why you would not want to bunk up with your blends. on-site lodging starts at $50 per night.. such a deal.
this is the ONLY blogging event i get to attend this year.. and i want to see you! so come! yes, it is a fun fact and i am selfish and want to see you.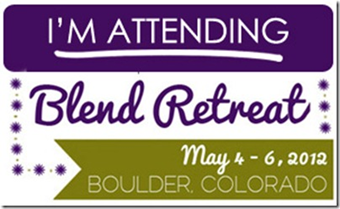 if you are hesitant about attending because you're worried you won't know anyone at blend retreat or don't have someone who you can bunk with.. PLEASE don't fret. if you are coming solo, we will be sure to match you up with roomies that you will love and chances are you'll have pillow flights late into the night.
oh, and i am gonna try to smuggle randy and penny in my suitcase.
so.. what are you waiting for? sign up before next friday to be entered to win one of the free tickets!
also.. if you have any questions or concerns about the retreat, leave a comment below or shoot me an email.
xo. janetha g.