so, the "town" of manzanillo wasn't big at all. i actually had never even heard of manzanillo until my boss booked the trip. in fact, i didn't even know where in mexico we would be going. let me show you, in case you are like me and don't know: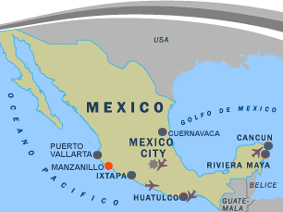 (source: barcelo.com)
the red dot. that's where we were.
so we stayed in the "hotel zone" of manzanillo, which was about 20 minutes from the heart of the town. there wasn't a lot to do when out and about—marshall and i weren't interested in excursions as we have done them before (zip lines, ATVs, etc) and none of them appealed to us—but we did want to sample some local cuisine… starting with some real, authentic mexican food.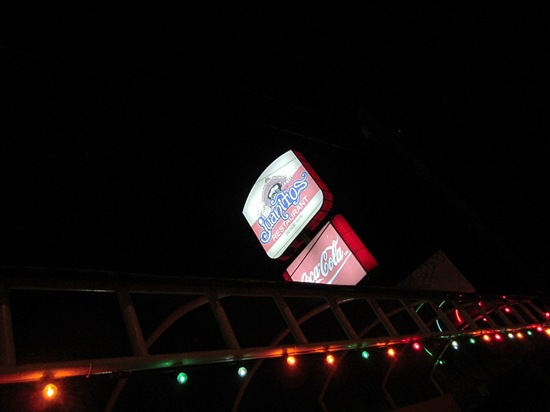 juanitos was raved about by everyone we spoke with. it was also close to our resort, so we decided to check it out. six of us headed there for dinner on tuesday night.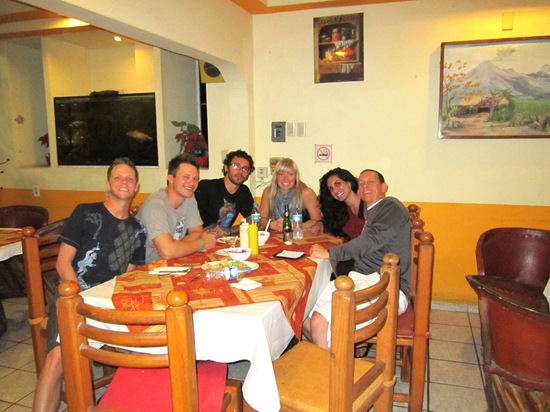 bear with me as i post these less-than-rad photos. turns out, point and shoot cameras aren't ideal for food blogging at night in a restaurant.
we looked over the menu and munched on spicy carrots & peppers. yikes, they were super spicy. i am also a super baby, though, so it's all relative.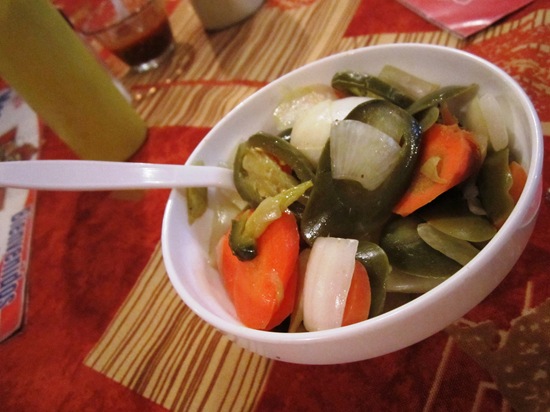 i decided on the verde enchiladas suizas—a favorite at the best mexican restaurant in SLC (the red iguana.) i wanted to see how the real deal compared to the dish back home.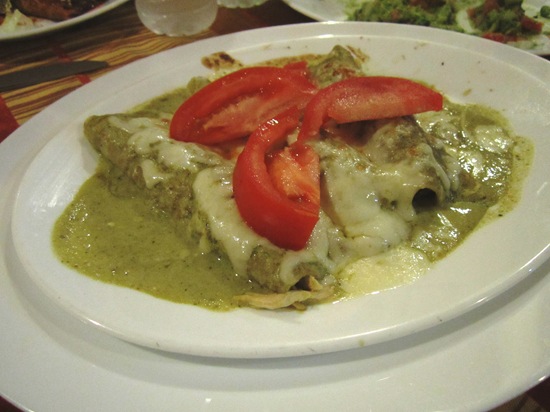 the verdict? bueno. muy bueno. these enchiladas were incredible (cheap, too!) and reminded me a lot of the dishes available at the red iguana. just looking at the enchiladas now has me craving some authentic mexican food. might have to make a stop at the red iguana later.
our second time on the town was for lunch on wednesday… immediately after we gave up on the search for marshall's lost ring.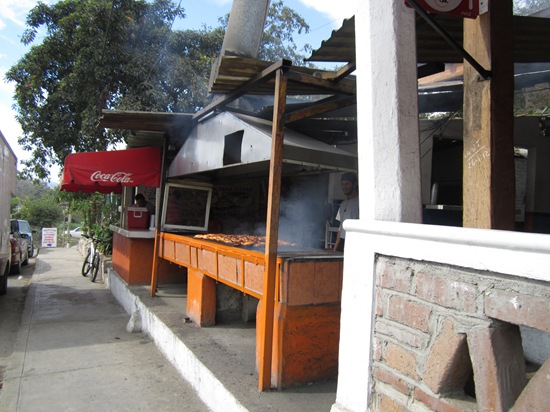 the driver that took us from the airport to our resort had highly recommended this restaurant. they had one thing on the menu: pollo.
it was an open-air restaurant with dirt floors and plastic tables & chairs.
the aroma of the grilling chicken made my mouth water.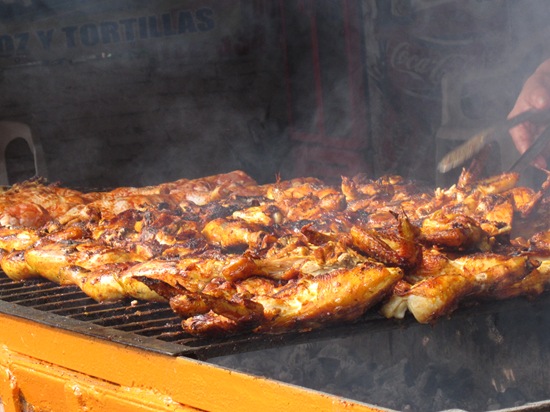 the menu: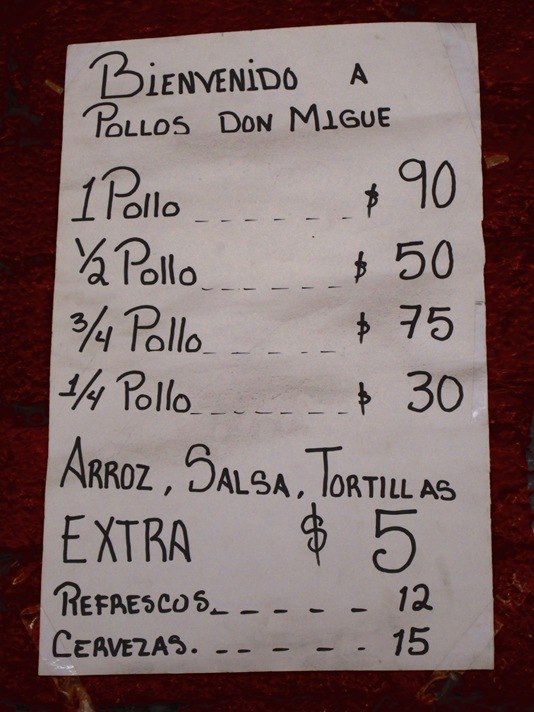 a whole chicken, a half chicken, 3/4 a chicken, or 1/4 a chicken! i loved how simple the menu was. marshall and i went big and ordered a whole chicken to share.
happily waiting for our pollo!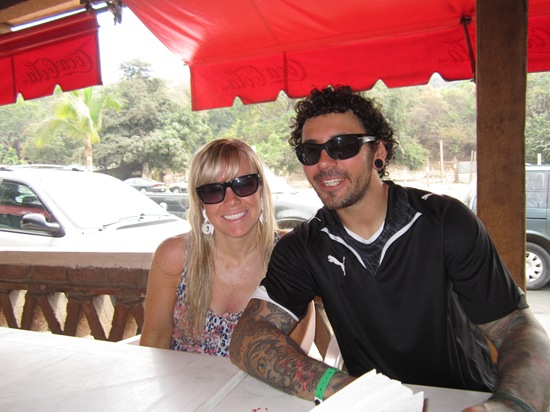 you could get rice, salsa, and tortillas for an extra 5 pesos, which we did.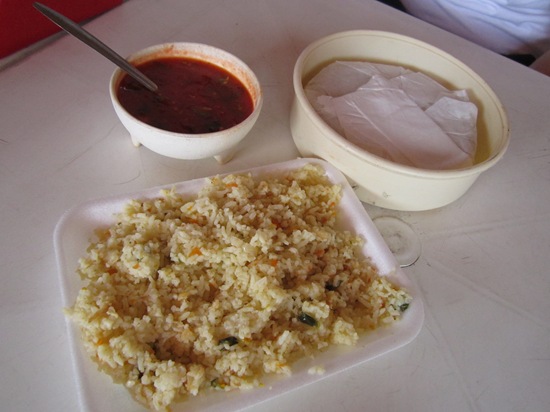 this was, by far, the best grilled chicken i have ever eaten. and the rice was melt-in-your-mouth good.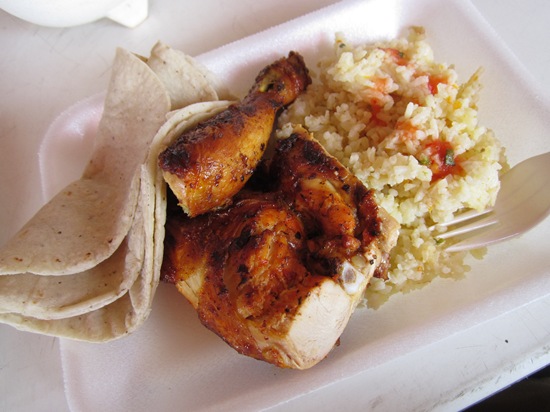 our table literally went from lots of conversation to ZERO words once the chicken hit the table. we were all devouring the chicken like barbarians, not even using forks. it was so good that nobody could stop.
we handled it.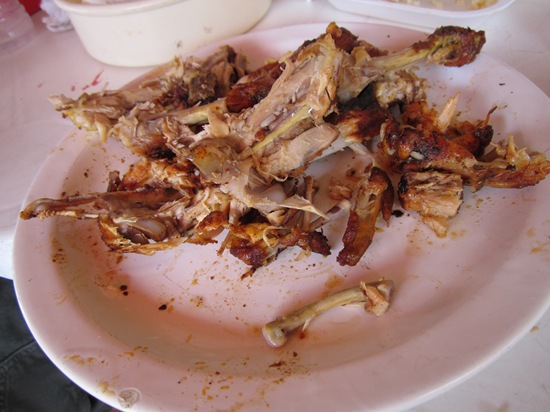 three whole chickens between six people. i cannot believe that marshall and i got a whole chicken, two drinks, and a bunch of rice, tortillas, and salsa for 117 pesos. that is NINE DOLLARS, folks. for both of us. nine bucks for one of the best meals ever.
we decided to walk back to the resort so we could take in the local scenery. plus, i needed to find ice cream.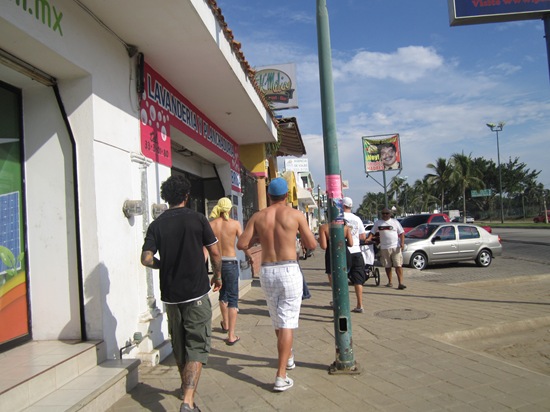 our first stop was at a fresh orange juice stand. marshall and sim ordered some OJ and we waited as it was freshly squeezed.
it was 50 cents for about 48 ounces of fresh juice. i couldn't believe it.
we continued our walk and i continued my search for ice cream.
we found the mormon church.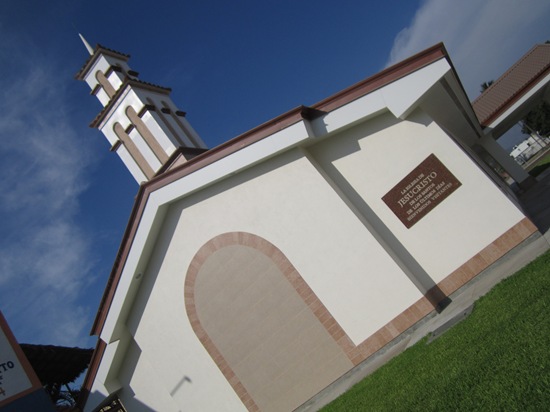 which was the only building in the area that was gated off with a big, barred fence.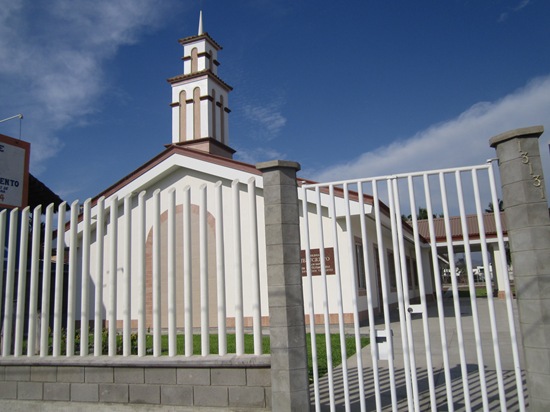 hmm.
we also found a pharmacy with some supplements…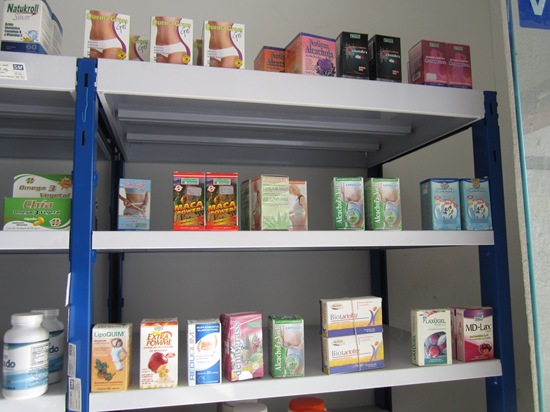 shark cartilage supplement, anyone?
i also saw a couple familiar items…
and yes, i finally found an ice cream cart!
i got vanilla and pina colada. another 50 cent snack! manzanillo sure is affordable.
we eventually made it back to the resort and took a quick nap before dinner.. walking in the sun is pretty exhausting.
the third and final time we ventured off the resort was on friday. i had been bugging marshall to see this giant sailfish statue all week, so he finally agreed to go. we took a taxi to manzanillo center and got dropped off RIGHT at the giant sailfish. you have to admit, it's pretty rad.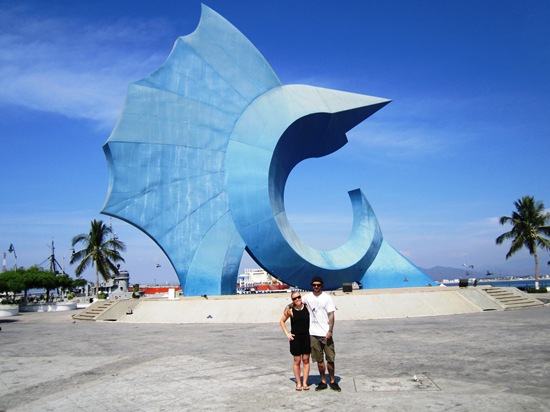 we wandered up and down a few of the streets, but soon realized there wasn't a ton to see. i remembered reading lea's post about manzanillo and did catch the street fruit and cool stairs she had posted about.
i did buy some mexican vanilla, i love that stuff! i also bought a couple handmade bracelets.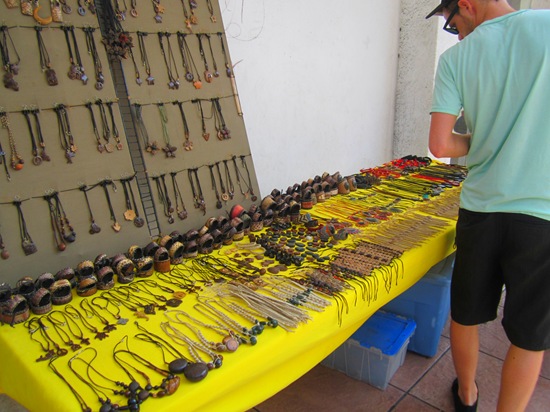 we had worked up an appetite, so we headed to a spot called bar social. this was recommended by one of the workers at our resort. the cool part about bar social is you simply had to order a drink, and free tapas were delivered to your table until you told them to stop.  i went with pacifico.
there were SO many different tapas to devour!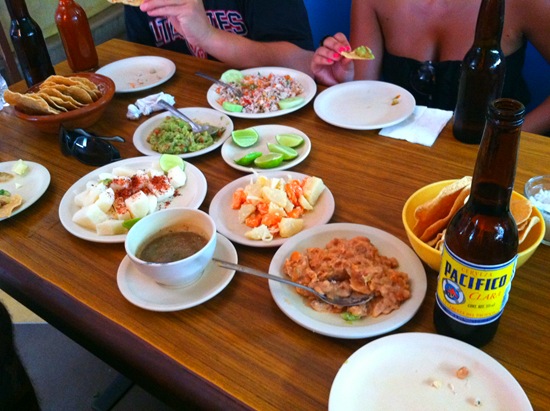 and devour we did.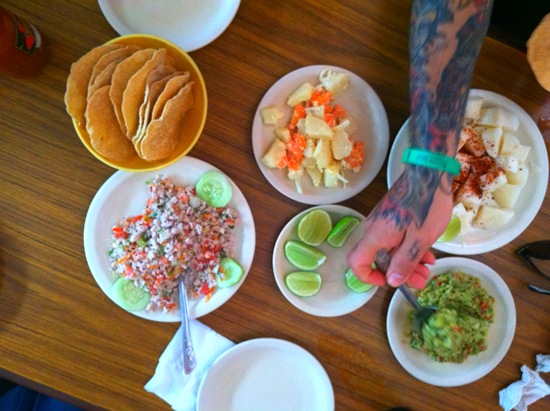 the bill for 5 beers and all the tapas came to 140 pesos—or $11 USD. can you believe it!? we were happy kids.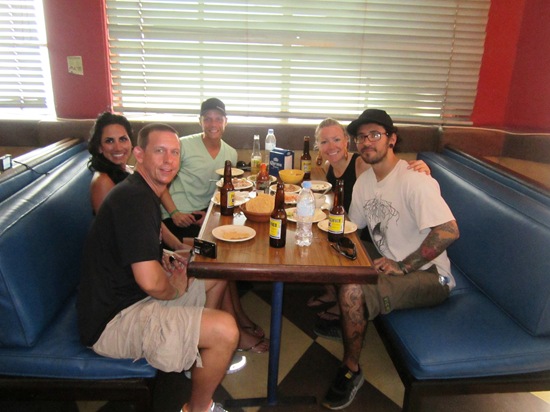 the one last item on the agenda was—what else—ice cream!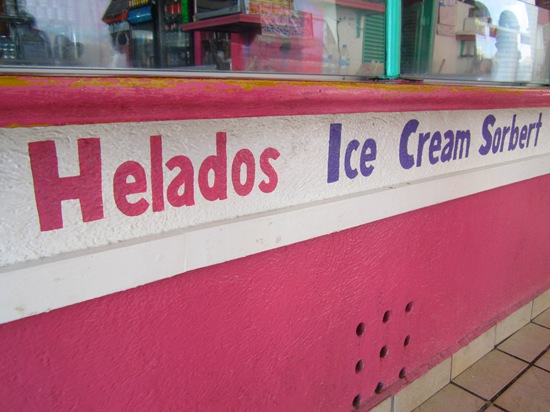 lea had posted about this awesome coconut blackberry ice cream she'd tried and i just HAD to have it.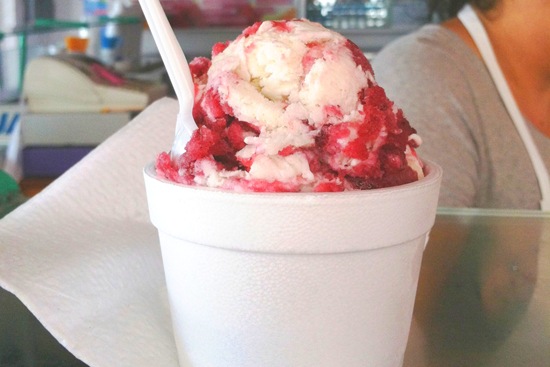 i polished this off quickly and couldn't resist going back for another cup.. this time my favorite: cookies & cream.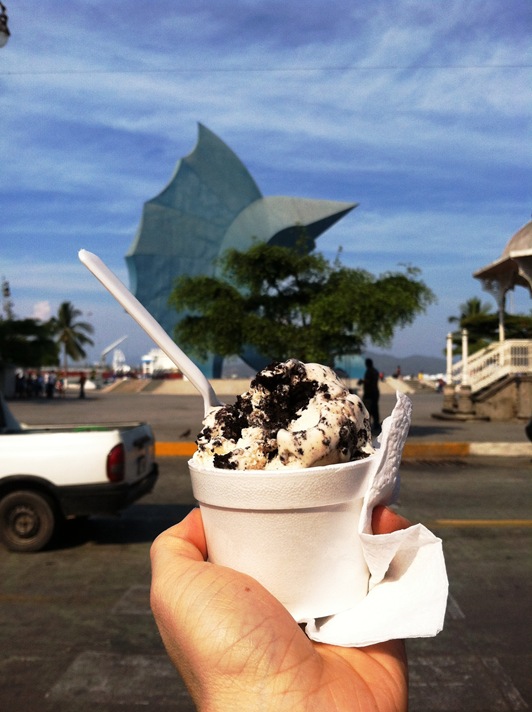 oh man. so good. it was the perfect ending to our jaunt around manzanillo center.
then it was back to the resort.. for more resort food for dinner.. can you read my excitement??
no but really, i am so glad we were able to try a few different restaurants. my favorite part about traveling is trying different cuisines, and i think we had a great taste of what manzanillo had to offer!
well, TGIF! i plan on a mellow weekend.. maybe i will even decide to unpack! what are you up to?
xo. janetha g.