hello! i'm home! i am sure it seems like i was never gone since i had a slew of pre-written posts published while i was away.. but for me, it feels like i was gone for ages. i was so happy to sleep in my bed last night and cuddle up with these two furry faces: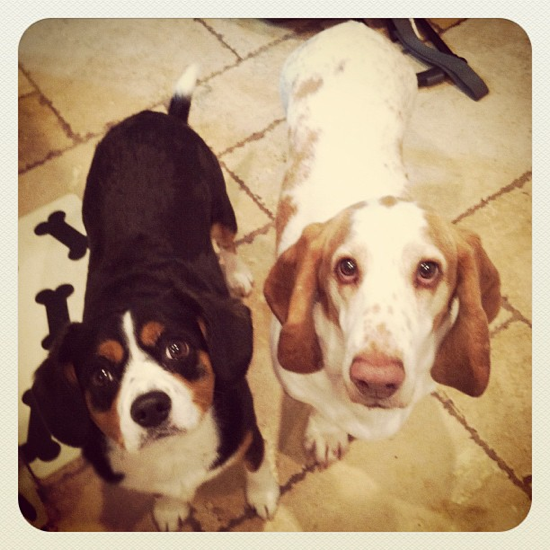 i will recap my mexico trip later, right now i am trying to readjust to normal life. first and foremost with a delicious, fresh dinner!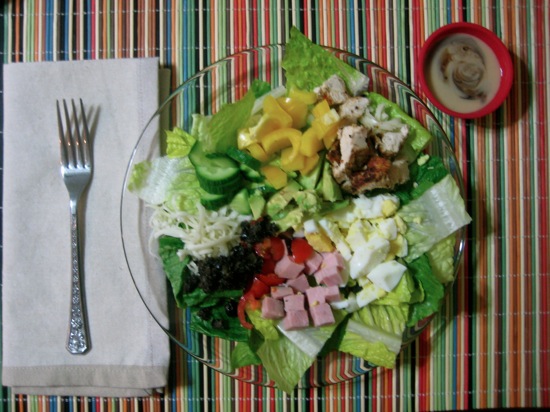 tonight we had huge cobb salads. marshall's request, but i couldn't have come up with a better option. the salads contained a bed of romaine lettuce and were piled high with hard boiled egg, grilled chicken, black forest ham, cucumbers, bell peppers, grape tomatoes, avocados, black olives, and shredded cheese.  SO GOOD.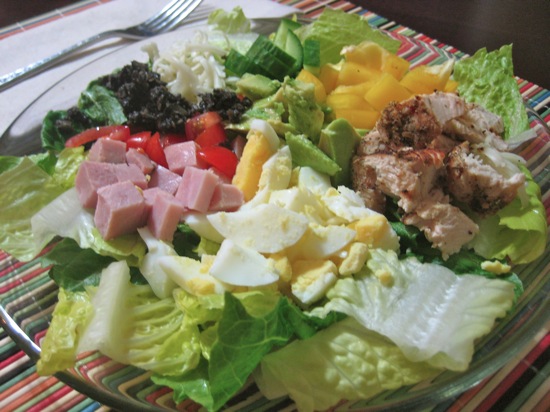 (side note, if you are wondering why my photos are so horrible, it is because my DSLR broke in mexico. i don't want to talk about it now. maybe later.)
wonder why i am so enthusiastic about a cobb salad? well, let me tell you.
yesterday was spent traveling for the majority of the day. we left our resort around 2 PM manzanillo time, got to LAX at 5 PM california time, and then got to SLC at 11 PM utah time. it wouldn't have been so bad had i oh, i don't know, eaten a meal.  but that wasn't in the cards for me, i had a bit of bad luck. you see, i ate breakfast at the resort for the sixth day in a row (ugh…) and i literally couldn't stomach eating there again for lunch, so i decided i would eat on the flight.
the only problem? the flight was out of all the fresh food options by the time they reached our row.. which was the second to last on the plane. instead, i selected the "mediterranean tapas box" which included food should taste good chips, hummus, green olives, almonds, and dried apricots. it wasn't ideal, but it did the trick to tide me over. i ate everything except the almonds. we had a 3 hour layover at LAX so i knew i could get some real food there. or so i thought.
we got to LAX, went through customs, re-checked our bags, and found our connecting flight's terminal. it turns out we had to take a shuttle bus to the terminal. it was in some weird, random part of the airport that apparently wasn't accessible by foot. while walking to the shuttle pickup, we passed a chilis and a burger king. neither of these sounded super appealing, so we decided to see what there was to offer near our gate. we hopped on the shuttle bus and headed to our terminal. i took a look around.. it was a small area with a handful of gates.. a set of restrooms.. a drinking fountain.. pay phones.. and vending machines. what was missing? food. real, actual food.
i was already hungry and ornery and was probably being really dramatic, but i honestly almost cried because i just wanted something to eat. it's strange, that usually doesn't happen to me, i can usually wait to eat with no problem. but i had such a headache and the thought of consuming another prepackaged snack-something made me want to scream. however, that was my only option, so i downed a luna bar, a few fruit leathers, the bag of almonds and bag of pretzels i had from the previous flight, and a bottle of water.
i didn't feel any better.
momma b was nice enough to pick us up from the airport and take us home. she also nabbed some milk and apples from the store since i knew we were out and it was already almost midnight. when we got home, i realized there wasn't anything to eat. i had cleaned out the fridge before our trip and we didn't have a single vegetable let alone components to make a proper meal. i checked the cupboards for vegetable soup–no luck. so i did what any normal ravenous, jet-lagged person would do: went on a carb bender.
i had two bowls of cereal, two pieces of butter toast with jam, an apple with peanut butter, and a few handfuls of granola.
i didn't feel any better. but at least i was full. i vowed to stock up on fresh food as soon as i possibly could.
and that, my friends, is the long, drawn out story behind why i am so enthusiastic about the cobb salad mentioned above.
i kept my promise to myself and spent over three hours at four stores today, buying the supplies needed to return back to normal life. okay, so maybe that visit to pier one imports wasn't a necessity, but i was in the area…
anyway, i walked up and down every single aisle of costco and target. i had made a list beforehand, but i definitely didn't stick to it. i went over the usual weekly budget, but i was in the stock up zone! i was definitely on a mission. i had a little left over spending money that we didn't use on the trip, so i figured i may as well use the money for my "back to normal life" shopping spree.
i am a total lurker and a creep and love to see what people stock their kitchens with, so i decided to give you a peek at what i bought today.
produce: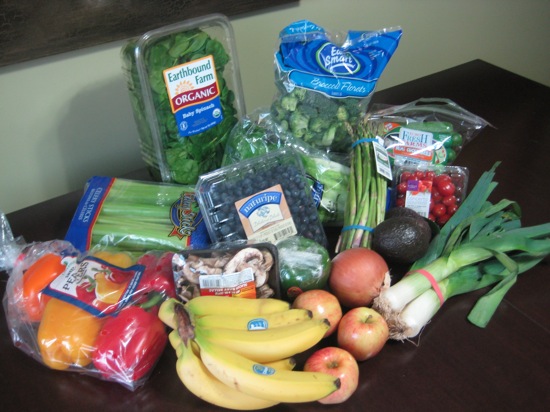 bell peppers
celery
spinach
bananas
apples
an onion
avocados
leeks
grape tomatoes
mushrooms
blueberries
cucumbers
broccoli
lettuce
protein & dairy: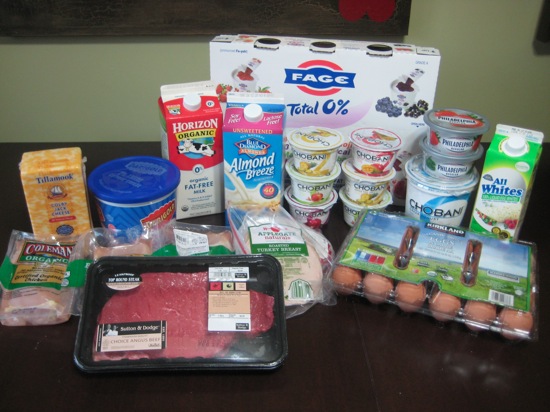 chicken breasts
top sirloin steak (making a crock pot beef & broccoli this week!)
turkey & ham lunch meat
eggs
egg whites
cottage cheese
colby jack cheese
chobani – plain & flavored (couldn't resist getting a few flavors from target at full price since costco doesn't stock it anymore)
fage – flavored (from costco.. wish chobani was still in costco!)
cream cheese (strawberry and spinach artichoke)
almond milk
skim milk (i like to alternate between almond milk and cow's milk.. marshall drinks vitamin D milk that is delivered by the local dairy)
everything else: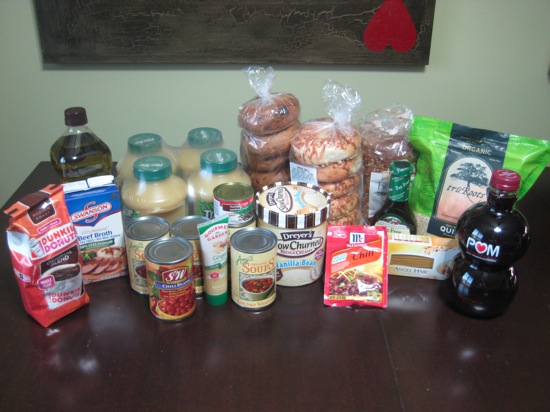 coffee beans
beef broth (for the crock pot recipe i mentioned)
olive oil
applesauce
chili beans
amy's vegetable soup (4 cans–it's our favorite canned veggie soup!)
ginger in a tube
olives
vanilla bean ice cream
bagels (parmesan & cinnamon raisin)
chili seasoning packet (can you tell we are having chili this week?)
bread
quinoa
angel hair pasta
salad dressing
POM juice
non-food necessities: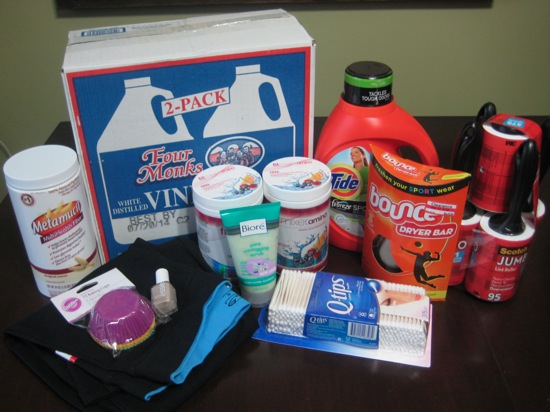 metamucil.. i have never used it but i have pooped one time in the past week. i am desperate. TMI? hey, i'm honest.
vinegar–we use this in our laundry.. it ALWAYS gets rid of funky smells on workout gear! just add it to the slot where you usually pour the bleach or fabric softener.
fitmixer BCAAs (a little bird told me they won't be in costco much longer so i bought two)
laundry detergent
this dryer bar that was on clearance and looked interesting.. it sticks on the inside of your dryer and apparently makes your clothes super fresh? we shall see.
lint rollers
q-tips
baking cups for more protein cheesecake
nude nail polish–okay, not a necessity but i have been wanting to try it. i am trying to be a girl.
face wash
workout pants–again, not a necessity but it was an impulse buy. champion had "short" length fitted pants and i tried them on.. they were the perfect length and only $20. if you knew how hard it was for me to find the right length of pants, you'd understand.
one more impulse buy…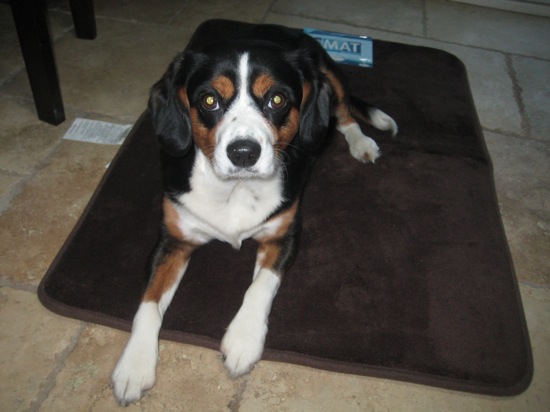 this memory foam bath mat.. i have one already and wanted another one. it was only $13 at costco, totally worth the money.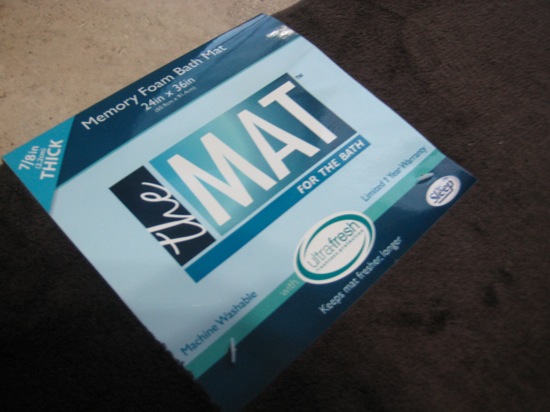 go buy one!
so.. that's that. on the food front, life is back to normal. i haven't fully adjusted back to normal life, though.. i decided grocery shopping was more important than hitting the gym, reading blogs, cleaning house, or unpacking my suitcase. one thing at a time!
back to the grind tomorrow, man.. i bet once i am back at my desk that whole "normal life" thing will kick right in.
hope you all have a wonderful monday!
xo. janetha g.
p.s. winner of the chobani giveaway is #19: sierra! congrats!