Hi all, and welcome to Janetha's blog. You actually knew you were here you just didn't expect me to be filling in for Janetha. I am Cory from zestycook.com or you may have heard of me as "zesty" – either or will do.  While Janetha is vacationing in beautiful Mexico, she asked me to do a guest post and needless to say I was super excited.
Trying to come up with a new recipe was somewhat difficult but always exciting. Janetha eats pretty healthy so I wanted to share with you today a vegetarian chili with a little twist.
Few things are as comforting as a warm, steaming bowl of chili. This vegetarian version is packed with so much flavor you will not notice the "missing" meat. You will notice the familiar rustic flavors, the earthy sweetness of the sweet potatoes and the colorful nutrition they bring to your table.
Sweet Potato Vegetarian Chili with Cinnamon Sour Cream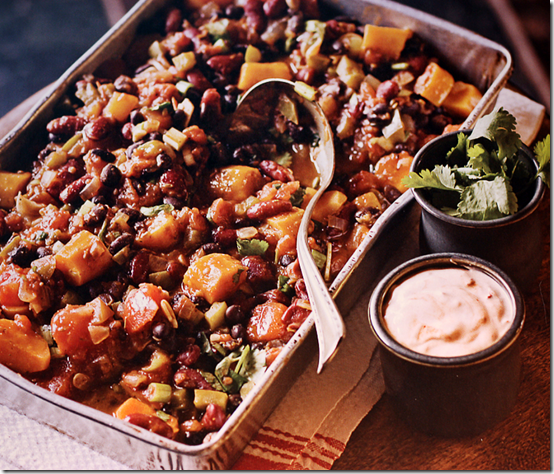 2 Tbsp. Vegetable Oil
1 Large onion, chopped
1 green bell pepper
8 garlic cloves, thinly sliced
1 Tbsp. Cumin seeds
1 Tbsp. Chili powder
1 Tbsp. Dried oregano
2 Cups frozen corn
1 14 oz. Can black beans, rinsed and drained
1 14 oz. Can kidney beans, rinsed and drained
1 28 oz, can tomatoes, diced
1 Sweet potato, peeled and diced
1 Tbsp. chopped canned chipotle chilies in adobo sauce
1/2 Cup Sour cream
1 Tsp. Cinnamon
Sprinkle of salt
1 Cup of Cilantro sprigs
2 Green onions, thinly sliced
Method
Heat the oil in a large pan/pot over medium -high heat. Toss in the onions and green pepper and saute, stirring frequently, until the vegetables begin to brown, 6-8 minutes.
Stir in the garlic, cumin seeds, chili powder, and oregano. Reduce the heat to medium and cook, stirring, until the spices are very fragrant, about 2 minutes.
Stir in corn, black beans and kidney beans. Add the juice from the tomatoes and then add the tomatoes as well.
Add the sweet potatoes and chipotle chilies and bring to a gentle boil. Reduce the heat so the liquid is barely simmering. Simmer, stirring frequently, until the sweet potatoes are tender and the chili begins to thicken, 20-25 minutes.
Meanwhile, stir together the sour cream and cinnamon. Just before serving, season the chili with salt to taste.
Ladle in serving bowls and top with sour cream, cilantro and fresh green onions.
ENJOY!
Zesty Tip: Feel free to experiment with different vegetables you have on hand. This would work really well with parsnip as a substitute for the sweet potato.
A great one pot dish for the family to enjoy or even a dish to whip up on Sunday and eat through out the week for lunches.
I want to thank Janetha for giving me her stage today and I hope you enjoyed the post.
Now for a shameless plug about myself. If you want to read more recipes, tips or food techniques you can head over to zestycook.com or follow me on twitter and facebook.
Thanks so much and take care!
hey guys, janetha here, one more plug for cory! he is the man behind the design of this very blog, meals & moves. he did a great job! if you want him to help with your blog design or SEO (no joke, i just typed "SEX") then check out zesty blog consulting! tell them janetha sent you for a special deal.