what is it about thursdays that make me want to type completely random posts?? exhibit A and exhibit B.. this post being exhibit C. i think my mind just piles up with junk and i have to purge through a blog post.
i got a pedicure last night. yeah, that was one of my "errands"… priorities, people.
my feet were in ROUGH shape. i live in utah. it's winter. you do the math. everyone loves a pedicure, including myself, but i am just real bad at getting them. i am so ticklish! every time the poor pedicurist tries to scrub my food with that pumice stone, i go batshit crazy. my level of ticklishness is through the roof and borderline embarrassing. i am the same with massages.. but not quite as bad. my feet are definitely the most ticklish part of my body.
why are some people ticklish to the point of crying (i really know the meaning of "tickle torture" from being tormented as a kid) and others aren't at all? i am sure this is one i could ask google, but it is rambling thursday, so there you go.
back to the nail salon. want to know one thing i never do? paint my nails. like.. ever. i am SO not a girly girl. my nails are always naked. i always see girls posting about nail polish colors and bonding over the latest OPI or essie hue. that is just a bond i don't share with my fellow females. however, i did get my very first manicure last night. well—scratch that—i have had a manicure to get fake nails before (NEVER AGAIN) but i had never just had a manicure where they do all that fancy stuff to your fingernails and then paint them. it was only ten bucks, so i figured i would give it a chance. i went with a very non-noticable shade of, uh, clearish sparkle something or other?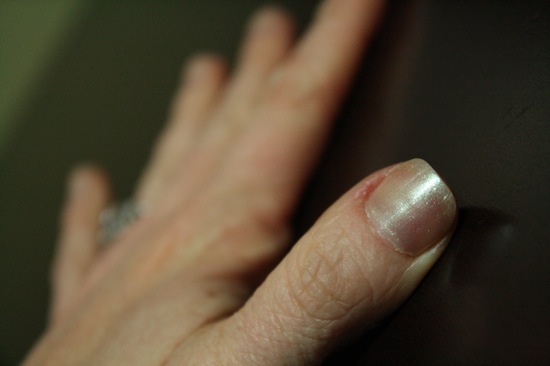 sorry for the creepy hand shot. i did the best i could to make it not awkward to look at, but clearly i failed. i will admit, i like the polish. but i probably won't be painting the town pink any time soon.
moving on.
i can't FREAKING stop eating cereal lately. granted, it is my favorite food, but my cereal consumption has been greater than normal lately. one bowl of cereal is fine. five bowls is not.  i finally ran out of kashi go lean last night.. and then i ran out of almond milk this morning. i figured my lack of supplies was the best thing for my current cereal situation… until i came home to a package today.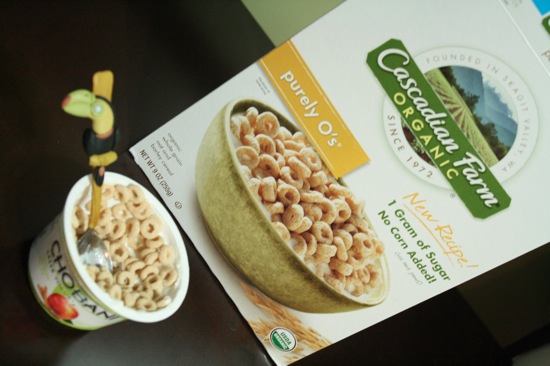 sigh. i had forgotten that cascadian farms was sending me their new formula of O's. not that i am complaining.. free cereal?! sweet! free cereal a few days before mexico? hmm. could be problematic since i have no self control. you would think i would hold off on eating it since i told you i was out of milk. haha. no. chobani took care of that one.. the only thing that's better than their new apple cinnamon flavor is eating cereal with their new apple cinnamon flavor.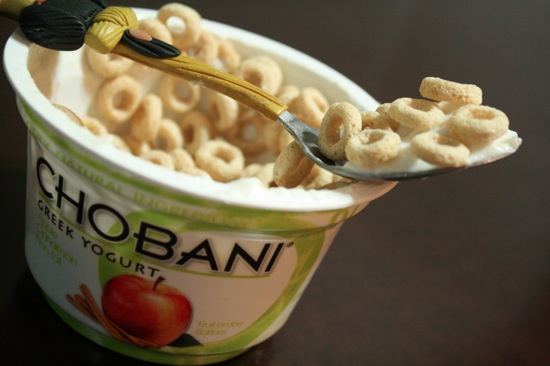 this, my friends, is a very good combo. and for the record, i would, have, and will continue to buy both of these products with my hard earned money.. even though these particular items were sent to me for free. the things i do for taste testing. it's a tough job, but it had to be done.. and i was the girl to do it.
let's stop talking about cereal, or i might be tempted to go eat more.
shifting subjects…
random (sincere) compliments are the best.
i was at the gym yesterday, doing the giant sets that i told you guys about, and these two older dudes wanted to share my workout area with me. i scooched over so they could fit, and we were chatting with a bit. i joked with them and told them to get back to work and there was no time to talk! they are there every single flipping night, but we had never actually talked to each other. you know how that goes.. the regulars who make eye contact but never engage in conversation.
anyway, before i put my ear buds back in so i could get back to my workout, the super muscley macho guy said he wanted to tell me one last thing. he said that he watches people every night at the gym (not in a creeper way) and that i have incredible form. he said that a lot of people have the worst form and are doing themselves a disservice with the way they lift, but that i was doing it all right. he also said he thought someone had trained me how to lift, but when i told him i taught myself.. he gave me even more props.
THAT is a compliment that made me feel good. really good. nobody has ever paid me that type of compliment and i am sure i will remember it for the rest of my life.
it makes me want to walk up to a stranger and tell them what i love about them. and really mean it.
before i go, one last thing i forgot to mention yesterday..i am excited about BLEND.
yesterday i went to lunch with my friends from xagave. they are one of the breakfast sponsors for BLEND retreat. fortunately, they are also a utah local company, so we got to hang out. we chatted about the conference and it got me real excited!
word on the street is some people are nervous about pulling the trigger on attending because they don't have anyone to room with. let me put it bluntly and say: DON'T be nervous. it's like summer camp. not that i ever went to summer camp.. but i saw the parent trap a few times and have a good idea of what it's like. we will be sure to put you in a cabin with friendly folks.  registration is open, click here to sign up. can't wait to play in may!
and, because i love his dragon paws, here is a random photo of randy: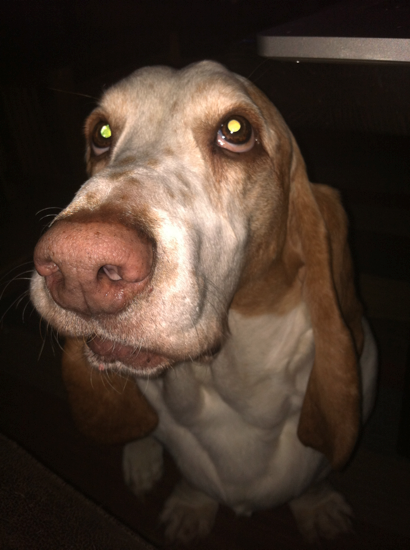 what a guy.
okay.. that's enough randomness for tonight. i still have to go to the gym, figure out a fridge-clearing dinner, and make a packing list.
gosh, i hate packing. i always procrastinate when i am trying to pack.. i usually distract myself with something else.
like bowls of cereal.
Qs~
1. are you ticklish?
2. what is the best compliment anyone has ever paid you?
xo. janetha g.