sometimes my impulse buying habits turn out great! for example, i bought this kangaroo contigo water bottle on a whim without thinking about it, simply because i wanted a purple contigo, and it's turned out to be my favorite water bottle: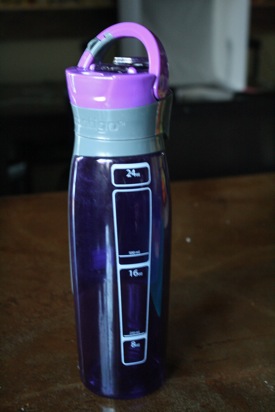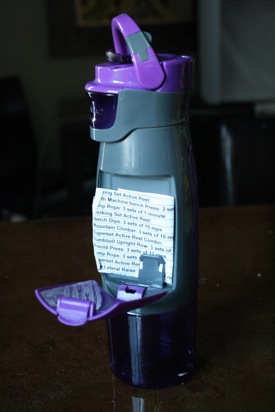 the compartment stores my workout printout perfectly. it doesn't take much to please me, i guess.
other times, however, my impulse buying habits turn out to be a big waste of money.
exhibit A is this bedspread set we bought back in november: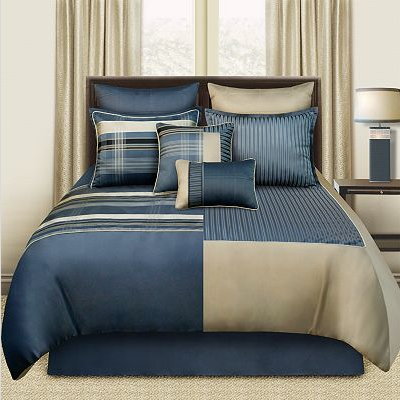 (image source: kohls.com)
i was so hell-bent on getting a new bedspread and i liked the look of this one, so i really didn't think about the investment before handing over my debit card to the cashier. also, i bought it at kohl's, where they convince you that you are buying something for 87% off and, even though you are still spending $150, you are walking away with a killer deal.
this particular bedspread set ended up being HORRIBLE. it was scratchy. it felt awful next to my skin. it was cheaply made. it was bad.
buyer's remorse.. for sure.
i was walking around the store sometime in december, killing time because marshall was working out of town, and i came across an incredibly soft, cozy comforter. it was positively perfect and i wanting it. BAD. and i also saw some microfleece sheets. after a few texts back and forth with marshall, i was back at my house, packing up the overpriced, crappy comforter set to give to goodwill and putting the soft, snuggly new items on my bed.
when marshall got back in town and crawled into the new threads for the first time, he said something like, "our bed comfortableness just went from a five to a ten!"
so, all in all, even though i wasted money on the first set, it all worked out for the best.
exhibit B of impulse purchasing gone bad is this purse i bought back in september: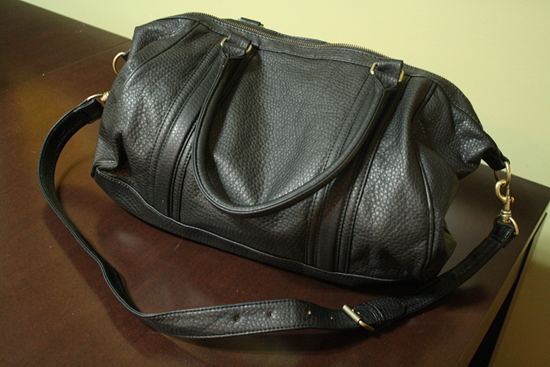 i am very particular about my purses. i like them to have a cross-body strap and a handle strap. i also like them to be big enough to haul around all my crap. i was looking for a purse for months, and when i saw this one at urban outfitters, i swooped it up without a second thought. since it had both of the handle options, i knew it would be perfect.
sigh, wrong.
since september, i have been using this purse and have grumbled at least once a day about it. why, you ask? well, because it doesn't have an outer pocket. turns out, the handle specifications really didn't matter to me as much as the outer pocket does. i didn't even KNOW that mattered to me until i didn't have it. my purse before this one had the outer pocket where i exclusively stashed three things: my phone, my car keys, and gum.
well, this purse has no outer pocket and my crap—including my keys, phone, and gum—is always floating around and i get ridiculously frustrated when my phone is ringing and i can't locate it or i am walking to my car, searching for my keys in my huge, unorganized purse the whole time. you are probably reading this, thinking i am a crazy person, right? either that or you have already stopped reading.
clearly this is something i feel passionately enough about to blog about, so i am just going to keep going. i finally decided that i'd had enough of my annoying purse, so i bought myself a new one. with not one, but TWO outside pockets!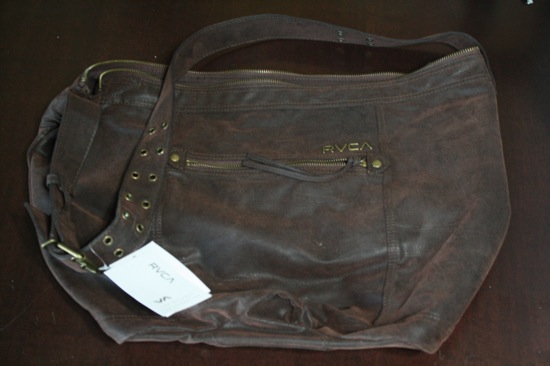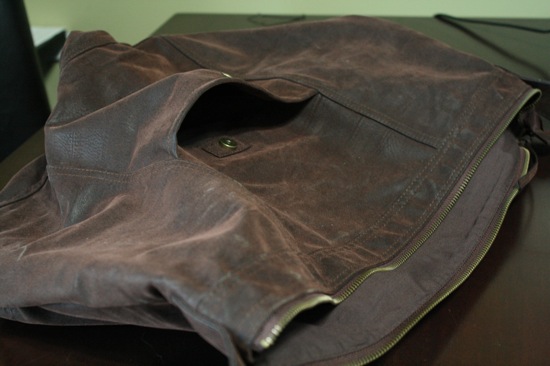 i did sacrifice the handle strap option and this purse only has a cross-body strap.. but that was a risk i was willing to take. after searching high and low for a bag that was just the right size with just the right pockets, i decided the straps weren't as big of a deal as i thought. i hope i don't regret it.
today i changed purses and thought it would be fun to do a "what's in my bag" post. i see them all the time on other blogs and they always entertain me because i am super creepy and nosy, so i figured i would join in on the fun.
first of all, here's an instagram shot of my purse this morning: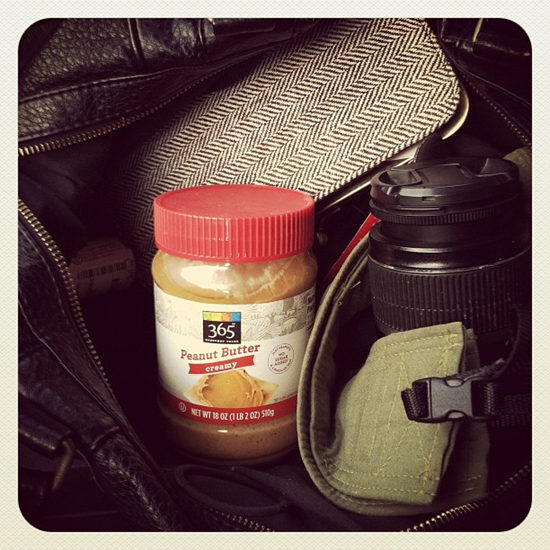 it's national peanut butter day today, so i wanted to be sure to have some on hand to celebrate. i threw a jar into my purse on my way out the door.
when i got home from work, i swapped my purses. here's what's in the bag!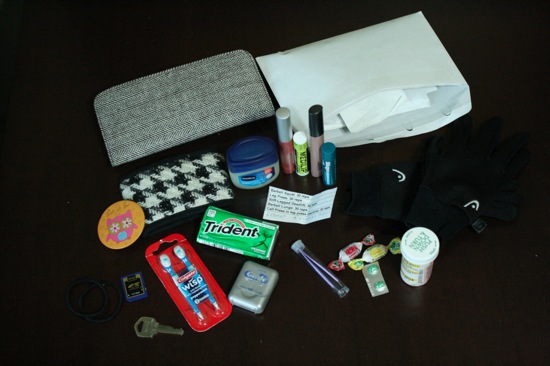 this is almost everything. aside from my phone, which is currently charging, my car keys, which are on my counter, and my camera, of course, since i was using it to take the photos. i am a bad camera owner and just lug my dslr camera around in my purse.
let's take a closer look.
in the bath & beauty department: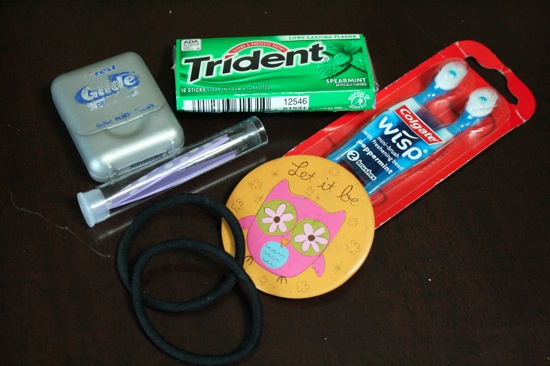 floss, tweezers, my favorite gum, hair elastics, single-use tooth brushes, and an owl mirror that lisa gave me.
in the medicine cabinet: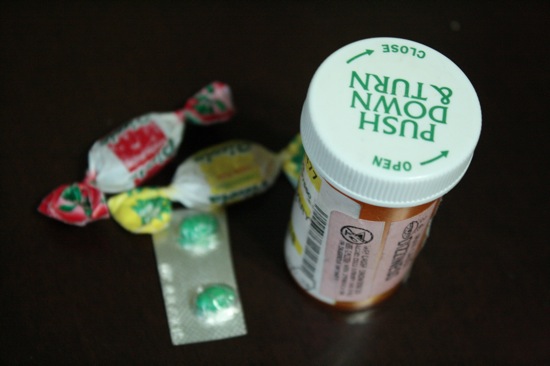 lortabs leftover from breaking my nose, cough drops, and gasx. you never know when you're gonna have a cough or be gassy. or, i guess, need a pain pill.
in the hand protection area: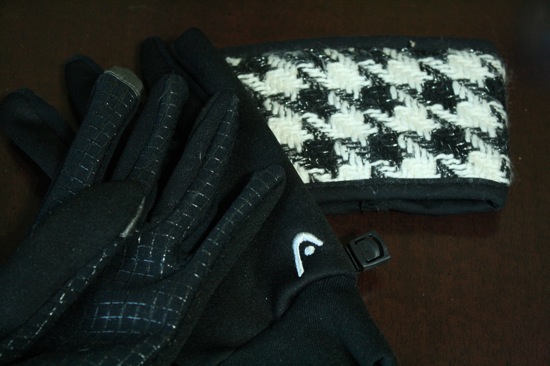 touch-screen-friendly gloves (from costco) and a reusable coffee cozy that was a gift from susan.
in the filing cabiet: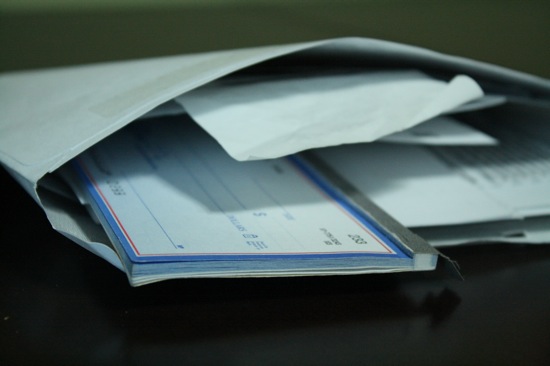 an envelope (that my w2 came in, ugh.. taxes) stuffed with things like my check book, receipts, coupons, and other odds and ends that i probably don't need to be lugging around but i am.
in the totally miscellaneous department: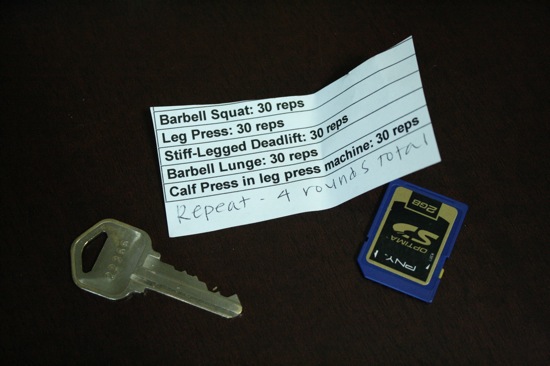 a house key that i have yet to reattach to my key chain, an extra camera card, and today's workout.. that i am going to go do at my mom's house after i publish this post.
and, finally.. the lip department. because it needs a department of its own: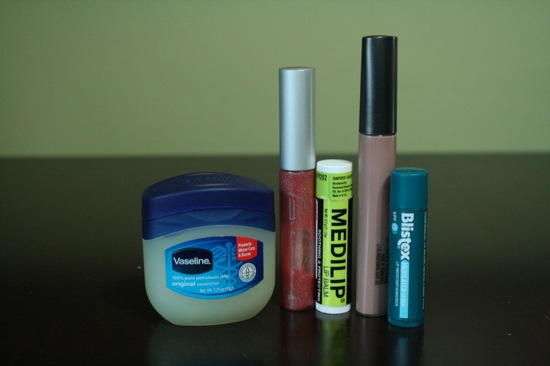 i actually had one more in there–some aquaphor–but it's still in my snowboarding pants from sunday.
oh, and one more thing.. i got a new wallet to match. my old wallet had a broken zipper that i had been dealing with for over five months. i never found a wallet that fit my wonky specifications, but i was finally so fed up with the broken zipper that i caved and bought this one.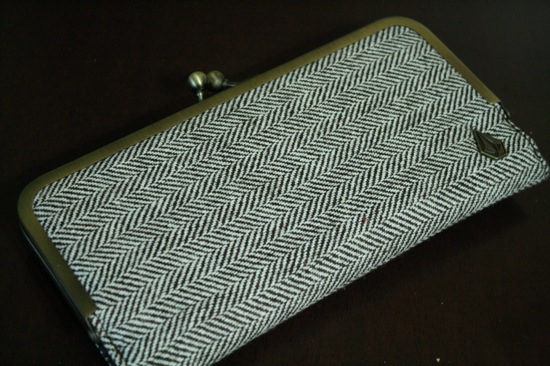 it's volcom and it's herringbone. and it has none of my "wallet must have" specs.
i hope i don't get buyer's remorse.
xo. janetha g.