last tuesday's list of twos was so fun that i couldn't resist a repeat. hey, if it's not broke…
another more real reason i am doing this again is that it's 9:45 PM and i just got done eating dinner. i still have to clean the kitchen.. but i figure blogging is a great way to procrastinate.
two things from today.
1. i got my hair done! nothing new. well, kind of, i guess. i got low lights so it's more my natural color: the beautiful dishwater blonde. or should i say blah-nd? i am the boringest hair person known to man. like i just said, if it's not broke…
that brings me to #2.. i got home from my hair appointment around 7:15 PM and STILL had to go to the gym.
2. i skipped my sprints today. after a 1-hour long weight session focusing on back, arms, and abs.. i was supposed to do 30 minutes of sprints. i got done with my weights at 8:40. sorry sprints, i will do you another day. like my mom always says: something is better than nothing!
two movies to see right now.
1. the girl with the dragon tattoo. saw this awhile back and loved it. i want to read the book now, too! i will be taking it to mexico.
2. mission impossible: ghost protocol. saw this last night and was surprised how much i liked it. i am not usually one for action films, but this one i really enjoyed. the plot was interesting enough to keep me engaged.
two things i ate today.
1. diced grilled chicken + asparagus + spaghetti squash.. with reduced sugar ketchup. this low carb thing is making me get a little creative. it was actually a really good lunch, albeit strange.
2. nachos deluxe.. without the chips. when i got home from the gym, i assembled nachos deluxe for marshall. we call it this because it sounds fancy. who doesn't like the word "deluxe"? nachos deluxe consists of chips, colby jack cheese, black beans, avocado, salsa, greek yogurt, and taco meat made with ground chicken, red onion, and green chiles. marshall made the meat while i was at the gym, so all i had to do was assemble the nachos. since i am low carbing it (my computer just autocorrected that to "crabbing"-ha!) i skipped the beans and chips and had a big bowl of meat, cheese, avocado, greek yogurt, and salsa. it was actually really good and i didn't miss the extra carbs a single bit. the benefit of low carb days is i get to eat lots of fat to get my calories in. avocado.. cheese.. peanut butter.. more cheese..
two youtube videos you must watch.
1. shit nobody says. ohhh my gosh. the first line is the best. or maybe the one about ikea furniture.
2. why girls hate each other. jenna marbles never lets me down. usually she's just hilarious, but this particular video has a legit message.
two gadgets i'm loving.
1. sonicare airfloss. marshall got me this for christmas (without me asking for it, i didn't even know it existed!) and i LOVE it! it makes flossing easy and, dare i say it, fun. it sprays a shot of water and air between my teeth, making my smile so fresh and so clean.
(photo source: sonicare.com)
2. kitchen aid 3.5 cup food chopper. another gift from marshall that surprised me. it's so handy to chop small things in this little guy instead of pulling out and assembling my huge food processor. i use it almost daily!
(image source: kitchenaid.com)
two websites i really like.
1. my fitness pal. i have been using this to help me track my carbs for these carb cycling days.. i don't usually count calories or macros, but this website makes it really simple AND their database is huge. i haven't found one food i have eaten that isn't in there. also, it lets you adjust your daily macro goals so you know exactly where you're at for the day. i won't be tracking things for long, but for now.. this website is really helpful.
2. dogfunk. can't.. stop.. buying.. clothes. or wallets. or luggage. or swimsuits. really, i can't stop. the free shipping isn't helping. plus, their warehouse is right down the road from me.. so it makes returns and exchanges way too easy.
the last two things i used my debit card for.
1. groceries. $100 worth. we are stocked up for awhile! probably won't need much else before we head to mexico.
2. a redbox DVD. fright night. it was actually pretty good!
two cute pup photos.
sorry to my instagram followers for the redundancy.
1. marshall took this one.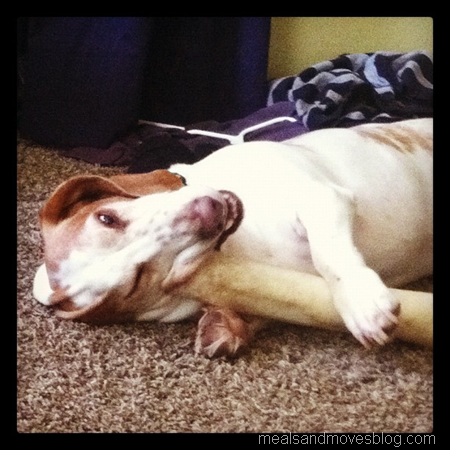 2. she's a spaz. i love her.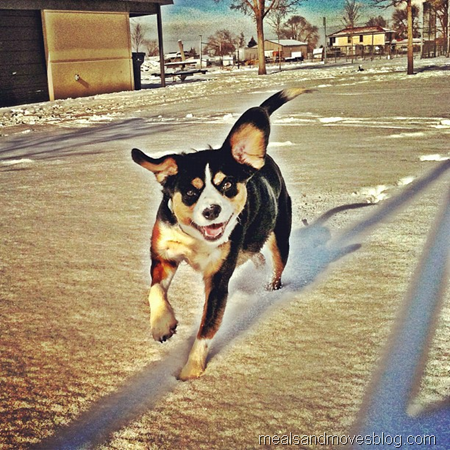 two national food holidays you should know about.
1. january 19th (this coming thursday) is national popcorn day.
2. january 24th (a week from today) is national peanut butter day.
don't say i didn't warn you.
two brunches from the weekend.
i say brunch because i woke up at 11 and didn't eat breakfast 'til noon both saturday and sunday…
1. scrambled eggs+aged parmesan & a toasted english muffin with peanut butter (crunchy!) + cherry jam & coffee with almond milk.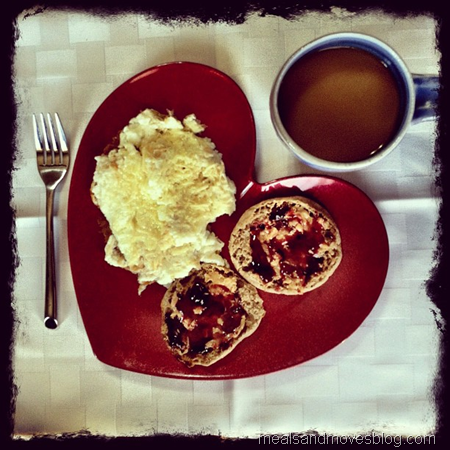 2. multigrain protein waffle (later topped with homemade raspberry jam) & coffee with whole milk.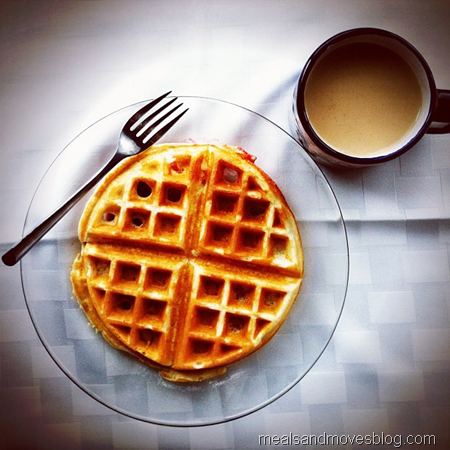 yum.
your turn. two lists of twos, anything goes.
xo. janetha g.