one favor to ask before i start rambliing: i'd love your vote in healthline's best health blog of 2011! just click here and use the search tab to find "meals & moves" to vote. you do have to have facebook or twitter to vote. thanks!
i have received quite a few emails on my various health issues. which ones, you ask? well.. there are a lot. so instead of replying to emails about all my individual issues, i figured a post was a better option.
my molectomy.
back in november, i had a mole removed from the middle of my chest. i had a piece of the mole sent to the lab a few months prior, and it came back looking sketchy.. so my dermatologist wanted to remove it.  you may remember me rambling about it in this post.
i was put on 2 weeks of exercise restriction and was super bummed about it. looking back, it's silly that i cared so much because i am healed up perfectly and it's like i didn't miss a beat with the workouts. had i skipped the doc's orders and worked out too soon, i may have hindered the healing process.
my wound is still there, but it is very small and my doctor did a great job patching me up. there will be a little scar, but i am not one to worry about scars.. i mean, look at my arm.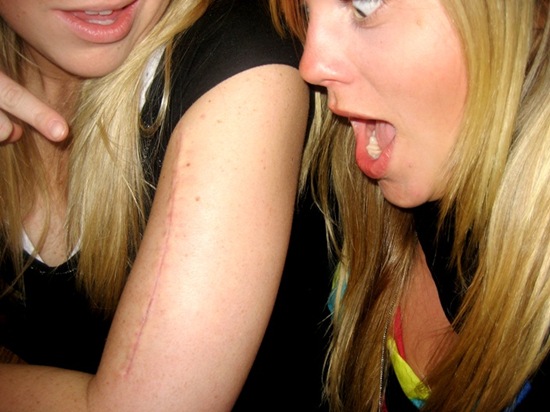 circa 2007
i will continue to visit the dermatologist on a regular basis to make sure my skin is in the clear and there are no suspicious new moles. if you haven't had your skin checked, i highly suggest you do! it doesn't take long and it could save your life.
my broken nose.
as you may know, i was in a car accident on christmas eve and broke my nose on the dashboard. i was the passenger. it was super sweet.
lucky for me, my nose wasn't crooked so no surgery was required. they let me leave the hospital with a broken nose and a black eye.
this photo is from last night: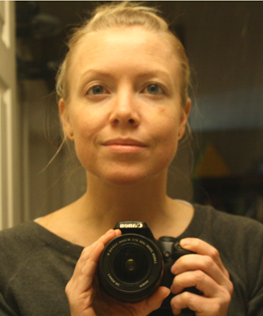 see! clearing up. no more black eye. my nose still hurts when i touch it or bonk it on something, but not too bad. it does do this weird popping thing if i touch it a certain way.. it grosses me out.. but i will survive.
my lumpy boob.
about a month ago, my gynecologist found a lump in ol' lefty. this is the third time a lump has been found in my left boob. sigh. my boobs are defective.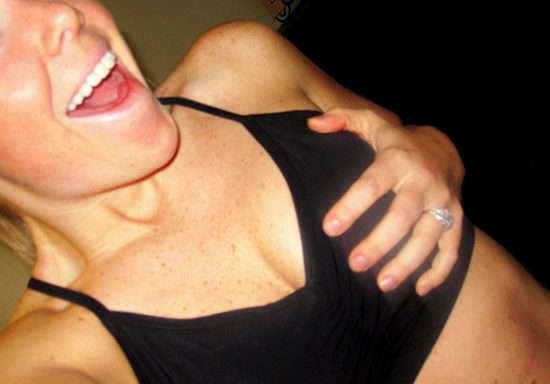 circa 2010
i had an ultrasound done in december and the radiologist said it was nothing to worry about. i went on my merry way.
i got a call from my gynecologist (side note, i have been spelling that word wrong. i was spelling it "gynOcologist" because the short term is "gyno".. but it turns out that's not how you spell it. anyway…) and she said she'd like me to make an appointment with a surgeon to get it removed.
on the two they found before, one was completely removed and the other had pieces removed using a needle.. so i imagine that with this one they will want to do one of those two options again. i go in for my consultation next week. i'll letcha know how that goes!
my guts.
this is probably the worst of all my health issues at the moment. if you want some background info on my GI issues, you can read this post or watch this video.
basically, my doctor says i have a lazy colon. my gut muscles don't work. i am not allergic or intolerant to a specific food.. my body just doesn't digest anything properly. also, i never poop. i am usually bloated to the size of a 5 month pregnant lady by the end of the day.. every day. so annoying. i had a gastric emptying study at the beginning of december. i recently went in to talk to my GI doc about the results.. which were not very helpful. (yay.)
he put me on a new pill that is supposed to "help move things along" without making my colon lazier than it already is. note: if you have a weak colon and you take a laxative, you are only enabling your colon to be weaker.. so it's not a good idea. even though i poop once every 3 days or so.. i still shouldn't take a laxative because it'll seriously mess up my insides.
anyway, this medication he has me trying out is supposed to help my colon work better without making it lazy. he put me on the lowest dose possible, and i started taking it last friday. so far, it's not helping a single bit. awesome! i am going to move to the stronger dose and see what happens.
so.. basically.. i still have no idea what is wrong with me. it sucks. but that's life. i will keep trying to find an answer and manage the bloating and pain.. and in the meantime i will just be grateful i have my health and the issue isn't something life threatening.
other than all of that, i am in great shape! no cavities, my eye prescription hasn't changed, and i am still breathing.
good story.

dinner tonight was asian turkey meatballs with lime dipping sauce. i got the recipe from skinny taste.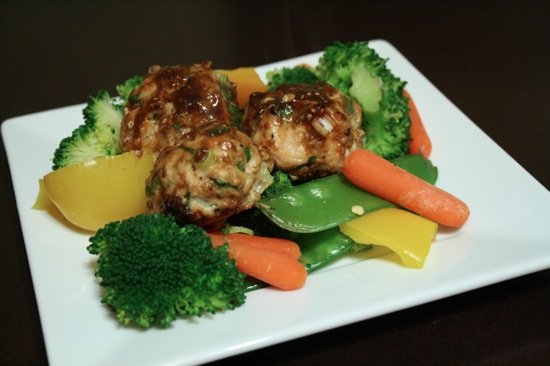 the only changes i made to the recipe were that i made fresh bread crumbs with whole wheat bread and upped the amount of garlic and ginger.  the meatballs were delicious!!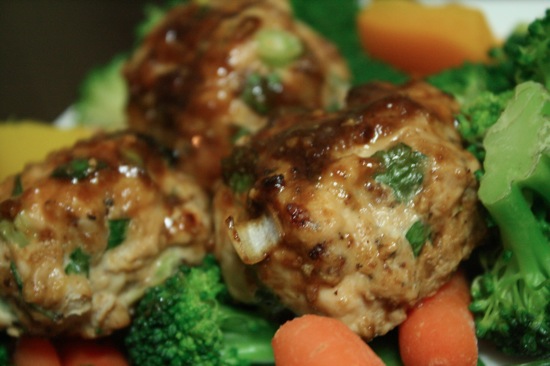 i made steamed vegetables to go with the meatballs and i also made marshall some quinoa. i ate my carbs in the form of 3 clementines.. i am addicted to those things right now. this was a quick and easy dinner, which we needed since we both got home from the gym at 8:45 PM! it came together fast and we were eating dinner by 9:20. yes, we sometimes eat dinner really, really, REALLY late.
after dinner, i had the itch to bake. during the holidays, i was baking cookies like it was my job (sure wish that was my job.. jessica, you're a lucky gal.)  i haven't baked anything in a long time, and i LOVE to bake. so i decided to bust out the ol' kitchenaid and bake a treat. i decided to make my miniature white chocolate cheesecakes. i am slowly but surely trying to make all my recipes over again so i can update the photos with ones that are better than this: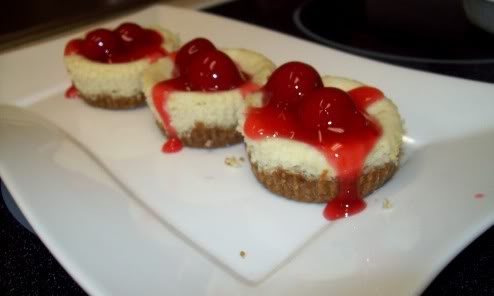 circa 2009
it's not horrible, but my photog skills have definitely come a long way since the ol' point and shoot. the cheesecakes are cooling in the fridge now, awaiting their photo shoot.
because mexico is right on the horizon, i made myself a more forgiving version of mini cheesecakes. they are in the oven now..  it's 11:06 PM. you can see where my priorities lie. if the healthier, protein packed cheesecakes turn out, i will be sure to share the recipe.
hooray for friday tomorrow! chat later.
xo. janetha g.