here's a story.
my friend started jamie eason's livefit trainer today. she has been texting me about it a bit.. asking questions, commenting on the program, you know. today she mentioned that the turkey meatloaf muffins she made were SUPER garlicky. i asked how much garlic the recipe called for.. and when she told me 2 tablespoons of garlic powder, i had to see that for myself. 2 TABLESPOONS of garlic powder seemed ridiculous.
i headed to bodybuilding.com, where jamie eason's recipes are listed, and started perusing the recipes for turkey meatloaf muffins. side note: i did find her recipe and it did, indeed, call for 2 tablespoons of garlic powder or 2 cloves of garlic. i am sorry, but 2 cloves of garlic is nowhere near the equivalent of 2 tablespoons of granulated garlic powder. just, no. but that has nothing to do with my post. i just wanted to give you the background story of how i made a disturbing discovery today.
while on bodybuilding.com, i found another recipe for turkey meatloaf muffins. it was in an article that was a 1-week fit meal planner. i scrolled through the article and was shocked to see a photograph of some turkey meatloaf muffins that looked strangely familiar…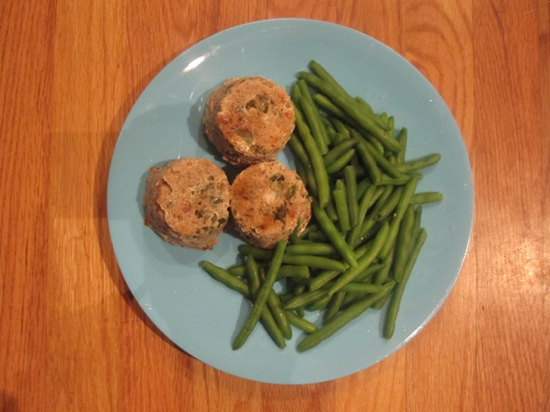 …the reason it looked so familiar is because it is MY PHOTO. from the first time i made my turkey meatloaf muffins back in march of 2010.
i was immediately filled with a range of emotions, the strongest being betrayal. someone had stolen something that was MINE and didn't say a WORD about it. they posted MY photo and they were trying to pass it off as THEIR muffins.
after the initial wave of feelings, i started to get a little pissed. i realize that anyone can take anything from the internet and pass it off as their own.. and chances are, they will never get caught. but this was on bodybuilding.com! a huge website. and not only that, a website i frequent all the time. a website that i just dropped $72 on last night when placing an order for supplements. a website that i thought had a whole lot of credibility.
until i saw they stole my photo.
and were lying about how their recipes actually look.
i went to both facebook and twitter to complain about the situation. i emailed my contact at bodybuilding.com (because she is awesome and i knew she would help.. we have actually become great online buddies) and told her the situation. this wasn't her fault.. but i am sure she hated reading my email explaining the situation since the responsible party was one of her co-workers. she apologized up and down and assured me the situation would be fixed.
sure enough, the photo was soon taken down and the article is still there with the recipe–just no photo. the funny thing is, this article that had my photo has plenty of recipes on it.  six, to be exact. and these recipes don't have photos.. so what was the point of putting a fake photo of the meatloaf muffin recipe in the article at all? why not just skip the photo like they did with the rest of the recipes?? my mind is baffled.
now it's night time. i have had all day to think about what happened and reflect on the whole situation in general. i am not mad anymore.. and i don't even feel betrayed. i just am annoyed. and i have also lost a LOT of respect for one of my favorite websites. if they used a phony photo for one recipe, chances are several of the other recipes on their site have photos that aren't actually of the recipe posted. the credibility for the food photography on bodybuilding.com just went straight out the window.. even IF any of the photos are legit. who's to know?
this experience set my mind into a tailspin.
enter: two different debates.
debate #1: using food photographs that are of the actual recipe.
there are often times recipes i see online and then make.. and my version NEVER turns out like the photo. granted, this is usually due to human error, but it makes me wonder how many recipe photos were actually of the recipe listed. i know when i have seen really fat, fluffy pancake recipes online, i bookmark them because they look fabulous. and i assume they are really made using the ingredients listed. i know my pancakes from yesterday sure are. but sometimes i see recipes for protein pancakes that look RIDICULOUSLY fluffy and fantastic.. and i kind of wonder if they really were made using the ingredients the recipe lists.
for example.. i am now skeptical that this pancake recipe actually turns out like the photograph above the recipe: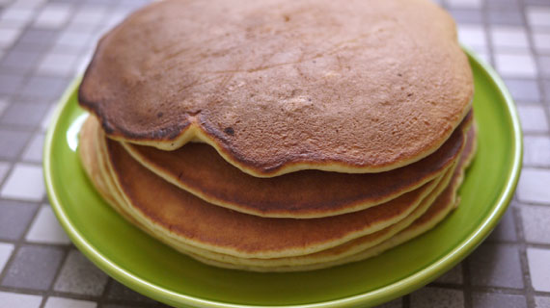 [source]
i say that i am skeptical because i make a nearly identical protein pancake recipe and they don't look like that. usually i would just think it was due to human error and differences in the cooking method, heat setting, etc, but now i wonder if the pancakes in the photo above were even made using the ingredients in the recipe at all.
ya know?
i then got to thinking about food photography and food styling. it is really common for food stylists and photographers to use items that aren't even food AT ALL and pass them off as food in the photos.
a few examples i found after doing a quick google search:
using motor oil as syrup
using dish soap to make bubbles in coffee
placing a pencil under a hot dog to make the bun appear fuller
microwaved cotton balls stuffed inside food to create a "steamy" appearance
using shoe polish to paint grill marks onto meat
aye, aye, aye.
i knew this kind of thing happened in the magazine and book worlds of food photography. when i see new clean eating recipes in oxygen magazine, i wonder "how did they get that protein ice cream to LOOK like a legit ice cream sundae?!" um, because it's probably not made from the real recipe. happens all the time in all of the magazines i read, i am sure. and, who knows, it could easily be happening on some of my favorite blogs. i sure hope not, because i think that those bloggers have a lot of credibility and actually photograph the food they make using the recipes they post.
moving on…
debate #2: when is it OK to post someone else's photo and/or recipe?
if i had seen my turkey muffin photo on the article with a credit source to my recipe, i would still not have been okay with this. why? because the recipe listed wasn't the recipe used for the photo. it's straight up lying.
however, if my recipe was posted along with my photo AND the link back to the original post, that would be a different story.
there are a lot of different views on if it is OK to post another blogger's recipe onto your own blog. i know i have posted photos that i did not take–like this post–but i always gave credit to the sources of the photos. also, if i am posting a photo that belongs to someone else AND talking about their recipe, i will never post their full recipe AND their photo. that is just taking their content and passing it off as your own.
lame.
however, if i make someone's recipe and take my OWN photographs of the recipe, that is a different story. i love it when i see someone make my recipe, link back to my original post, and post a photo of how the recipe turned out for them. it's part of the joy that comes with sharing recipes! that's what we do. we share our recipes in hopes others will make them and enjoy them.. if we didn't want our recipes to be made, we wouldn't blog about them! we'd just keep them to ourselves, right? so when a recipe is made by a fellow blogger and they post their photos, experience, thoughts, changes, etc.. it is awesome to see the feedback.
here is where i stand on the debate, bullet style:
any photo taken from another website MUST have the source. i either do this by writing [source] by the photo with a link, linking to the original source on the photo directly (which makes it so when you click the photo it takes you to the source) or by stating the photo source at the end of a post.
any photo of a recipe taken from another website MUST have the source and you shouldn't actually post the recipe! if you post a photo of the recipe that you got from the blogger and say something like, "i have to make this soon! looks so great!" with a link to the recipe, then that's awesome.. it spreads the word about the blogger's post and sends traffic their way. if you post the photo AND the recipe.. why would your readers bother clicking over to the site where you pulled the recipe from? they've got it in front of their face, after all.
if you make a recipe taken from another blog and made NO changes.. just say "i made this recipe" with a link to the recipe and a photo of how yours turned out.
if you make a recipe taken from another blog and make a few changes.. list the changes you made. if there are only one or two, i will typically say "i followed this recipe for the most part, except i subbed out this for that and that for this." and then i'd include a photo of my version with a link to the original recipe.
if you make a recipe taken from another blog and make a whole slew of changes, i think it's fine to post the recipe you ended up with, but make sure you say "recipe adapted from this one" or even if you got the idea from someone, it's nice to say "recipe inspired by this one" with a link.
yep. those are my thoughts.
i would love to hear yours…
oh and by the way, i made sweet potato shepherd's pie tonight.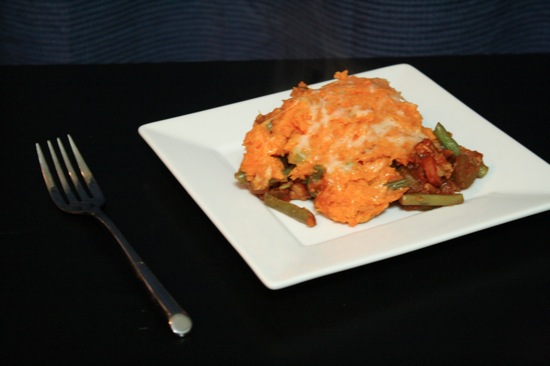 i followed my own recipe. i took a photo of the real food. that i actually ate.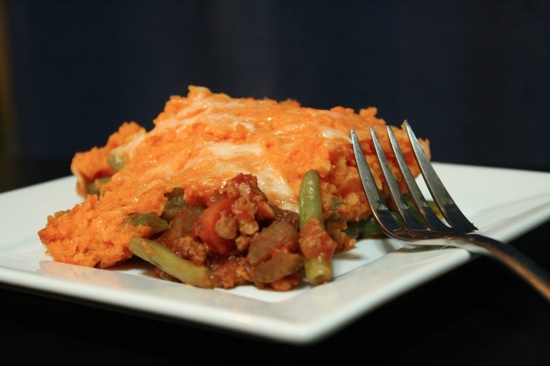 it may not be a glamour shot.. but hey, it's a real recipe. and a real photo. and it really came from me. and it is really good.
Qs~
1. thoughts on faux food photos?
2. thoughts on recipe reposting?
xo. janetha g.