when i started body for life back in 2008, i became a big fan of protein pancakes. i loved that i was getting so much protein disguised in a sweet, delicious pancake. when doing body for life, i aimed to get 25 grams of protein in at every meal and the protein pancakes were a great alternative to eating chicken five times a day. my protein pancakes were a total meal.  it was a simple way to balance my protein and carbs–a body for life requirement– packed up into one tasty pancake.
i finished body for life, but i kept eating protein pancakes. that was a good thing! however, i also kept that mentality that my pancakes needed to be high in protein. that wasn't necessarily a BAD thing.. but i would not call it a good thing. high protein pancakes ARE great. but they should not be a requirement. note–i did NOT say low in carb. carbs aren't bad, mmkay? but you know what else isn't bad? low protein pancakes. or, as everyone in the world calls them: pancakes.
i suppose the fact that if i am going to eat a sweet, carby breakfast, i would always pick french toast. ten times out of ten, my choice has been french toast. i love the stuff. i love waffles and pancakes, too, but i always knew i could eat protein pancakes (or waffles) any old day of the week and if i was going to spring for something out of the ordinary, i should eat french toast.
however, i have seen fat, fluffy pancakes popping up on various blogs lately and i had a sudden craving for a plate of them. not a plate of flat protein pancakes. a plate of fluffy, light, lovely pancakes that didn't need to have any cottage cheese.. or protein powder.. or coconut flour.. or other protein-packing ingredient.
so i made these.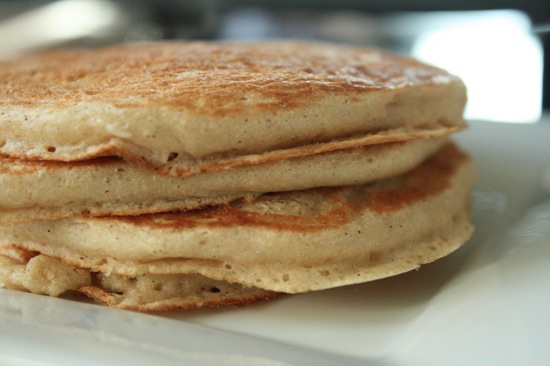 whole wheat yogurt pancakes.
makes six medium-sized pancakes
ingredients:
1/2 cup whole wheat pastry flour
2 tsp baking powder
1 TB sweetener of choice (i used xylitol but brown sugar, stevia, honey, etc would work)
1/3 cup + 1 TB milk (any kind, i used almond)
2 TB plain or vanilla yogurt (I used chobani)
1 large egg white (or 3 TB liquid egg whites)
1 tsp vanilla bean paste (or extract)
directions:
heat griddle to 350 degrees (or a skillet over medium heat) and spray with oil.
combine dry ingredients in a small bowl.
whisk in wet ingredients until just combined. do not over-mix.
pour batter onto griddle or skillet. cook for approximately 2 1/2 minutes per side.
serve with toppings of choice.
step by step notes:
a common mistake when making pancakes is over-mixing the batter. you release too many air bubbles when you over-mix, and your pancakes end up flatter than–well–a pancake. and if you are aiming for fluffy, that's not good.
make sure your griddle is preheated and well oiled. if you pour the batter on before it has preheated, your pancakes will not cook evenly.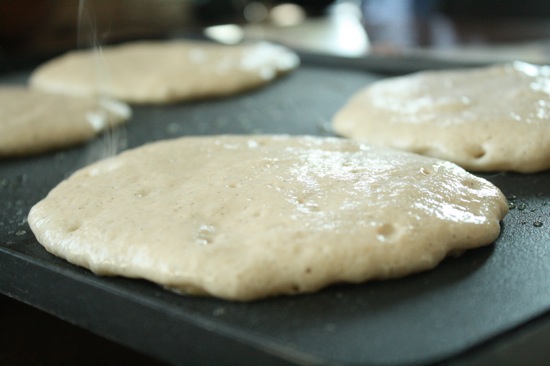 do not, i repeat DO NOT flip your pancakes too early. you flip pancakes once and only once. there is no going back. a good indicator of it being time to flip is when all the bubbles on the surface of the uncooked side have popped. then, and only then, flip the flapjacks.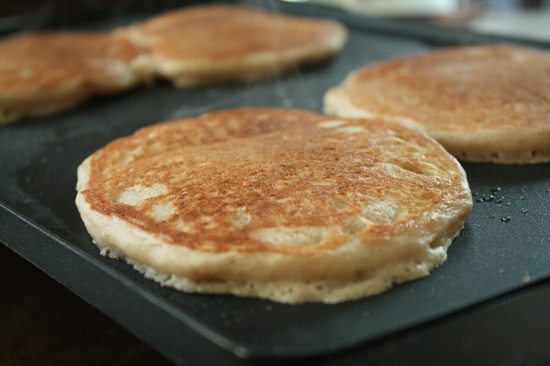 take note of how long you cooked the first side of the pancakes, and repeat that same amount of time before removing the pancakes from the griddle.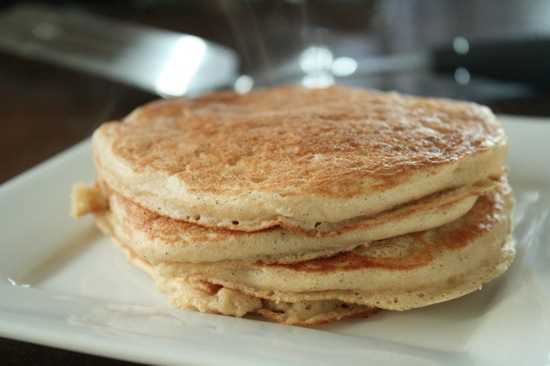 serve immediately, with toppings of choice.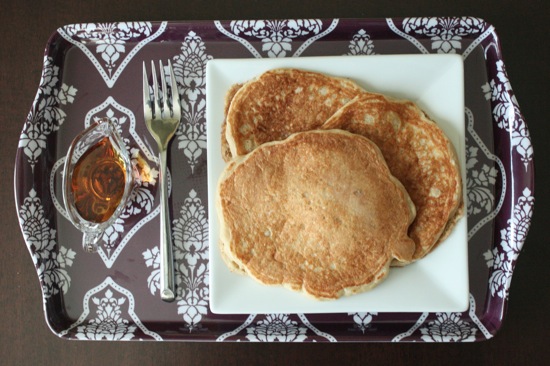 i ate all six pancakes. yep, the entire recipe. if you are cooking for two, double the batch. marshall hates pancakes so i was solo on this one.
the first half of the batch i ate with pure maple syrup.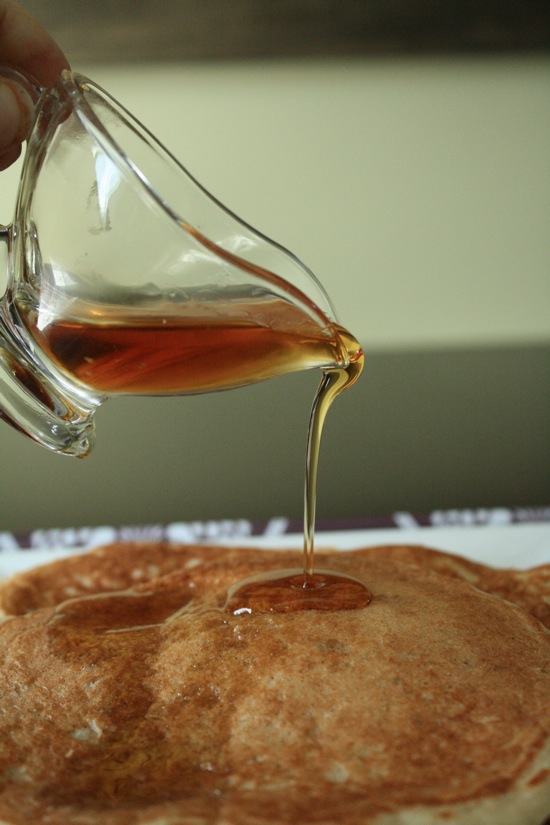 the second half i ate with peanut butter and cherry jam (and was too lazy to take photos the second time around. i was eating!)
nutritional information for entire recipe, using xylitol, plain chobani, and almond milk: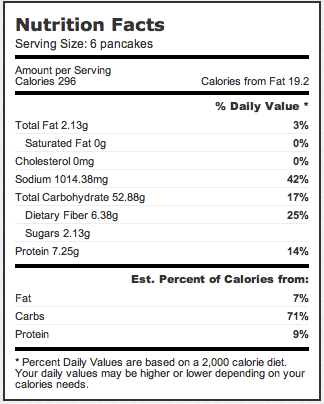 nutrition information per pancake, based on the recipe making six pancakes: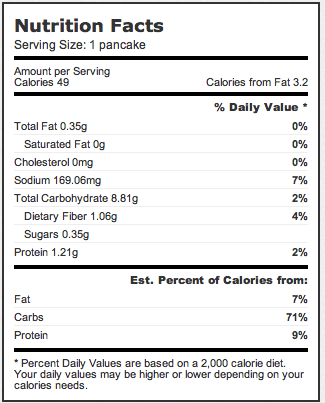 a pancake that has little to no protein?
it's not that big of a deal.
i can eat chicken for dinner.
but for breakfast? pancakes it is.
xo. janetha g.