hi!
wow, for it being a short week at work, i sure do feel busy. i have been occupying myself with a lot of year end accounting stuff and it really drains my brain. that leaves little creativity on the blogging front, so i apologize if this post is a little scatterbrained.
my boss always says the phrase, "this, that, and the other." not sure why he says it all the time, but i honestly hear it come out of his mouth a minimum of five times a day. i figured it'd make a great post title since i am just going to talk about this.. that.. and the other!
this.
first off, i want to post an official THANK YOU and HELL YES for all the participation in dedicated december!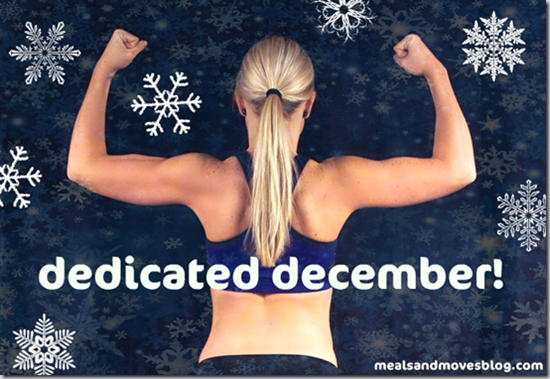 it was a huge success with over 3,500 workouts logged! goodness. that's amazing.
the random winner for the week of december 25-31 (a contigo cold bottle) is:

congrats, bria!
the winner for the MOST workouts logged in ALL of december is sami!! she was a freaking machine and worked out multiple times a day. DANG. she's a big basketball star, so she has to keep in shape. sami is the winner of a contigo hot mug and a contigo cold bottle. congrats, sami!
the other prize that has yet to be awarded is a $10 amazon gift card to the most creative workout. i have created a poll so you can vote for the workout you think is the most creative! sorry if i missed any super creative workouts logged.. with over 3,500 coming in, it was hard to filter through them.. but i did my best.
i will pick a winner in a few days once people have had a chance to vote!
moving on…
that.

i can barely walk today thanks to my lower body workout yesterday (you can find it here)… i hadn't done legs since before christmas eve (i missed a few workouts due to my accident) and so the DOMS is worse than usual! not complaining, though. i love it when my legs are sore.
today's workout was chest, abs, and cardio. here's the rundown:
chest/abs:
barbell bench press (warm up): 8 reps @ 50#
reverse grip barbell bench press: 4 x 8 @ 50#
dumbbell flyes: 4 x 8 @ 15 lbs (each hand) superset with:
dumbbell chest press: 4 x 8 @ 25# (each hand)
incline dumbbell chest press: 4 x 8 @ 25# (each hand) superset with:
bench dips: 4 x 8
cable crossover: 4 x 8 @ 30#
medicine ball weighted crunches: 3 x 25 @ 25#
hanging leg raises: 3 x 15
reverse crunches: 3 x 15
cardio:
treadmill circuit:
2 minutes @ 6 mph
1 minute @ 6.5 mph
1 minute @ 7 mph
1 minute @ 7.5 mph
1 minute @ 8 mph
repeat 4 times for a total of 30 minutes
i am trying to lift heavier weights than usual so i can build more muscle, but i am still a little bit of a weakling. getting there!
and finally.. the other.

today was national spaghetti day, but it seems like it's national spaghetti day every day at our house! we eat spaghetti nearly once a week. the fact that it is one of the two dinners marshall likes to make (tacos being the other one) is one of the reasons why we have it so often. if i can get out of cooking dinner every once in awhile, it is really nice. i do love to cook, but i have a lot of things going on, so a break is always welcome.
since we have traditional spaghetti so often, i decided to switch it up a bit tonight and did a pesto spaghetti for marshall and steamed spaghetti squash for me. i am being mindful of my carb intake right now since mexico is a mere 3 1/2 weeks away. to go with our his & hers spaghetti, i made goat cheese stuffed chicken—always a favorite in our house. i stuffed the chicken with goat cheese, sun dried tomatoes, and minced garlic. i seasoned the outside with salt & pepper, seared each side for a minute in a cast iron skillet, then baked the chicken at 350 until it was cooked through.  i rounded out the meal with steamed asparagus.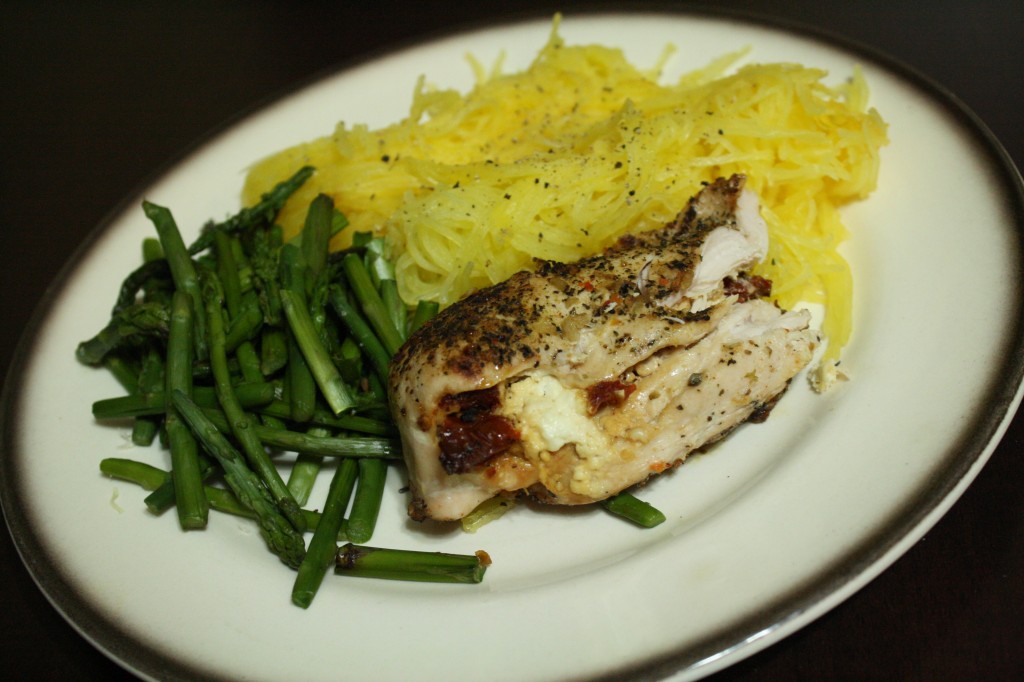 healthy and balanced.  AND delicious.. which is the most important, right?
i lied. i have one more thing. a favor to ask, actually.. i am in the running to win a super sweet owl vase. if you click here and vote for my photo, i'd be stoked. thanks in advance!
see ya later, alligators.
xo. janetha g.