hey guys!
it's 10 PM and this is the first time i've opened my laptop today. i've been on the go, go, go.
speaking of laptops.. i am loving my mac. not loving the blog writing software so much (using mars edit right now) but i think i will be taking paige's advice and will be running windows live writer from my mac eventually.. i just have to get a copy of windows first. other than the blog writing hangup, i love everything about my mac and am so happy i went with one over a PC.  BUT.. i really hope my photos can be rescued from my old PC. i haven't had the chance to pay someone to look at it yet (okay, i haven't had the money, let's be real.)
today was super productive on the sleeping, cleaning, fitness, and fun front. i think that's because yesterday i was a total waste of space and did nothing with myself. oh–except for see the girl with the dragon tattoo which i LOVED! now i want to read the trilogy of novels. anyway, since the real first day of the year was pretty worthless, i declared today a new year's day do-over.
today i slept in until 10 AM.. had to soak in that one last day off before i go back to the daily grind tomorrow. i think getting a lot of sleep is a really productive thing. it's good for our health!
between 10 AM and 2 PM, i cleaned my heart out. scrubbed the bathrooms, deep cleaned the kitchen (including the fridge), did all the laundry (but, of course, have not yet folded it..), washed the sheets, and organized my closet. new year, clean house.. right?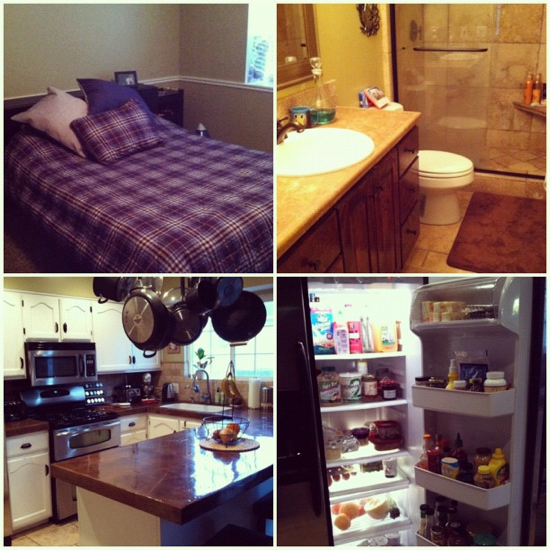 i headed to the gym at 2 o'clock. i technically finished the last day of the 12 week trainer last saturday, but i want to stay super fit before my trip to mexico (at the end of the month) so i am going to do four additional weeks of the program. i have opted to do weeks 7, 8, 9, and 10. those specific workouts combine heavier lifting with various states of cardio (steady, high intensity intervals, and sprints) so i can build additional muscle while keeping any pesky fat away.
so, with that plan in mind, i tackled the first day of week 7 today. it was an arms, abs, and cardio workout.
arms/abs:
close-stance pushups (focus on triceps) 4 x 15 at bodyweight
seated overhead triceps press 4 x 15 at 25#
single arm triceps cable pushdown 3 x 8 at 30# superset with:
single arm reverse grip triceps cable pushdown 3 x 8 at 30#
barbell skullcrushers 3 x 8 at 35# superset with:
narrow grip chest press (focus on triceps) 3 x 8 at 30#
incline dumbbell biceps curl 4 x 8 at 15# each hand
alternating biceps curl (standing) 4 x 8 at 15# each hand
barbell 21's 2 sets at 25#
ball crunch 3 x 50
jackknife sit-ups with ball in hands 3 x 15
reverse crunches with ball between feet 3 x 15
cardio:
upright stationary bike:

1 minute at level 20 (standing up while pedaling)
4 minutes at level 12 (seated)
repeat 5 more times
30 minutes total
after the gym i came home, cleaned myself up, and headed out!
marshall & i had a double date planned with kristen & rory. we hadn't seen them in SO long (aside from the new year's eve party) and we hadn't even had a chance to exchange christmas gifts yet. madness.
we met for an early dinner at my favorite thai restaurant in salt lake city.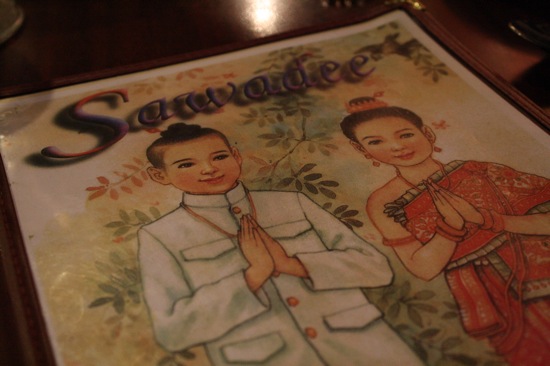 sawadee is located on 750 east and south temple. if you are in the area, i highly recommend you try it!
we started with the tofu soup to share.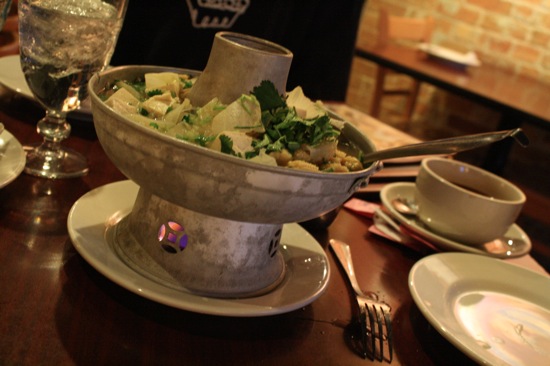 it comes out in a hot pot and the soup stays warm with the flame that's under the bowl. i am sure there is a technical name for this, but i am not hip to the thai restaurant lingo.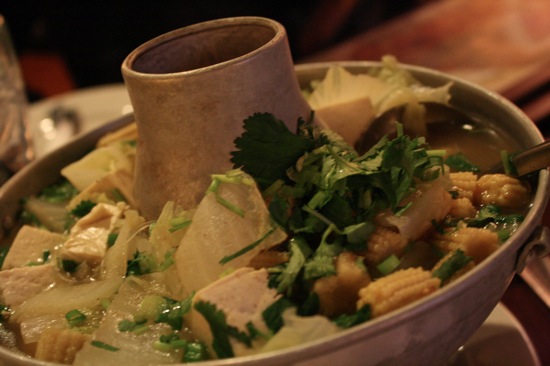 the soup had glass noodles. fresh tofu, cilantro, green onion, white pepper, baby corn, and garlic. it is SO fresh and flavorful!
for my entree, i ordered the steamed veggies, chicken, and peanut sauce. the vegetables were so bright! i have been lacking in the vegetable consumption lately, so this is just what i needed.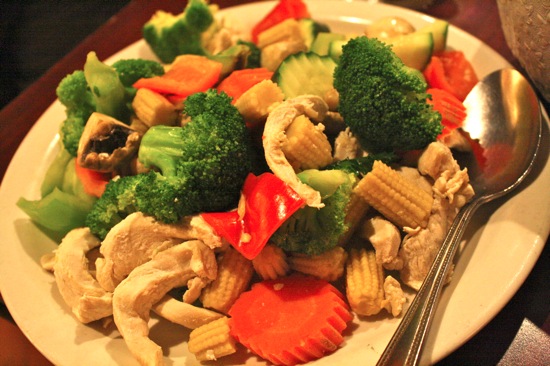 the side of peanut size was large enough to bathe a small child in.. i mean, better too much than not enough, i guess?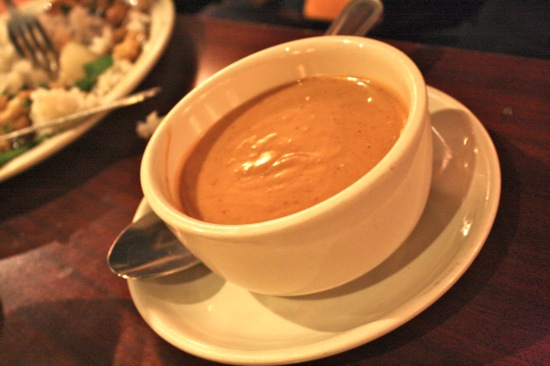 after our delicious meal, we headed to kristen & rory's to exchange gifts and say hi to the pups. we didn't have long, because we had tickets to the jazz game. unfortunately our seats weren't together, so we parted ways and headed to the game.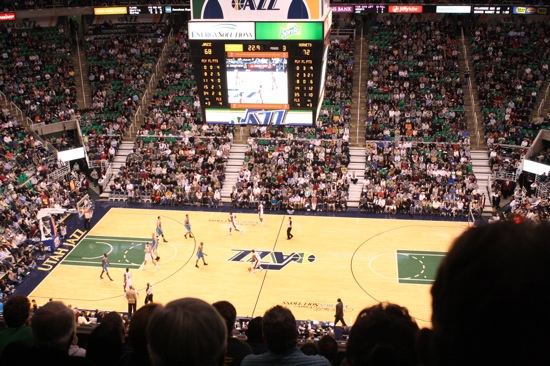 i LOVE NBA games and i am really glad they got the ball rolling (er, bouncing?) on starting the season.. even if it was a little late.
this game was extra special because kristen's sister performed at the halftime show. they did a great job!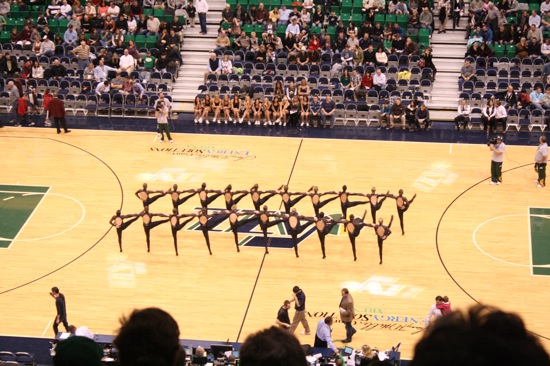 i am always so impressed when i watch dancers. i just can't imagine remembering all the moves, not messing up, not falling on my face, and staying in sync with the others.. all at the same time. i could not do it.  i also could not stand on my head.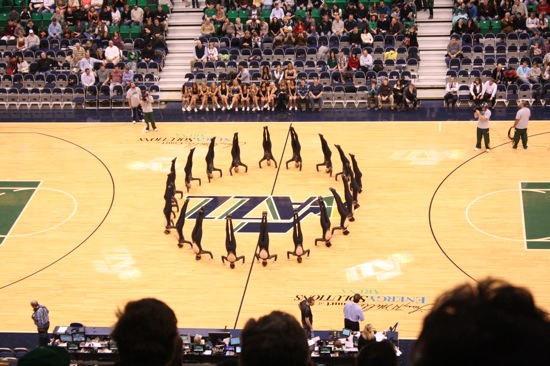 these girls were incredible.
after the halftime show, marshall & i went to find a sweet treat. we were pleased to find a self serve ice cream/frozen yogurt/frozen custard spot!
the only downfall was the gigantic line we waited in to weigh & pay. by the time we'd checked out, my ice cream was super melty. that didn't stop me from eating it, though. i went with cookies & cream, vanilla, and strawberry.
the second half of the game was really intense! it was a nail biter, but we came out on top.
jazz games are much more fun when they win!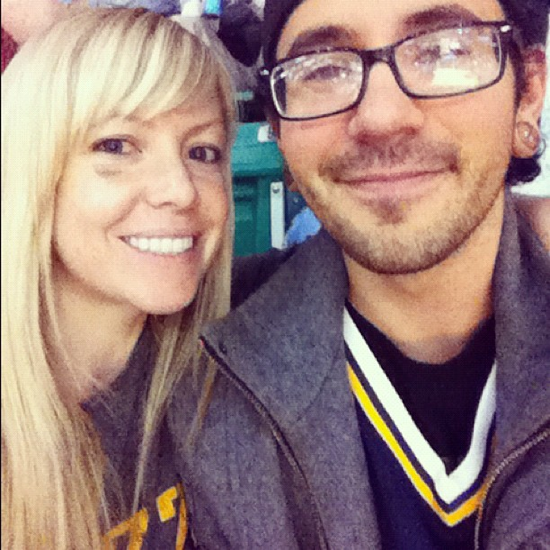 and look! my black eye is almost gone. my nose still hurts a little bit when i touch it, but at least it keeps me from picking my nose.
see ya later!
xo. janetha g.