well, today was my last day at the office. this year, at least. won't be quitting my day job any time soon.. that's for sure.
i met some girlfriends for lunch at 12:30 today. my friend j5 is moving to australia! lucky girl. she's an archaeologist and got a great gig down under.  we went to the citris grill. i love that place! hadn't been in forever.
i ordered a blackened prawn salad which had spinach, gorgonzola, candied pecans, strawberries, avocado, onions, and a sweet balsamic vinaigrette. the lighting was horrible and so my photo didn't turn out. i am sure you know what a salad looks like.
i did manage to snag a photo with the ladies–my black eye is getting better!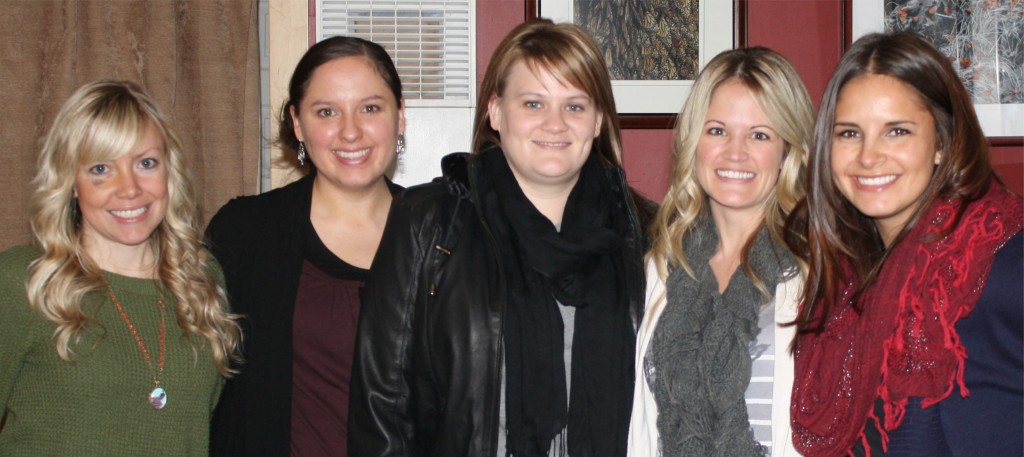 since things have been dead at the office, i opted to not head back to work and instead met up with marshall to run a few errands. we needed some stuff from the mall. you know.. hairspray.. gym clothes.. sparkly goat head rings. the usual.
i had an eye appointment later in the day and despite my lack of properly caring for my eyes, my contact prescription hasn't changed. i am trying out the new air optix night & day contact lenses because you are allowed to sleep with them on your eyeballs for 30 days straight. this is something i do anyway, so i may as well go with a contact that the FDA has approved and given the A-OK to sleep in for a month.
after my eye appointment i headed to the gym for a shoulders & cardio workout. the only cardio i can do right now is the ol' stationary bike since my broken nose doesn't like the idea of running and all that bouncing around.  tomorrow is technically the last day of my 12 week livefit training program, but since i have nothing better to do i have made the decision to prolong the livefit workouts into january. i go to mexico in a month, so i plan to do the last 2 weeks of phase 2 and the first 2 weeks of phase 3 in order to stay in shape before the trip.
and that's that.
wow. it seems a tad surreal that the last day of the year is tomorrow. that sure snuck up on me. pretty sure it does that every year. but honestly, the older i get.. the faster time flies. 2011 went by ridiculously quick!
i had a couple resolutions that i blogged about at the beginning of 2011… to touch my toes and to close things. i know, weird resolutions, but that's what they were.
i failed at touching my toes. i tried. really, i did. i gave bikram yoga a try (only type of yoga i have ever done, in fact) and i stretched a whole bunch. since my dear old dad can't touch his toes either, i am going to go ahead and blame genetics for this one. we just have tight hamstrings, that's all! however, i will continue to try to touch my toes and i renew my resolution to touch them one day.. but my new deadline is set for before i die. sound good?
on the close things resolution—well, let me explain. i used to always leave the lid loose on containers or wouldn't close cereal boxes. it REALLY bothered marshall. i quickly changed my habit and am very mindful of closing things tightly now. good for me. resolution success!
one out of two isn't bad, right?
this year, i am joining marshall in a couple of his 2012 goals. these are two goals i have done before, and they were good ones, so i'm bringing them back.
no soda.
no candy.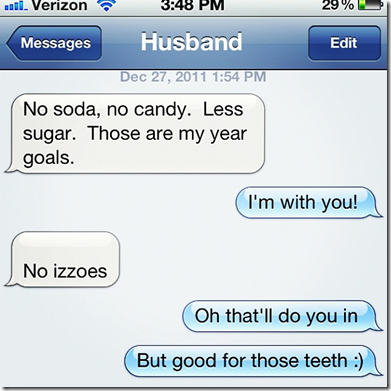 i didn't drink a drop of soda in 2010. i didn't eat a bite of candy in 2009.  in 2011, however, i did drink a little bit of soda (maybe 5 total) and i ate a whole lot of candy… just because it was there.
soda and candy don't make my world go round. that's what cereal and ice cream are for. soda isn't something i drink, even if it is there. the only times i drank it this year was when i was sick (sprite) and i had a dr. pepper at a mexican restaurant (love.) candy is something i typically avoid, but over the holidays i found myself eating piece after piece after piece just because it was everywhere i looked. and i didn't even really enjoy it. what a waste.
soda and candy aren't doing my teeth any favors. i know i won't miss either of them. i am nixing them in 2012.. thanks for marshall for the idea and motivation.
i have to say that i really appreciate the fact that marshall is really into being healthy. having a supportive spouse is HUGE when trying to live a healthy lifestyle. he did the no candy thing with me successfully in 2009 and his resolution for 2011 was no soda—he did it. he went from a pepsi pounder and mountain dew maniac to zero soda—aside from izze—and he's even giving that up this year.
marshall goes to the gym daily, packs his own healthy lunches, requests healthy dinners, and is really conscious about staying in shape. (we are ignoring the fact that he can eat pints of ben & jerry's with no consequence.) i have to give him a big fat thank you because he inspires me and encourages me to get to the gym and eat mindfully each and every day. sappy, but true, i love the guy.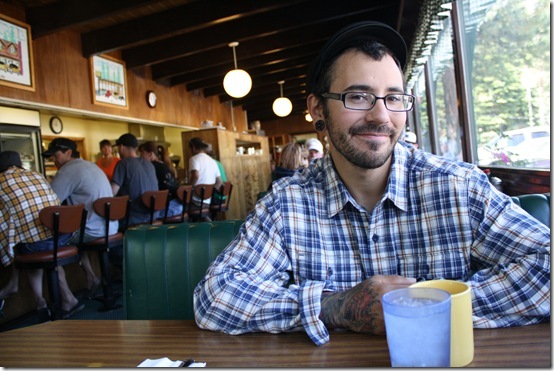 well.. hope you have a great friday night, and if i don't make it back.. have a happy, fun, and safe new year's eve!
Q~ 
any resolutions or goals for 2012 you'd like to share with the class?
xo. janetha g.
p.s. the BLEND retreat chobani winner is:

congrats! use my contact form to send me your address. hope to see you all at BLEND in may!