hey guys!
i had the day off from work today! as you may know, my sister and her fam are in town from california. they aren't here in the winter very often, so when they are they have to take full advantage of the situation. on the agenda today was skiing! (snowboarding for me and my brother in law.)
the last time (and only time) my nieces went skiing was in 2009–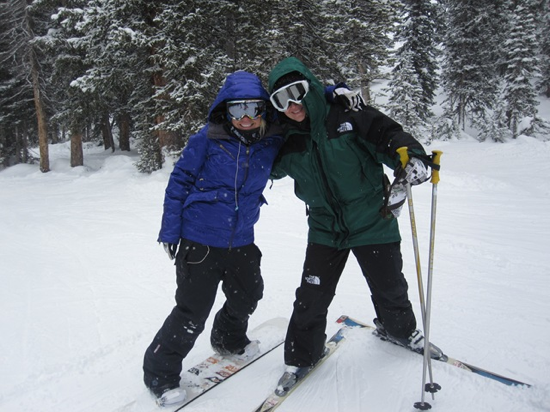 today was only a half day.. partly because the snow is super crappy and partly because we are all wimps and the thought of a full day of skiing/snowboarding with the kiddos was a little daunting.
prior to heading up to the resort, i headed to the gym. i had to take full advantage of my day off! i went to the gym at 10:30 AM and WOW, sure wish i didn't have that whole day job thing because the gym was absolutely dead. it was fabulous.
you might be wondering why i am working out with a broken nose. well, i am actually feeling a lot better. i haven't taken pain meds in over two days. my face looks bad, but it only hurts to the touch. my nose doesn't look crooked, so i don't think i will need surgery! so happy about that.
i don't think running would be a good idea, but my workout today was lifting chest and calves.. nothing that requires too much bouncing around. i went ahead and completed the workout–which was day 80 of the livefit trainer–and felt really great afterward.
this workout was a GIANT set–seven different moves, 20 reps each move, lighter weight.. then a 3 minute rest before completing the set twice more for a total of three sets. here it is:
barbell bench press (50#) x 20 reps
incline dumbbell chest press (15# ea) x 20 reps
dumbbell flyes (10# ea) x 20 reps
assisted dips x 20 reps
pushups x 20 reps
standing calf raise (120#) x 20 reps
laying calf raise on leg press machine (90# plus sled) x 20 reps
the workout called for 30-40 minutes of cardio afterward, but i just did 25 minutes of easy cycling on the bike and called it good.
i picked my snowboard gear up from lindsay, my friend who i was in the car accident with, and headed up to brighton (the ski resort.)  i was really anxious driving up the canyon and drove super slow. it was a really weird feeling and i hope i am not always super sketched out when i drive in the canyon from now on!
i quickly met up with my mom, sister, brother in law, and nieces who had already taken a couple of runs. this was my first time riding this season–i know, i can't believe it either, i am such a loser–and it was so nice to be back on the slopes!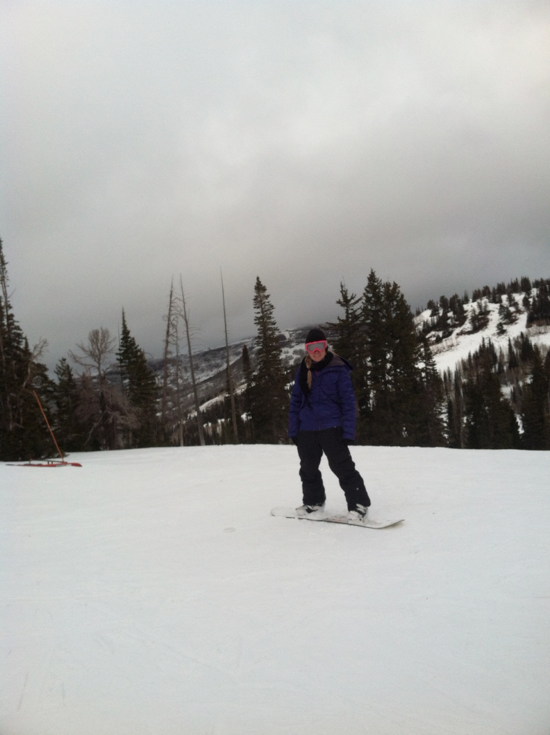 the snow was crappy, but it was still a good time.  spending time with family never gets old.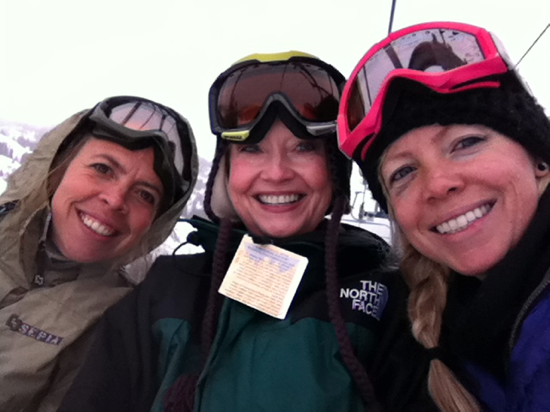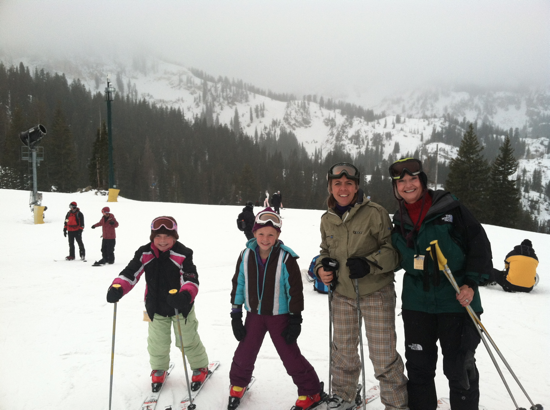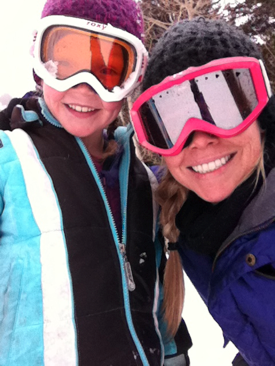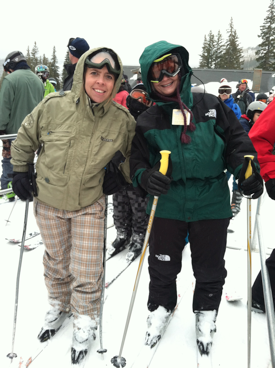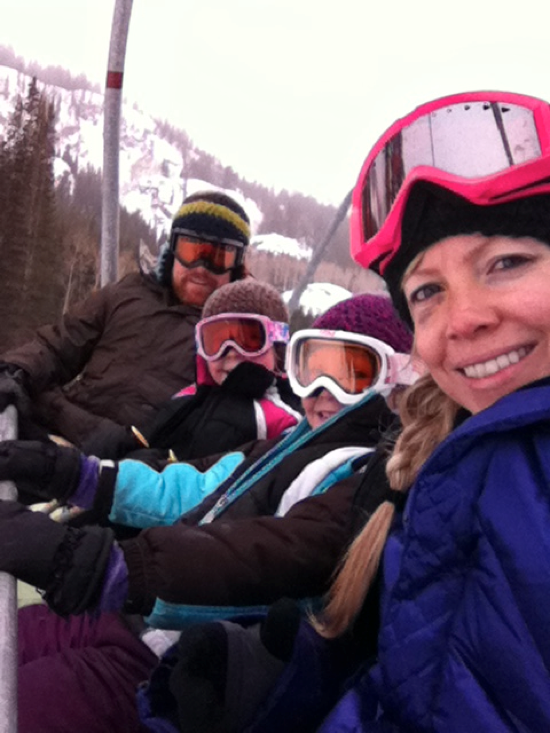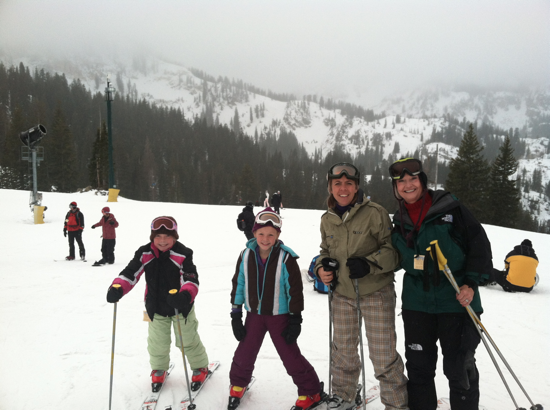 we called it a day at about 4:30 and headed down the mountain. i was a basket case driving DOWN the canyon, since that's the direction we were going when i broke my nose on saturday. i was driving suuuuper slow and my knuckles were white from gripping the steering wheel so tight. it wasn't even snowing! i was just so anxious.
i made it out of the canyon alive and we stopped for some mexican food. we stopped at pistol pete's and i had a salmon salad plus lots of chips and salsa.
just popped home for a minute to blog, but i think my frozen custard tooth is kicking in.. so i gotta go.
real quick.. wanted to show you how much penny is enjoying her HUGE bone.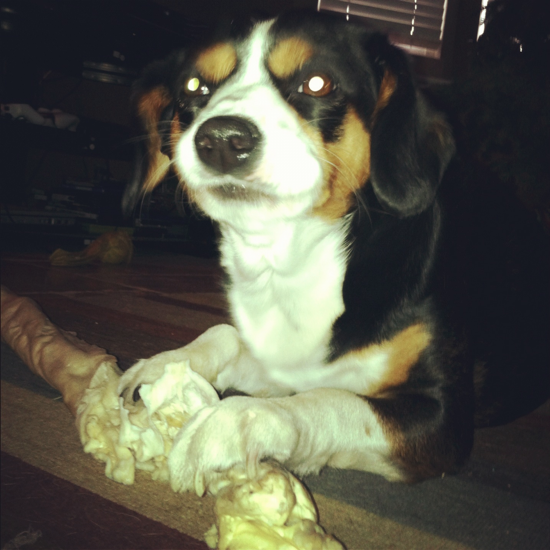 ha! she is the best ever.
talk tomorrow!
Q~
do you like winter sports? which ones?
xo. janetha g.