hello! i went back to work today but things are really dead at my office. we aren't manufacturing or installing any windows this week so most people are off. it does provide me with a lot of time for miscellaneous bookkeeping and organizing piles of nonsense to be filed away before the new year begins.
i want to recap christmas day before the memory of it escapes me completely. i have a really bad memory and part of the reason i blog is so i can look back and remember various events in my life. gotta love technology.
christmas morning started around 8 AM. penny and randy woke up to see that santa had visited our house despite how bad they've been lately!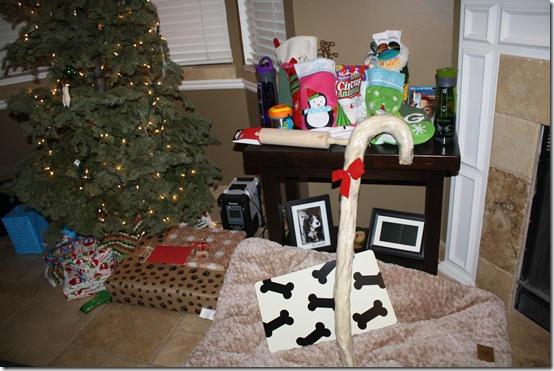 they anxiously waited for marshall to unwrap that HUGE candy cane rawhide.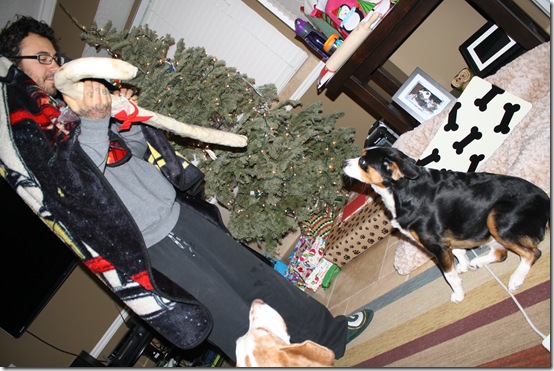 they loved this bone so much that we headed to petco on monday to clean out the rest of the stock—they had four bones left and they were half off!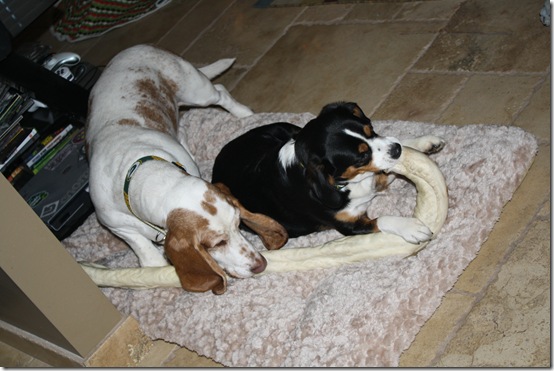 it's a good thing we picked up extras, too, because they spent the whole day taking turns gnawing on the giant bone.
marshall and i exchanged gifts.. we had a set budget of $150 per person including stockings. marshall totally cheated, but i am not complaining. he hooked me up with a couple nice pair of running tights, an under armor sweatshirt that i would never have bought for myself (fact: before christmas day, i didn't own a single piece of under armor clothing because i am cheap), a water/air flossing device because i love dental hygiene so much (what?), a rolling pin (yes! no more wine bottle), a food chopper, and an ipod nano complete with new ear buds.
i was a bit of a failure and two of the gifts i got marshall were total busts (wrong size earrings, wrong type of wallet) but it's the thought that counts, right? he did love this custom keep calm print i ordered: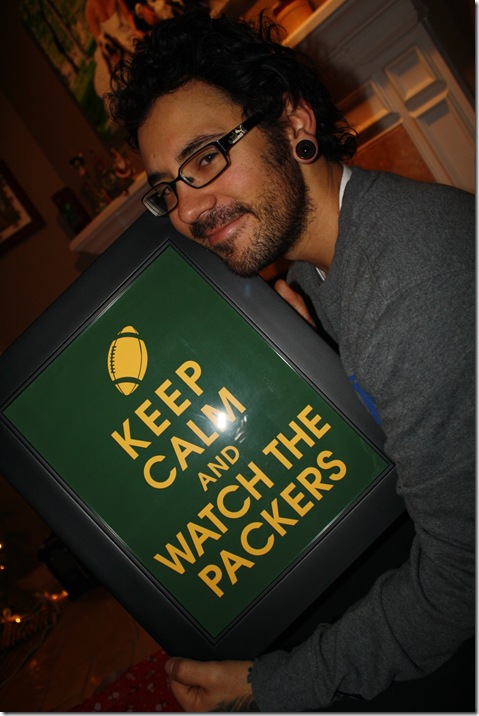 i got him some other artwork to hang on the wall—he is making a man cave out of our spare bedroom and needs a lot of packers stuff for decorating! i aim to please.
after exchanging gifts, we headed to my parents' place for some breakfast and to see what santa left in our stockings. and yes, there are four different pieces of packers apparel in the photo below. probably five if you we could see the shirt that's under marshall's hoodie.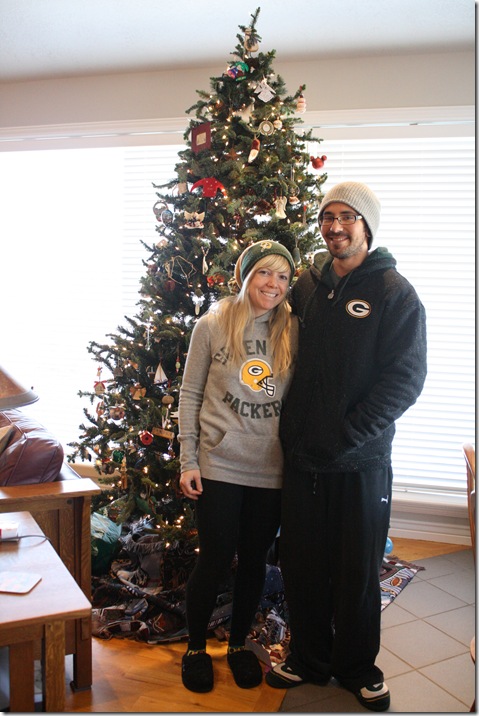 i made a goat cheese, sun dried tomato, onion, and ham frittata. i used 12 eggs and used our biggest cast iron skillet!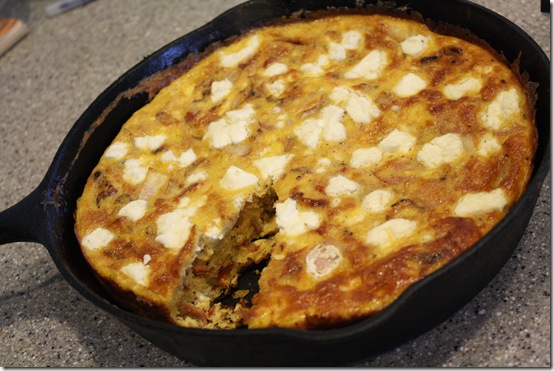 i also roasted some red potatoes in garlic, olive oil, and trader joe's 21 seasoning salute to go alongside the frittata.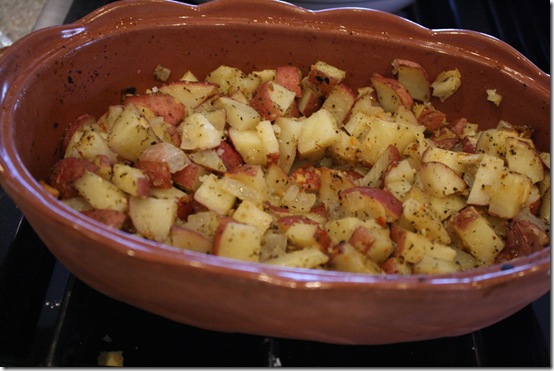 add a little ketchup and i was set.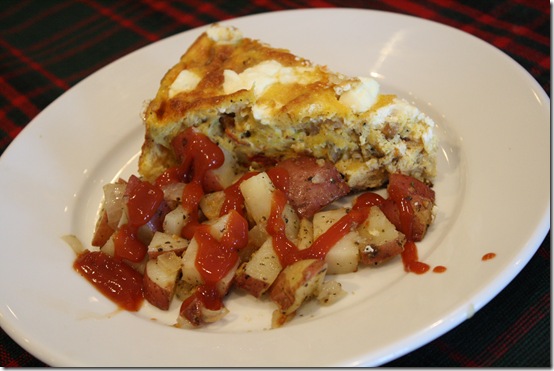 i did want a little sweetness after my savory breakfast, so i whipped up a single piece of french toast using an egg, almond milk, and cinnamon. i topped it with syrup and powdered sugar, just like i did when i was a kid.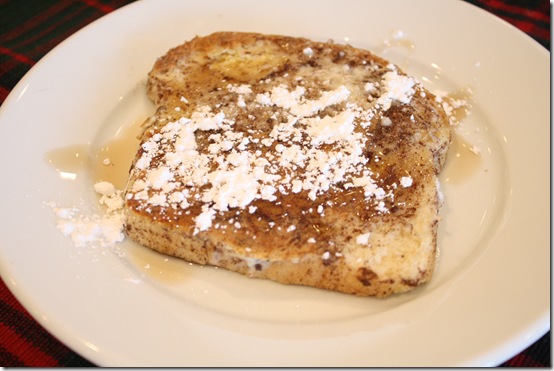 i always look forward to seeing what santa left in my stocking each year.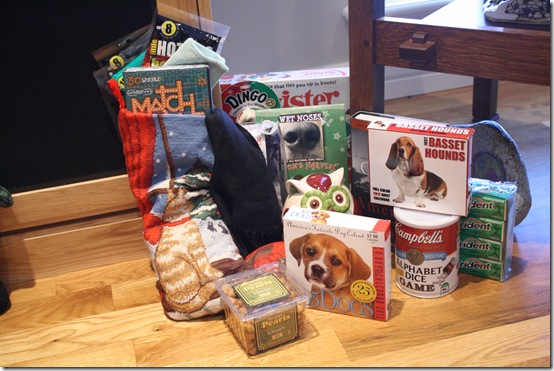 you can bet there's always at least one miniature item.. love mini things! i was right—i got a baby vaseline. best cure for lips during utah winters! (don't mind the busted up face.)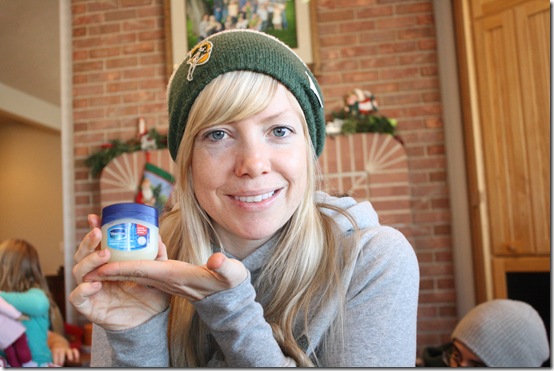 i was bummed to see my mom actually got an even SMALLER vaseline in her stocking!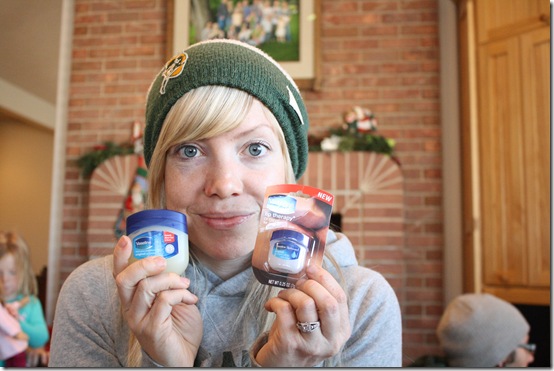 it's tiny! in fact, santa brought my mom several mini items for her stocking. (my mom plays santa for all of us, and we play santa for her…)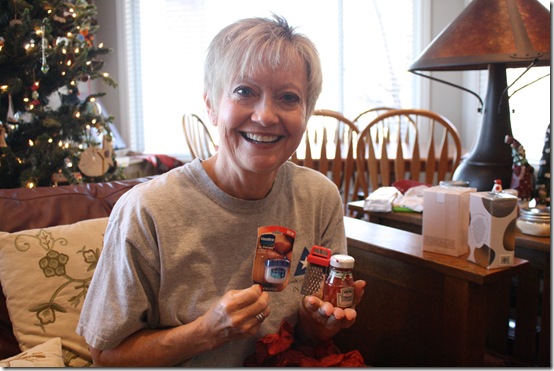 we had fun seeing what else santa left in our sock.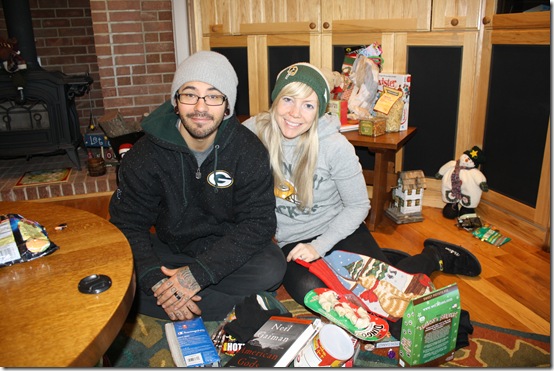 the highlight? MATCH GAME ON DVD! i know kristina is jealous of this gift!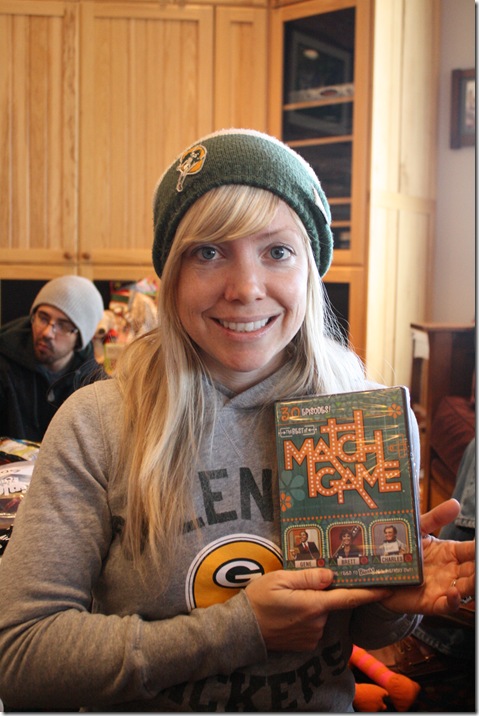 i flipping love old school game shows—especially match game. i am such a sucker for richard dawson, charles nelson reilly, brett somers, and gene rayburn.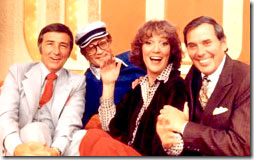 (source.)
maybe i was born in the wrong decade?
another highlight each year is watching my mom thumb through the calendar we make her. i threw in a couple of wedding photos from my parents' wedding and that started the waterworks. always a success!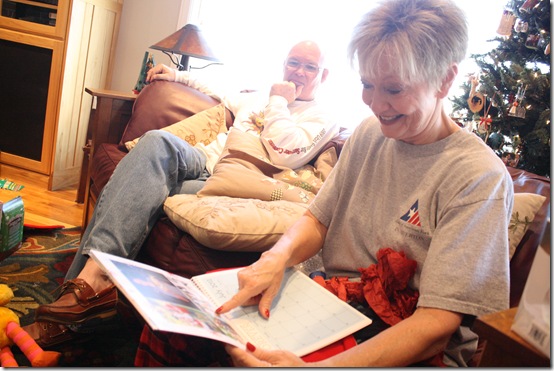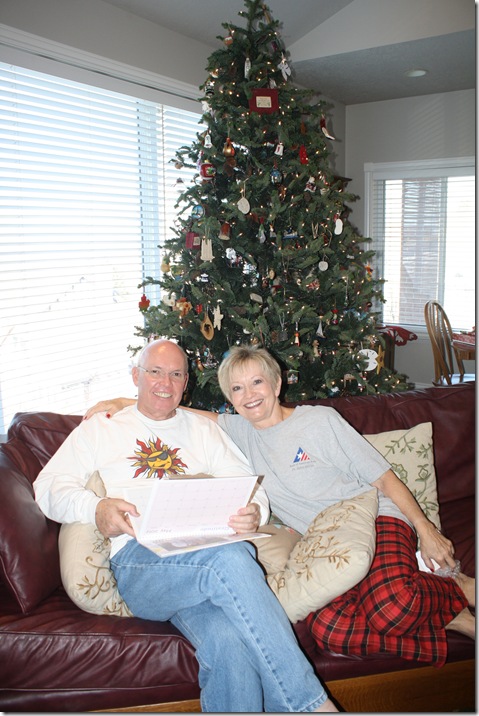 my niece, izzy, was super stoked on her hello kitty toothbrush. i know a certain someone who would be all about that!
it has been so nice to have my sister and her family in town from san diego for christmas. they just need to move back.. but i don't foresee that happening. ever.
my family had to head to church, so marshall and i went home to cuddle up with the pups. we napped, i blogged about my broken nose, and marshall whipped up a gourmet christmas dinner just for the two of us.
grilled ham & cheese with tomato soup. one of our favorites!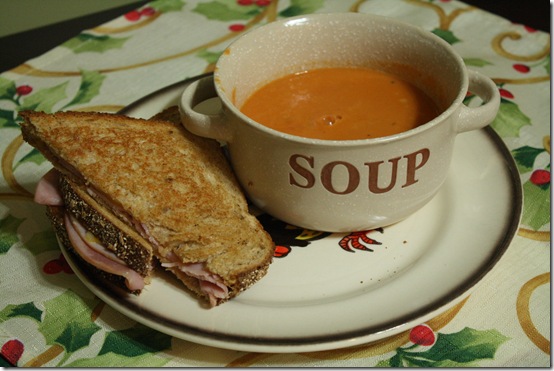 after dinner i napped some more with a big basset hound on my belly.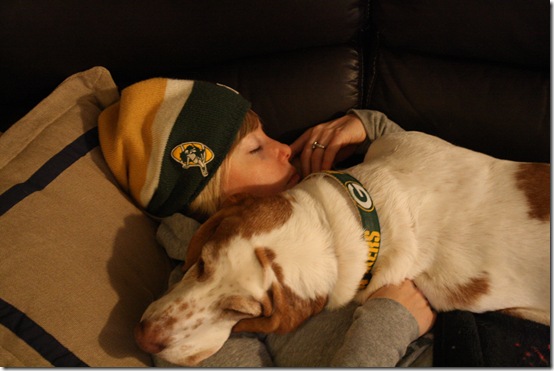 and then we watched the packers kick the bears' butts. it must have been the packers collars we gave penny and randy for christmas that acted as good luck charms!
after the game, marshall and i played a new word game that we received in our stocking. it was a hybrid of boggle and scrabble.. SUPER fun!
marshall beat me fair and square. i blame the pain meds for fogging my thinking capabilities!
around 11 PM we realized we were super hungry, so we did the most logical thing and drove to momma b's! we stole honey baked ham, turkey, dollar rolls, cranberry salsa, pumpkin pie, and fresh vanilla bean whipped cream. we brought it all home and feasted on our delicious midnight snack. thanks for supplying the goods, mom.
monday started off pretty uneventful. i slept in until 10:30, ate some cereal, and went back to sleep until 12:30! i hauled myself out of bed so marshall and i could run a couple errands. we bought the kiddos more candy cane rawhides. we went to costco. we exchanged marshall earrings that i got for him. we also hit up best buy where i purchased a macbook pro. i know i said i wasn't going to get a mac due to the lack of windows live writer. but i really love macs for everything else.. so i decided to bite the bullet and see if i can deal with the blog software mac offers. here's hoping i love it!
marshall's parents paid us a visit monday afternoon and we exchanged gifts. they are SO thoughtful and got us the most awesome gifts. packers art, soft blankets (a packers one and an owl one!), a purple houndstooth thermal for me, and an awesome packers wallet for marshall that makes up for the crappy wallet i got him.
monday evening was rad because we were able to get together with all my siblings. that rarely happens since everyone has kids (well, aside from me and marsh) and my sister lives out of state. but last night my parents took all the kids to see the zoo lights and us big kids got together for games, cafe rio mexican food, and cheesecake. it was awesome to spend time with all of them.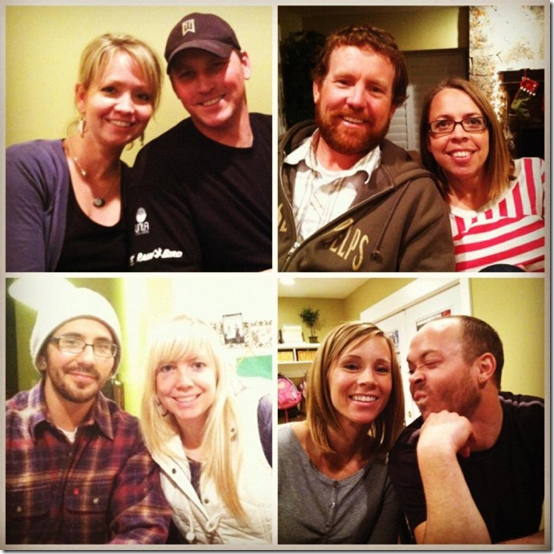 my brother makes the best faces in every photo. always. bless him.
and now it's tuesday night.. hey, i didn't do so bad at taking a long time to recap the holiday highlights, did i? plus, i was injured.. so that's pretty impressive.
oh, on the workout front, i haven't worked out since friday. i am bummed because this would be my final week of the 12 week trainer, but that whole broken nose ordeal slowed me down. i could work out if i made myself, but my face hurts and i want to take it easy. it's frustrating to be set back due to injury.. but i want to heal properly. plus, i have my whole life to work out!
chat later.
xo. janetha g.