hey guys! dedicated december is still going strong. there are over 2600 entries so far! the week of december 10-17 prize is a box of simply bars–flavor of winner's choice.
the winner for this giveaway is #2542, claire! congrats! please use the contact form above and send me your address. the funniest thing is that the winner of week one was ALSO named claire! just a different claire.

the giveaway for this week, december 18-24, is a couple of 32 oz containers of chobani yogurt! all entries logged between these dates will be eligible to win. (USA only.)
i have a great post from bonnie today. she is helping us all stay motivated while plugging along through dedicated december. hope you enjoy her post as much as i did!
*********************
Hi Meals and Moves readers! My name's Bonnie and I'm an in-home personal trainer just north and across the border from Janetha and Marshall in Calgary. I blog about fitness, running, and adventures with my husband over at Life to the Full and couldn't be more thrilled to be guest posting today!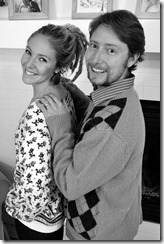 December means many things, including awkward poses in ugly sweaters!

I love Janetha's Dedicated December idea because it can be so tough to stick with a fitness routine during this season of the year. Parties and tasty treats; late nights, less sleep…The holidays are a great time for celebrating life, friends, and food but they're also a time that can toss our healthy habits out the window. Even with the motivation of a fresh calendar, it can be hard to get moving with cold weather and make time to eat well. We're all juggling different schedules, busy lives, and dealing with different obstacles to achieving a healthy lifestyle. If you're a regular reader here, you're likely trying to live a healthy, fit life yourself, so these thoughts will come as no surprise to you, but hopefully my tips can help light or reignite the fire under you to stay active during the winter! Read through for an at-home workout you can squeeze in your busy days and check out what helps me stay motivated during the holidays:
No Excuses

– I simply don't give myself the opportunity to think I can skip a workout. Does this mean if I'm absolutely fatigued or super sore that I power through my workout? No – it's so important to listen to your body. But that being said, it helps me to not give myself much leeway.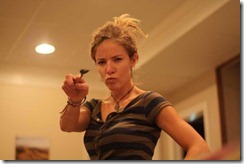 My "No Excuses!" face…pretty intimidating, I know.

Focus on the "Party Days"

– I make it a point to head out the door for a run, get a 20 minute strength training workout in, and eat extra mindfully on the days I know we have a social event planned. This works for me because I think the special treats and foods are meant to be enjoyed during this season and knowing I moved and ate intentionally gives me that freedom to enjoy! This is not an excuse to eat like crazy – the truth remains that it's far too easy to sabotage your workout efforts with a few bites of high sugar, high calorie, high carb foods! But, I feel more balanced and healthier when I'm moving more, eating thoughtfully, and then enjoying a glass of wine and treats with friends.

Think of the Bigger Picture

– Something I say a lot on my blog because I'm always saying it to my clients is this: "No one EVER says they regretted working out." Isn't it so true? What will make you feel best – staying consistent with your workouts or allowing yourself to skip and rest? I KNOW I always feel better if I move, even just a little bit, and knowing this as truth and fact in my mind helps me to make the decision in the moment. I'll be all smiles post-workout, but not if I say, "Well, it's the holidays. I'll get back to it Monday (or January 1st!)."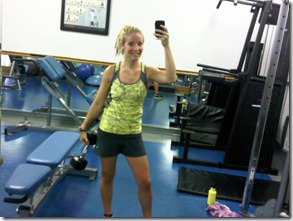 Will you regret it? No way! But you might regret giving yourself a pass and postponing your workout!
Embrace the Hardship.

When I'm feeling unmotivated to get moving or am feeling drained during a workout, I remind myself that it's

supposed

to be tough. So embrace it and enjoy when it feels hard to commit to and get through your workouts. In order to see change, it

has

to be difficult, so switch your mentality and mindset and see that as a positive thing to fuel you through staying consistent in the winter.
…it ain't supposed to look pretty!
Shorten/Change Up Your Workouts.

If you're having trouble getting to the gym with many commitments and a busy December schedule, change things up! Amp up your intensity and shorten your workouts. You'll boost your metabolism, enjoy the variety of something different, and be done your workout in a fast, efficient, tiring way! What's to lose (except extra cookie pounds)?!

Great ideas: jump rope,

BodyRock

workouts, HIIT workouts… Or try this workout below!
At-Home, No Props, Fit-it-In Workout
4 Rounds: 45 sec work: 15 sec rest
Tabata Finisher
12 Rounds: 15 sec work: 5 sec rest
Jump out wide, jump back in, jump out wide, and hop up. Now switch! Jump in, jump out wide, jump back in, and hop up. Repeat for 15 sec.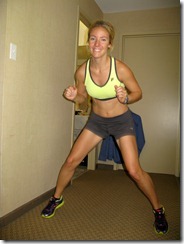 Out, in, out, UP! In, out, in, UP!
And that's it! You'll feel wiped out and happily fatigued in no time at all while fitting in the rest of your social December schedule. I would love to hear some of the ways you stay consistent in your workouts during the holidays too! Keep logging those workouts on Janetha's page and have a healthy, happy end to 2011, friends!
Live well & be well,
Bonnie