…at least you can have a white elephant party! last night was such a blast.
i woke up bright and early (at 9:20 AM…) and got to work on the party prep. in a matter of four hours i:
made teri's crockpot vegan chili
made noodleless turkey miniestrone soup in the crockpot (totally spaced adding the noodles)
made mint chip brownies (using this recipe and swapping the vanilla extract for mint, then added andes baking chips)
made vegan snickerdoodles using jess's recipe and swapping the butter with earth balance and the egg with enerG egg replacer
cleaned all the dishes from all that cooking and scrubbed every inch of my kitchen
did all the laundry (with marshall's helped)
cleaned both bathrooms
ate cereal with a vanilla protein shake as milk
cleaned my bedroom
vacuumed the whole house (marshall did most of this—when i had a hard time turning on the vacuum to vacuum our room, he told me that it's clear who does the vacuuming in our house)
after all that, i headed to the gym and completed day 69 of the livefit trainer. TEN weeks down.. two to go!
that whole carb cycling thing really went down the toilet this weekend.. but i expected that and am not heartbroken over it. i am just glad i have stuck to each and every workout. oh, and i am welcoming today's rest day with a big, fat hug.. FINALLY, a day off.
after cleaning myself up, i headed out to snag my white elephant gift. for weeks i have known what i wanted to buy… pajama jeans. if any of you have seen the hilarious infomercial for these "jeans that look like designer jeans but feel like pajamas," then you KNOW why i wanted these as my gag gift. however.. it turns out the jeans are FORTY bucks. uh, no thanks.
plan B was to get a forever onesie (possibly more ridiculous than the snuggie!).. but that turned out to be THIRTY bucks. hmm, still way out of budget for a gag gift. i ended up finding a paula deen baking basket with random paula deen odds and ends. not as funny as i had hoped, but hey.. ya win some, ya lose some.
i snapped some photos of all the food before our friends arrived.
kristen was first to arrive and put together the most incredible (and incredibly easy) app—it was melted bread cheese, peach berry jam, and a pecan.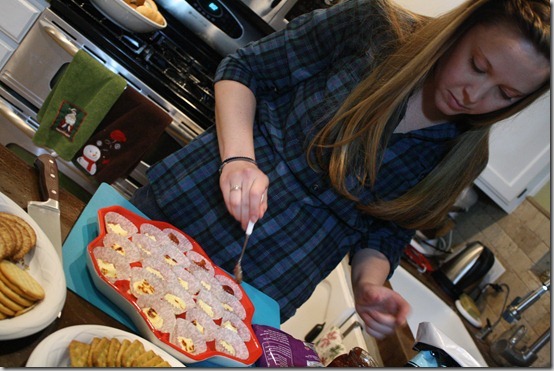 they were so unique and so tasty!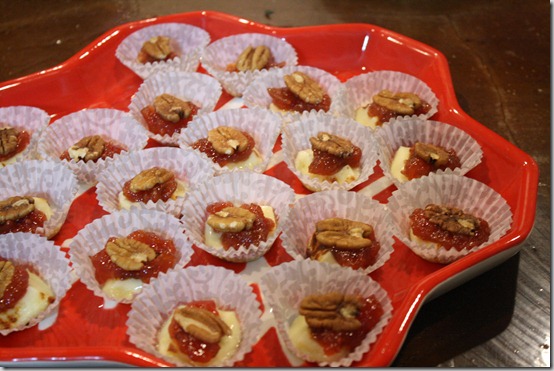 everyone showed up and we got the party started.
the dudes were playing c-lo (a dice game) and marshall walked away with almost $200 in winnings! yessss.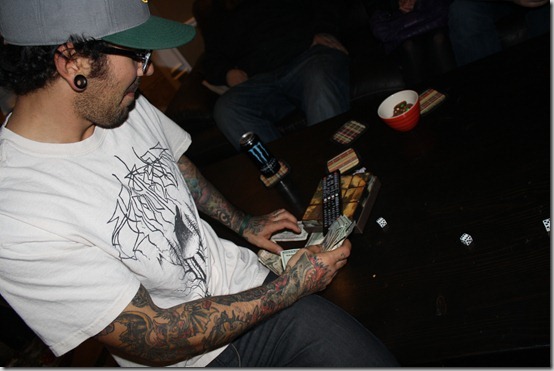 he tried to give dave some of his cash money but dave refused.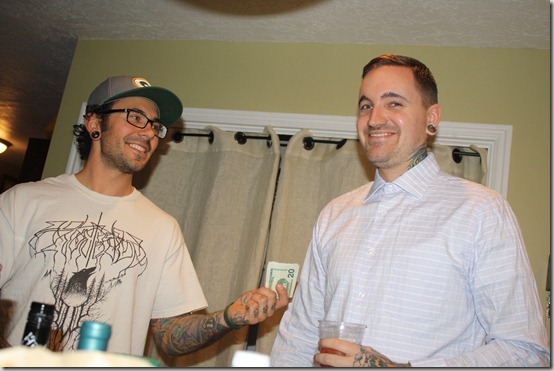 after awhile, it was time for the white elephant game! all the presents were waiting under our ornamentless tree.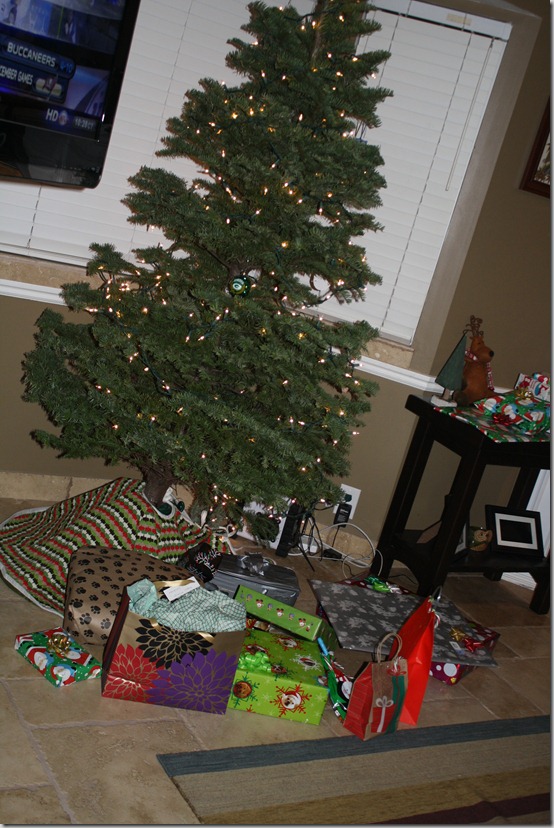 we drew numbers and then took turns picking a gift off the table or stealing a gift that had already been chosen. each gift could be stolen up to two times before it was "frozen".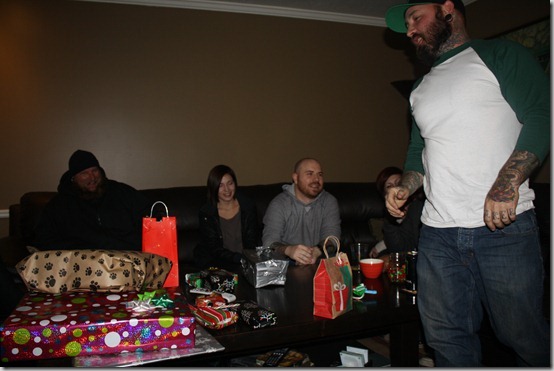 once all the gifts had been claimed, we opened them one at a time.. there were some awesome items!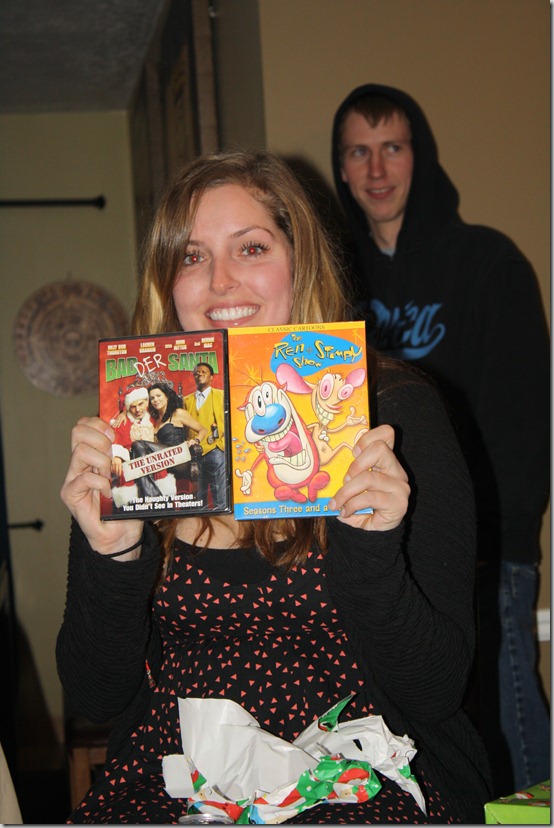 i ended up with some regifted "stroke on a rope" from last year.. and kristen got it all sudsy and used before regifting it!
sabrina ended up with my paula deen prize pack.
SO SO SO stoked on marshall's.. he got a sandwich press! um, that's not even a gag gift.. that is AMAZING.
jessica stole the gift i originally picked.. and i am so bummed—it was a set of nested owl measuring cups! what a score.
i have to say that the very best gift given was from marshall. rory received it.. what a lucky guy…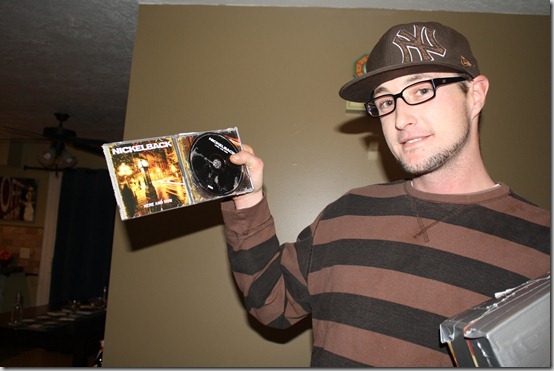 NICKELBACK CD! hahaha.. oh, gross.
the party was a big hit! thanks to everyone for coming. can't wait for next year.
today's agenda includes the packers game followed by gingerbread house making at kristen's mom's. excited!
until next time.
Q~
what would you give as your white elephant gag gift? (let's say money is not an object.)
xo. janetha g.