hey guys! i want you all to stay motivated to work on your fitness this month! as part of my dedicated december challenge, i have recruited a few people to post about how THEY stay motivated. i am clever and recruited a few certified personal trainers.. so you can bet there is an at-home workout at the end of this post. don't miss it. my first guest post is from lindsay at lindsay's list.  today is actually tuesday trainer over at lindsay's list, so if you do need a dose of janetha g.. i can be found there rambling about a few things.
for now, enjoy lindsay's post!

****
I like eating Smurfs.
Got your attention? The point – don't dismiss guest posts! (Something I've been guilty of doing before and I'm not quite sure why. I plan to start reading them, and you should too! Starting now.)
———-
Somehow, I've fooled Janetha into thinking that I have something worthwhile to share when it comes to fitness. Ha! (I think that SHE thinks I was being serious when I posted my Lawn Fitness Series. Janetha, it's called sarcasm. And it's written on the ceiling. No wait…that's a joke about being gullible, but I forget how it goes.) I do know a few things. I'm an NASM-certified personal trainer and group fitness instructor. I work part-time at a gym and clients are constantly asking me, "How do I keep this up during the holidays?" I'm sure if you googled "Tips to Stay Fit During The Holidays", you'd find like a million articles. Do you know why? Because we all have a problem with consistency and drive this time of year. Come January, you won't be able to set foot in your gym, without being elbowed in the gut by a fellow "resolutionist" (yes, that's a word. But don't go look up.) As a society, we tend to let ourselves go from Thanksgiving till New Year's, and then we waddle, eggnog breath and all, into the gym once January 1st hits. Unnecessary! You can maintain what you've got now! You can even get, dare I say, fitter between now and January. You just have to make it work FOR YOU! Like I said, you can search for a myriad of tips, but if you don't customize them to fit into your holiday lifestyle, it just won't happen. Here's what works for ME:
Staying Fit During the Holidays

Schedule Time Take out your planner. You've made time for the Company Christmas party, the caroling, the Cookie Swap (I always come out ahead at these…I feel quite sorry for the poor girls who take home my cookies). But have you set aside time to workout everyday? If I don't write workouts down in my planner, it's much easier for me to say, "Meh, I'll do it tomorrow". At the start of every week, I plan out a tentative workout schedule. I allow myself some room for flexibility – if I need an unexpected rest day, I take it. But having it on paper and in front of me, forces my brain to think about fitness in absolute terms. "This WILL get done today".
Group Exercise Classes I may be partial since I TEACH group ex, but CLASSES ROCK!! Seriously. All you do is walk in and do what the instructor tells you to do! No complicated workout plan or trying to force a cardio session. You just do as you're told (a statement that literally comes out of my mouth at least 3 times a day, and NOT while I'm teaching. #toddlermom) I personally prefer Bootcamp classes. These target your entire body, burn tons of calories and are FUN! Just pick an instructor that doesn't carry a whistle (unless, of course, you enjoy a Jillian Michael's-type figure standing over you. I tend to not enjoy cowering.)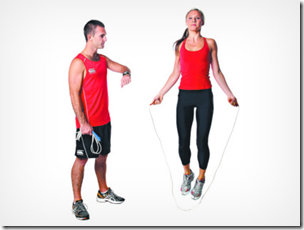 HIIT & Circuit Training Short on time? The best ways to maximize your results, while minimizing time spent at the gym are by incorporating high intensity interval training (HIIT) and circuit training into your routine. A quick overview: HIIT is a form of cardiovascular exercise, should take no longer than 25 minutes, and varies between "recovery" speeds and high intensity speeds (or incline). Circuit training is a weight-lifting method, comprised of 6-10 exercises, completed back to back. Phew…lots of words for something that's supposed to be quick. The best thing? Both of these training tools create an after-burn effect, which causes you to burn calories for hours after your workout is completed. Umm, HELLO Christmas cookie! Oh, who are you kidding? Cookies, plural.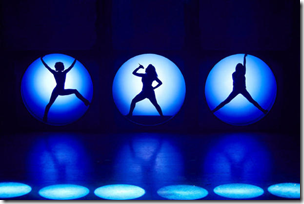 Flashdance My primary job is being a stay-at-home mom to Henry and Clara. That means, well, that I stay home quite a bit. Especially during these colder months, it's just too much of a hassle to put on thermals, coats, jackets, hats, mittens, scarves…you get the picture, and go to the gym. So we stay home and dance. Or rather, I dance around while they stare at me. Like there's a show or something.
According to HealthStatus.com, a 140 pound woman burns nearly 200 calories with vigorous dancing. Vigorous? OK!!! Count me in! Plus, dancing is just good for the soul too! It makes you feel happy and energetic. Dancing provides a means of creatively expressing ourselves. It gives you the chance to sing into a hairbrush microphone. If I can burn calories will having fun, I'm all for it!
Lastly, I leave you with a short and sweet at-home circuit, that targets your entire body and requires only a chair!
*Disclaimer – As with any fitness program, always consult a physician before starting.*
Solstice Circuit
Perform each exercise for 50 seconds – resting for 10 seconds between each move. Repeat the circuit 1-2 times, depending on fitness level.
Heelclickers
Split Lunges
Burpees with Pushup
Ice Picks
Squat Jumps
Plank
Sumo Squat w/Step Up (50 seconds for each leg)
Spiderman
Now you have no excuse. Workout, you must. Because, Lord knows, we're not going to stop eating that Trader Joe's Cookie Spook stuff by the spoonful.
I'll stick to Smurfs.
splendid…lindsay