let me take a minute to show you our christmas tree.
we picked out a lopsided tree this year because chances are it would have otherwise been without a home this christmas.  when we set it up and it was ridiculously crooked, i asked marshall to straighten it out. his reply? "life's not perfect." no arguing there. i love our little, crooked, lopsided tree.
you probably noticed that the tree is missing something: ornaments. take a closer look…
our tree has one ornament on there. marshall eagerly placed it on the tree while i was finishing up the stringing of the lights. we joked about having that ornament be the only ornament on the tree this year.
well, i thought it was a joke. but marshall was serious.. claiming the single packers ornament made our tree look elegant. i love that guy. the other day, we received an awesome packers nutcracker ornament from my friend missy. i think that's just what was needed to push the tree in the direction of adorning more ornaments.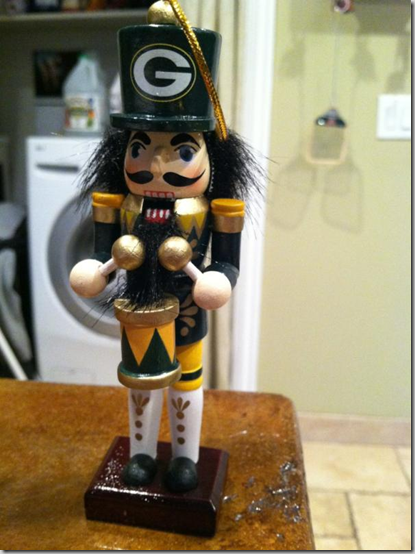 but for now.. the tree stands tall (and crooked) and represents the packers. who won today. again. because they're amazing.
***********************************
time for another gift spotlight!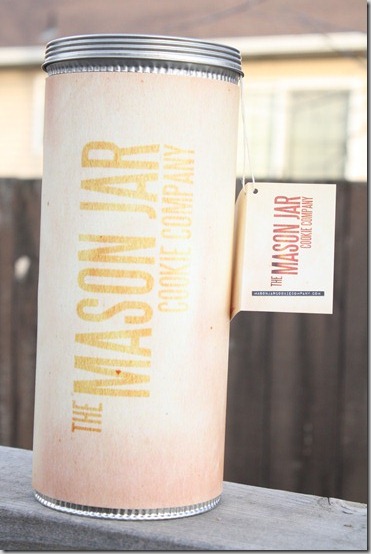 the mason jar cookie company specializes in creating handmade, custom built cookie mixes that are packaged in a mason jar.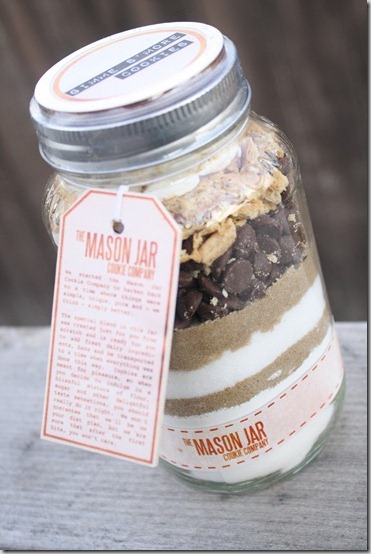 i made mason jar cookie mixes as gifts last year and let me tell you—it is a PROCESS. the jars made great gifts, but it was time consuming and tedious..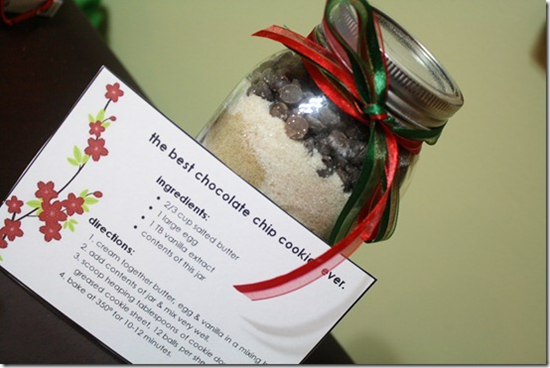 ..and if you have been reading for awhile, you might remember that randy PULLED THE JARS off the counter and they shattered on my kitchen floor. (some things never change. he is so bad.)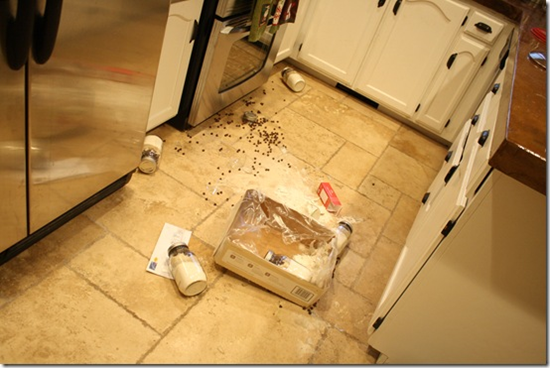 i will not be doing that again anytime soon.
instead.. i can just pay someone to do the dirty work for me! that's what the mason jar cookie company does.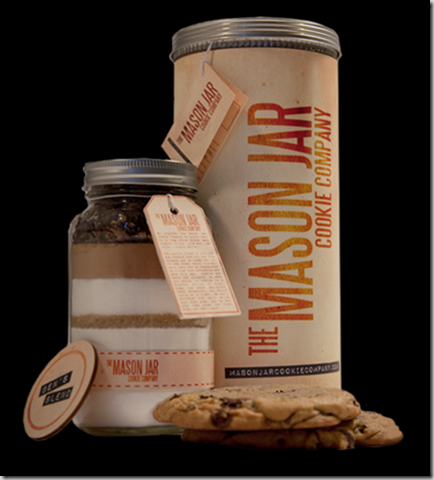 a little bit about how the mason jar cookie company started:
The idea for the Mason Jar Cookie Company was originated by two guys who work for ClearMetrics, which is a digital agency that specializes in ideas and engineering that has been around since 1993.

ClearMetrics was founded on the belief that personal creativity and freedom in your work always provides better, more solid results. As such, ClearMetrics allows each employee a number of hours each week to work on personal projects. Two guys who love cookies came up with this idea during their personal time and started making cookies for the office. Soon enough, cookies were brought in every week for our Friday office lunch, a special ClearMetrics tradition. Eventually, these cookies became so popular that we started offering them to friends and family – and now, we make them available to everyone. We also know the joy of baking, though, and want everyone to enjoy fresh cookies at their convenience. Because, well, who doesn't like ready-to-bake cookies that come in pretty packages?
and let me tell you—the packages are definitely pretty. i love that the jars come pre-wrapped and ready to give to any gift recipient. the labels are adorable, too. i made a custom mix and named it "gimme s'more cookies" and the jar came labeled with my custom name!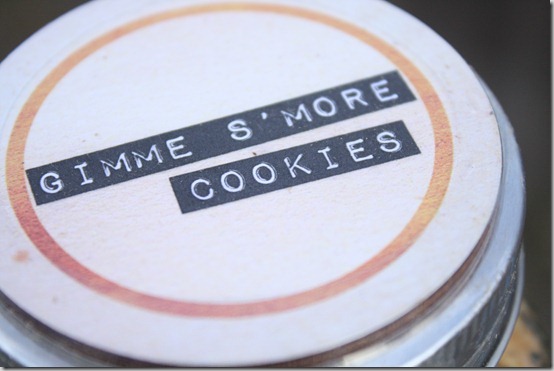 here is a little bit of information about how the mason jar cookie company works (from their website):
Here at the Mason Jar Cookie Company we provide everything that you need to create your own twist on our classic and delicious cookie blend recipes.  All you need to do is dump the jar into a bowl and add the dairy ingredients from your fridge right before baking.  (In most cases this is butter and an egg, although some base mixes call for a little milk or water.)  We have created and tested and tasted (and tasted some more) and found the perfect bases to complement the wide assortment of premium goodies we offer – it's up to you to decide what to add to make your special blend for that special friend. Go crazy! No matter the mix, we know it's going to be decadent and delicious. And it's guaranteed not to be on your diet plan.
i am a sucker for build-your-own custom products, so i had a lot of fun playing around on the mason jar cookie company website.
first, you pick your base: traditional, chocolate, oatmeal, or peanut butter.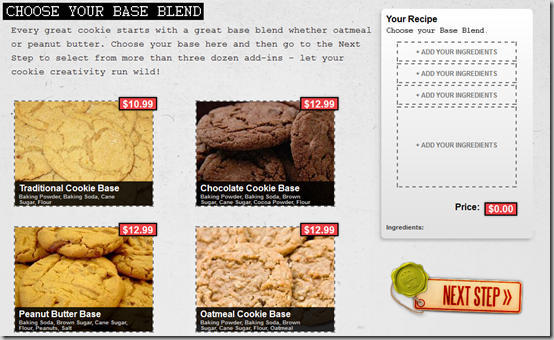 next, you choose your mix-ins (up to three) from over 3 dozen choices. there is a wide array of mix-ins including nuts, dried fruits, candy, chocolate chips, sprinkles, and even cereals.
as mentioned above– i made a s'mores-themed cookie mix with a traditional base, marshmallows, chocolate chips, and graham crackers.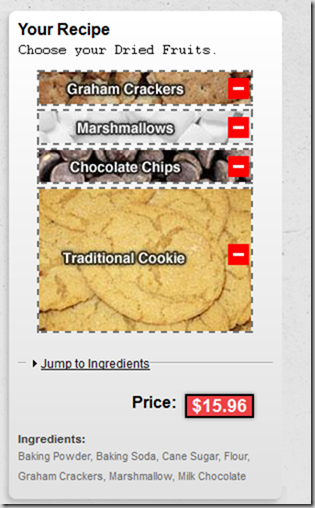 after selecting your ingredients, you name your mix and can also include a special message to go on the tag. it's so fun to be able to personalize the gift! plus, it's really convenient and eliminates the need to buy a card. win, win.
once you have named your mix and added your personalized message, you can check out or make another mix.
each mix is given a number, so if you ever want to go back and re-order the mix, you can just plug in the number without having to build it again!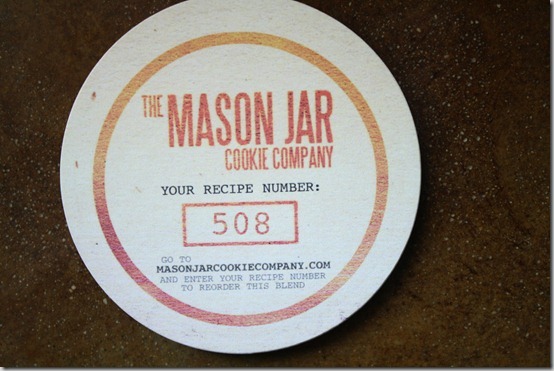 i didn't waste any time. i whipped up my batch of cookies this afternoon. i am a cookie monster, after all.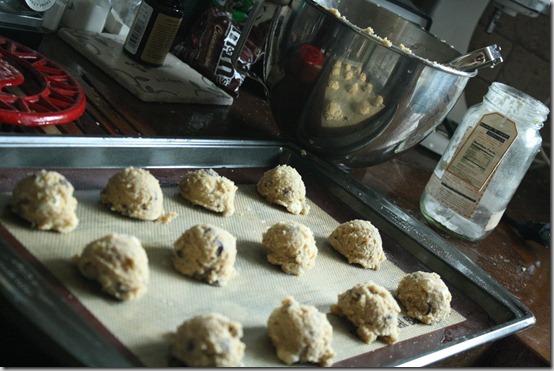 it was a simple process. i blended together butter, an egg, and vanilla extract, then added the contents of the jar. i scooped the cookie dough onto a baking sheet and ten minutes later it was cookie time!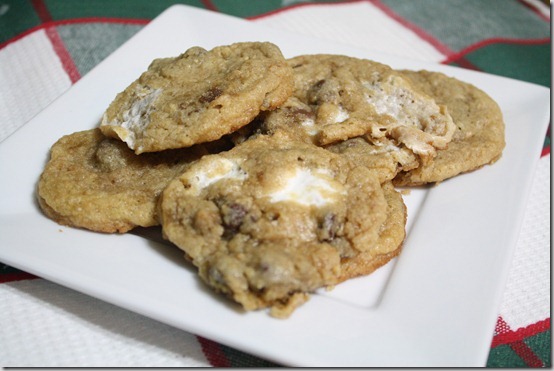 the only downfall is that the marshmallows made the cookies spread a bit, but it's like marshall said: they all taste the same! and they all taste amazing. each cookies is like a little piece of camping heaven—right in the middle of winter. s'mores cookies for the win!
i think the mason jar cookie company is a great choice for a gift this holiday season. sure, you could make something like this yourself, but they have really taken the mason jar cookie mix up a notch with the adorable labeling, custom blends, personalized tags, and gift wrapping. i would be thrilled to receive one of their products as a gift.
the mason jar cookie company is offering 10% off to all meals & moves readers for all purchases made now through january 31, 2012. all you need to do is enter "TENOFF" at checkout! remember, every jar of cookie mix comes with a full money back guarantee, so you can purchase with confidence.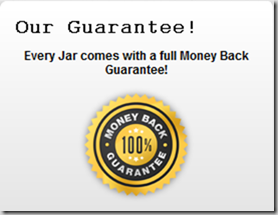 giveaway time!
if you would like to win your OWN mason jar cookie blend, now's your chance.
check out the mason jar cookie company's website and leave a comment below telling me what YOUR custom cookie blend would include. remember, it's a base and up to three mix-ins.
have fun playing around! i will pick a random winner on wednesday, december 14th.
xo. janetha g.
*i was sent a free jar to review. the mason jar cookie company is providing the prize. i was not paid for this post.