my day.. through twitter. you can follow me here!

i had to pee at 4 AM. randy and penny were hogging the bed. well, marshall too, but mostly R & P. i was tossing and turning, trying to fall back asleep. after a little over an hour, i just got up.
and then something crazy happened.

someone was proud.

i miss that someone.

yes, that's right. i went to the gym.. arrived at 5:35 AM! it was actually pretty freaking amazing because it was dead. i was able to get my whole workout done without waiting for any equipment. even without a wait, my workout took AN HOUR AND THIRTY FIVE MINUTES. um, yeah. it was day 58 of the livefit trainer: back, arms, abs, and sprints. whew.
at least there were supporting tweeters!

i was really proud of myself for working out this morning. i really wish i had that kind of willpower EVERY morning. it's so nice to just have it DONE.
oh, and during my sprints on the treadmill.. this happened:

the link is to this song… mable by goldfinger. i miss mable. <3 (fyi, mable was my yellow lab that was hit by a car in 2007.)
i went home from the gym and showered.. made coffee.. got ready.. made my lunch. there was one sleeve harmed in the making of said lunch.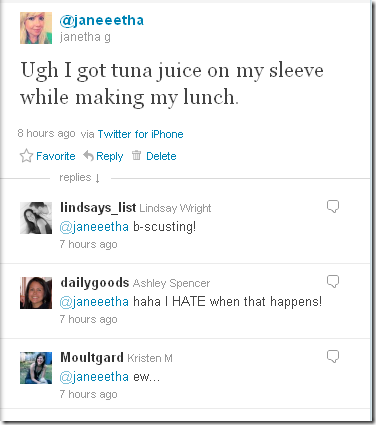 yes. ew.
before leaving the house, i even made my bed! and these two took full advantage…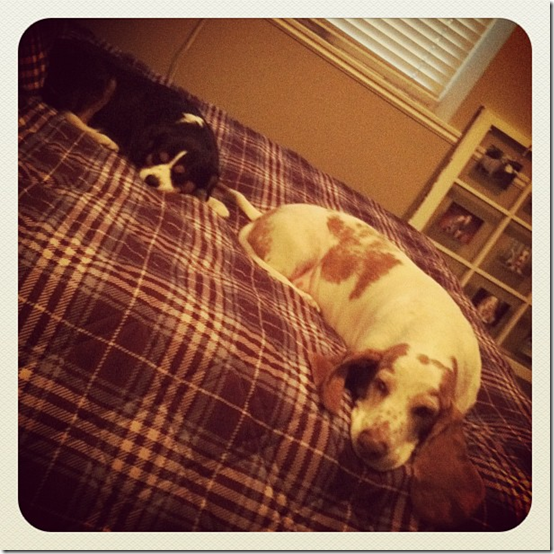 of course, i had to tweet (and instagram) about it.

when i got to work, i made my breakfast: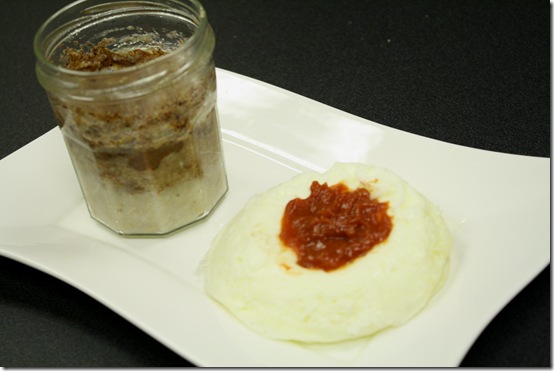 i know. so glamorous. it was 4 egg whites with ketchup and 1/3 cup of oatmeal with cinnamon and blueberry flax. don't judge a book by its cover breakfast by its photo.
guess what today was?!

i got some replies…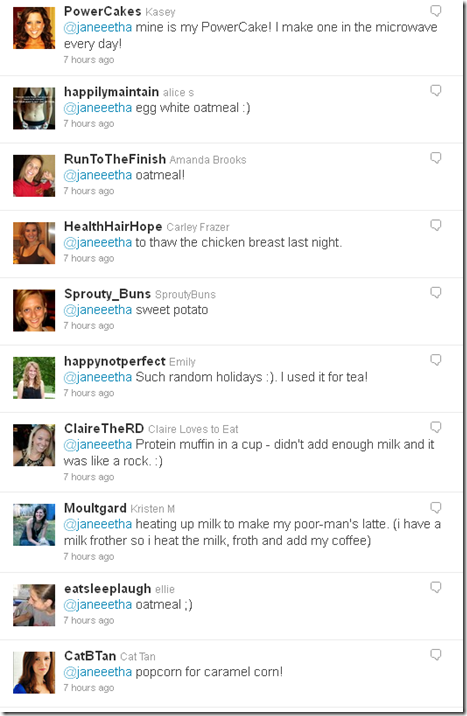 the microwave.. what will it not do? oh, that's right.. your laundry.
the day went on.. i did lots of work. LOTS of accounting. grumble.. year end is coming!!
lunch came and i ate the tuna that had previously juiced on my sleeve. that sounds so wrong.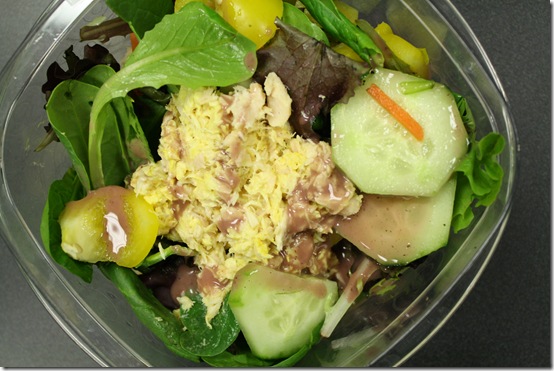 lunch was a salad made with spinach, lettuce, cucumber slices, yellow bell pepper slices, shredded carrots, tuna mixed with mustard & greek yogurt.. all topped with raspberry vinaigrette.
while i was eating my lunch, i checked out this week's edition of tuesday trainer!

what are you waiting for? go check it out. you can see me do a couple of upper body moves (with the pups) along with a bunch of bodacious babes playing will balls.
after work i went to whole foods for a few things…

and.. guess what i got?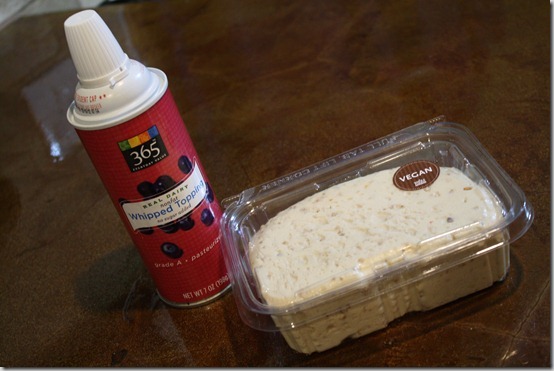 that's right.. less than what was on my list.
don't pat me on the back just yet. i decided to run into costco for the clementines.. and this is what i came out with: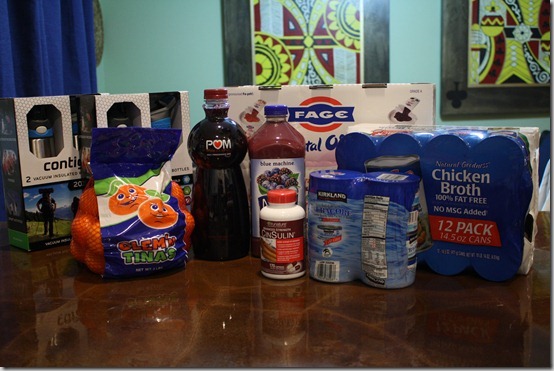 \
CRAP. i cannot, for the life of me, get out of costco without spending $100. today i got the clementines.. and pom juice, naked blue machine, tuna, chicken broth, fage greek yogurt (they stopped carrying chobani! ugh), cinnamon capsules, and four contigo mugs. one is for the dedicated december winner.. but i stocked up because costco won't be carrying that specific bottle anymore. it was now or never!
hmm.
obviously we made pizza for dinner! since it's too damn cold to grill (it's like 12 degrees outside, guys) we used our pizza stone. almost as good as grilled pizza!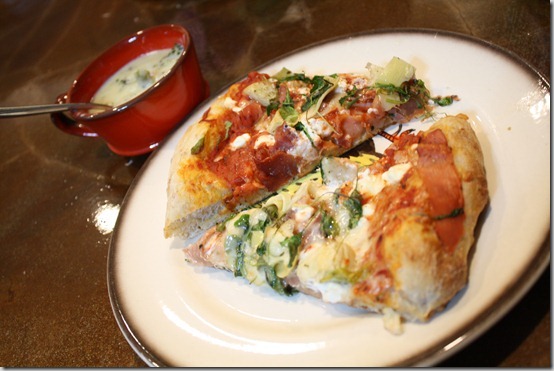 our pizza had marinara sauce, mozzarella, goat cheese, artichoke hearts, prosciutto and arugula—all atop a multigrain crust. we ate the pizza alongside my mom's homemade broccoli cheese soup.
SO good. the melted goat cheese was my favorite part.. and i dipped the crusts into the soup. mmmm.
we went to get our christmas tree tonight! finally! i've been waiting days for this.
earlier today, i took a poll.

everyone weighed in…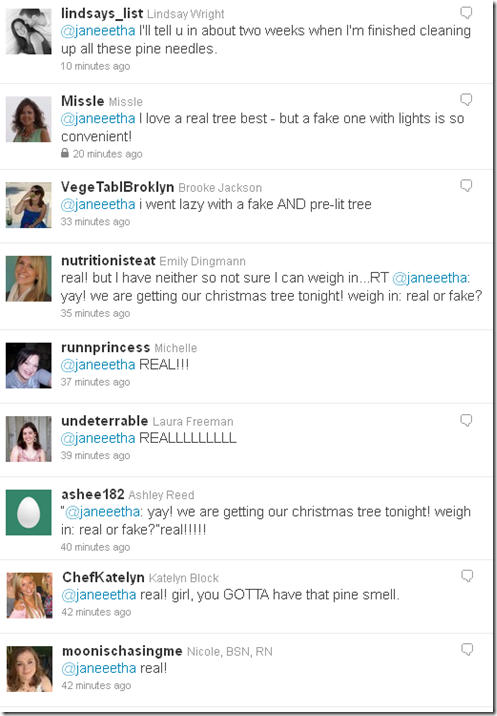 i think lindsay's answer was my fave.
we went with…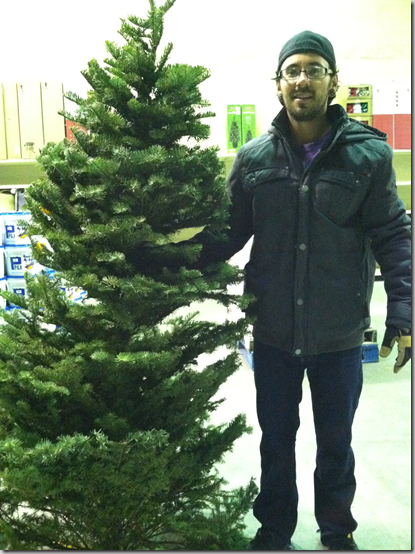 REAL. every year. love that pine smell. although marshall said next year he wants to get a fake one because he doesn't like to support killing trees. he's probably right.
well, we are off to take the pups to the park in the freezing temps!
until next time…
Qs~
1. what's the last thing you used your microwave for?
2. do you tweet?
xo. janetha g.