hey guys! how was your monday? mine was cold. marsh and i just got back from taking the pups for a romp in the park. it is a mere 17 degrees out.
actually, i was freezing all day. i had a warm, fuzzy blanket on my lap all day at work. the luxury of working in an office, eh?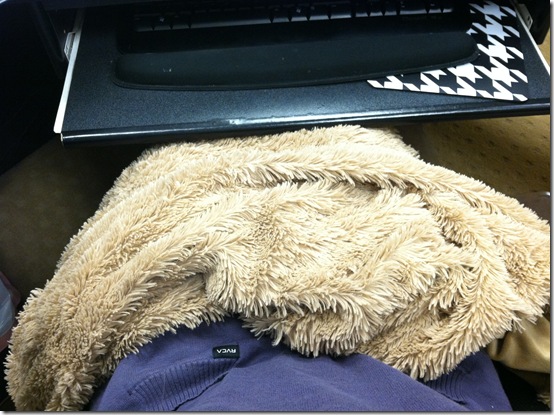 i feel bad for marshall—he works outdoors and it's only going to get colder from here!
i had a super busy day today! it was go, go, go. actually this is the first time i have taken a load off and it's 5 minutes to 10 PM.
things started at 5:45 AM today. i have to be at work an hour and a half earlier on mondays, meaning i have to actually wake up an hour and a half earlier on mondays. rough. somehow, i manage.
i had eight hours of work, followed by my workout, followed by three hours at my mom's office.. taking photos of her clients with santa! yes, santa. he was in town!
my mom is a real estate agent and every year her office invites all clients—past and present—to have photos taken with santa. i was the photographer this year. need a house? call momma b.
i got home around 8:30 PM and whipped up dinner. i was barely finished eating before penny was pulling me out the door to go to the park. since our fence blew over in the windstorm, the dogs haven't been allowed to romp in the yard at their leisure.. so they were really antsy to get some fresh air.  some fresh, 17 degree air.
i came  home, made a dessert i will show you in a minute, and am now drinking tea and blogging.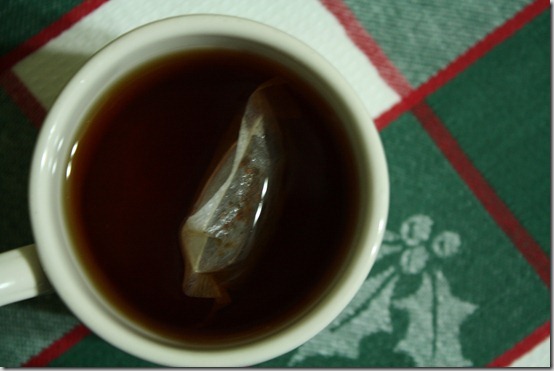 PHEW.

my workout today was day 57 of jamie eason's livefit trainer.. which also marked day one of the third and final phase.  HOLY CRAP. judging by the first workout of the phase, i can tell phase three is going to be a doozy.
i told you guys i would post progress photos at the end of phase two.. but i dropped the ball on having someone take those photos. so, i took an iPhone mirror photo instead…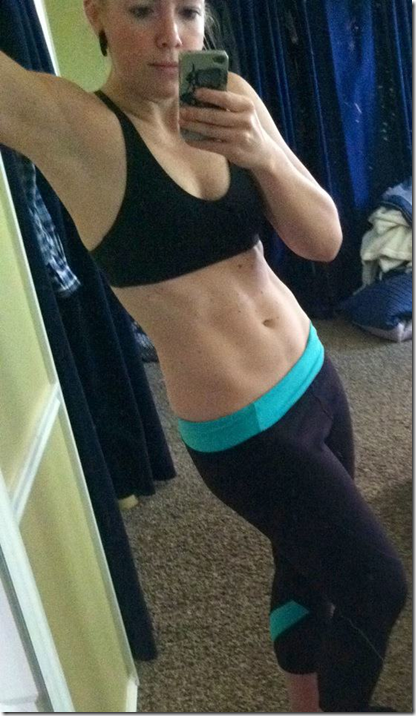 …i know, classy. hey, it works. all that matters is that i am happy! my abs are making a comeback! i think my hard work in the gym has been paying off. we all know it's not all the cookies i've been eating. those haven't been doing me any favors whatsoever. and by the way, when i talk about cookies all the time.. i am not just being cute or sarcastic. i have been eating cookies every day, way too often. it's got to stop.
anyway…phase three really ramps it up with the intensity! my quads + calves workout today incorporated weight training, plyometrics, and active resting (butt kicks, high knees, etc.)  it was tough. i am excited to see how i handle the rest of the workouts this week—and throughout the remainder of the program. i think the added movements will really aid in fat burning and hopefully the plyometrics will work wonders on my core. oh, and my thighs.
another aspect that is introduced in phase 3 of livefit trainer is carb cycling.  this is something i have thought about trying before, but not for quite some time. actually, not since back in 2009 when i posted about it.
as i mentioned in previous posts, i didn't follow the livefit nutrition plan for the first two phases of the program. i have been focusing on eating clean (uh, most of the time, aside from that cookie problem…) and really didn't have the desire to get super strict with my eating habits. there is a time and a place for strict eating habits, and i wasn't there yet.
HOWEVER.. i just might be trying out the three weeks of carb cycling outlined in weeks 10, 11, and 12 of the program. i realized that i am heading to mexico in a little over seven weeks. hmmm.. yep, i think a trip to mexico warrants "a time and a place" for stricter eating habits. because christmas is smack dab in the middle of the carb cycling weeks of phase three, i realize this may be tricky.
for  a gal of my size, jamie eason's plan suggests consuming 70 grams of carbs on low carb days and 175 grams of carbs on high carb days. today i decided to tally up my carbs, just to see where i fell with a day of typical eating—sans cookies.

i didn't take photos of it all.. because i really fail at the whole take-photos-of-everything-i-eat concept these days.. but here's a rundown:
breakfast was 8 oz of plain 2% chobani, a sliced banana (140 grams), 2 T uncooked oats, cinnamon, and vanilla bean paste. i also had coffee with 2 T of whole milk.
lunch was 8 oz lowfat cottage cheese on top of a big salad with lettuce, cucumber, bell peppers, and celery. i used 2 T of trader joe's raspberry vinaigrette dressing.
i mixed up some powdered BCAAs and drank them before and during my workout, then immediately had a protein shake post-workout. it had 1 cup almond milk, 2 cups spinach, 1 scoop vanilla whey protein, 1 cup raspberries, ice, and the gums.
i headed to do the santa photos and then came home for a late dinner. we had huevos rancheros.. i had mine with egg whites, black beans, avocado, greek yogurt, salsa, and a sprinkle of cheese.
i just finished dessert which was a pumpkin chocolate chip protein cake.. you can see it below.
i tallied up everything i've had today. 155g carbs. hmm—i've almost hit the limit for the suggested high carb day. pretty interesting. when i did body for life, i aimed for 125g of carbs each day. this was very doable and i didn't feel carb-deprived in the least.  i think i have really just upped my carb intake without realizing it because CARBS ARE EVERYWHERE.  good ones, bad ones, delicious ones.. everything has carbs. even things that i consider my main source of protein have carbs—like greek yogurt and cottage cheese. i had both of these items today, so my carbs were probably higher than if i had eaten more zero-carb protein like chicken.
don't get me wrong.. i don't think carbs are bad. i am not "one of those people." i have never in my life tried a low carb diet. however, i do think there is something to carb cycling and believe it really can help lean you out.  but since i am used to eating around 150 carbs each day, eating 70g each day is kind of unfathomable to me. i know i can do ANYTHING i put my mind to—especially if it's only for a few weeks—so i might give carb cycling a try. if not this month, then for sure for the three weeks prior to my trip to mexico. in fact, that might actually be the better time to do it. (it is not suggested to carb cycle for longer than 3 consecutive weeks since it can lead to muscle loss.)
now that i have opened my eyes to my carb consumption today, i think i will skip the cookies for a few nights. i bypassed the cookie jar tonight (as much as i wanted one) and instead, i am adjusting my cookie habit and opting for something just as sweet and satisfying., and definitely more filling.
i make a lot of different versions of protein cakes and muffins—a favorite being one from deb. however, since i am being carb-conscious, i went for one of my lower carb recipes.
pumpkin chocolate chip protein cake. yes, it's making a comeback!!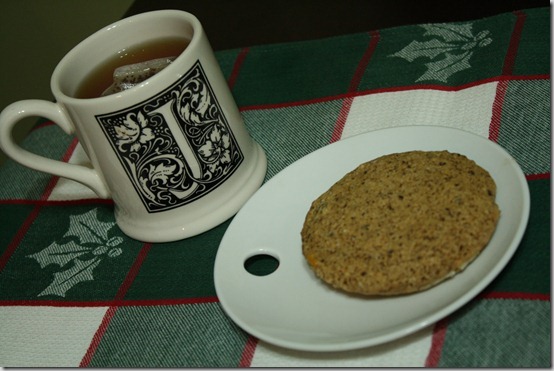 ingredients:
1/2 scoop vanilla whey protein powder (i used MRM natural vanilla)
1 egg white
1 T canned pumpkin
1/2 t baking powder
7-8 dark chocolate chips, melted
directions:
spray a mug with nonstick cooking spray.
combine all ingredients except chocolate chips in the mug and whisk well.
melt chocolate chips in a separate container (i use a small silicone bowl.)
whisk chocolate into cake batter.
microwave for 90 seconds (give or take, depending on your microwave power.)
remove from mug and eat!
nutrition info:  95 calories, 14g protein, 5g carbs, 2g fat.
considering all those cookies i have been eating are roughly 150 calories apiece and, uh, maybe one gram of protein and very high in fat and carbs (and sugar).. this is a pretty stellar swap.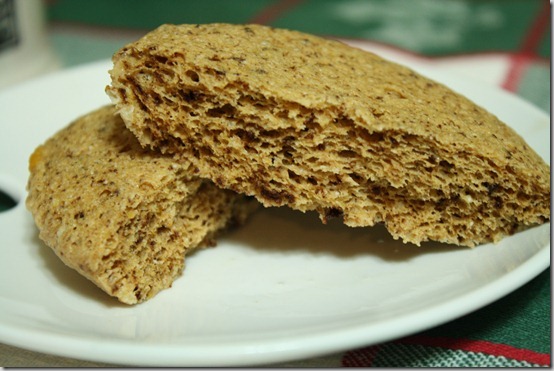 for now, at least.
this post was long. thanks for reading.
Q~
are you carb conscious? ever tried carb cycling?
xo. janetha g.