*did you report your workout for today on dedicated december? make sure you do!*
*if you have one minute, please take this sugar survey for me and put my name in the referred by space! thanks!*
dudes. christmas is coming! you know how i know? there are commercials for super awesome toys.  kids these days have really high tech toys! one that especially caught my eye was a crayon maker. you throw in a bunch of colors and out pops a new, custom made crayon color. i have to admit, i would have loved that when i was a kid. shoot, i would love to have it NOW.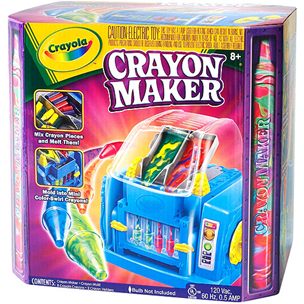 and man.. don't even get me started on all the tech toys that are marketed to kids of the 2010s. (is it the 10s? that's just weird to say.. but we did say 90s, 80s, 70s, etc) those toys just go too far for me. pretty sure most seven year olds could operate an ipod touch better than i can.  i say it's time to put the nintendo DS down and go fly a kite, for goodness sake.
yeah, i am pretty glad i was a kid back in the day.
back before there was responsibility…
back before i had a full time job, a husband, a mortgage, or a driver's license…
back before there were blogs.. or even the internet (in my home at least, i am sure it was somewhere in the world..)
there was the 80s.
and i had a wish list.
this wish list was by no means compiled in the same year—just in the 80s/very early 90s in general. some of these gems i was lucky enough to get, others were just longed for, never to be something i could call my own. all were WAY better than any video game out there.
before i go on, let it be known that i hated dolls. HATED. in fact, i was given a doll as a gift at my 4th birthday party and i burst into tears. i remember it vividly. i was more into stuffed animals—namely cats.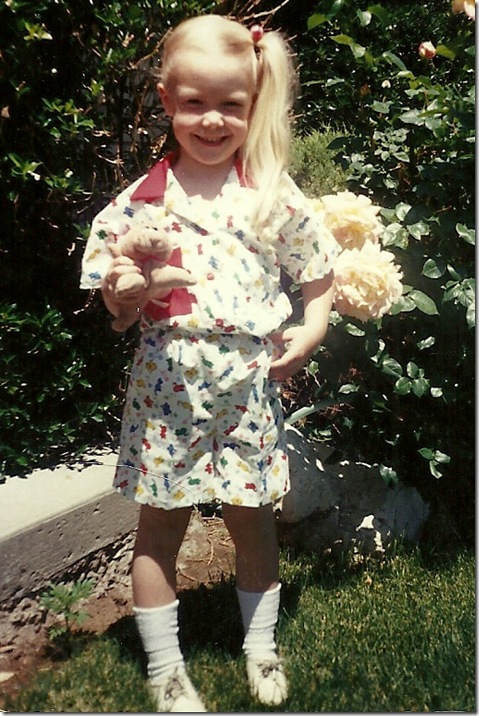 yes, that is a pound purrer. and yes, i am wearing a sweet getup with cats on the fabric, that momma b made herself. crafty lady!! fun fact: momma b used to have a sewing business where she sewed appliqués onto sweatshirts called "sweats by sue"—come to think of it, she could totally repurpose that name and use it if she ever wanted to become a personal trainer!
so, here's my childhood wish list. i am sure a lot of you will relate.
koosh balls.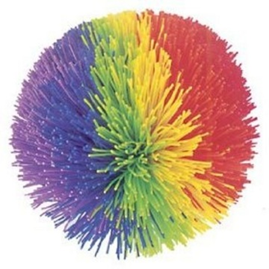 i loved these things! i remember we had a hole in the wall in my brother's bedroom, and i accidentally put my koosh ball in the hole and it dropped into the depths of the house walls.. never to return. in fact, i be it's still sitting there collecting dust. either that, or a mouse has scurried off with it.
64 pack of crayola crayons WITH the built-in sharpener.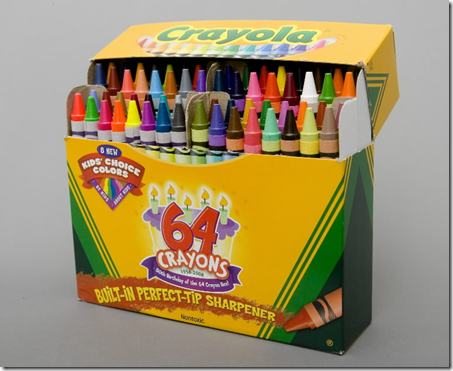 oh, and don't forget the new colors they came out with! remember macaroni and cheese? and asparagus? i loved that they were food-themed.
popples.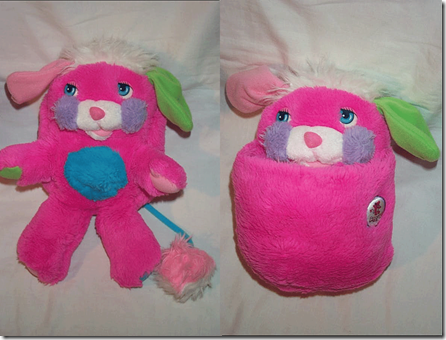 i wasn't too into teddy ruxpin or cabbage patch dolls. i just wanted popples! sure wish i had hung onto my collection. i had a few full size ones and a few mini popples—weren't they called pocket popples?
jelly sandals.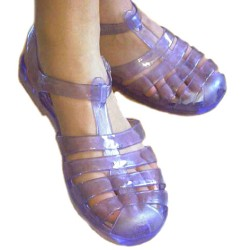 don't deny it.. you wanted a pair. especially since your mom had been dressing you in saltwater sandals for years. these were WAY cooler than saltwater sandals!
mall madness.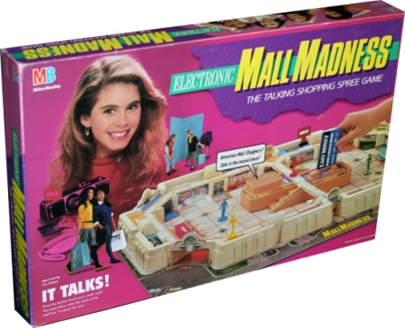 i never owned mall madness.. but luckily my best friend melina did! i remember playing this game for hours and hours. it was so awesome how you had play credit cards and the announcer would tell you which stores were having sales.  now days, kids just actually go to the mall.. and probably have their own credit cards!
easy bake oven.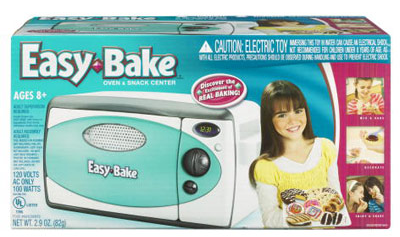 sigh. this was the one i always longed for and never owned. luckily my mom trusted me in the kitchen and i just ended up using the real appliances at a young age… i even started my own neighborhood restaurant, janetha's place. i could use the immersion blender better than any other eight year old on the block! er—in the culdesac.
pound puppies & pound purrers.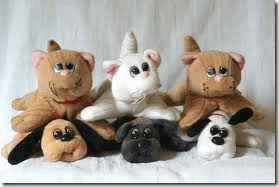 i had A LOT of these critters. like.. a LOT. do you wonder where i kept them all?
in my pet net, of course! mine was pink.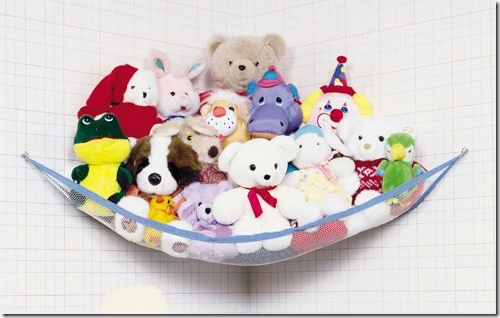 dude.. pet nets were really convenient! why aren't they around any more? if i had kids, they would have pet nets.
caboodles.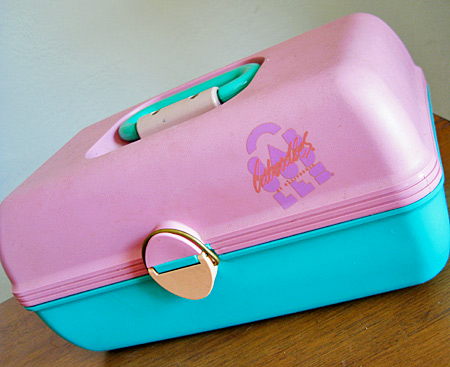 another one i never had. i always would go to my friend jessica's house and admire her caboodles.. and her cable TV so she could watch let's make a deal, supermarket sweep, and whammy.  yeah, i was a strange kid. always loved those game shows! i had (okay, still have) a major crush on richard dawson. so dreamy.
the baby sitters club books.
i had them all. i read them all. i loved them all. i wanted to be dawn. ann m. martin was my hero. pretty sure i read about 4 or 5 books a week when i was a kid. sheesh, what happened to me?
and.. i saved the best for last…
SYLVANIANS!
okay. i kind of tear up every time i think about my sylvanian families. they were my best friends when i was a kid! well, aside from my imaginary friend, jazzy, but that's a story for another day.  i simply adored my sylvanian families and would play with them for hours and hours and HOURS on end.  i had the rabbits, the bears, the foxes, the mice, the racoons, the dogs, the cats.. probably others. a personal favorite was the sylvanian-sized china cabinet i had, complete with teacups and saucers.
oh and mom—please don't feel guilty reading this because i know you do every time i cry about not having my beloved sylvanians. it's ok. i know it's not your fault.
oh man. that was a REALLY fun trip down memory lane!! i really loved my childhood and growing up in the time that i did. wouldn't change it for all the technology in the world!
this year my christmas list includes a professional house cleaning session and a towel rack for my bathroom. not joking. sure would be nice to be a kid again…
Q~
what was on your childhood wish list? or what was your favorite toy?
you may want to put the year you were born in your answer.. i bet the age range we have here is pretty large! i was born in 1983.
xo. janetha g.
all product images taken from google images.
*p.s. the winner of the lollihop giveaway was #156, sara, congrats! you can still use the code MEALSANDMOVES for 20% off your lollihop order!