i had a mini-meltdown this afternoon.
okay, i am being modest. i had a full-on bawl session pity party for myself this afternoon.
it wasn't pretty.
allow me to elaborate.
i got home from work a little bit early today, so instead of getting a head start at the gym, i decided to be a responsible adult and call about a few medical bills i had received in the mail. a few medical bills that i thought, without a doubt, were sent to me erroneously.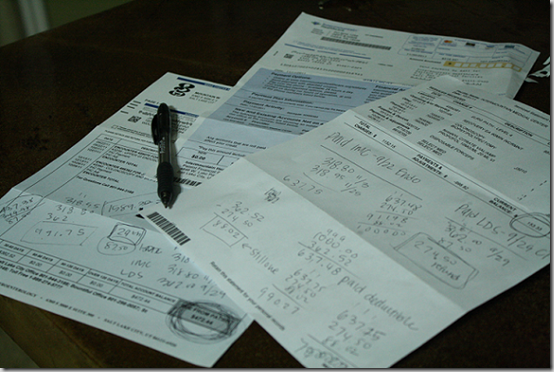 you see, i have had three procedures in a row: an endoscopy, a CT scan, and a colonoscopy. i knew i was obligated to fulfill  my $1,000 insurance deductible, so i set up a few automatic payments with the hospital on the day of my first procedure (back in september) to take care of the deductible.
in the meantime, i received a few bills and i called about them. i was told that the bills were actually sent before the hospital/my insurance company/my doctor's billing office was aware that my deductible had been filled (via a payment plan) and to disregard any additional bills i received related to an of the three procedures. sweet!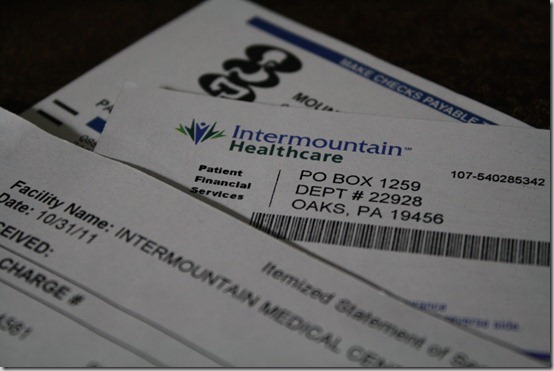 so naturally when i received a few more bills in the mail that were dated mid-november, i figured it was a mistake and they had sent the statements out prior to my final payment that i paid on november 25th.
out of curiosity and for peace of mind, i decided to call on the few bills i had to make sure everything was covered.  that's when things started going downhill…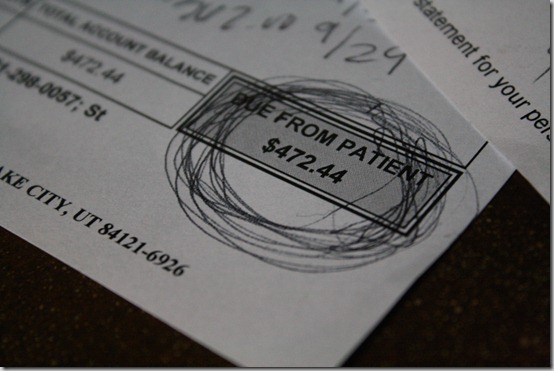 long story short, after forty minutes on the phone with multiple offices, i found out there was a billing error between the hospital and my insurance.. and i actually still owe my doctor's office almost $500.
oh, and that's not counting the 20% i have yet to be billed for the blood work i got last wednesday. or the ultrasound of the lump in my boob. or the colon study i am scheduled to go in for on thursday. or the molectomy (yes i made that word up) that i got a few weeks ago.
after realizing all of this, i just got unbelievably frustrated. and mad. not at the insurance company or the doctor's office. i got mad that i have so much shit wrong with me lately. i started thinking about all the issues i have had lately.. colon problems, boob problems, mole problems, skin problems.. and i had a bad cold on top of it all that i am just barely getting over. it totally overwhelmed me and i burst into tears.
i was most definitely overreacting and the pity party was definitely an "in the moment" type of thing.. but damnit, i was pissed! i try so hard to be a really healthy person, and i keep having problem after problem. i keep forking out money left and right. $1000 deductible here.. $40 copay there (and there, there, and there!).. 20% out of pocket on 7 other bills. UGH. all i could think about was how i would rather spend (or save!) that money.
i am ridiculous.
my dad told me to be grateful for the fact that i do have insurance coverage (i bought my own policy because my employer doesn't offer it.) my mom told me to take deep breaths. marshall gave me a hug, i changed into my gym clothes, and i headed to gold's to complete my lower body workout. my shuffle was dead (go figure) so i was left to my thoughts throughout my whole workout.
and my mood changed.
something my mom always says is, "it's just money. i'll make more."  this quote really sticks with me every time she says it. i started repeating this over and over to myself while busting out some reps on the leg press. it calmed me down.
i started in on my bulgarian split squats and was pleased that i was able to increase my weights.  and then i thought about the other things that i was pleased about. i filled my brain with all the lovely things in life that make me happy.
i counted my blessings.
i have an incredible job that WILL allow me to make more money. these days, a good job is hard to come by and i know i am very blessed to hold the position that i do and work for people who genuinely care about my well being. they also employ marshall.
i have a supportive husband who loves me even when i am completely ridiculous on a regular basis. and who will cook me dinner when i am feeling blue.
i have a close-knit family. through the years, i have learned that not everybody is super tight with their family, and this luxury is not one i should ever take for granted.
i have two cuddly pups who have unconditional love for me and always cheer me up.
my friends—both near and far—are the absolute best. they make my life worth living.
all the problems aside, i really AM a healthy person. i do have a few minor problems that have all presented themselves at once (when it rains, it pours!) but none of these problems are life-threatening and i will get through it.
because marshall and i both are able to work, we are in a position where we are able to own a home and vehicles (okay, a mortgage and a loans, but you know what i mean), buy groceries, pay for health insurance, and are still able to save money.
putting things into perspective, i realize i am blessed.. and my mom's right. it's just money, we'll make more. and hopefully i won't have any more health problems to spend that new money on… knock on wood.
oh. and because sometimes counting your blessings just doesn't completely fill in the bad mood cracks.. you can always make cookies to seal the deal.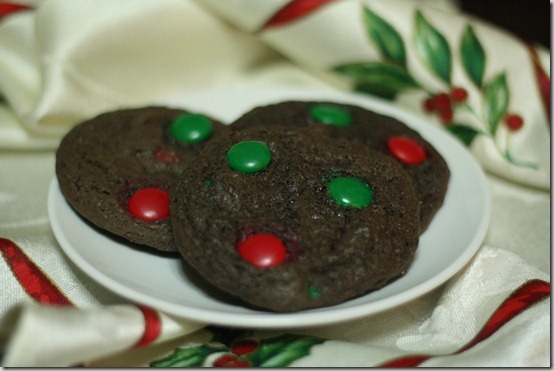 yes. i did it again. i am cookie obsessed. oh! nuts sent me* these minty chocolate chips with a festive holiday candy coating. today is national chocolates day. these cookies were meant to be.
chewy chocolate mint chip cookies
makes 30 cookies, adapted from this recipe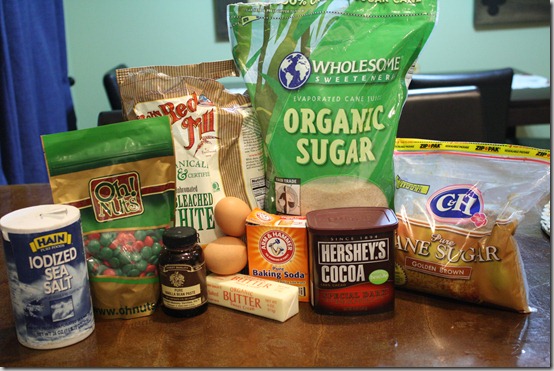 ingredients:
1 cup salted butter, softened
3/4 cup + 1 TB evaporated cane juice or white sugar
1 cup packed brown sugar
1/4 cup dark chocolate cocoa powder
2 tsp vanilla bean paste or extract
2 eggs
3 cups all purpose flour
1 tsp baking soda
3/4 tsp salt
1-2 TB milk
12 oz candy coated mint chocolate chips
*to make these extra minty, add 1/2 tsp mint extract at the same time as the vanilla.
directions:
preheat oven to 350 degrees (f).
in a small bowl, combine flour, soda, and salt. set aside.
in a standup mixer or in a bowl using an electric mixer, cream together butter and sugars until smooth.
add cocoa powder and vanilla, mix well.
add eggs, one at a time, mixing well after each one.
slowly add flour mixture.. a little at a time.. letting it all mix together a bit before adding more.
add milk one teaspoon at a time. use as much as you need so the dough comes together. it should be sticky but not wet. i wouldn't recommend using more than 2 tablespoons.
fold in mint chips with a spoon.                                                            
use a cookie scoop (or a spoon) to scoop large (about 2 TB) dough balls onto a cookie sheet lined with a silicone mat, parchment paper, or cooking spray.                                          
bake for 10-12 minutes. when done, cookies should be firm around edges but still a bit "raw" on top.  do not overbake.                                                
let cookies cool on cookie sheet for 2 minutes before transferring to a cooling rack where they can cool completely.
enjoy! store leftover cookies in an airtight container to preserve freshness and chewiness.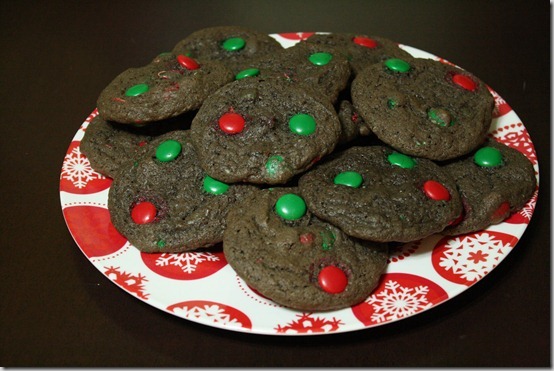 these cookies are good. like.. reallyreallyreally good. these are the cookies that would be the outcome if a girl scout thin mint and a really chewy chocolate chip cookie had babies. on christmas.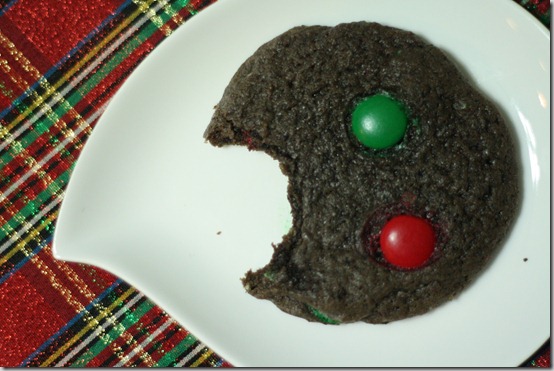 i am off to cuddle up with three of my blessings.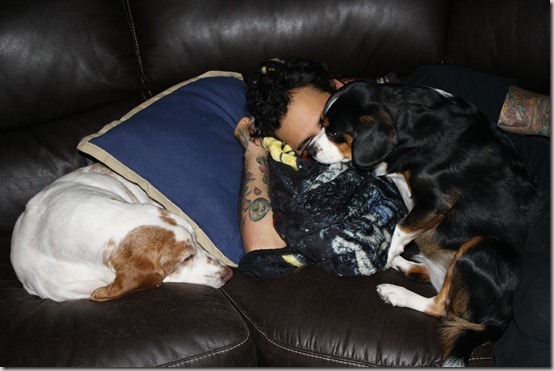 have a great night!
Q~
what is one of your blessings?
xo. janetha g.
*oh! nuts sent me the mint chips for free to bake with. i wasn't compensated for this post. i have a serious cookie baking addiction.. which leads to a serious cookie eating problem. send help.