well, just as i expected, i slept through my alarm this morning. marshall got up around 6:05 and i glanced at my phone lazily.. then immediately JOLTED out of bed and proceeded to get ready faster than i ever have in my life.
i peed, brushed my teeth, showered, washed and dried my hair, got dressed, and did my make up in 25 minutes flat! i even managed to pack a yogurt bowl for breakfast (chobani, banana, and granola) and fortunately my lunch (enchiladas) was already packed.  i was out the door by 6:40—which is actually earlier than the days i wake up on time! i was so speedy that i even had time to stop for coffee, which was nice, because i didn't make it at home before darting out the door.
my workout today was the first day of week 8 of jamie eason's live fit trainer.  it was a biceps/triceps/abs/cardio day and, let me tell you, it was tough.  but in a good way.  i will be talking a about the program and my thoughts in depth later this week.
marshall wanted fish for dinner (it is still so weird to type that since he used to despise fish!) so i picked up some fresh corvina from the fish market after work.
i had cookies to bake, so i was quick about making dinner.
i quartered some baby red potatoes and tossed them in olive oil and trader joe's 21 seasoning salute, then placed them in a clay pot with a few sprigs of thyme. i put them in the oven at 450 degrees to cook while i handled the fish.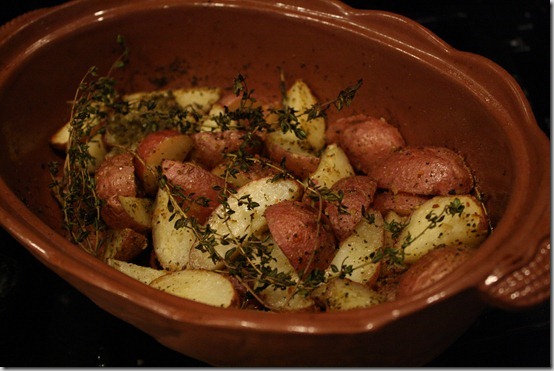 i sliced the fish into 1" strips, coated them in an egg wash, and then rolled them in paremsean herb panko bread crumbs.  i fried the strips in a buttered cast iron skillet for about a minute on each side. i transferred the skillet to a 350 degree oven for about 10 minutes until the fish was cooked through.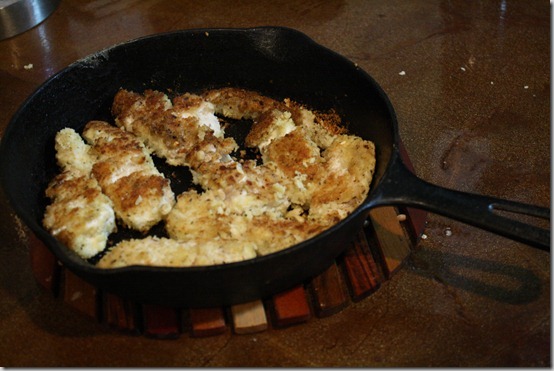 i steamed some asparagus and whipped up a batch of my version of tartar sauce while the fish and potatoes were finishing in the ovens.  the tartar sauce was 1/ 3 cup 2% plain chobani, 1 tsp dried dill, a dash of garlic powder, a sprinkle of sea salt, and a squirt of lemon.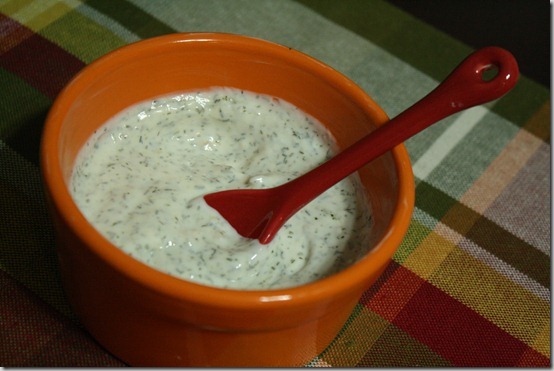 delicious dinner!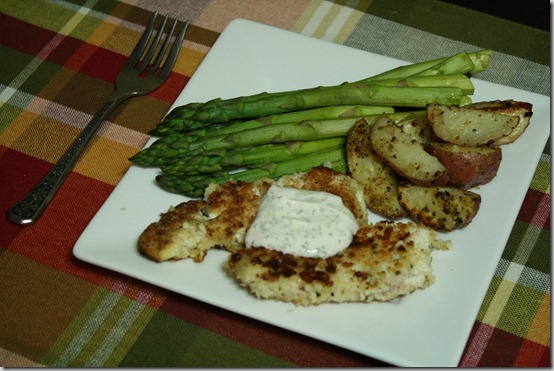 and relatively healthy, despite the fact that i flash-fried the fish in butter. sometimes there is just no substitute for butter. it helps achieve a crispy and flavorful fish stick.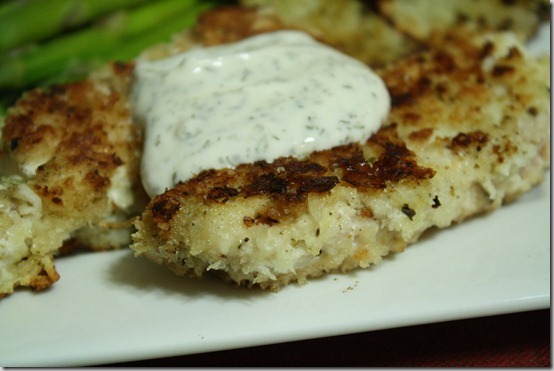 and then it was time for dessert.
when it comes to dessert, ice cream always holds the #1 spot in my heart (and my mouth)… but cookies are a close second.   i will choose a warm cookie with a tall glass of milk over cake every day of the week.
it's no secret that i have been a cookie monster lately. in the past week and a half i have whipped up three batches of cookies: buttery brown sugar pecan, chewy pumpkin chocolate chip, and chewy lemon. all three cookies were nothing short of amazing.
i was recently sent some christmas themed baking chips from oh! nuts*. they told me to bake with the items i received. of course my mind immediately went to cookies.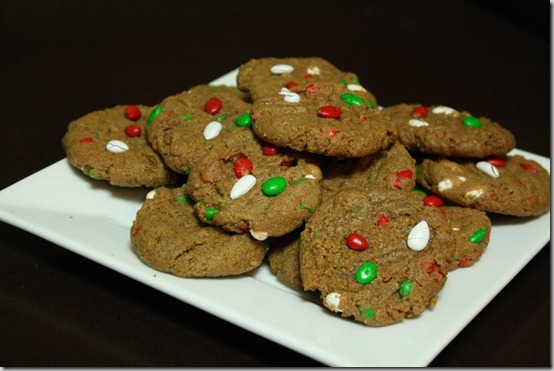 flourless sunflower seed cookies
makes about 32 cookies, adapted from a PB cookie recipe i had in my brain from many years ago.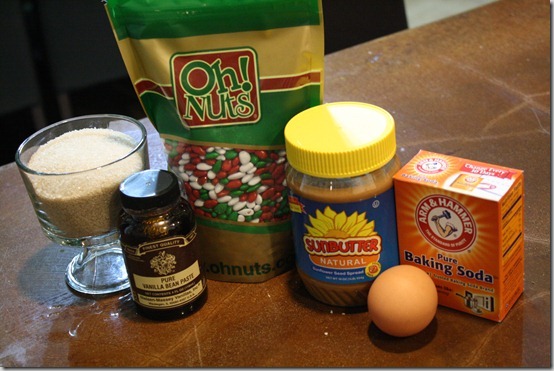 ingredients:
1 cup smooth sunbutter (or any brand of sunflower seed butter)
3/4 cup sugar (you would probably be safe using one of or a combination of evaporated cane juice, white sugar, or brown sugar)
1 large egg, slightly beaten
1 tsp vanilla bean paste or extract
1/2 tsp baking soda
2/3 cup candy coated chocolate covered sunflower seeds (bonus points for christmas colored!)
directions:
preheat oven to 350 degrees (f).
in a mixing bowl, cream together sunbutter, sugar, egg, vanilla, and baking soda.
fold in sunflower seeds.
roll dough into balls that are a little smaller than tablespoon-sized and place 2" apart on a cookie sheet lined with a baking mat, parchment paper, or cooking spray.
press each cookie gently with a fork in a criss-cross manner.
bake for 9-10 minutes.
let cool on baking sheet for 2 minutes before transferring to a cooling rack. make sure you let cookies cool completely or they will crumble. (yes, i know from experience because i couldn't wait.. and yes, that's how the cookie crumbles!)
devour the cookies once they're cool. store remaining cookies in an airtight container to preserve softness and freshness.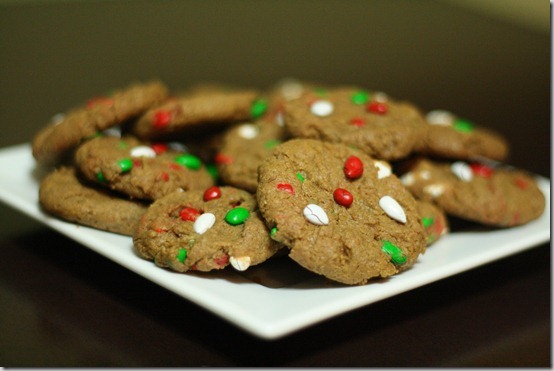 these cookies are on the small side, so it's definitely okay to eat three. with milk, of course.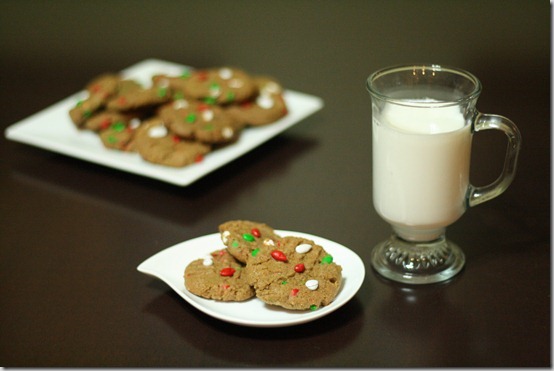 Qs~
1. how do you feel about fish?
2. what's your favorite cookie?
*oh! nuts sent me product to use in a recipe. i was not compensated for this post.