hello! thanks for making me feel better about being a failure at life. it sounds like a lot of you don't finish things you start, either. phew. i definitely don't feel as awful.
because it's tuesday, and because i live for alliteration, i bring you a few tuesday tips.
tip: target has cinnamon m&m's.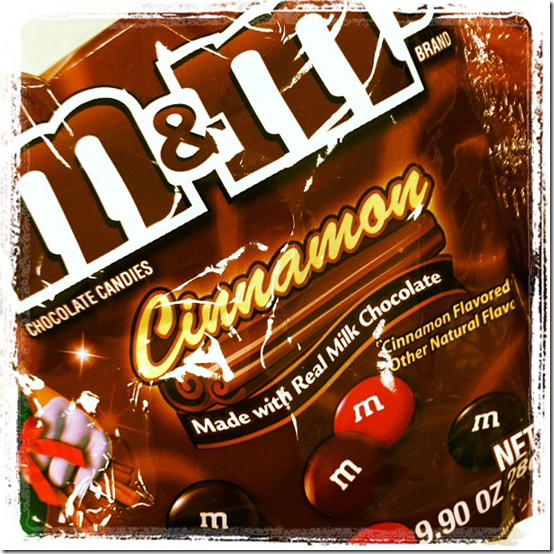 this gem of info was sent to me by the lovely emily. i immediately went to target and purchased a bag. i had big plans to make snickerdoodles with cinnamon m&m chips.
marshall had big plans to eat the whole bag.
i have big plans to go back to target tonight and get another bag.
side note.. don't you think the fact that m&m could stand for "meals & moves" means they should send me bags of their candy for free? i do.
tip: you can make your own ground beef/chicken/turkey/pork in the food processor.
reader lindsay asked about this yesterday so i thought i would blog about it. i have been doing this for a little over a month and will never buy pre-ground meat again.
all you do is throw the meat into your food processor and turn it on for a few seconds. yes, it really is that easy. today i made my own ground beef for the crock pot taco soup we had for dinner. i always buy top sirloin beef because it is the leanest cut.  after trimming any visible fat off, i cut it into large pieces and put it in the processor.
the result is fresh ground beef.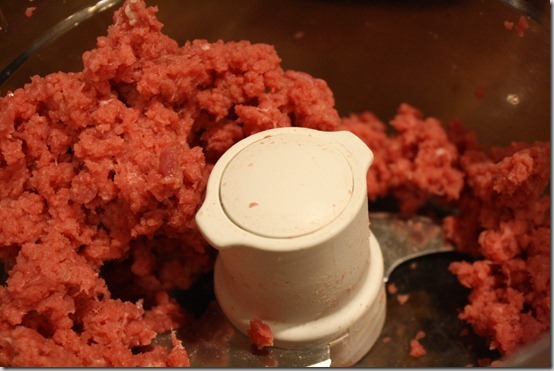 not only is it fresher to grind your own meat, it has also proven to be more affordable.  i have found that buying lean top sirloin is less expensive than buying lean ground beef. grinding at home also saves me money because i used to buy chicken breasts AND ground turkey or chicken separately when grocery shopping for the week, but now i can buy the chicken breasts in bulk and just grind the whole breasts for recipes like taco soup, stuffed peppers, shepherd's pie, etc.
i love finding new uses for my food processor. i got it from marshall as a gift years ago, and it really is the gift that keeps on giving!
tip: if your groupon expires, you can still redeem the initial amount paid.
okay.. are you like me and you impulse-buy groupons? anyone? i know some of you do. admit it.
and then do you get super lazy and let said impulse-bought groupons expire? anyone? come on.. someone has to relate to this situation. it has happened to me more than three times.
WELL, i was reading some fine print the other day when i impulse-bought an american apparel groupon.. and guess what it said?
you can ALWAYS use the amount paid—it never expires! this nugget of information was front and center—very obvious and i couldn't miss it.. but i never remembered seeing that information on other groupons.
so you know what i did? immediately checked my expired groupons.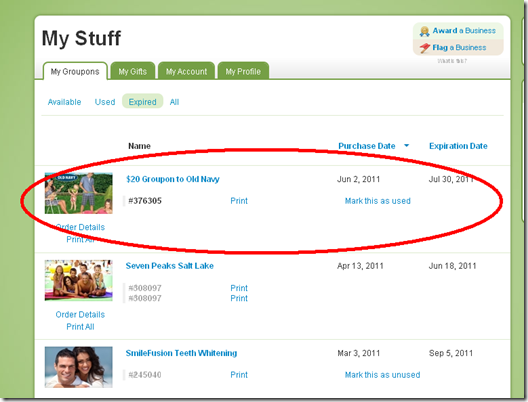 specifically this one to old navy that i let fall by the wayside and NEVER used. let's not talk about the seven peaks water park passes i bought for me and marshall but never used. let's talk about the old navy one… i paid $10 for a $20 groupon and it expired before i made it to the store. $10 down the drain.. or so i thought.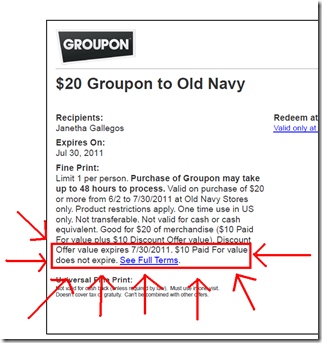 what! how come i never noticed that before? oh, because it was the very last sentence and i never finish anything i start.. including reading fine print. i am so glad groupon changed the place they put this nugget of info so it is front and center—and led me to realize i still can use my $10 at old navy.
i realize this tip may not help any of you.. but if it helps just one of you, then my work here is done.
and, because i am forgetful and didn't announce it yesterday, here is the winner of the under armour thermos water bottle:
congrats, jena. please send me your mailing information so your bottle can get shipped.
remember, you can still enter the card giveaway!
in other news.. i am off to the hospital at 7 AM tomorrow (wednesday) for a couple things.
one: i have a lump in my boob and so that's getting taken care of. this is actually the THIRD time i have had a lump in ol' lefty. the lumps have always been benign, but of course it's better to be safe than sorry.
two: i am getting a fasting lipid test that was ordered by my GI doc. i had an appointment with him yesterday and we have made some progress on my situation. i will tell you all more about that another day.
i better call it a night.. i will be lucky if i make it to the hospital on time in the morning. 7 AM is super early for me!
Q~
do you have a tuesday tip to share with the class?
xo. janetha g.