faults.
we all have them.
nobody is perfect.
well, some people may think they are perfect.. but they aren't fooling anyone. except maybe themselves.
i have lots of faults. take bowling, for example. we went bowling tonight. (for alison's birthday.. happy birthday, alison!) i bowled a 79. one of my faults is definitely being a bad bowler.
that's okay.. life goes on.
there is one fault i have that is greater than all the rest.
i have a hard time finishing things i start.
i am notorious for starting something and then letting it fall by the wayside. i have good—no, great—intentions.. i just have a terrible habit of getting busy with other things and not going back to finish what i started.
exhibit A: wedding thank you cards.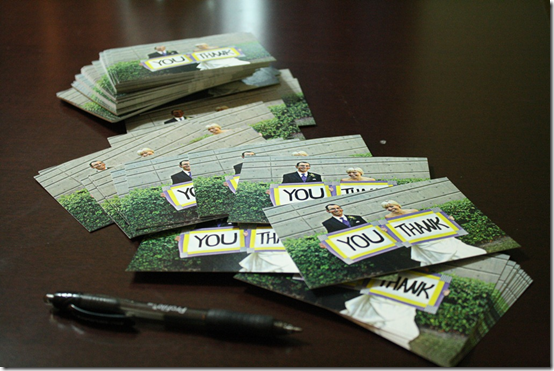 i custom ordered the cards. i started writing them out. i even bought the stamps. and then.. BAM.. i didn't finish the task.  you would think the $150 investment would have kept me to it. not the case.
however, after reading several encouraging comments from this post, i gather that it's not TOO late to mail the cards.. even though it's a year and a half after the fact.
exhibit B: my resolution to touch my toes.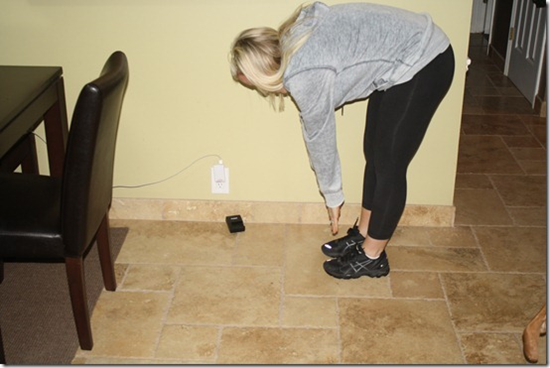 i had a couple new year's resolutions for 2011. one was to touch my toes. you guys, i haven't been trying. i am still so far from touching those toes. i could have stretched more. i could have tried harder. instead.. i did nothing. and still can't touch my toes.
exhibit C: blog posts waiting to happen.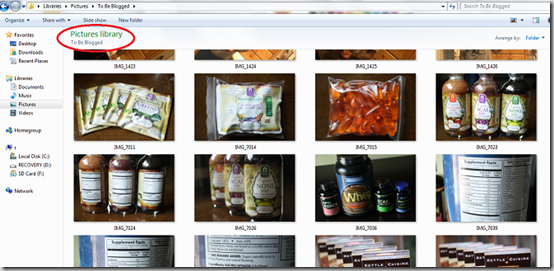 i have taken photos for over a dozen recipes and product reviews.. but those photos are sitting in a folder on my computer. the folder is called "to be blogged". i should rename the folder "to sit here forever with good intentions to be blogged but will never actually be blogged". no.. but really.. i need to publish some of these photos. especially the product reviews.
exhibit D: the 30 day challenge.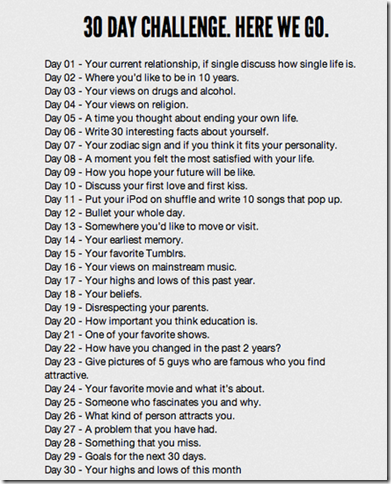 OH. remember this guy?! haha. yeah. i made it to #13. almost halfway! clearly i have a problem finishing things.
BUT…
right now, right here, i swear that i will finish three of these four things. i am ruling out the touching my toes thing because i honestly can't force this one. i do promise that i will try harder, though, and maybe one day i will get there.
i promise to send out my thank you cards. (this will make my mom happy.)
i promise to publish all my pending product reviews and recipes.
i promise to finish the 30 day challenge.
starting… now.
day 14: your earliest memory.
does breakfast this morning count? because there are times i swear i can't remember anything before that. i have a horrible memory.
i thought long and hard about this one.. and my earliest memory involves a pink, slicky night gown.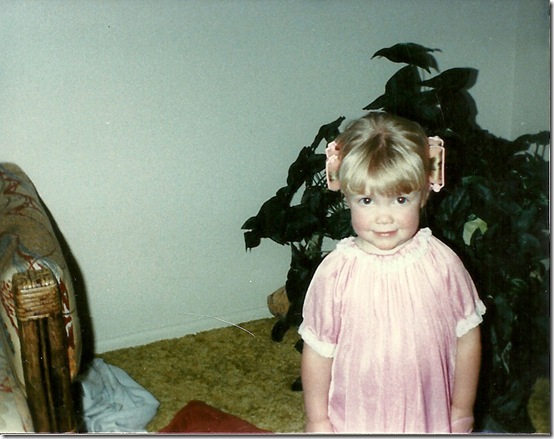 it was my favorite. i wore this night gown every night—or at least, that's how i remember it. i guess this next photo proves otherwise… for some reason i don't remember that purple number.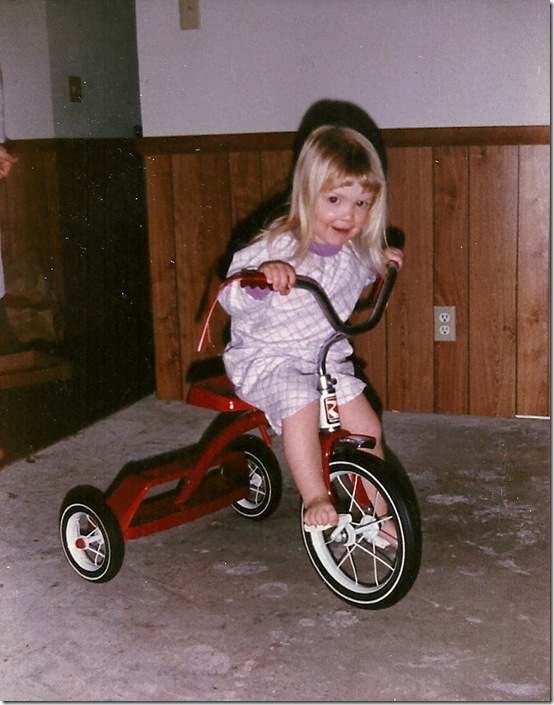 anyway, my earliest memory is of the pink slicky night gown. or, as we called it at my house, my pink nighty. i loved it. i distinctly remember spilling water on my nighty and thought i could easily dry it with my mom's blow dryer.
i went into the bathroom, plugged the blow dryer in and fired away at the wet spot on my nighty. much to my horror, a hole burned right through my precious pink nighty! i was devastated. i still remember the horrible feeling i had from ruining something i loved so much.
but, wouldn't you know it, life went on.
and here i am today.
and yes.. THAT is my earliest memory. hey, you guys already knew i was random. this is just further proof. i am a freaking weirdo.
anyway..while i was writing this post, i thought of ANOTHER thing i started and never finished! my photo-a-day blog. i got to mid-june and just.. stopped.. and i am pissed off at myself for it. i was going to make a book from all the photos in 2011. i think i will try again in 2012.. but no promises i will finish ;)
to be honest, i feel a lot better already, just getting this off my chest. please hold me to the promises i made in this post, okay? thanks.
and, because this is supposed to be a food blog, i will show you my dinner.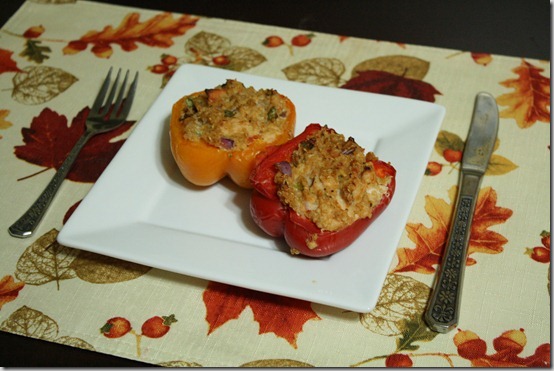 quinoa stuffed peppers!
smothered in ketchup.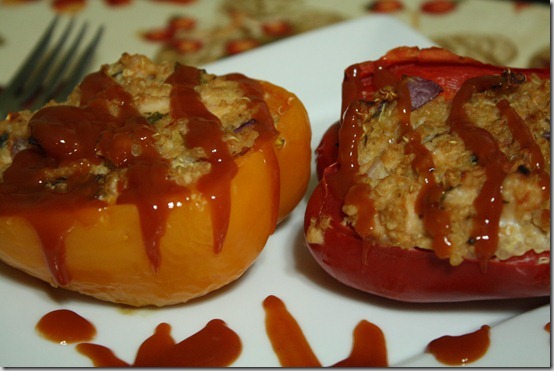 for these, i combined one large ground chicken breast (about 1/2 pound– i grind my own in my food processor) with ~1.5 cups cooked quinoa (1/2 cup uncooked), 3 egg whites, 3/4 cup salsa, 1/2 diced red onion, a knorr vegetable dip packet, and 1/2 tsp each of thyme, garlic powder, black pepper and sea salt.
first i boiled the pepper halves in water for about 4 minutes to soften them up, then i stuffed each half with the mixture and baked at 375 degrees for 40 minutes. this made eight pepper halves and one serving was a whole pepper.. i went with half a red and half an orange.
each half clocked in at 100 calories, 14g carbs, 10g protein, 3g fiber, and less than 1g fat. can't wait for leftovers for lunch!
check ya later.
Qs~
1. what is one thing you started and never finished?
2. what is your earliest memory?
xo. janetha g.