i am trying to type this post on my laptop but there is also a 52-pound basset hound on my lap. it's awkward, but i am a sucker and can't move him.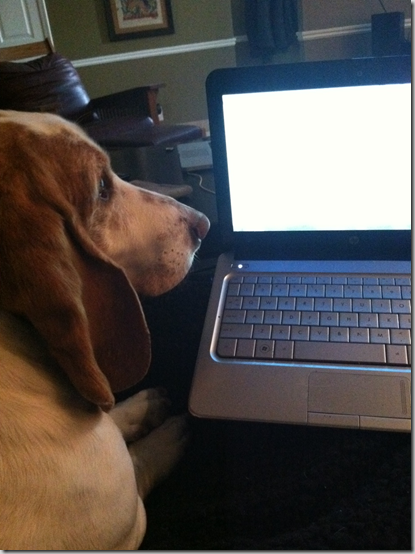 anyway, hi!
this morning i woke up even sicker than yesterday. lucky for me, marshall already had this sickness and he said he knows "just how it feels" and also that i am in the stage where "it will be over soon!" so at least there's that. he took good care of me before he left for the gym this morning by loading me up with cough drops and turning on the humidifier. turns out i can sleep with a cough drop in my mouth without choking.. although i don't suggest you try this.
now we are watching the packers game and i am sucking on another cough drop (ricola!) and trying to decide what to have for breakfast lunch (it's noon.)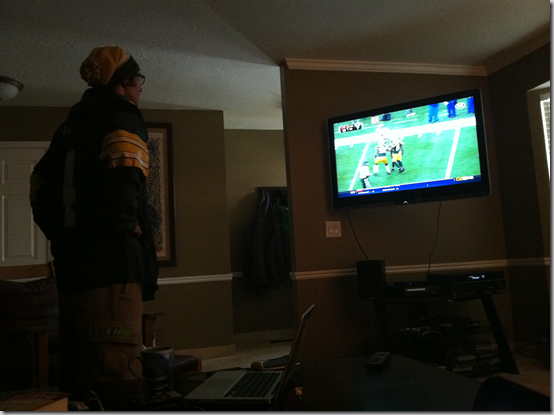 last night we went out on an impromptu date! it's one of the luxuries of not having any human children. penny and randy can let themselves in and out through the dog door, so we just leave the light on and a full bowl of water and give them a kiss goodbye. we also tell them to "be good," but that rarely happens.
marshall and i went to dinner at the rio grande café—a mexican restaurant on about 300 south and 450 west in downtown salt lake city. i hadn't been there in over a decade and marshall had never been there.
the café was a lot smaller than i remembered! probably because i am a lot bigger now. marshall ordered enchiladas and i ordered chicken fajitas and we shared chips, salsa and guacamole. it was a tasty, quick and cheap meal.. only $23!
after dinner we didn't have any plans, so marshall suggested we go to brewvies (a cinema pub) to check out the movie 50/50.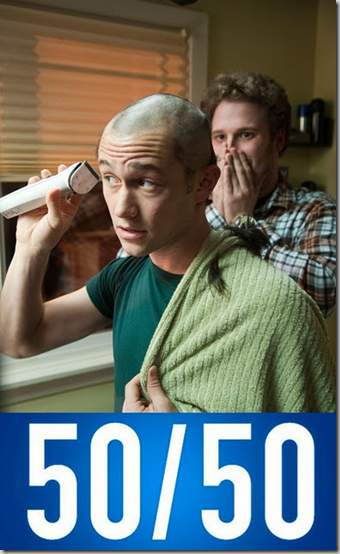 i had been wanting to see 50/50 since it first came out. it's about a 27 year old boy who gets cancer and has a 50% chance of survival. it is one of those movies that will really make you laugh AND cry. it was so good! highly recommended.
before our date, i headed to the gym to get a light workout in. as i mentioned, i am sick.. and i am also still on exercise restriction from my doctor. i am not supposed to lift heavy on my chest, shoulders or abs and shouldn't do intense cardio.
i put together this really simple, short workout yesterday just so i could get moving. this workout incorporated strength training and endurance cardio and lasted 50 minutes.
disclaimer: i am not a fitness professional and all workouts posted here are what i did, not what i think you should do. consult a professional before starting any workout routine.
warm up
3 sets of 15 "girl" pushups
circuit one (three times through)
20 kettlebell swings @ 35#
20 stiff legged deadlifts holding 25# kettlebell (10 each leg)
50 decline bench crunches
circuit two (three times through)
20 alternating one arm kettlebell swings @ 20#
30 reps of "hot potato" with 20#  kettlebell
50 oblique twists on decline bench
last strength move
3 sets of 15 assisted pullups (90# assistance)

1 set wide overhand grip
1 set narrow overhand grip
1 set narrow underhand grip
stationary bike
20 minutes moderate intensity
the end!
today i am going to take it even easier than yesterday and not workout at all. i would rather focus on getting well so i can hit jamie eason's 12 week training plan hard tomorrow. i am re-starting week seven.
hope your sunday is fabulous!
xo. janetha g.