hello and welcome to another monday!
i didn't turn on my computer once all weekend long. it was fabulous. sometimes it's nice to just forget about the interwebs. i was really excited for last weekend because it was actually the first weekend since mid-august that i had absolutely zero plans or obligations. pair that with my doctor's orders of no working out, and you can guess what i did… NOTHING. i welcomed that whole lot of nothing with open arms.
let me clue you in on a few of the highlights…
instead of blogging…
i slept in until 12:51 PM on saturday.
yes, that's right, i am a professional sleeper. i hear people say they slept in until 9 AM and i laugh. that's early! on saturday, i woke up around 11 AM only to roll over and go back to bed for another couple hours. some may say that sleeping til 1 is a waste of a day—but when you have nothing on the agenda, how is it a waste? sleep is a necessity, and if i need to sleep til 1, so be it.
and yes, that is yet another reason i am not really wanting a human child any time soon. my dogs were quite content sleeping in with us into the afternoon. they're equally as lazy.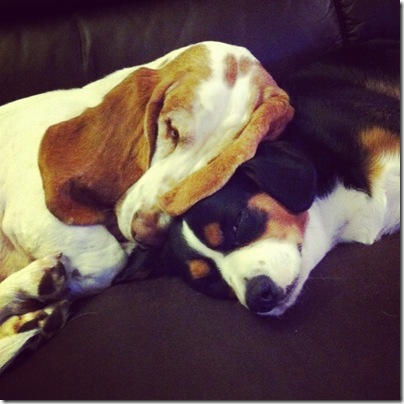 they are also best friends.
instead of blogging…
i went out to eat.. twice.. with a nap in the middle.
after rolling out of bed on saturday, marshall and i headed to a (very very very) late breakfast around 2:30. we went to the park cafe. fun fact: i used to be a waitress at the park cafe. the owner was a coke head and was totally upside down in the money department, so he sold the restaurant without telling any of the employees and i walked into work one day and was told i no longer had a job. that was rad. right.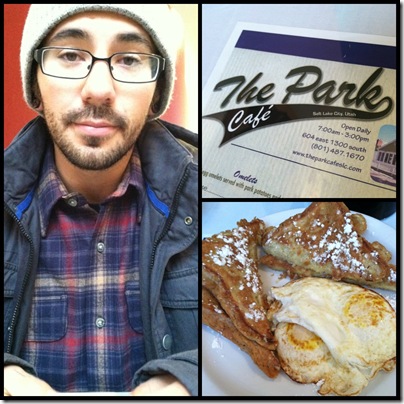 anyway, the park cafe is still good.. but it was a lot better under the old ownership. the menu had better, tastier options and they served enormous buttermilk biscuits while patrons looked over the menu. i definitely miss the old park cafe. not complaining about my french toast and overeasy eggs, though.
there was a nap between four and five o'clock.. i am not sure why i was so tired! but why fight it? if you had no agenda, i say embrace the nap.
around six o'clock kristen asked if we wanted to meet her and rory for dinner. i wasn't really hungry yet, which was no surprise since all i'd done is eat and sleep, but i like the company of kristen and rory, so we went.
i kept it light with a side salad, broccoli cheese soup and some pinot grigio that kristen brought to dinner. all restaurants should let you bring your own wine.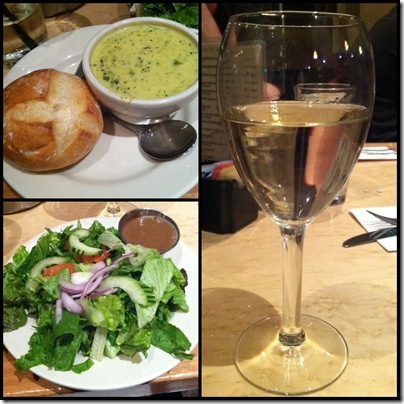 we did have an appetizer. it was a southwest bruschetta–toasted bread covered in smashed black beans, strip steak, pico, guacamole and.. hair. um, yeah.. marshall found a very long hair in his bruschetta. that's always a treat! we didn't let it ruin our meal, though.. i mean, hair happens.
instead of blogging…
we bought a new bedspread!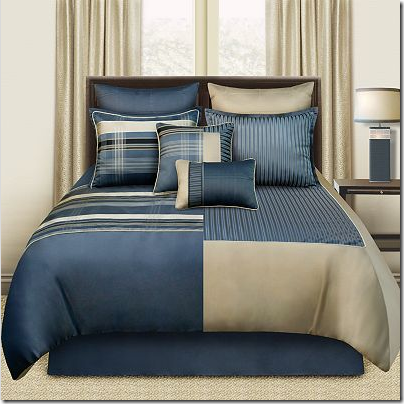 it's reversible.. we opted to use the pattern on the left.
we have been looking for a new bed set for awhile because our old one was just getting a little old and haggard. we ended up buying this one at kohl's because i had $10 kohl's cash and a 15% off coupon. does anyone else feel like they are getting away with robbery when leaving kohl's and checking out how much you saved? i swear they just mark things up and then mark them down to make you (a) feel good about your purchases and (b) buy more crap. whatever the reason—it works. i actually scored $20 more in kohl's cash from saturday's purchase.. so yep, they're going to have me coming back to spend even more. smart marketers.
instead of blogging…
i meal planned on sunday. and i did all the grocery shopping. i made an initial plan, then told it to marshall and he had a few, uh, problems with my plan. so i revamped the whole thing. here it is:
sunday: we had lightened up lasagna
monday: pizza + salad (and monday night football with the packers!)
tuesday: BLTAs + tomato soup
wednesday: mushroom stroganoff (with beef instead of turkey) + asparagus
thursday: greek chicken pita pockets (recipe to come)
i never plan the weekend meals because i'm not sure what our plans are and we usually end up going out to eat at least one of the nights.
instead of blogging…
marshall & i cleaned the WHOLE ENTIRE HOUSE on sunday. top to bottom. organized. scrubbed. packed up the summer clothes. got rid of a huge basket of clothes and shoes. dusted, swept, vacuumed, mopped. even folded all the laundry. and if you know me, you know that never happens. i guess sleeping until 1 on saturday gave me a lot of cleaning energy on sunday!  i wonder how long it'll last?
i even remembered to bust out the thanksgiving banner that my sister made last year. super cute, no?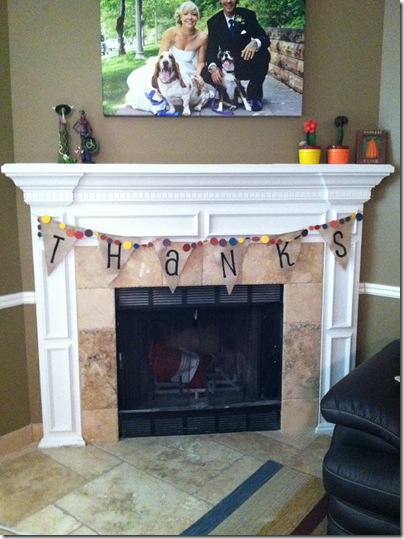 instead of blogging…
we went to a movie with vibrating seats. YES. you read that right. it was a 3D movie with vibrating seats. it's some new technology called D-Box MFX motion. i was baffled. i had no idea such a thing existed!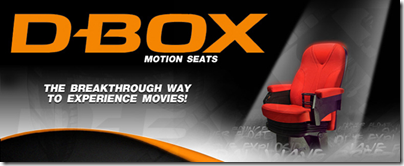 we went to see immortals for our buddy james' birthday. marshall snagged the tickets and handed me mine, muttering something about the $40 better be worth it. i looked at him, puzzled, then looked down at the receipt. the movie was $10.50 per person—typical for a 3D movie, i guess. but the kicker? an $8 "service charge" per person for the vibrating seats. that brought to total to $37 for both of us. sheesh!
there was most definitely tweeting going on with lindsay and bonnie beforehand..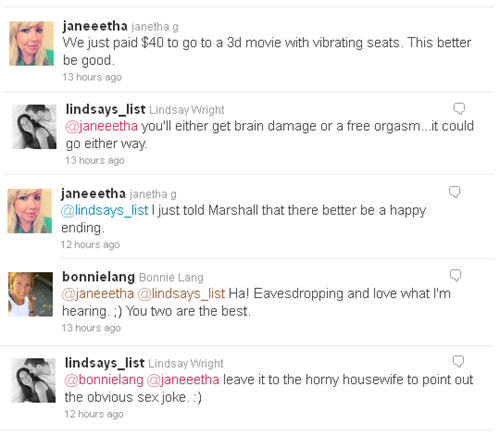 sex jokes aside.. the vibrating seat experience was definitely interesting. the movie had a lot of fighting, so there was a lot of vibrating. you could turn your seat level vibration up or down—there were four settings ranging from the least to the most intense.
i am usually not a fan of 3D movies because they give me a headache, but this one wasn't so bad. the vibrations were fun, but in no way worth the extra money. the fancy seats didn't make the movie any better than it would have been had i been in a normal seat (and $16 richer.)  my conclusion is that it was fun to try out and it was a fun experience, but not one that we will be doing ever again.. well, not at that price, at least.
oh, and the movie, immortals? it was really good. i liked it a lot. if you are into ancient greek battles and seeing men with nice abs, this one's for you.
considering the amount of time i spent relaxing on saturday AND the productivity that occurred sunday, i think i should keep my laptop closed every weekend.
Qs~
1. would you pay an extra $8 for vibrating movie seats?
2. what would you do/have you done when you find a hair in your meal when dining out?
xo. janetha g.