hey guys!
first off, happy veterans day. i hope you have all had the chance to take a moment to think about those who have served our country.
and second, happy 11-11-11. i know there were 7,329 blog posts titled 11-11-11, so i decided to spare you reading one more. however, i am palindrome obsessed.. so i had to mention that the day has made me happy each time i write it.
here are some palindromes i absolutely love:
go hang a salami, i'm a lasagna hog
yo, banana boy!
murder for a jar of red rum
i asked my facebook friends what palindromes they love.. here were their answers:
dr. awkard (jessica)
doc, note: i dissent. a fast never prevents a fatness. i diet on cod. (tiff)
rats live on no evil star (ayah)
too hot to hoot! (betty)<—my new favorite palindrome!!!
palindromes are extremely fun.
good talk.
i did way too much food blogging yesterday, so there will be zero meals showcased today. that's the way the ball bounces, folks.
plus.. it's FLASHBACK FRIDAY!
so, before i was a blogger, i was a body for lifer. i actively participated in the body for life tracker forums. i was even on a team! i found this post that i published on one of the message boards almost exactly three years ago today! it was on my LAST DAY of my by-the-book 12 week body for life challenge.
it was directed towards people who were doing body for life but not seeing instant results or the results they expected. while i was writing specifically about body for life, i think that my words apply to any healthy living plan someone may be following.
it was interesting to read my words again—my opinions are the same, even three years later, and looks like i liked to ramble even before meals & moves existed! here's the post:
Title: to those of you frustrated because you aren't seeing the results you expected from BFL
i have seen a lot of discouraged posts about not seeing magical transformations and wanting to throw BFL out the window…
think of it this way. sure, you may not be losing the pounds like crazy, you may not see drastic changes like some people do…
BUT:
you are healthier
you probably FEEL better
most IMPORTANTLY.. you aren't getting BIGGER.
what if you hadn't started BFL? where would you be now? chances are, you would be slowly and steadily GAINING fat instead of slowly and steadily losing it. you do not get overweight overnight, but if you do not do something about it you will wake up one day and realize you are not your ideal size.
you can eat like garbage and not exercise for awhile, but eventually your metabolism catches up to you and you finally take a look in the mirror and realize that you can't keep living the lifestyle you have been, there has to be a change.
that is what happened to me. i woke up and was like "crap, i am 20 lbs overweight!" so, i started BFL. i didn't see immediate changes. and i didn't follow it perfectly. but the fact of the matter is, i wasn't getting any worse than where i was. that is the most important realization i came to. although i wasn't following BFL perfectly and i wasn't seeing maximum results, i was not gaining weight.
eventually i decided to do a strict 12 week challenge, and i had made changes along the way before hand and trained my brain to make the right choices. by the time i did my challenge i knew it was the right thing and it was easy for me to follow the BFL plan, because i knew it was good for me.. and i ended up seeing results i never thought possible. my challenge ends today and i have done a lot of pondering and so i wanted to post this.
so for those of you who are stuck at a certain point or are not losing as fast as you expected.. try to think of where you would be today had you not woken up one day and decided to make a change and do BFL.
don't get frustrated and throw your hands in the air and say "this isn't working, i give up!"…. because body for life is about making changes to your life so you can make healthy advances with both exercise and eating PERMANENTLY.
if you think "i'm not losing anything, i might as well go back to eating whatever i want and not exercising because i am the exact same as i was".. then take a step back and realize this statement makes no sense. if you keep doing what you have always done, you will just slowly and gradually get further from what you want to be.
i know this is rambling, but i think it is a point of view that is important for all to see. you may not be quickly progressing with weight loss, but you are also not taking a step back from your goals. little or no change is better than negative change. and if you keep up with the clean eating and the exercising, you WILL see changes. there is no doubt about it, if you follow a proper eating and exercise program long enough, you can't NOT change for the better.
those of you who are feeling discouraged or frustrated, hang in there.. you are doing the right thing and changes will follow regardless of how long it takes! don't give up!
thanks for reading
************************************************
here is a link to the original post with the responses on the message board: click.
here are my progress photos from the challenge—before the challenge, at day one, at 6 weeks, at 9 weeks and at 12 weeks. the progress was slow—but steady—because i didn't quit.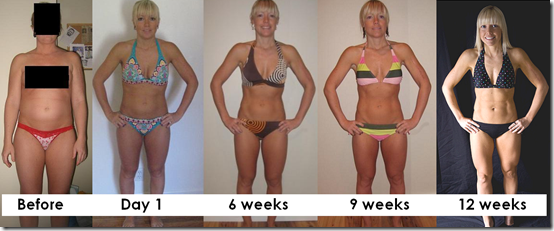 there were times i wanted to quit. i wanted to throw in the towel and go back to eating fast food every day. but in the end, i was so proud of myself and so glad i didn't give up.
now days, i still focus on eating healthy and exercising regularly. sure, i am way less strict than i was on body for life. i take more days off from working out and i definitely eat out more and eat more desserts.  however, most of the time, i prepare three healthy meals a day and work out six days a week. on top of the 40+ hours i work each week at my job, maintaining these healthy eating and exercise habits does not always come easy. it may not always be easy to do, but it is worth it. and it's also keeping me from winding up where i started, before i headed down the healthy path. i know how i felt when i was at that stage in my life and i don't want to go back there.
moral of the story?
i hope that if you are currently struggling with your goals and feel like throwing in the towel, you will consider my thoughts above. you may slip up a few times. you may slip up several times. but don't let those slip ups make you GIVE UP. getting off track here and there isn't a reason to totally abort the mission and give up on yourself and your goals.
hang in there, and i will, too.
Qs~
1. are there any mantras you use when you get discouraged? please share them with the class!
2. what is one of your current goals in life?
xo. janetha g.