one of the highlights of flying is reading sky mall.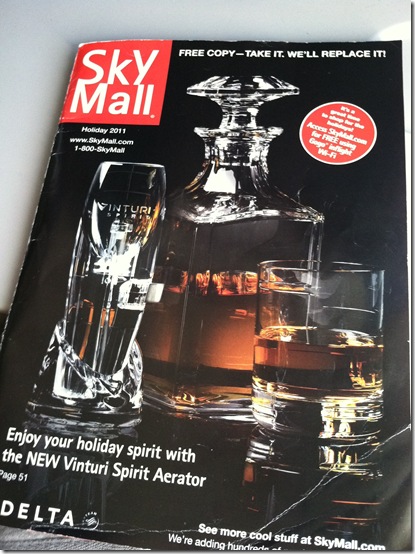 don't deny it, you love flipping through this magazine, too. and if you don't, i definitely wonder what's wrong with you. the magazine has the same draw as a really horrible infomercial on TV that you just can't click away from.
my favorite part of the magazine is the section where everything has the word "the" before the name of the product. these titles always have a period afterward, but i like to put an exclamation point after the title when i read it in my head, just to make it EXTRA exciting.
for example…
the temperature regulating pet bed!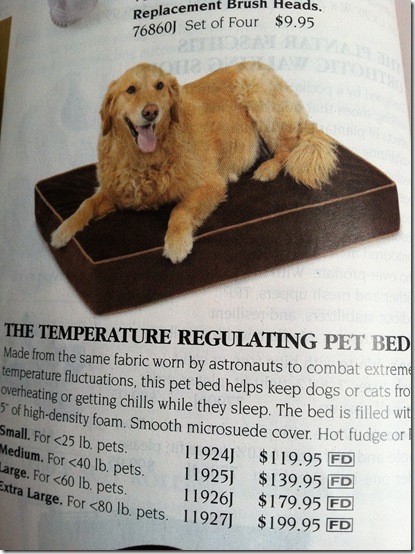 the learn to play banjo!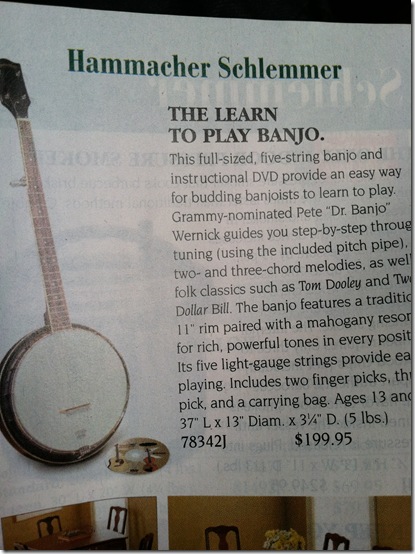 the adjustable sheepskin slippers!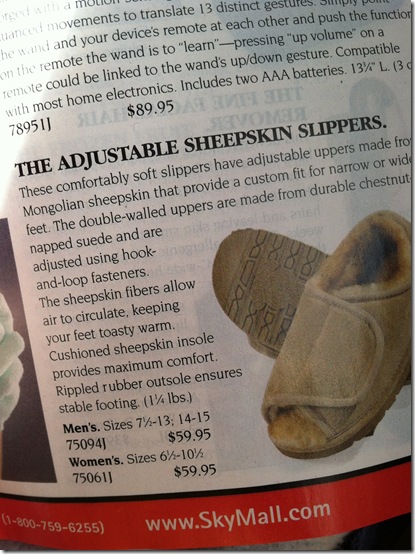 i think all products from here on out should always have the word "the" before their name. it just makes life more fun.
as you know, i was on an airplane this past weekend. i immediately grabbed the catalog from the seatback compartment. this particular issue of sky mall—holiday 2011—had some real gems.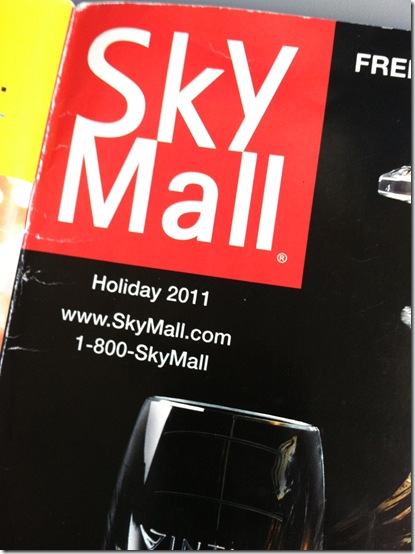 there actually were a couple items that caught my eye. since i work in a windowless office (at a window company, no less) and sit on my butt all day long, these two products actually had me captivated and wanting to order.
portable sunlight. i wonder if the fact that i don't see sunlight all day is changing my mood? now that we have fallen back with the time change, it's almost completely dark when i leave my office. i don't think i am suffering from seasonal affective disorder, though, so i will save my $59.99.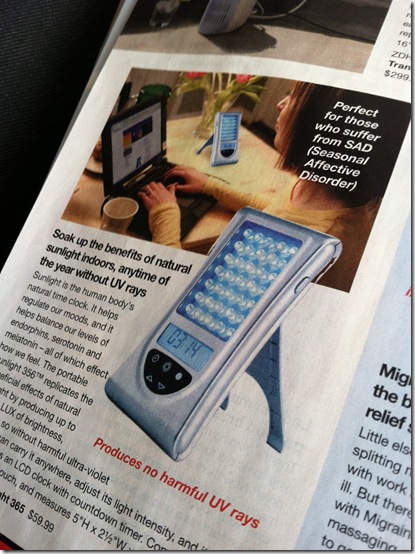 the sit fit trainer. because who wouldn't want to improve their abs, lower body muscle tone and burn calories while sitting at their desk? i wonder if it really works…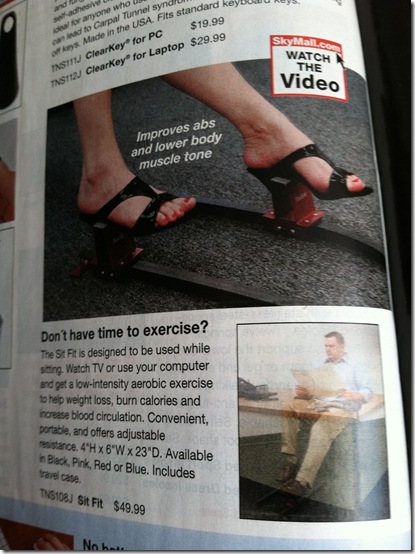 …but at $49.99, i think i will stick with my online (free) stopwatch that i have been setting to go off each hour so i can walk around the office to get my body moving.
there were some more products in the issue that caught my eye because they made me laugh OR they made me want to order. or maybe both… i want to know what you think!
i am going to leave it up to you to decide if these products are rad (as in clever, useful, innovative or amazing) or ridiculous (as in what the crap were they thinking when they made this one?!)
i have put a poll under each product photo so you can vote.
ready? let's go!
toilet doggie water dish: this unique water bowl will keep your pet hydrated and will double as a hilarious conversation starter.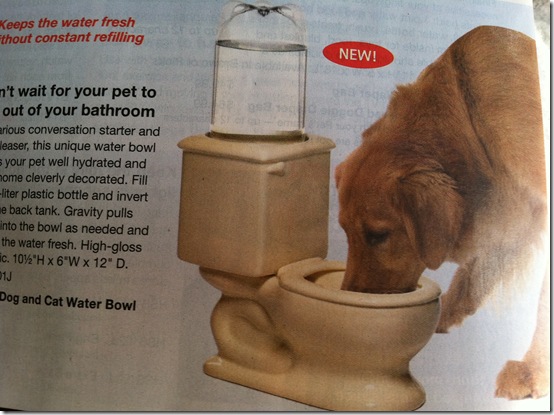 protein ketchup: 15 grams of ketchup per dipper cup.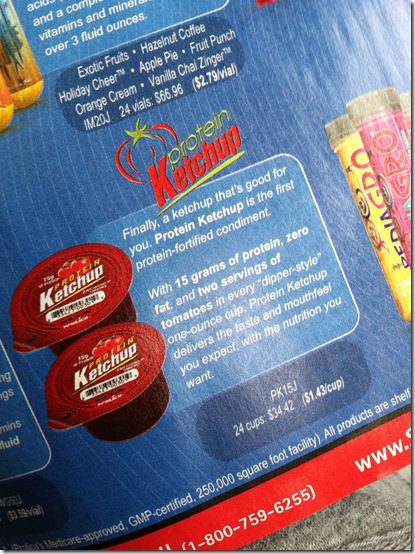 BBQ brander: create a personalized meal by branding your initials on your food before you eat it.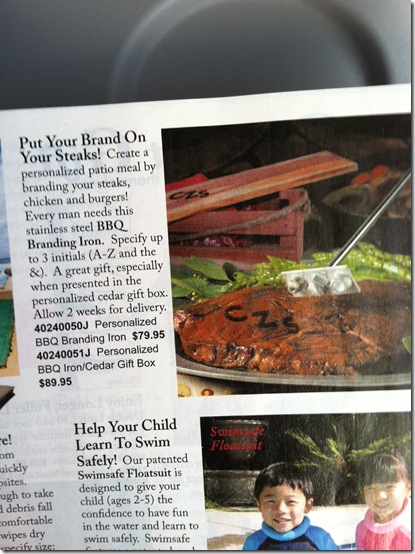 aquabells travel weights: these inflatable weights can be filled with water to achieve different weights. perfect for the fit minded traveler.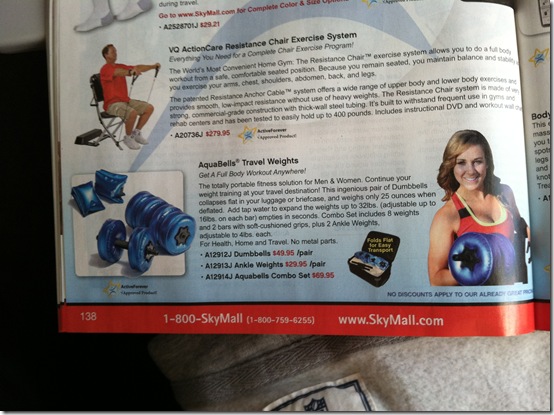 hard boiled egg case: hate peeling hard boiled eggs? forget it! crack an egg into this contraption, then boil the contraption.. twist off the lid.. and voila! hard boiled egg with no shell.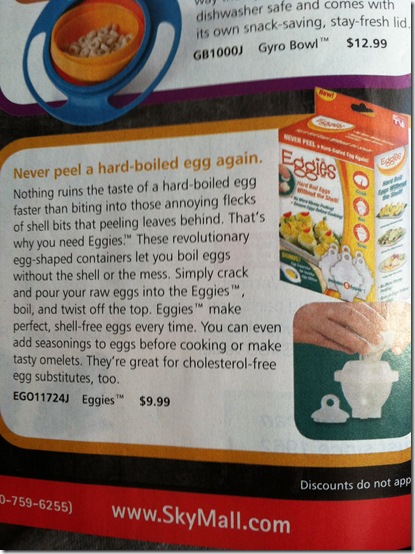 kitty box furniture: two birds with one stone? your cat box doubles as a handsome piece of furniture.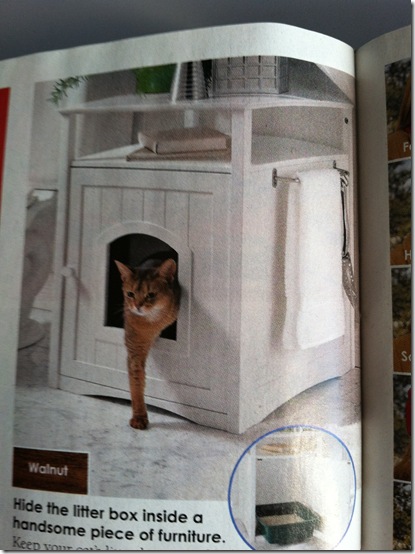 swoop n scoop bowl: never eat soggy cereal again.. there is a compartment for the cereal and a compartment for the milk.. and a groovy handle.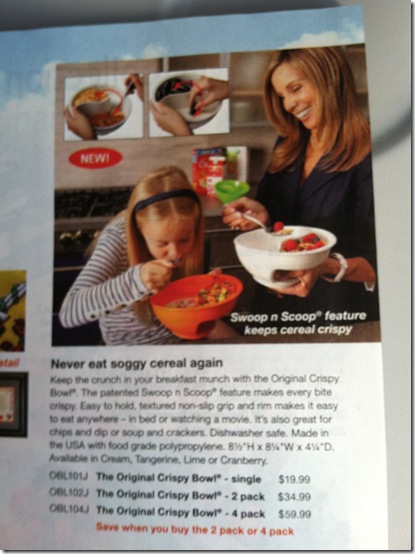 the marshmallow shooter: no description required.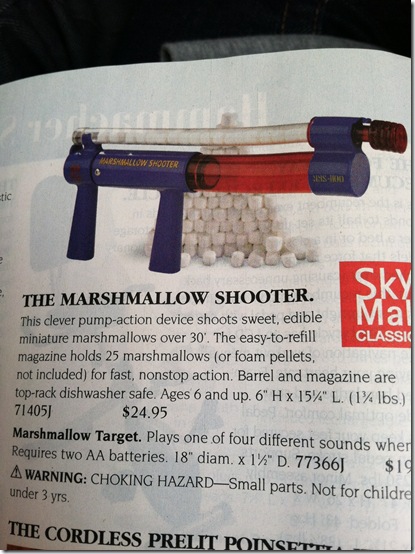 the frozen fruit soft serve processor: because simply using your food processor is too easy.. you need a specific device just for fruit.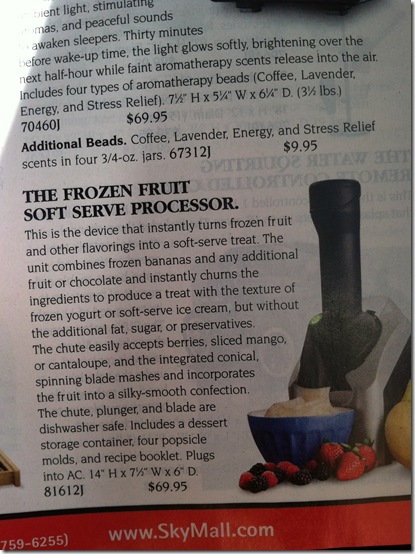 cell phone holder bracelet: never let your cell phone go missing again! wow. just, wow. and so fashionable, no?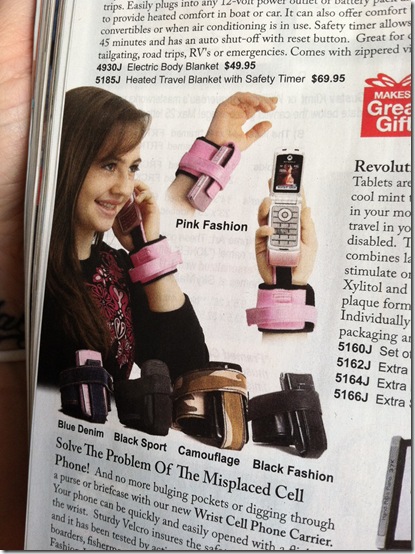 toothpaste tablets: dehydrated toothpaste. just pop one in and your saliva will activate it into a foam!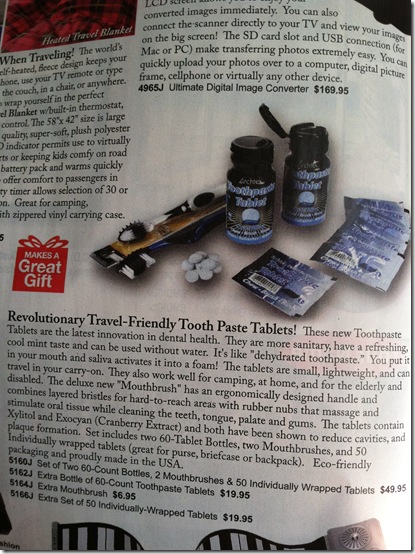 grocery list generator: just speak your list into this device and it will itemize the list then print it out for you to take to the store.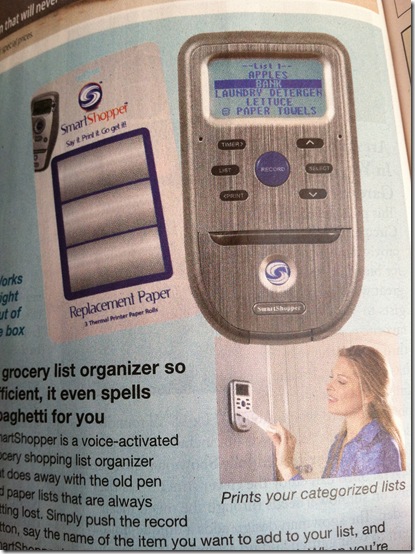 iron on hair crystals: for those special occasions.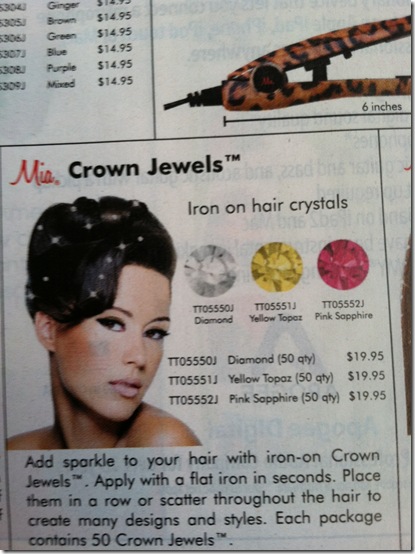 giraffe toilet paper holder: i hope you all say rad.
box of applause OR box of laughter: sold separately.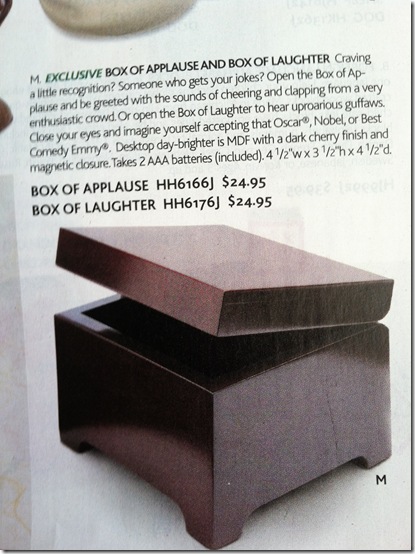 moustache mirror: ever wonder what you'd look like with a 'stache?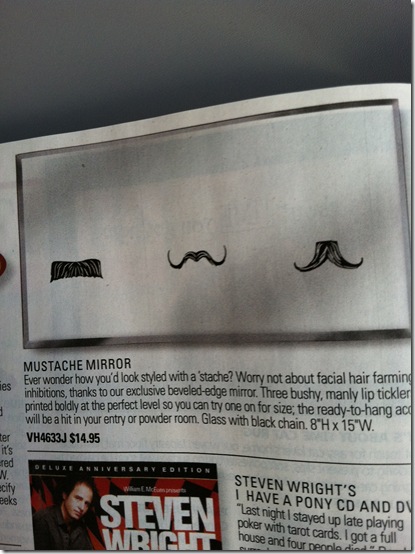 hope you had fun seeing these wacky products!
regular meals & moves posts will be coming later this week. for now, i am playing catch up because going out of town=lots of work upon returning home. speaking of returning home, we DID make it on the airplane on monday morning. marshall had to answer a series of questions and go through a special screening and he was able to travel without his identification. now you know—in case you ever lose YOUR wallet in the ocean—you will still be able to make your flight home. as long as you are really you and are prepared to answer a lot of questions about yourself and your past.
have a great day!
Q~
have you ever purchased an "AS SEEN ON TV!" item? what was it? or is there one you have your eye on?
my answers: insanity DVDs, the magic bullet, the perfect brownie pan (works so well!), the pediegg (doesn't work), and we own a snuggie (it was a gift.)
xo. janetha g.