hey guys!
well, we made it to san diego. we thought we were escaping the cold utah weather, but it turns out that it was warmer at home than it is here.
we had a slightly bumpy flight—nothing too bad—and since we were flying delta there were free biscoff cookies and coffee. pair that with a fabulous seatmate (unlike the last time i flew) and i can't complain.
it was rainy when we landed. i decided that it was pretty cool how we were flying above the rain and then as our flight descended, the rain appeared. marshall wasn't so impressed and just said, "it happens all the time." okay, maybe it does, but it's still cool to think about… right? am i a weirdo?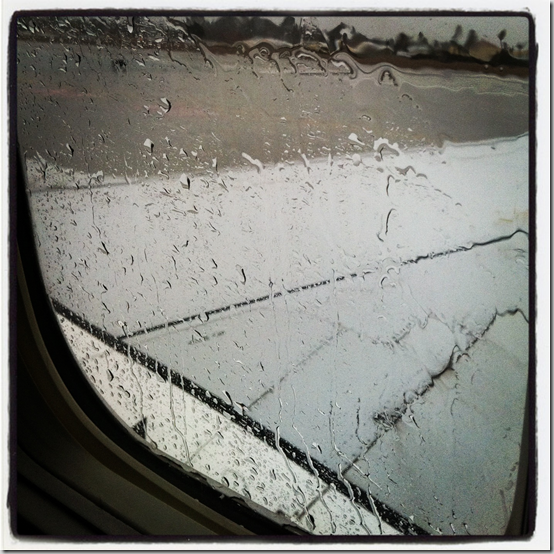 probably.
we headed out to eat straight from the airport. due to the weather and the traffic, it took quite awhile to get to the restaurant.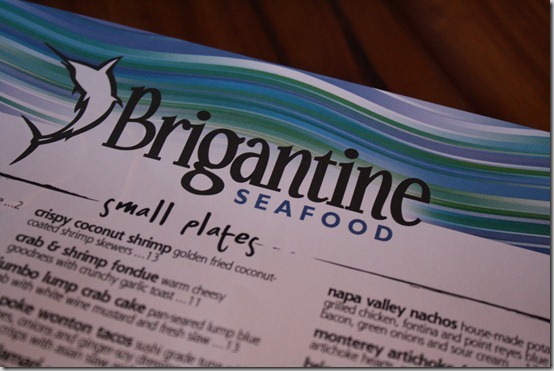 we went to brigantine seafood del mar and sat in the beautiful scenic dining room.  we wanted to sit in the bar area because there is an a la carte menu available to order from, but there was no room for us. we had a party of nearly twenty, so they seated us in the dining area and allowed anyone who wanted to order from the bar menu.  it was really great of them to cater to our requests and accommodate us on short notice.
the dining room had floor-to-ceiling windows with a great view.
we started with red tortilla chips & jalapeno cheese dip—creamy & delicious.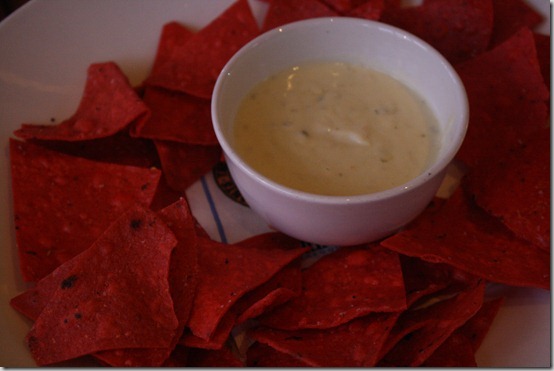 the waiter also brought out complimentary (and warm!) sourdough and brown bread with whipped butter.
marshall ordered a unique version of nachos—house made potato chips with grilled chicken, fontina and blue cheeses, crispy bacon, green onions, and sour cream.  they may not have looked pretty, but man they were tasty. granted, you really can't go wrong with chips and cheese, but the potato chips and blue cheese combo was different and delicious.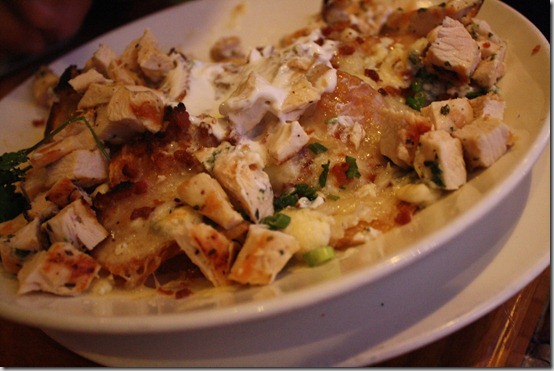 our meals were out in a FLASH. seriously, it was such speedy service. i was incredibly impressed.
i ordered the signature dish that came highly recommended by the waiter.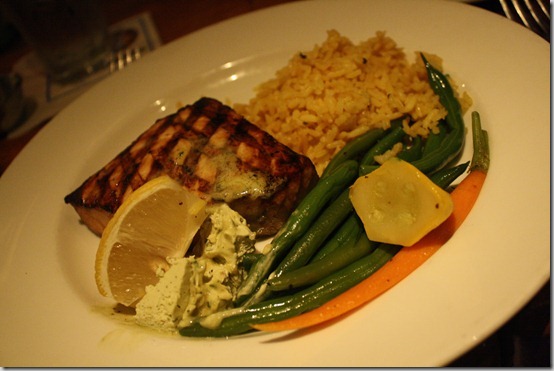 it was a grilled swordfish steak served with a pad of cilantro avocado lime butter (AMAZING), seasonal steamed vegetables and a side of rice pilaf.
the dish was fantastic. even my fish-hating niece, kaylee, gave it a try and liked it. swordfish has such a meaty texture that i really enjoy.
after everyone finished their meals, there was a little room for dessert. lucy had a birthday last week, so the staff brought out a GIANT hunk of mud pie with a candle and sang to her. she was thrilled.
she isn't really into coffee ice cream, so the adults stole her mud pie and she went with a klondike bar. clearly, she was equally as excited about the situation.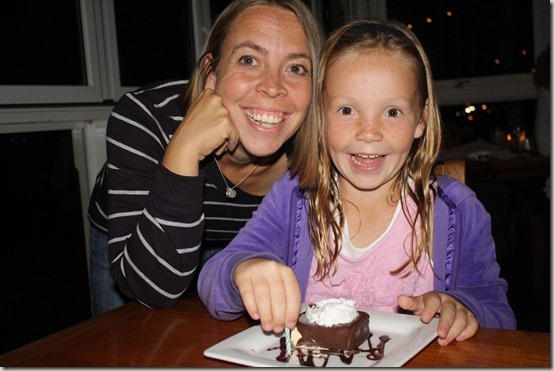 that's my sister, marisa.. lucy's momma.
it was so great to finally see my nieces! they are growing up way too fast.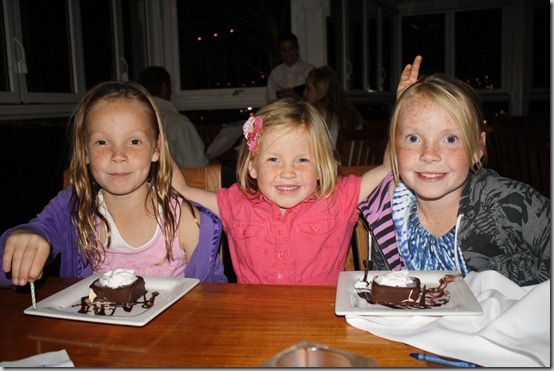 lucy just turned 8, sofi is 5 and kaylee is 10.
i devoured a nice chunk of this mud pie. coffee ice cream, cookie crumble, hot fudge, whipped cream and chopped nuts… how could i resist?
i am really glad my sister suggested brigantine for dinner. the staff was unbelievably friendly and accommodating, the food service was very fast and everything was really delicious.   thanks, brigantine!
we left the restaurant, hoods up to stay dry from the rain, and headed to my sister's house to hang out. it's my first time visiting them since they moved to san diego (they moved from the bay area) and i am in LOVE with their house! i think i might have to move in. as an added bonus, they live next door to their landlord who owns a couple of the sweetest pups in town. we went over to meet them and i immediately fell in love (don't tell penny and randy!) i will have to snag a photo for you guys tomorrow.
now we are just hanging out getting ready for the big day tomorrow. in case you are just joining us, i am in san diego for a baptism.  lucy just turned 8 and that's when you are baptized in the mormon religion.  the baptism is tomorrow and then marshall & i are going to the packers/chargers game on sunday.
right now my mom is ironing clothes…
marisa is busy trying to figure out how to make tres leches cake (with a little trial and error on the egg whites…)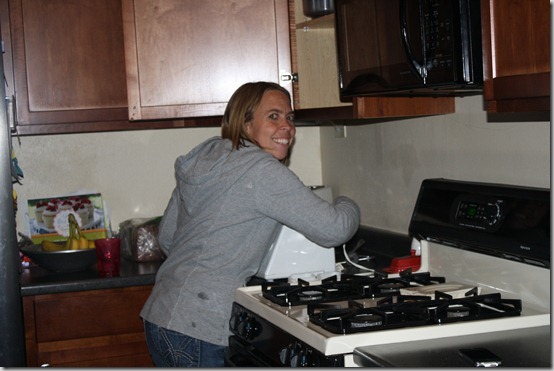 the boys are watching TV…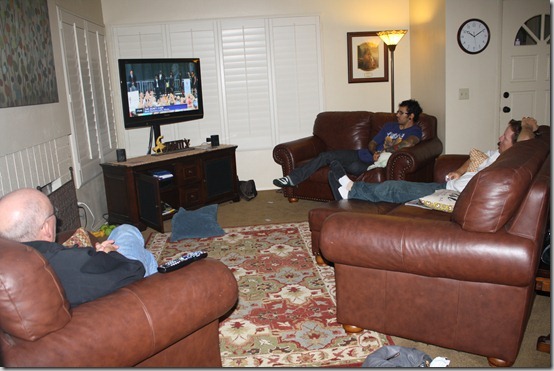 and i am blogging!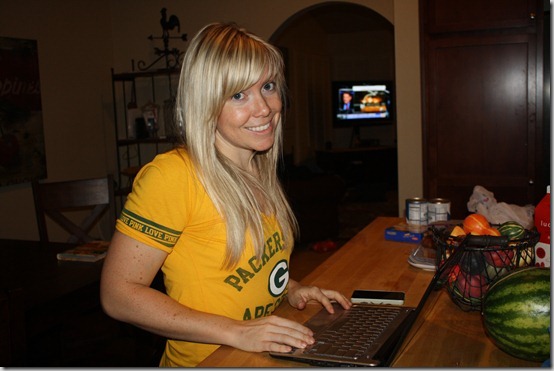 while i am sad to be missing the foodbuzz festival right now, it really is fabulous to just spend time hanging out in my PJs and laughing with my family. they are my favorite people on the planet. my belly hurts from making fun of momma b. all in good fun, of course.
hope you all have a great weekend!
xo. janetha g.