first of all, happy national sandwich day! did you celebrate?
i did this morning (and every other morning this week) with my current favorite breakfast: a fried egg and 2 slices of applegate farms ham sandwiched between a toasted double fiber english muffin slathered with a wedge of laughing cow cheese. i have been making this every morning, wrapping it in foil to take to work then eating it at my desk with my coffee (spiked with a tea bag.) i am sure i will tire of this sandwich combo after awhile and go back to protein shakes or oatmeal.. but for now, this savory sandwich is doing it for me!
the stats are pretty amazing, too: 300 calories, 30g carbs, 23g protein, 13g fat and 8g fiber.
no photo because, well, i have never bothered to take one before wrapping the sandwich in foil and once i unwrap it at my desk, it's basically gone before i can think twice. so tasty.
because today is thursday and we aren't fortunate enough to read melissa's weekly rant anymore (I MISS YOUR FEATURE MELISSA!), i am going to do a three things thursday of my own. plus, i already highlighted some awesome things this week.. so that leaves a little room for bitching. here they are—my top three irks as of late.
1. not being able to be in two places at once.
fair warning: i may sound like a total brat with this one, but hey, i am bummed and have the right to be. 
this weekend is the third annual foodbuzz festival. i went to the first two and had the time of my life at both festivals…
flashback!
foodbuzz 2009 roomies: danica, allison, jasmine, quinn & ashley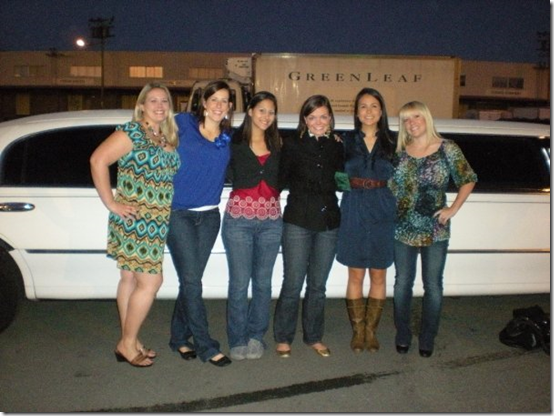 foodbuzz 2010 roomies: danica, elise, susan & holly.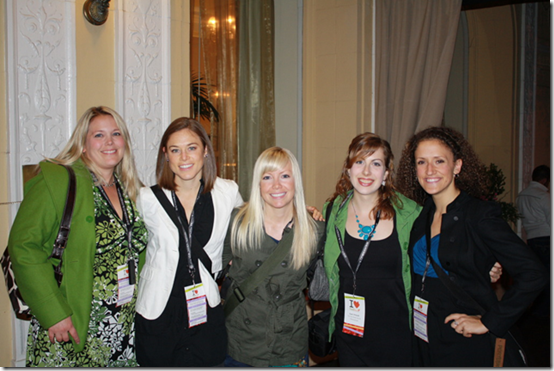 but this weekend, the foodbuzz festival happens to fall on the same weekend as my sweet niece lucy's baptism… in san diego. i am not complaining that i have to go to san diego—in fact, i am super stoked! i can't wait to see my family. i am just really sad that i have to miss the festival. it's something i always look forward to and it's a shame that i can't double myself and double the fun filled weekend. i'll be at you next year, foodbuzz festival.
oh, and on the total upside for marshall, the packers/chargers game happens to be this weekend and we will be going to the game. yes, his very first NFL game ever! he is so excited. me? not so much. for the game, that is. but i am totally excited for him. i know he is thrilled.
2. MICE!
disclaimer: stop eating anything you may be eating at the moment or just don't read this.
we have mice. it's bad. i have been finding mouse poop in various places around my kitchen.. behind my washing machine.. under the sink.. AND IN MY OVEN.
yes.
in my oven.
mouse shit.
we have a double oven, and we store our cast iron skillets (passed down from marshall's grandparents—they are seasoned with years and years!) in the upper oven.  each morning this week, i have grabbed a skillet to make my egg sandwich that i talked about at the beginning of this post… and each morning, there has been new mouse poop in the skillet!
djhwklhfurejagltfwujksjkcsd.
gross. i sincerely hope you aren't eating anything right now. or throwing up on your monitor. i have been using a skillet we hang from the pot rack instead and have been washing the cast iron skillets.. which we don't like to wash with soap because of the whole seasoned-for-years thing. soap and cast iron skillets just don't go hand in hand. but when there is mouse poop involved, there is no other option.
we have a pest control guy coming today. here's hoping this is my last rant about mice.. for both of our sakes.
ugh.
3. the fact that eating candy just makes me want more candy.
i don't eat candy very often. in fact, i didn't eat a single piece in all of 2009 because giving it up was my new years resolution. i would rather have ice cream, cookies, brownies or cereal instead of candy. it's just not my thing.
however, it has become my "thing" this week! i have a basket of candy on my desk at work that i am never tempted by. i usually just don't have the desire to eat anything from the basket. this week, however, i just cannot stop. i started on monday—halloween—with a mini snickers.. then on halloween night i ate more snickers. and milk duds. and twizzlers. and skittles. and i really wished i had a twix. man, if there is one candy i do love, it is twix.
the next day, i ate probably ten mini candy bars out of my basket at work. i texted marshall.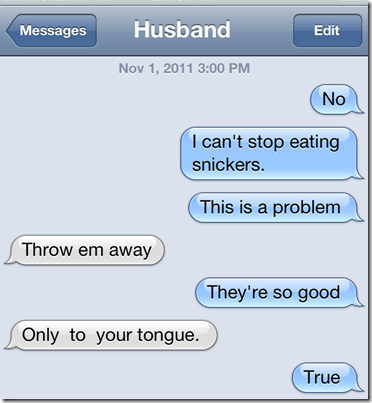 wait, what? why? why does my tongue think it needs so much candy now?! stupid tongue.
it's a hard habit to break and i just don't want to get INTO the habit because i know how tough it can be to get OUT of the habit. but, alas, i have eaten three more pieces as i type this post.
damnit.
why is sugar like that? why can't i eat a plate of broccoli and have some crazy urge to eat more vegetables? that's really how it should work.
welp, that's all from me for tonight. i've said enough and then some. i'm off to the gym for day 39 of jamie eason's livefit trainer. i plan to do a check in post about the program soon!
have a great night—friday tomorrow! hooray!
Q~
what's bugging you this week?
xo. janetha g.