well, i got about half of the house cleaned last night. i didn't even attempt to make a dent in the heaping piles of clean laundry, though. i loathe folding laundry.. as you probably already know if you've read this blog for more than a month. i bitch about it constantly. everyone has their one thing they hate to do—that's mine.
i took a time out from my cleaning to whip up a quick dinner with this new-to-me tofu*.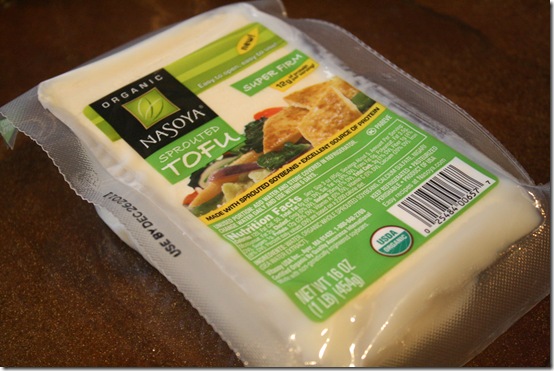 nasoya sent me their organic sprouted super firm tofu. i was impressed with the stats—120 calories, 12 grams of protein, and 3 grams of carbs per serving. that's a great protein-to-carb ratio for tofu.
the only downfall to this tofu is the shape—it was longer than a typical tofu block and was too large to fit into my tofu press so i had to break it in two and that made for a janky pressing situation. it wasn't too big of a deal, though, because the tofu was already really firm.  i diced it into bite-size pieces and marinated it in soy sauce and stir fry sauce.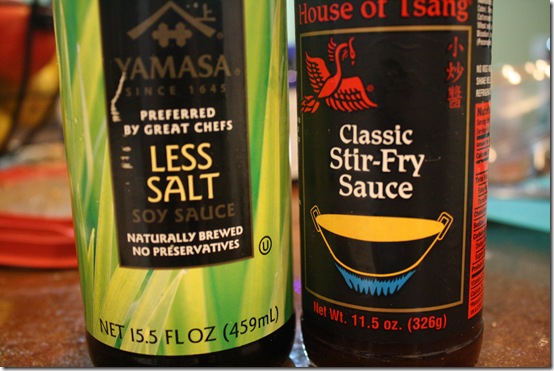 to make the stir fry, i heated a tablespoon of toasted sesame oil over high heat in my wok.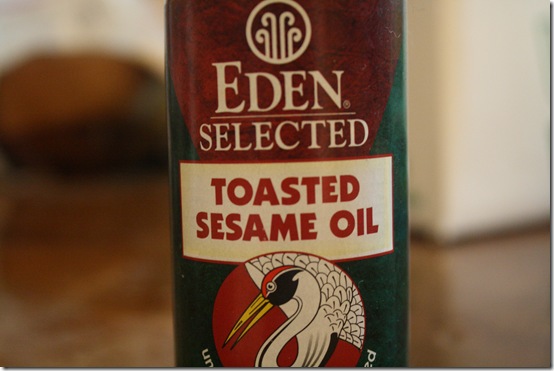 i tossed in 4 stalks of chopped celery, half a bag of broccoli slaw and the tofu. i also added a couple tablespoons of hoisin sauce.
after about five minutes, i threw in a can of sliced water chestnuts and sliced bamboo shoots—both 8 oz.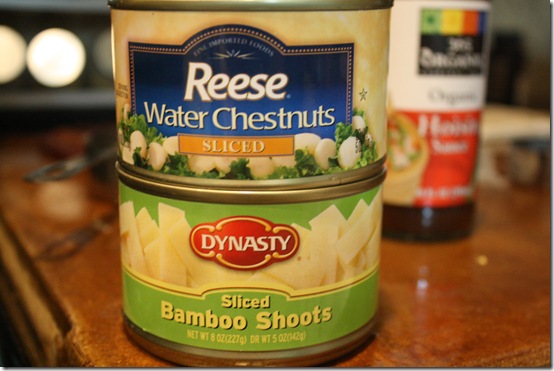 i splashed the stir fry with more soy sauce and stir fry sauce, then kept stirring and frying for about 8 more minutes.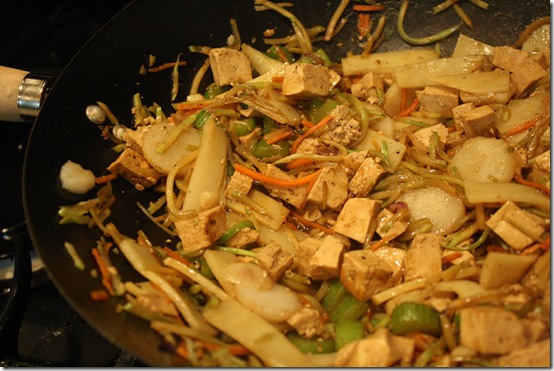 at the very end, i scrambled an egg in a cast iron skillet. this was marshall's idea, and a great one at that. i love egg in stir fries.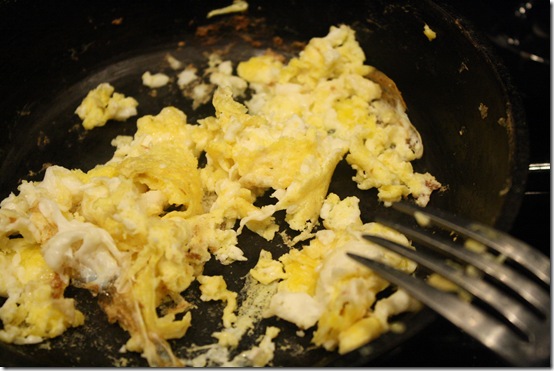 i tossed the egg into a portion of the stir fry just before serving.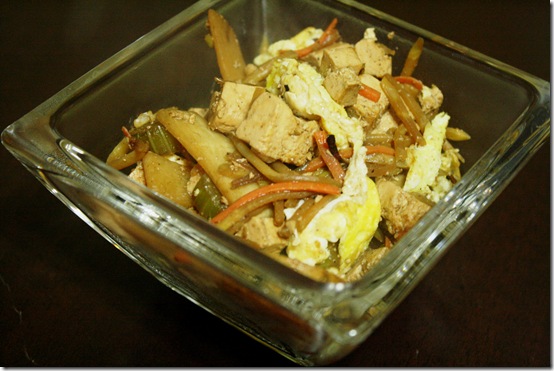 tasty, healthy and protein packed. thanks, nasoya.
**********************************************************
flashback friday!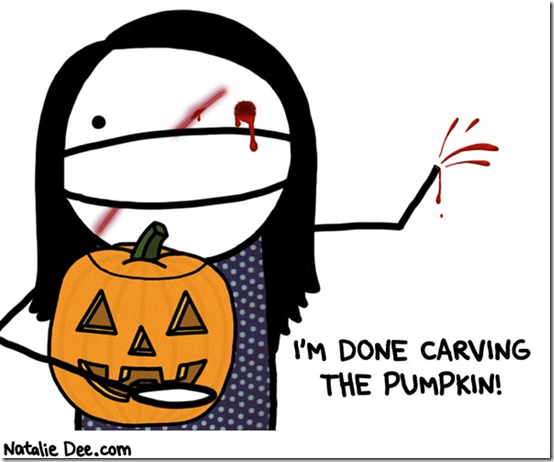 we didn't carve pumpkins this year. life has been busy and my kitchen is already dirty enough without pumpkin guts. i guess i could have kept it clean and made one of these guys…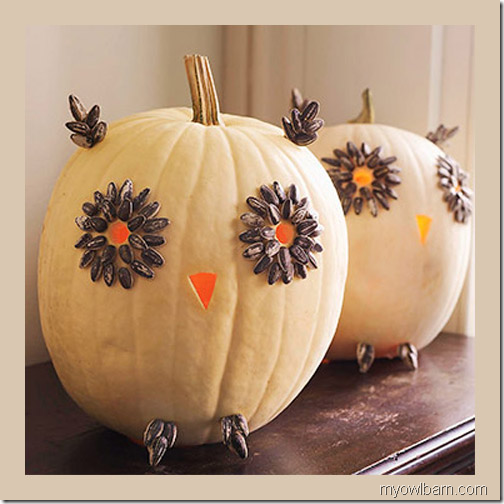 i do miss the tradition, though. so, for a little halloween spirit, here is a flashback to pumpkin carvings of years passed…
2006.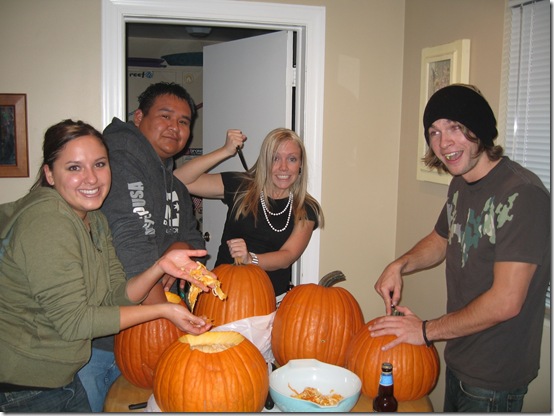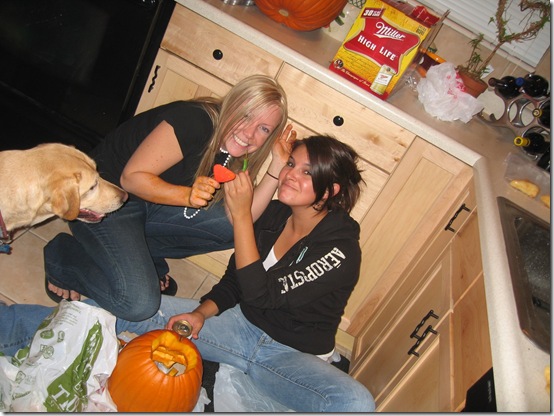 2007.
2008.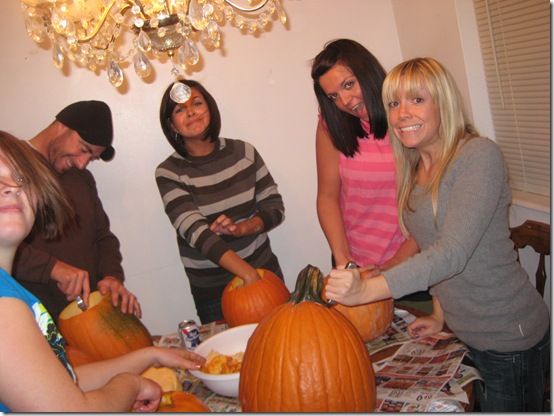 puppy penny in a P!
haha. that last one is my favorite. she was so little!
i'm excited for halloween weekend! i am staying in tonight because i have an early morning tomorrow. i am leading a fitness discussion and bodyweight exercise routine at 7:30 AM. eesh! i am really excited, though.. it should be a good time and i am going to try to film it so you guys can watch the presentation.
saturday night is kristen & rory's big first annual halloween bash! marshall & i both have our costumes—not a couples costume, mind you. i LOVE couples costumes but marshall is a hater. i guess you can't win them all. i am so excited to dress up!
i probably won't be back to blogging until sunday because things are going to be pretty jam packed. in addition to tomorrow's presentation and halloween party, we are shopping for a desk and surround sound after work today.  marshall got me a desk for my birthday (back in june) and i have yet to pick anything out. i got him surround sound for his birthday this month… so we are going to both redeem our gifts this weekend. gift giving is a little bit different when you share a bank account. we still gave each other small, thoughtful gifts.. but as far as larger gifts, you kinda have to clear that sort of purchase with the other person so you don't end up in the negative.
Qs~
1. do you like tofu?
2. did you carve a pumpkin this year? if so, what did you carve into it?