hola amigos. how was your wednesday?
mine was full of a protein shake, work, lots of spaghetti squash, a lower body workout, some new and fun supplements i will have to tell you about, grocery shopping, halloween costume accessory purchasing, an orange dream bar and a (super late) tasty dinner that is perfect for this week's cooler temperatures and can be made in thirty minutes flat…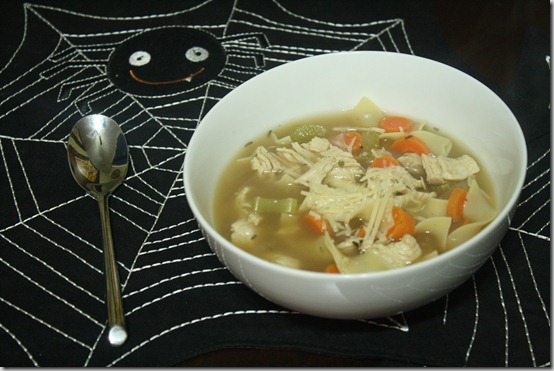 turkey noodle soup
serves four side dish sized servings or two entrée sized servings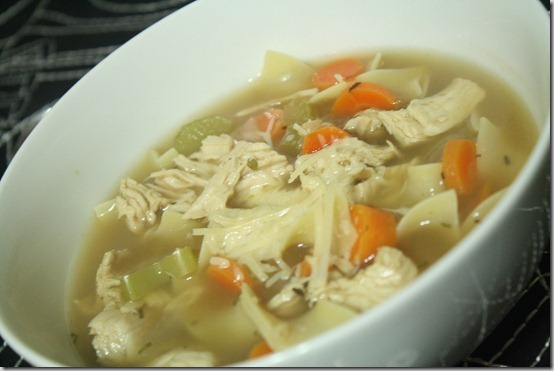 ingredients:
8 oz turkey breast (you can sub chicken)
6 cups low sodium chicken or vegetable broth
5 stalks of celery, diced
10-15 baby carrots, diced
1/2 of a medium yellow onion, diced
2 tsp trader joe's 21 seasoning salute (or other all purpose seasoning)
1 tsp minced garlic (i used jarred)
1 tsp dried basil
1 tsp dried oregano
1/2 tsp granulated garlic
1 bay leaf
3 oz no yolks wide noodles
lots of fresh ground salt & pepper
parmesan cheese for garnish (optional)
whole wheat saltines to crumble and sprinkle on top (recommended)
directions:
place turkey breast in a medium pot and cover with water. bring to a boil and until turkey is cooked through.
meanwhile, combine broth, celery, carrots, onion, garlic and all seasonings in a pot. bring to a boil for 10 minutes.
remove turkey from heat and shred with two forks.
add noodles to the broth pot and stir to combine. bring back to a boil and let cook through until noodles and vegetables are tender, about 5 minutes.
remove from heat, stir in shredded turkey and season with copious amounts of salt and pepper. just add, taste, add, taste.. you get it.
serve with a sprinkle of cheese and a sleeve of saltines. enjoy!
based on four servings, here is the nutrition information per serving (before cheese or crackers): 180 calories, 22g carbs, 20g protein, 3g fiber, 5g sugar, 1g fat.  this was calculated on thedailyplate.com.
balanced AND body for life friendly.
since this was our dinner, marshall & i split the pot of soup and split a sleeve of saltines and called it good!
who needs canned soup when it's so quick and easy to make homemade?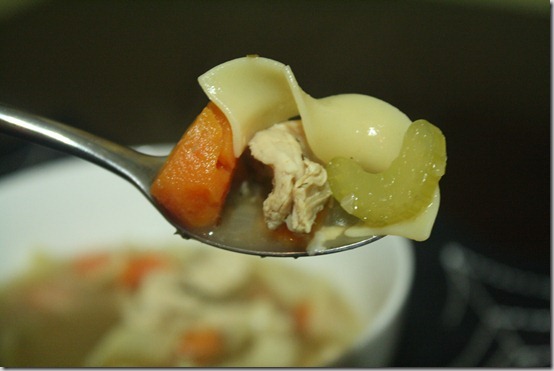 don't worry, i haven't forgotten about the pumpkin sage pasta recipe i still have to post. i'll get there!
****************
so, about the title. i recently came across an article on the fit stop that listed five healthy habits that may actually be keeping you from reaching your weight loss goals. i thought the article was pretty accurate and interesting, so i wanted to post the five habits here.
written by JJ virgin, taken from the fit stop:
You eat too much healthy food. "When it comes to your calorie intake, you have to think of your body as a bank account," Virgin says. "Just because strawberries are healthy doesn't mean you can eat 4 pounds of them. The same goes with nuts — yes, they are healthy but eat too many and they're not. People I work with often experience the halo effect — they know they are eating something healthy so they eat more than they should, which counteracts eating healthy in the first place."
You're eating healthy foods, but they might not be healthy for you. Your body has an inflammatory reaction to hold on to weight when you eat some staple items such as eggs, dairy, and soy. "When my clients pull these foods out of their diet, they lose 5 to 10 pounds almost instantly," Virgin says. Try swapping coconut milk (she likes So Delicious Coconut Milk) instead of soymilk and start to see a difference in your middle.
You skimp on breakfast. Not having a big enough breakfast sets your metabolic tone for the entire day. In a recent study, people who ate a larger breakfast (approximately 600 calories) lost more weight and kept it off than people who only had a 200 calories breakfast. Virgin recommends starting the day off with a shake for a healthy start. "Having a latte and a muffin will send your blood sugar crashing by 10 a.m.," she says. "I tell my clients to make a pea rice protein shake with berries to keep your blood sugar stabilized and help you stay in fat-burning mode."
You're snacking. Though many experts recommend snacking every few hours, Virgin believes in a different school of thought. "You should eat within an hour of waking up, and every four to six hours throughout the day, stopping three to four hours before you go to bed. This means you'll eat a total of three times, with maybe one snack in between. If you find yourself snacking, then you didn't eat the right combination of foods for your meal, and that's the real issue."
You use artificial sweeteners. If you need a sweetener, Virgin recommends the tiniest bit of raw honey. "Artificial sweeteners cause calorie dysregulation, and you'll end up overeating because your body can't correlate the level of sweetness to calories. Plus, if you eat sweet, you'll crave sweet. You might have been born with a sweet tooth, buy you can retrain it to crave healthier options, like blueberries, or almond butter with cinnamon." Virgin also warns against using the latest sweetener craze,  agave. "Agave is a huge halo effect food," she says. "It has the highest level of fructose over any other sweetener, and is a straight connection to insulin resistance (making it more difficult to lower your blood sugar)."
my thoughts/experiences:
this was my DOWNFALL back in 2009. i lost a bunch of weight on body for life and i was in the best shape of my life! i continued my healthy habits, started this blog and ate waaaaayyyy too much food. not necessarily bigger portions—just more to the meal. instead of having a bare bones bowl of protein oatmeal, i added fruit and peanut butter and flax and glitter to the bowl. gotta make things sparkle, right? for the blog! lame. no. don't do this. just because something is healthy doesn't mean it's calorie free, and it'll still make you gain weight if you eat too much of it.
this is one i am dealing with right now… well, one i should be dealing with, but so far i have done nothing because i am lame. it's obvious my body hates certain foods and these foods cause me to be bloated, gassy and in lots of pain. however, i haven't hopped on the elimination diet train just yet. i am waiting to see if the prescription medication my doctor put me on fixes my woes. i wouldn't eliminate ANYTHING from my diet if i didn't absolutely have to.. but i realize that i might be forced to give some things up if i discover they are giving me a problem. we are all SO different—i think this point is a very important one. it is so often too easy to look at a blog, see that the blogger is fit and healthy, eat like them and wonder why the hell you're gaining weight. well, chances are that specific diet isn't cut out for your specific body. it happens. trust yourself and eat for you.
well i have no problem here. i agree with it 100%, though. on days i miss breakfast (that happened to me on monday because i was SO late for work and ended up with nothing at the office. it blew) i am definitely more ravenous and end up eating way too much the rest of the day. it's funny that the author recommended a pea protein shake with berries—that's exactly what i had today! raspberries and pea protein along with carrot juice, spinach, almond milk and ice. kept me full for hours and i ate like a normal person the rest of the day.
i am on the fence with this one. i am a firm believer that eating every 3-4 hours is necessary to keep my metabolism running like a well-tuned furnace. there's nothing wrong with a snack if you are truly hungry and need a snack. however, if you are snacking just for the sake of snacking because you are bored, sad, happy, tired, awake or breathing.. then i agree—stop the snacking and go for a walk.
i definitely agree with this! i never have been big into artificial sweeteners, i think they taste bad, but i do know lots of people who are addicted to them and the more they consume, the more they want. that is an interesting bit about agave.. i didn't know that prior to reading the article.
Q~
what do you think of this list? what other healthy habits can be diet deal breakers in disguise?
xo. janetha g.
p.s. happy birthday to my sister, suni!