yesterday was the end of the downtown farmers market.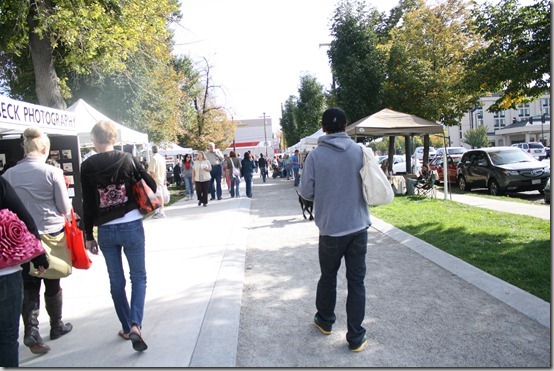 well, the end for 2011, at least. i was actually pretty surprised that it wasn't more bumpin', considering it was the last saturday and all. 
there were not as many vendors and there weren't as many people shopping, either.
there was, however, a marching accordion band.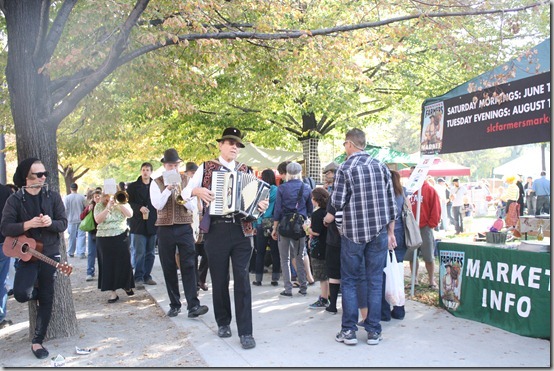 and a dog dressed up like a dinosaur.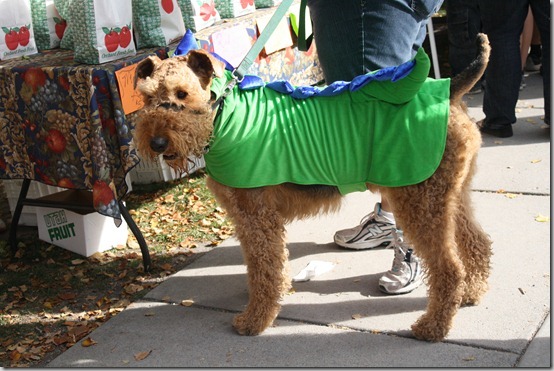 and a clown.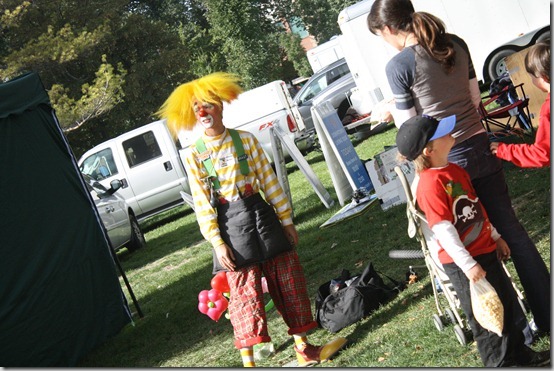 we stocked up on a big bag of honeycrisp apples, a huge box of pears and our favorite dried cherries. we also snagged a bunch of veggies for tonight's dinner with the fam.
we will definitely miss the market!
***************************************************************
yesterday was the beginning of a wonderful marriage between our friends anna and brian.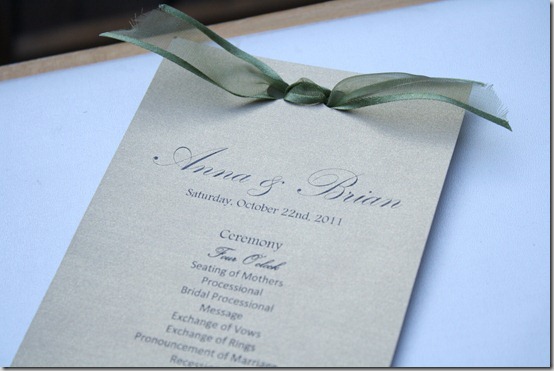 their wedding was held at sundance ski resort and it was by far the fanciest wedding i have ever attended.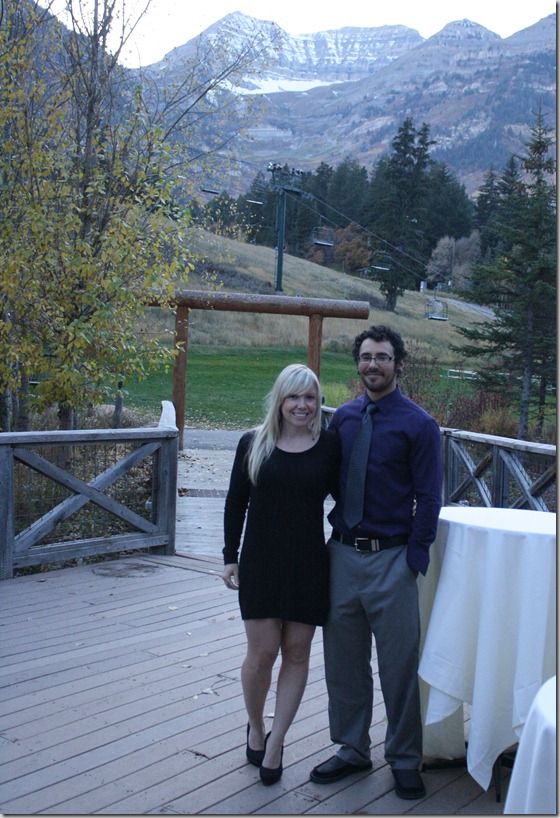 i even put heels on for the occasion! that never happens. in fact, it happens so rarely that i had a few people comment about how strange it was to see me in heels. it's true—i loathe them and will choose function over fashion 99% of the time. then, once in a blue moon, i will think it's a good idea to wear heels and by the end of the night i will swear them off again for another six to eight months.
back to the wedding… the ceremony was held outside with a beautiful mountain backdrop. the couple exchanged their vows and rings. it was absolutely perfect!
after the ceremony, there was a cocktail hour with hors d'oeuvres.
there was hummus with pita bread, artichoke cheese dip with assorted crackers and delicious cauliflower bisque shooters. such a cute idea!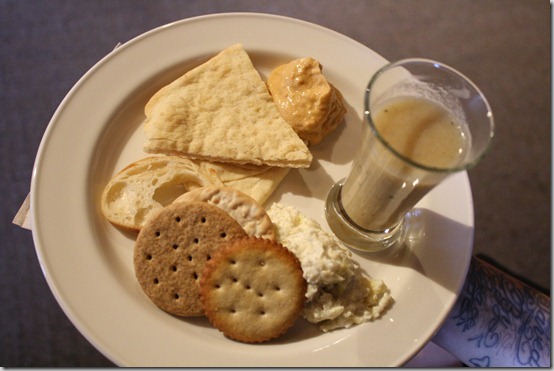 after the cocktail hour we moved into the reception hall for the dinner service. i flipped when i saw the centerpieces!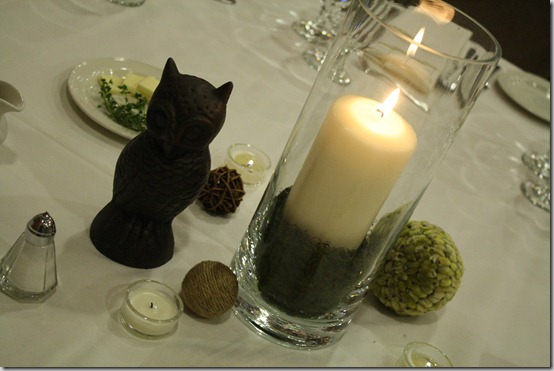 helllllo, mister owl. i thought about stealing him for a split second.. but then my criminal thoughts were interrupted with the delicious menu.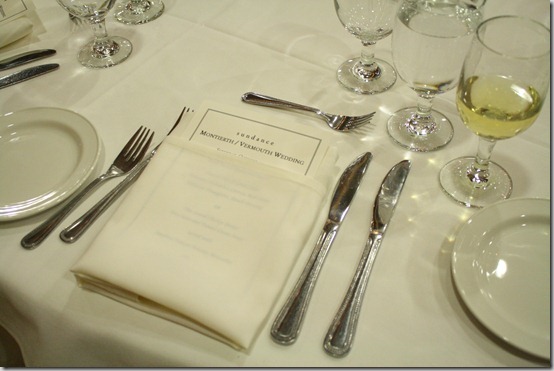 can i say one more time that this is the fanciest wedding i have attended? sorry if it's nothing new to you guys and you are rolling your eyes.. but sit down dinner weddings are not the norm in utah. i know, we are a different breed.
the meal started with fresh baked rolls with butter and an organic green salad with balsamic vinaigrette.  there were two main course options—a chicken one and a vegan one.
the chicken option was a pan seared chicken breast smothered in a prosciutto and tomato cream sauce served with broccolini and sun dried tomato polenta.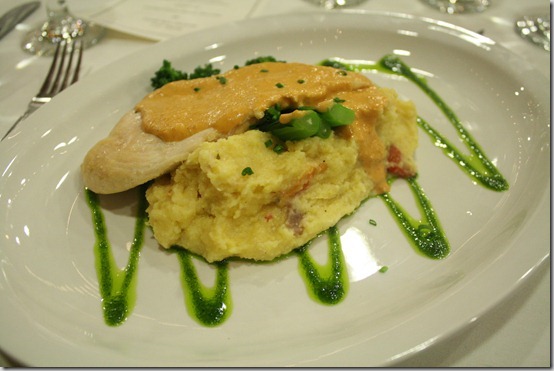 the vegan option was a puff pastry pocket filled with something delicious (no idea what) served on top of a bed of broccolini and roasted baby potatoes. i snapped a photo of dave's.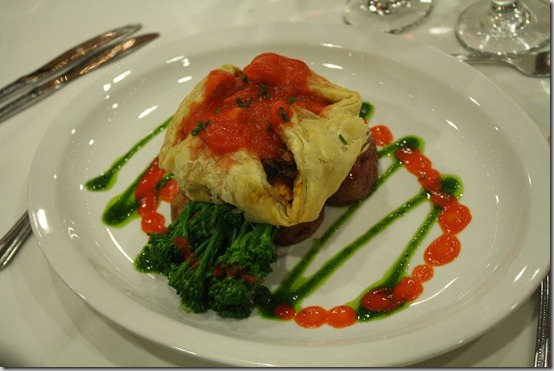 the dessert was the best part… vanilla bean cheesecake! when they brought it out, marshall had to eyeball which slice was larger. he ended up trading with me because mine was bigger. the sacrifices i make for this guy…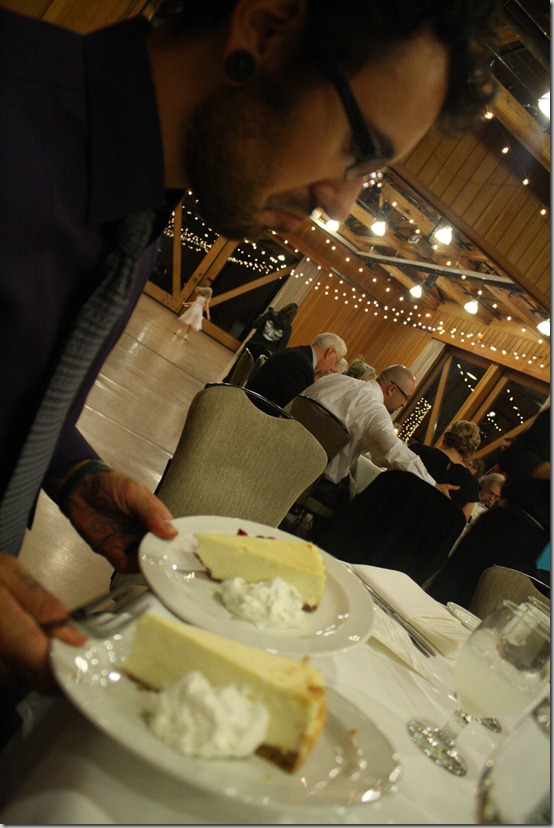 the cheesecake was served with fresh whipped cream and fruit. there was also tableside coffee service.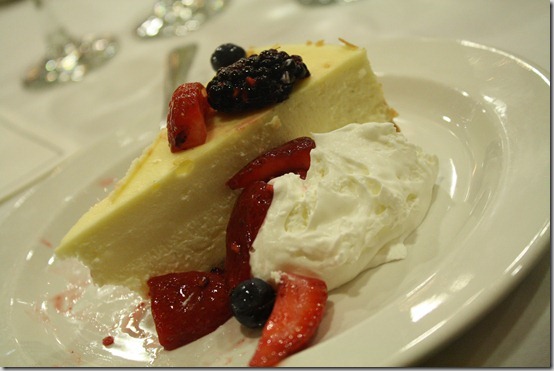 it was incredible! not that that comes as a surprise. i made sure to eat all the graham cracker crust first—it's my favorite part of the cheesecake.
the vegan dessert option was carrot cake.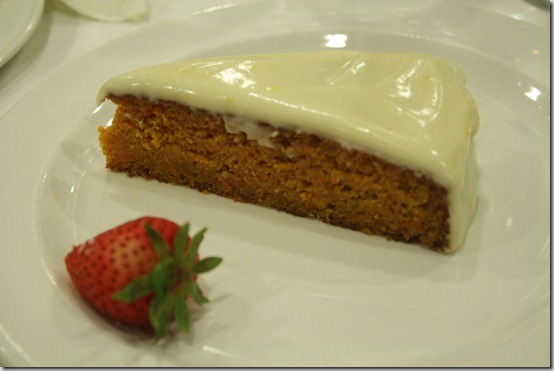 my vegan buddies said it was tasty, but definitely had that "this is vegan carrot cake" denseness to it.
table mates!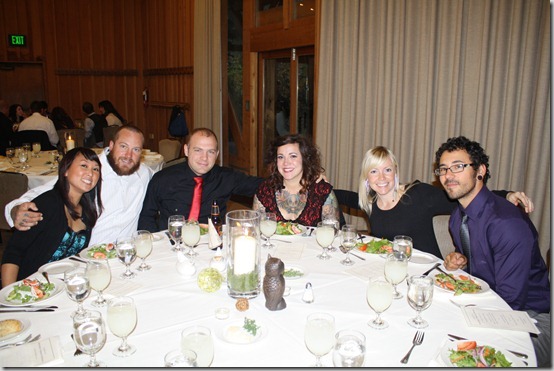 steph, alex, nate, katie, me & marsh.
the groom stopped by our table and said, "you like owls, right janetha? take that owl."
ha! i was so stoked!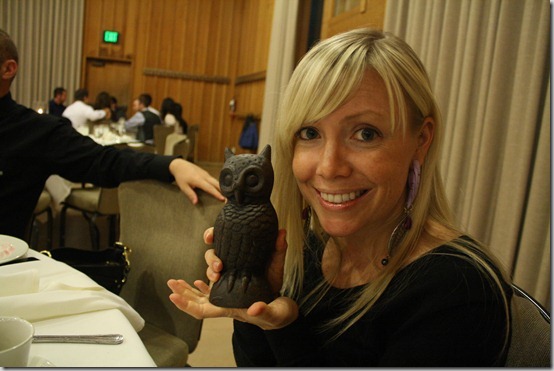 after the gourmet meal, the party began. there was one of my FAVORITE THINGS EVER: a photo booth!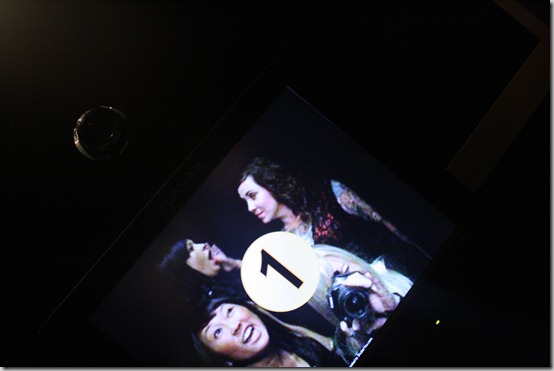 we had one at our wedding and i love the scrap book that was made from all our guests' photos. anna and brian had the same thing going on. i was thrilled!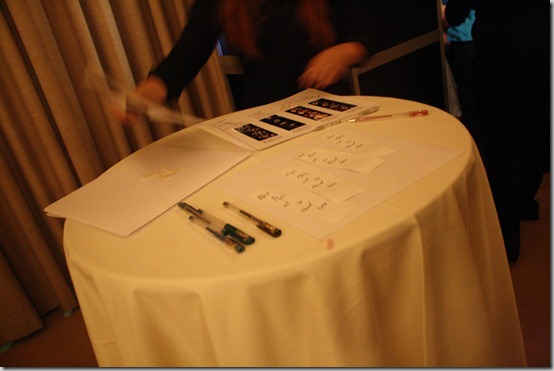 there was dancing.. but our friends really just don't dance. oh, except for nick. look what a great time he was having on the dance floor…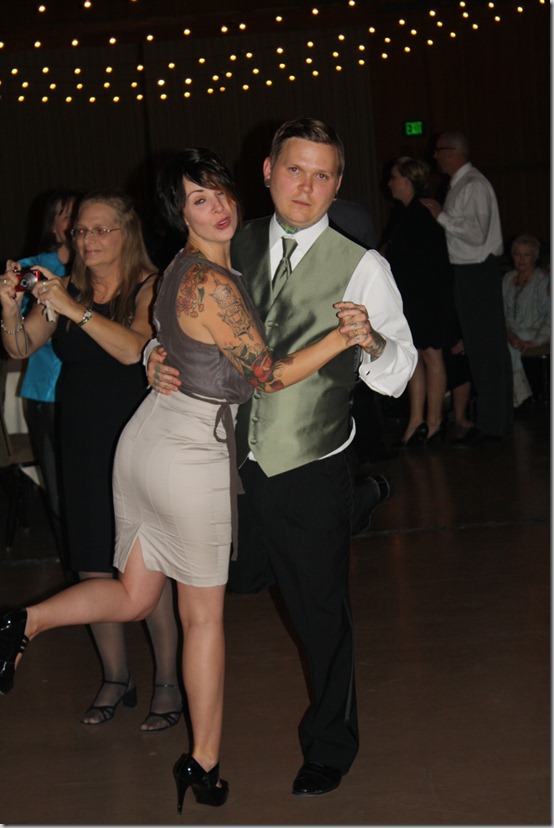 actually, the only ones really tearing it up on the dance floor were the kiddos. they were going crazy! brian has two little boys and they were busting out breakdance moves, spinning on their heads and all!
brian and anna have a little girl, eloise, who was running around in circles all night. she's one of the cutest little girls on the planet.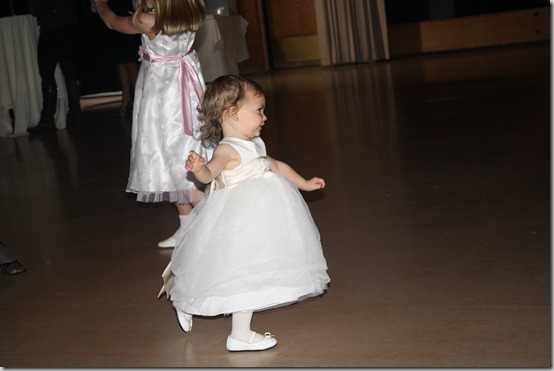 after the traditional dances, it was time for cake! there were two cakes… the traditional one: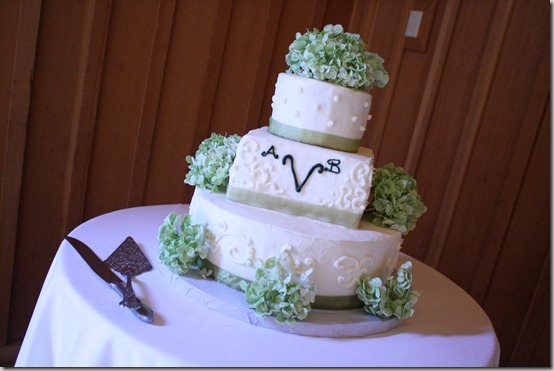 and a rad misfits groom's cake: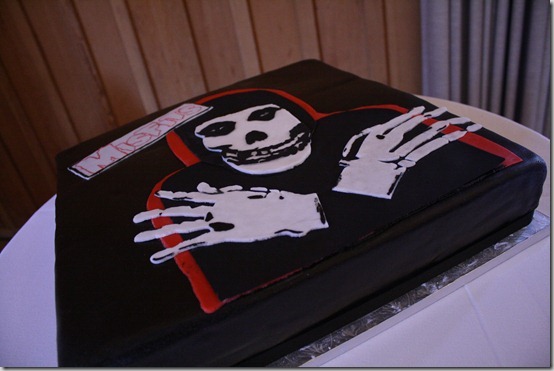 we spent the next couple hours hanging out and having a good time.
notice nick creeping in the back of the photo booth. he photo bombed every photo session possible. it's what he does. too bad it's not a paying job.. cause he'd be rich. he's a total creep.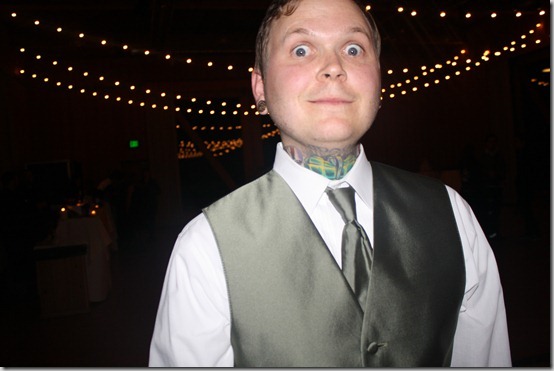 as expected, my feet eventually started hurting from my heels, and i slipped marshall's comfy sanuks on for a few. they were a little big. i looked like a duck.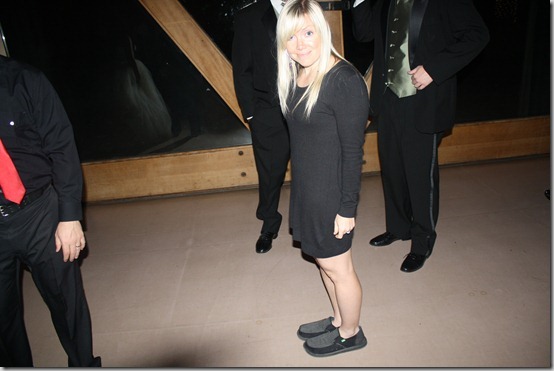 just before anna and brian were ready to take off, there was the bouquet toss.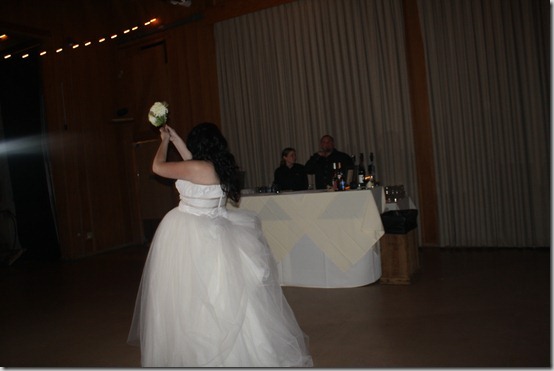 daysha was super bummed she didn't catch the bouquet! (it's ok, she is already married.)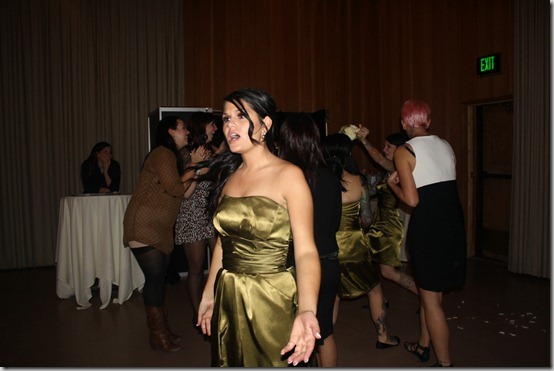 but jen was suuuuper stoked to have caught it!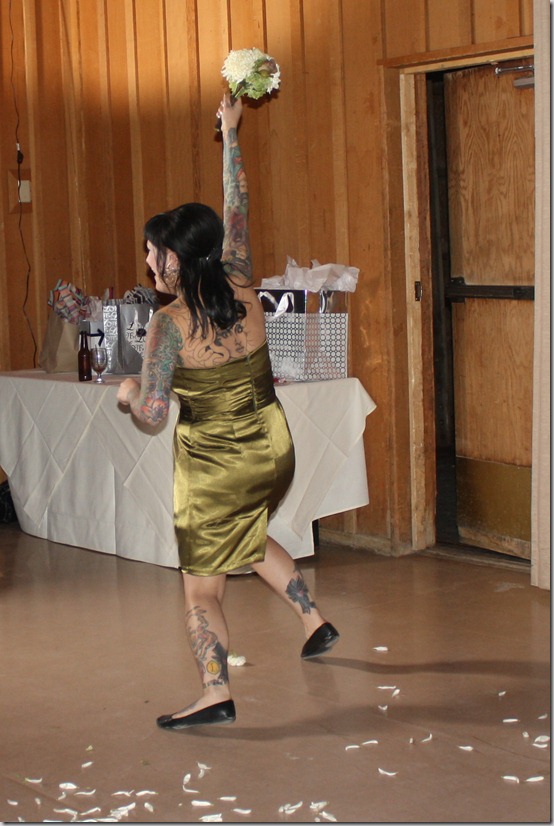 just before they left, i finally snagged a photo of the happy couple and eloise. they make such cute babies! and anna is pregnant, so they will have one more adorable kiddo soon.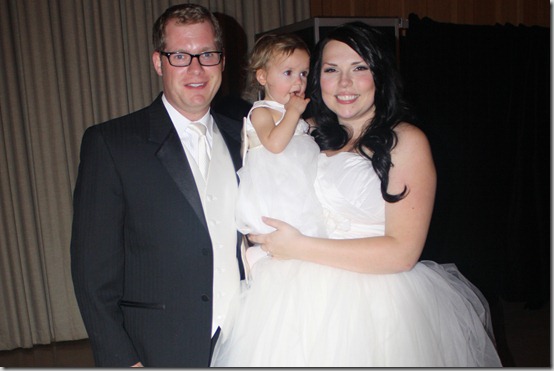 we all headed outside to send the bride & groom off with a tunnel of bubbles. they took quite awhile to come outside, so everyone broke down and started playing with their bubbles.
yes, we are five. fortunately, we all still had bubbles by the time the newlyweds came outside.
brian loves star wars, so you can imagine how stoked he was when the imperial march started playing and the lightsabers were put up at the end of the tunnel. i love his excited face here. anna, you are a good wife.
congratulations, anna & brian! we are so happy for you.
xo. janetha g.