as promised.. the chile verde recipe that marshall & i came up with on saturday!
while this isn't a completely healthy recipe, it's not necessarily unhealthy. i would say it's somewhere in the middle. you should make it. it's delicious and you can eat it alongside healthy things like eggs, roasted sweet potatoes, whole wheat tortillas or ice cream. oh, wait….
we got the majority of our ingredients at the farmers market, so everything was super fresh! if you can't find all the items on the list,  go ahead and sub in canned ingredients if you have to.
my measurements are rough because i didn't measure most items.. just ballpark it and i am sure it'll all turn out.
pork chile verde
makes 12-15 generous servings
hands on time: 40 minutes, simmer time: 1 to 3 hours
ingredients:
2 – 2 1/2 lbs pork (either shoulder or leg) cut into 1" – 1.5" cubes
1 large (or half of a GIANT) walla walla onion (white or yellow will also work), diced small
2 – 3 TB canola oil
1/3 c – 1/2 c all purpose flour
3 anaheim chiles, roasted, peeled & diced
3 poblano chiles, roasted, peeled & diced
1 jalapeño, roasted, peeled & diced
2 cloves garlic, peeled & minced
1 1/2 TB ground cumin
1 1/2 – 2 lbs tomatillos, quartered & roasted
1 bunch of cilantro, chopped roughly
2 – 3 cups low sodium broth
fresh ground salt & pepper, to taste
directions
heat the oil in a large, deep skillet (or a cast iron pot) over medium-high heat.
add pork & onion to skillet, stirring occasionally.
meanwhile, roast, peel and dice your chiles. while you are dicing the chiles, quarter and roast the tomatillos.
once pork has browned on all sides, add the flour. DO NOT drain the liquid. you need it!
add diced anaheims, poblanos, jalapeño, garlic and cumin to the skillet. mix well and turn heat to low.
combine the roasted tomatillos and cilantro in a food processor (or blender) and process until it liquefies.
add tomatillo mixture and broth to the skillet and bring to a boil for about 10 minutes.
add salt and pepper (and any other seasonings you choose) and turn heat to low.
at this point, you can simmer on low until ready to serve (at least one hour) OR you can transfer the chile verde to a crock pot (low heat) until ready to serve (again, at least one hour.)
serve chile verde however your heart desires!
step by step visual tutorial!
chop the onion and dice the pork.
pour the oil in the skillet and heat to medium-high.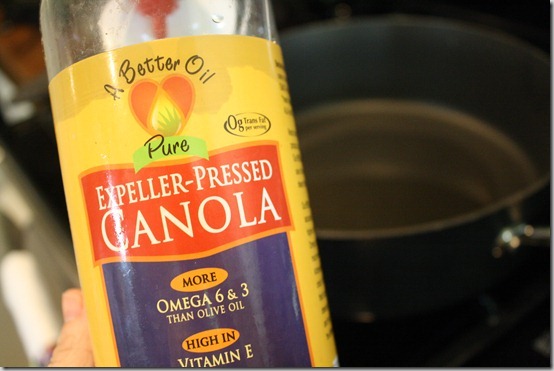 toss in the pork and onion. i think i added salt & pepper at this point, too. stir occasionally.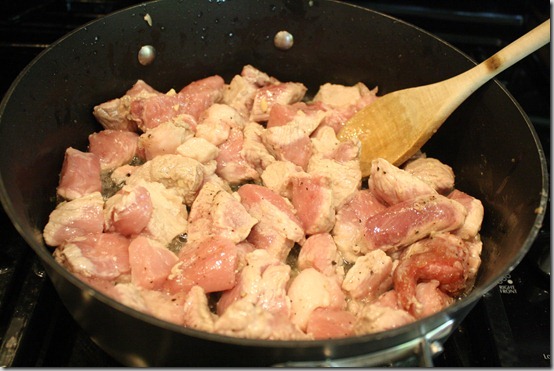 meanwhile, it's time to get roasting! turn your broiler on high. you could also use a toaster oven (or so i hear.)
place the chiles in an oven safe dish (i used a cast iron skillet.)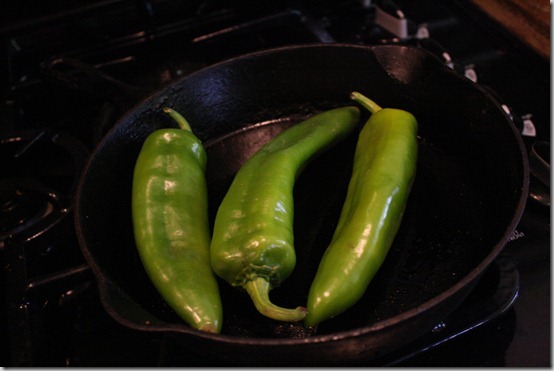 pop the chiles under the broiler for a few minutes until the skin starts to blacken and bubble up. turn the chiles and repeat the process until all sides are roasted.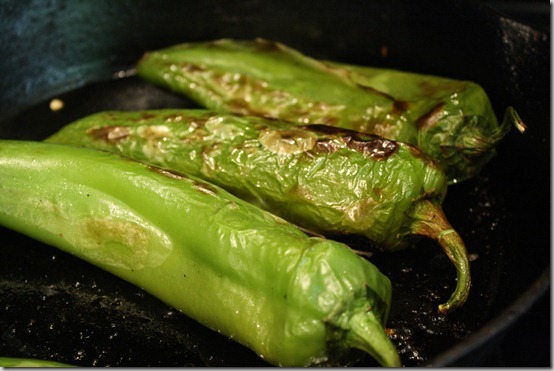 these were the anaheims. repeat the process with the poblanos and the jalepeno. once they cool off, peel the skin. it should come off somewhat easily.
better check your pork! it should be browning nicely by now and there will be liquid in the skillet.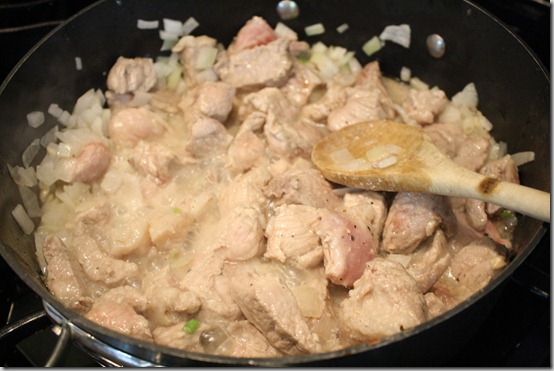 add the flour, a bit at a time, until all the liquid is absorbed.
time to get to work on the tomatillos. remove the husks and wash them.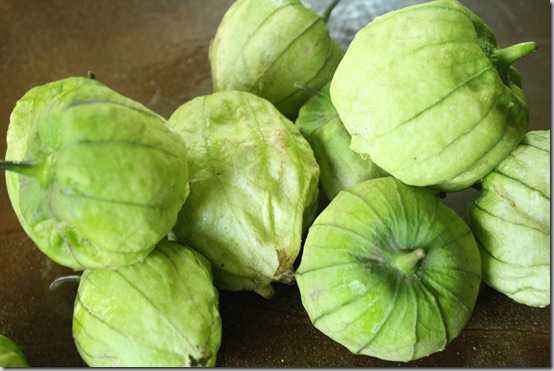 quarter the tomatillos and place in an oven safe dish.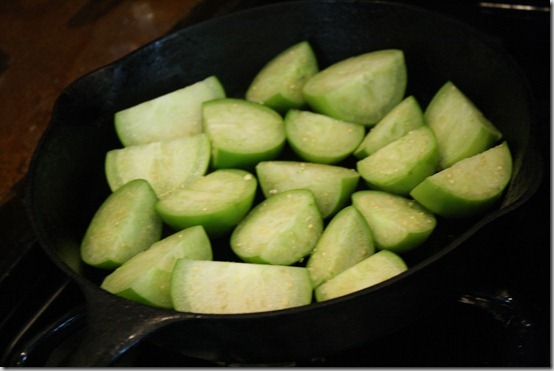 place the tomatillos under the broiler and use the same method as you did with the chiles.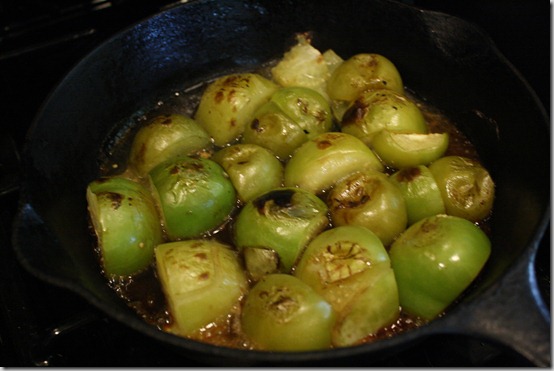 while the tomatillos are roasting, dice the chiles.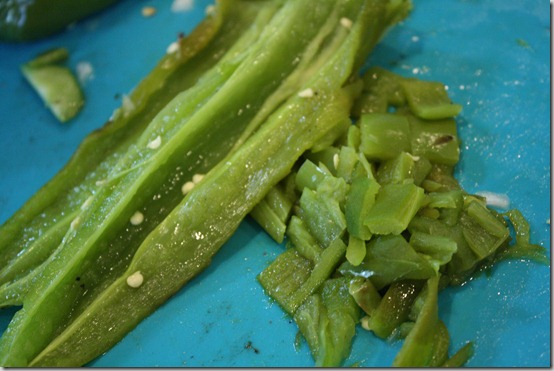 add the diced chiles to the pork along with the cumin and garlic.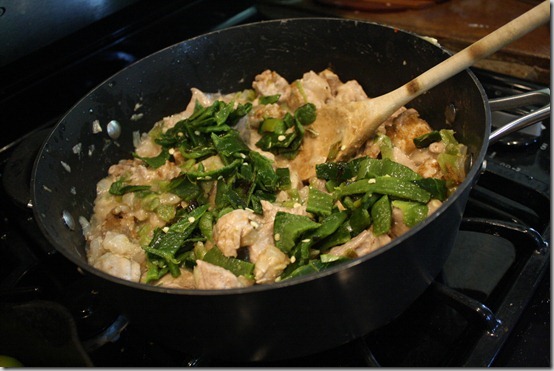 mix well.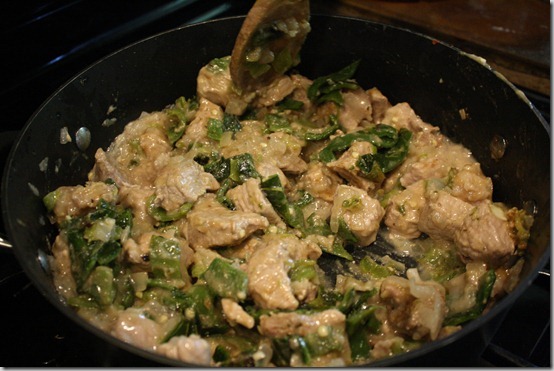 process the tomatillos and cilantro.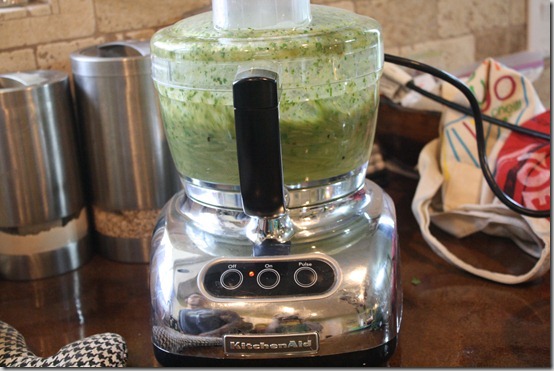 add the tomatillo mixture and broth to the skillet and bring to a boil.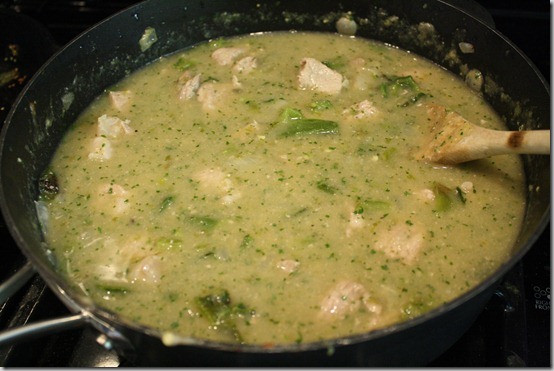 boil for about 10 minutes, then reduce heat to low. add salt & pepper and simmer for 1 – 3 hours OR transfer to a crock pot (on low) and heat for 1 – 3 hours (until ready to serve.)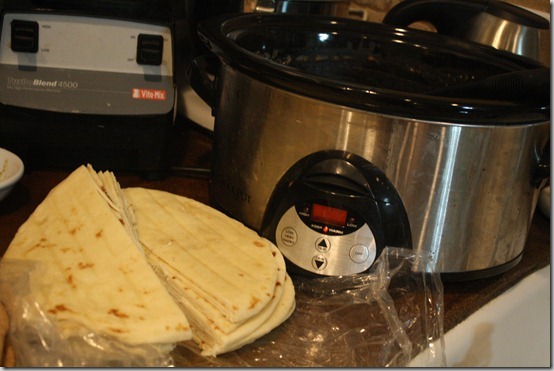 it may not be beautiful, but it'll be tasty.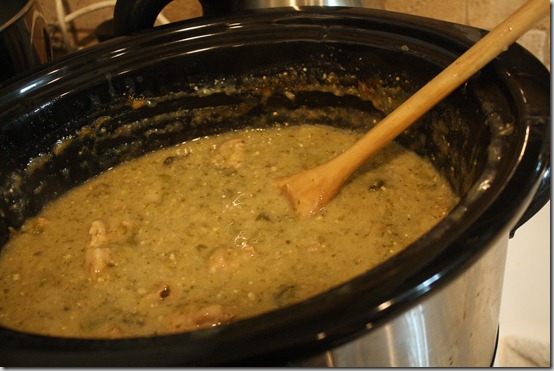 whew. that was a lot of work andthe kitchen is hot! go ahead and take off your shirt and eat an eclair.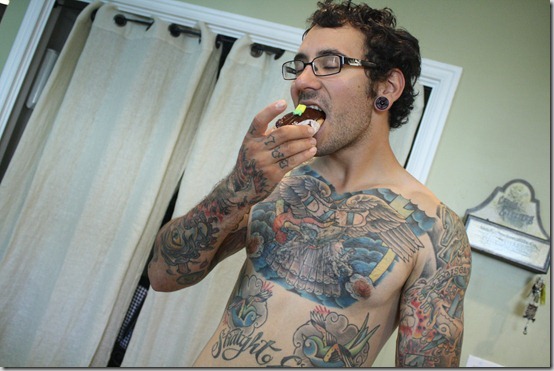 oh, and by the way, you can serve the chile verde however you'd like. we had sour cream, guacamole, tortillas, chips, cheese, and salsa.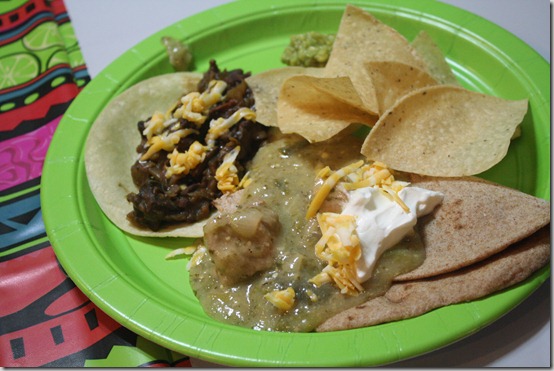 we had leftover chile verde, so for dinner last night we ate it with roasted potatoes and scrambled eggs garnished with greek yogurt and hot sauce. it was SO good.
it would be awesome as a smother sauce for enchiladas or on a mexican pizza. the possibilities are endless– this stuff is so versatile!
in other news…
i am heading to the sounds concert tonight.  woooo.. can't wait! anyone else going?
it's tuesday trainer over on lindsay's list. for a killer tris/chest/shoulders workout, click here! i submitted two moves so you can see me make a fool of myself not once, but TWICE.
it's national chocolate cupcake day! now you know.
this is my 1,000th post! weeeee.
xo. janetha g.