happy birthday to marshall! he's the big 28 today—he finally caught up to me.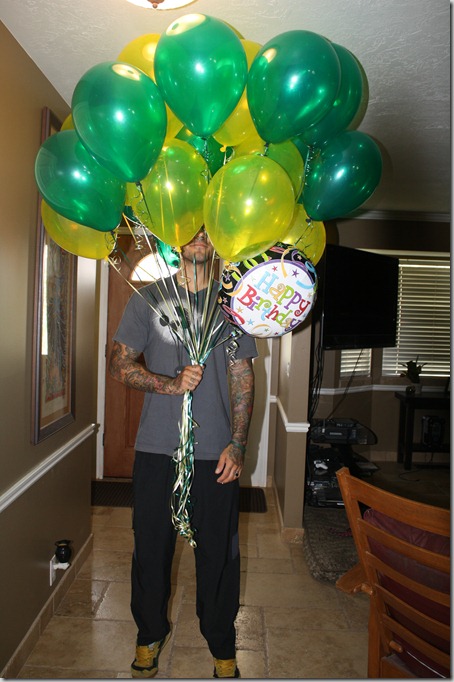 yes, momma b got him 28 balloons and yes, they are packers colors on purpose!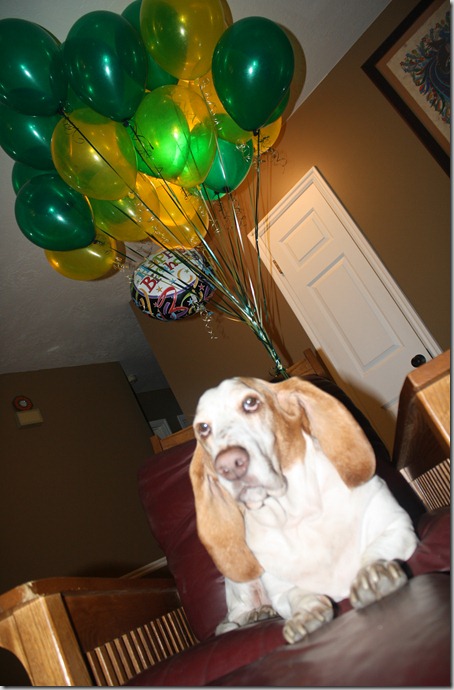 to kick off the birthday celebration, we had a mexican fiesta last night.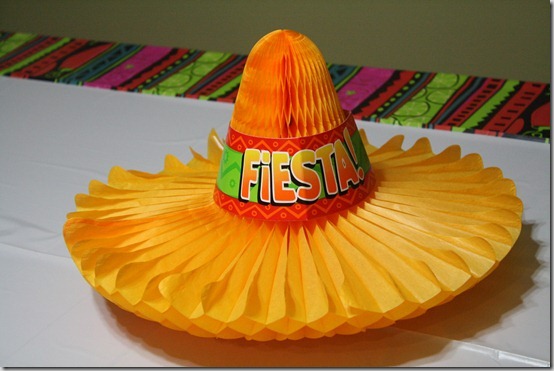 so, here's the story. marshall has been asking me for years to learn to make chile verde. i never got around to it. to be honest, i was a little nervous! this year, his one birthday request was that i make chile verde for his birthday party. who am i to stand in the way of birthday requests? i happily accepted the challenge.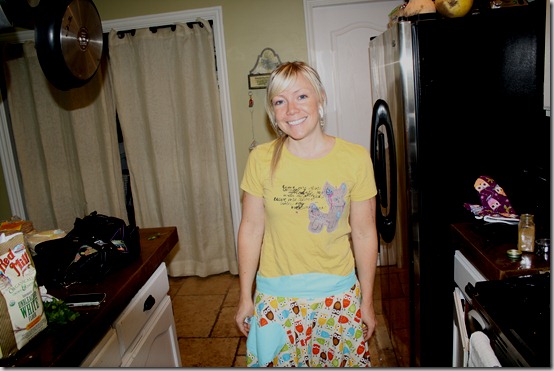 we headed to the downtown farmers market in the morning and gathered all the necessary ingredients for chile verde and for dave's famous vegan tacos. aside from a select few ingredients, we were able to score everything we needed at the market! local for the win.
for the past week, i have been researching various chile verde recipes. there are so many! in the end, i didn't follow any of the recipes but instead threw a bunch of ingredients into a pot and just hoped for the best. it was actually a lot of fun to make the chile verde up as we went (marshall was helping)—sometimes the best meals come from no recipe at all.  (however, i will definitely post the recipe we ended up with sometime soon!)
once the chile verde was made, we transferred it into the crock pot to keep warm while i prepped for the rest of the fiesta and the birthday boy played his new xbox game.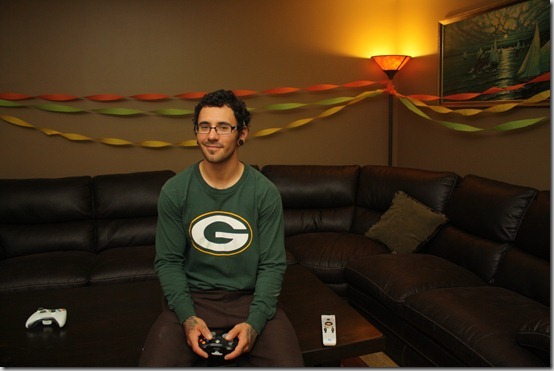 dave came over and got to work on his UNBEATABLE vegan tacos. they are made with portobellos, black beans, onions, bell peppers and lots of secret spices. oh, and love. of course.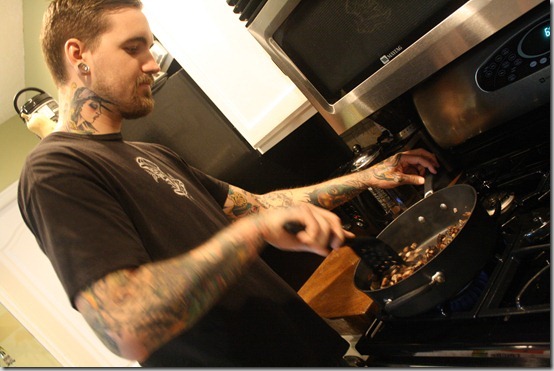 marshall made some guacamole and i threw everything else into cute dishes and pretended it was homemade. there was six layer dip, chips, salsa (regular & mango), limes and three kinds of tortillas.
instant fiesta!
the tacos were amazing (they are every single time.. dave needs to open a vegan taco stand!) and the chile verde was spot on! ha—that phrase reminds me of gordon ramsay. i actually sighed in relief because there was so much pressure on this birthday request.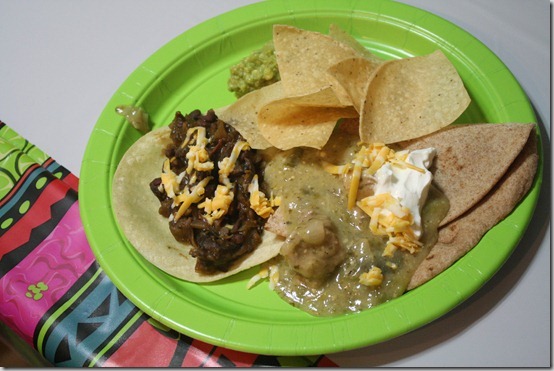 it may not be pretty, but it was tasty.
the part i was most proud of is the fact that i didn't use anything from a can. i could have easily cheated and used canned chiles, but i wanted to get it as authentic as possible. i was also really stoked that we got almost all of the ingredients from the farmers market.
marshall approved.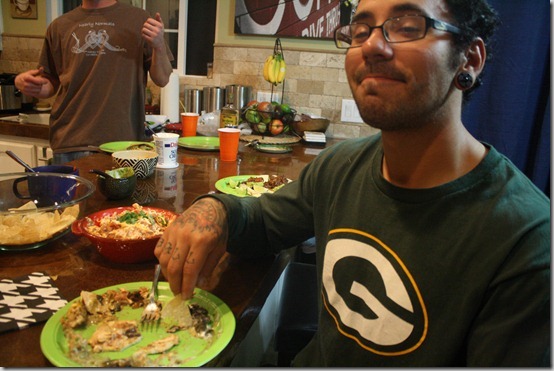 after gorging ourselves on delicious mexican food, it was pinata time! i mean, what's a fiesta without a pinata, right?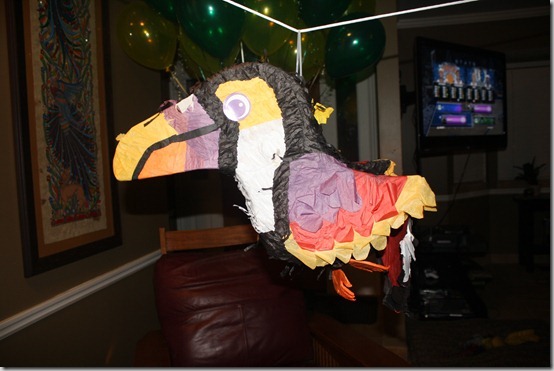 for the record, she hated pinata time.
there was a serious debate about how many swings each pinata swinger would get before moving onto the next.. one swing, five swings, two swings.. we finally settled on three swings per swinger.
we started with a golf club as our swinging device but it just wasn't cutting it.  about halfway into the pinata shenanigans, marshall went out to his truck and brought back a baseball bat.  much better.
nobody even came close to busting tucan sam open… and then it was dave's turn.
busted.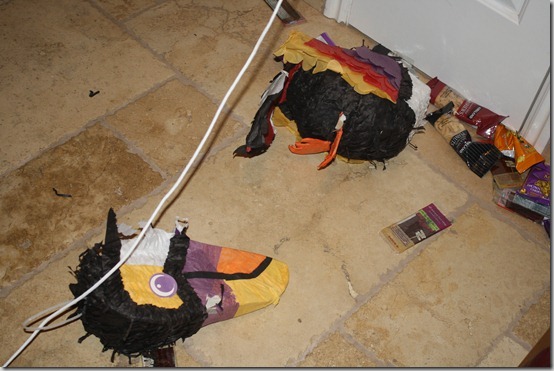 victory!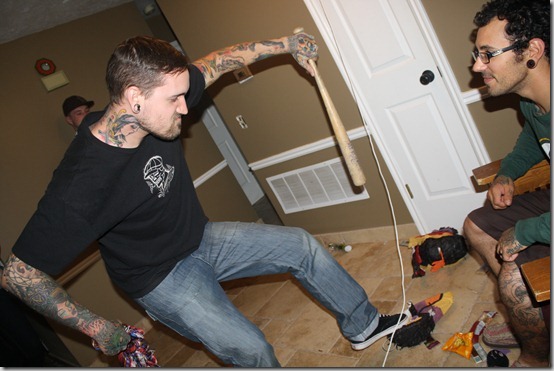 and yes, i filled the pinata with natural fruit leather, individual packs of nuts and annie's snack packs. that's normal, right?
no fiesta is complete without a sombrero and flaming eclairs!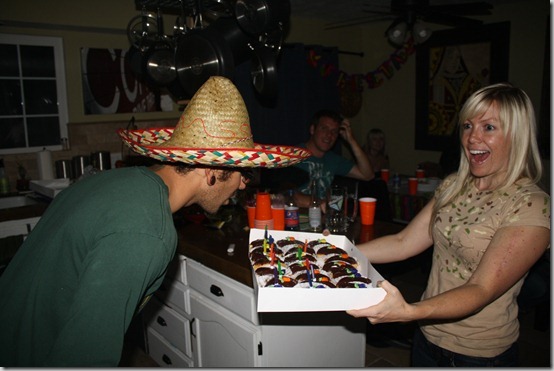 per marshall's request, i bought eclairs (from schmidt's pastry cottage) in lieu of cake.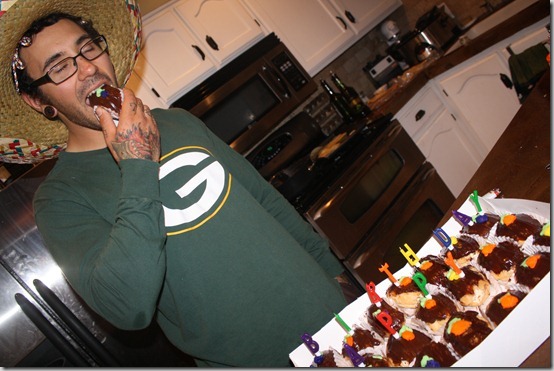 turns out half of the guests weren't into eclairs.. so we still have a dozen in our fridge. if anyone wants to come get one (or four) you are more than welcome.
we spent the rest of the night just hanging out. the highlight was probably the various vessels used for tequilla shots. we may not have shot glasses.. but we have tiny salad dressing boats!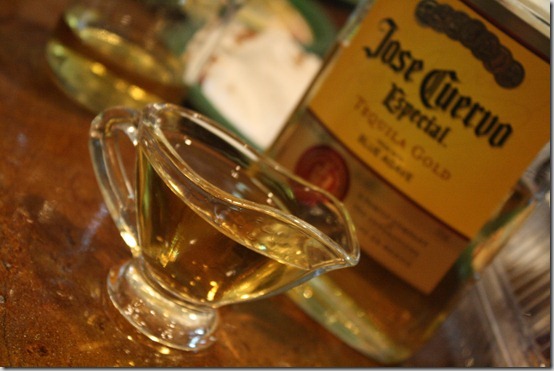 pinky up!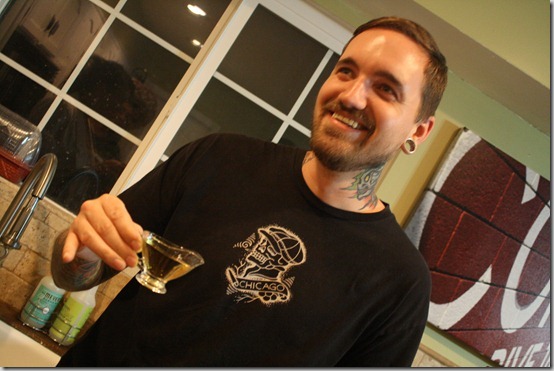 another highlight was the bag of circus animal cookies. jessica has given marshall a bag of them for his birthday every single year she has known him!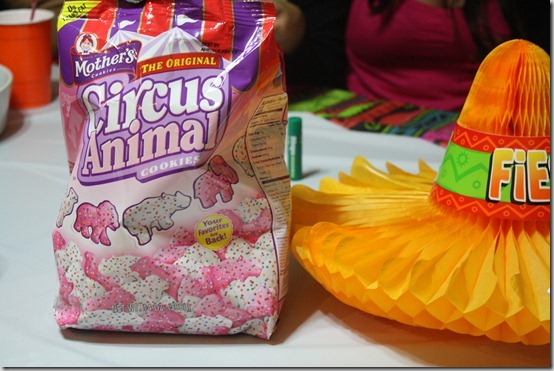 i only got a sombrero for the birthday boy. i think at our next fiesta, i need to spring for sombreros for all the guests!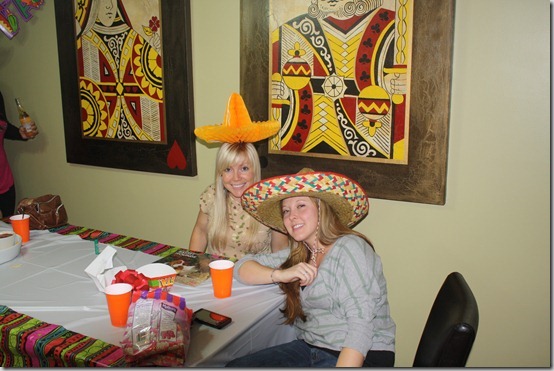 the fiesta was fun filled and fabulous. thanks to everyone who came and made it special!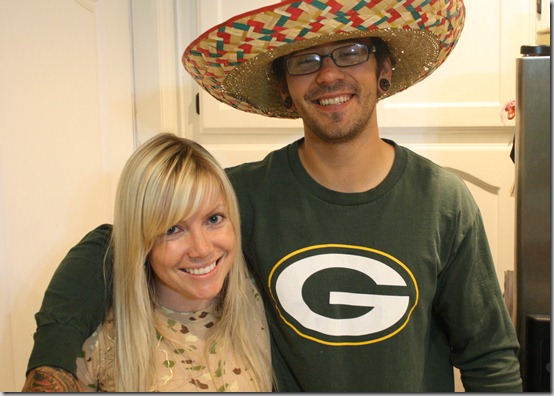 feliz cumpleanos, husband. i love you!
xo. janetha g