pssst.. i have a guest post up on the edible perspective today! pretzel covered caramel apples! check it out.
SO.. i have covered both the meals and the moves from my LA trip.. now it's time to show you all the other stuff! this will be long and photo-heavy. enjoy!
friday.
on friday after our workout, deb & i met eden so we could stroll venice beach.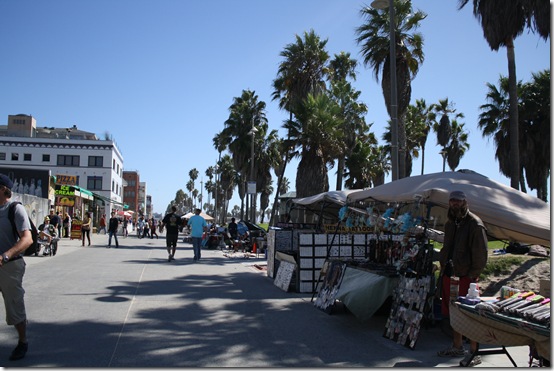 it's official, i fit right in on venice beach. i loved it! the people watching, the art, the random shops, the street performers.. it was so entertaining.
i bought a cute owl ring for a cool $2.50 from my buddy, camouflage..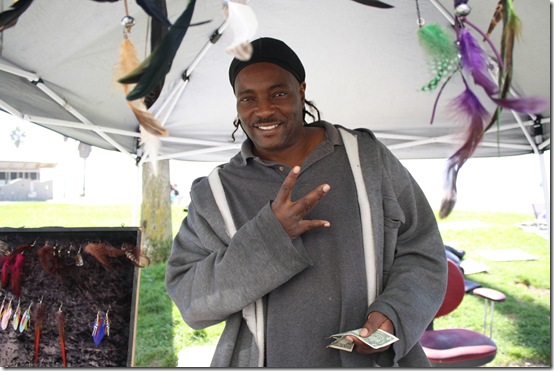 ..he informed me that i could get one piece of jewelry for $2.50 OR.. wait for it.. TWO FOR $5! what a bargain. deb called him out on his math, but he was pretty confused.
look, zoltar! i LOVE big.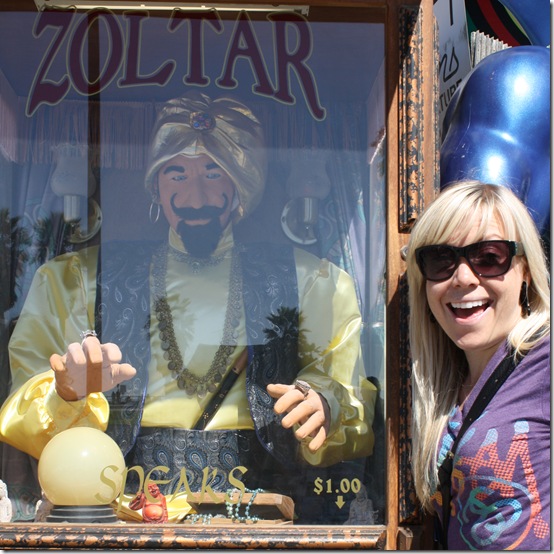 i was a little underwhelmed when i saw that there weren't many body builders hitting the weights at muscle beach, but eden & deb made up for it with some posing.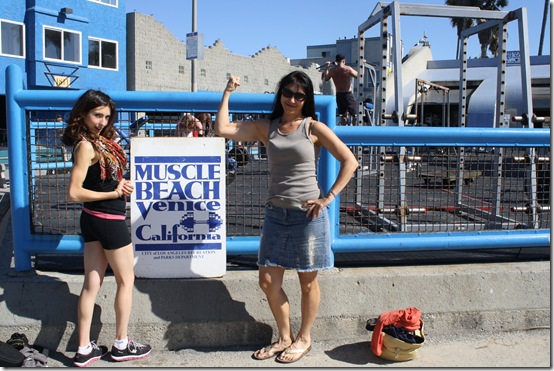 it's too bad we had already worked out, because i really had my heart set on pumping some iron with this guy:
yes, he's wearing boxer briefs. ow, ow!
after our late lunch on friday, we headed to my favorite place to visit when in california…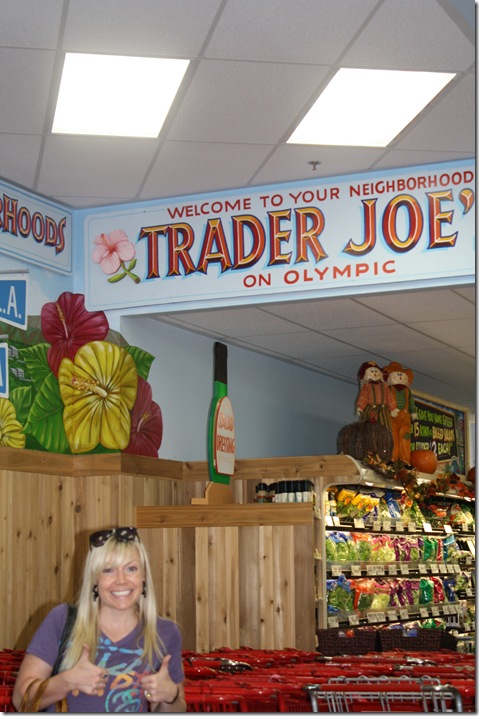 oh, utah, why don't you get a trader joe's?
i stocked up on all my favorites and then there was a casualty in the parking lot…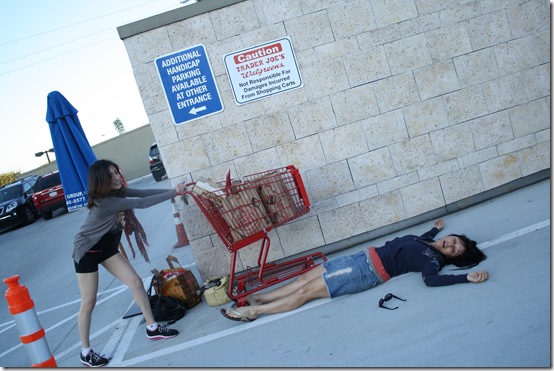 FYI.. trader joe's is NOT responsible. you can't sue, deb.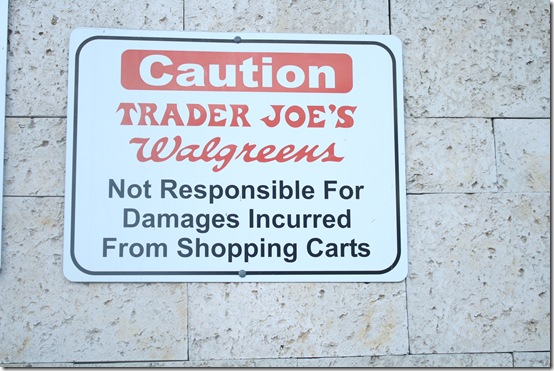 saturday.
before the blogger picnic on saturday, deb showed me around chinatown and olvera street.
we wandered over to the train station.
union station is beautiful! they did a great job of preserving a lot of the old interior.. i felt like i went back in time!
after our sight-seeing stint, we headed over to the famous philippe's to pick up sandwiches for the blogger picnic. yes, we cheated! deb has been going to philippe's since she was in her mother's womb.. i was so excited to try the french dip sandwiches!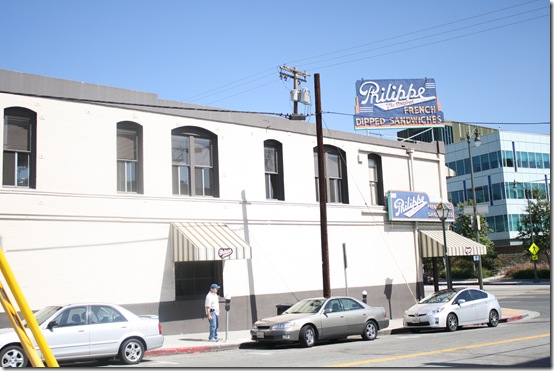 the interior is totally old school. order and pay at the counter, penny candy, sawdust floors…
for you bountiful, utah folks—it reminded me EXACTLY of service drug! don't you miss that place?!
we had fun acting like 12 year olds.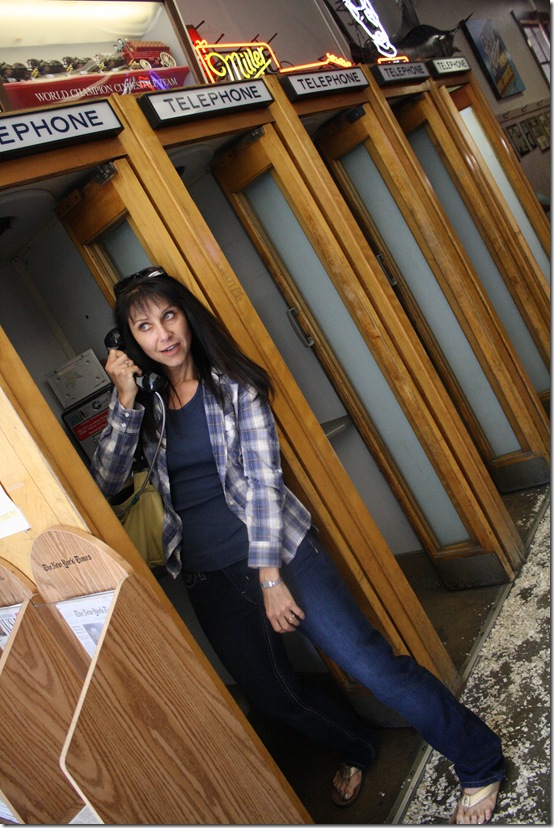 look! deb only weighs 20 pounds.
we ended up with a (super affordable and huge) box of food to go!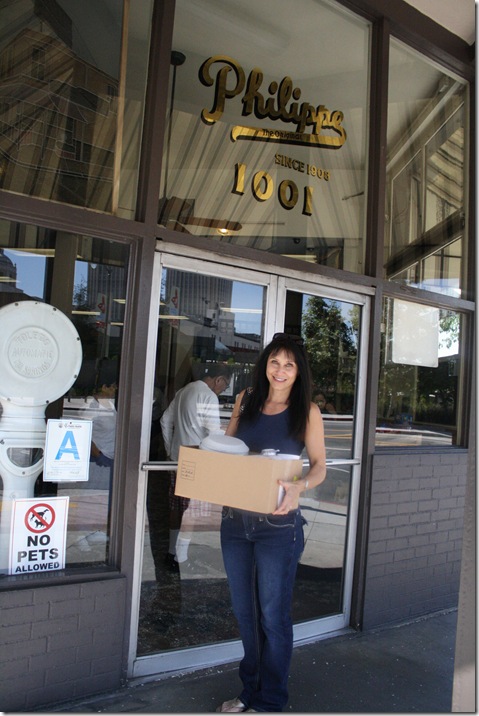 philppe's sandwiches were AMAZING. we took pork and lamb ones to the blogger picnic and they were a total hit. the pickled eggs, pickles and coleslaw were all really good, too.
welp.. that's all the "in betweens" i have for you. i haven't eaten any food since monday night and my brain is officially mush, so i can't think of any catchy ending to this post OR any fun questions to go along with it. oh well. i hope i make it to tomorrow.. (FYI: i've got a colonoscopy in the morning. that's why i am not eating food.)
check ya later!
xo. janetha g.