WHY is it that when i rush around and make an extra effort to get to the airport early, there is NO security line and then my flight gets delayed and i end up sitting at the gate for ages…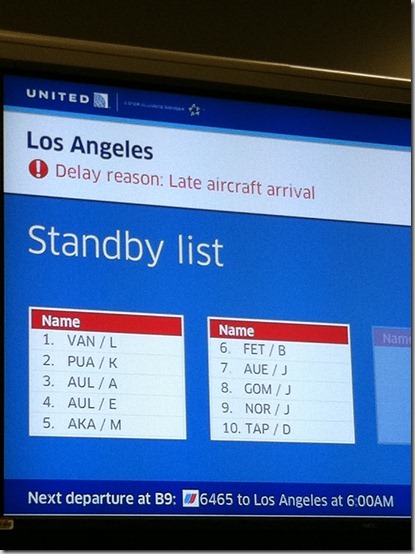 …and then on the flip side, when i am running late there is a huge security line and my flight is completely boarded and ready to take off—just waiting for me?! (i realize that was a huge run-on question. hope you followed.)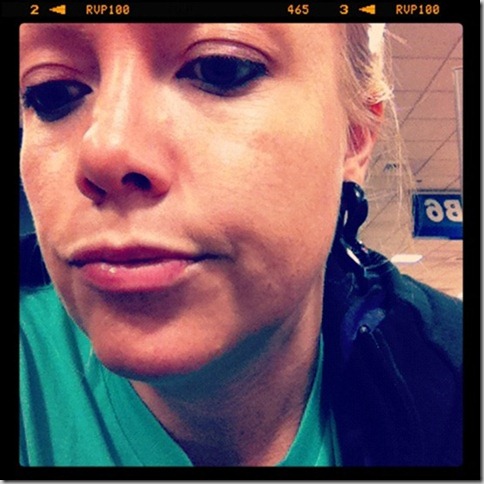 WHY is lip gloss not considered a liquid but peanut butter is? apparently the single-serving peanut butter pouches need to be in a ziptop bag, but my tube of the exact-same-consistency lip gloss is good to go. you know, because i might have some seriously threatening explosive peanut butter. don't even get me started about the apple that's tagging along with that peanut butter. it has full grenade potential!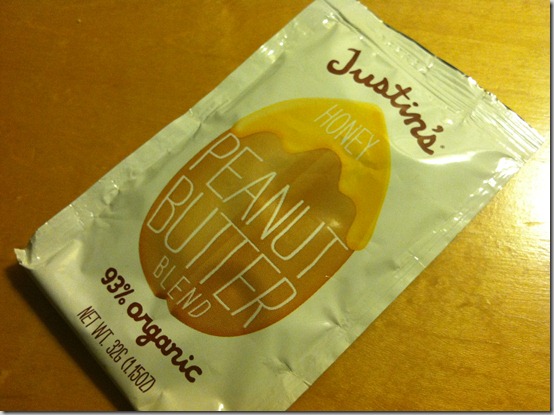 WHY do they make me take my shoes off when going through security? do they think i am hiding a machete in my $2.50 pair of old navy flip flops? they have a super high tech machine that scans my entire body—inside and out i am sure—but it can't scan my shoes while they are on my feet??  i really need to start wearing socks to the airport.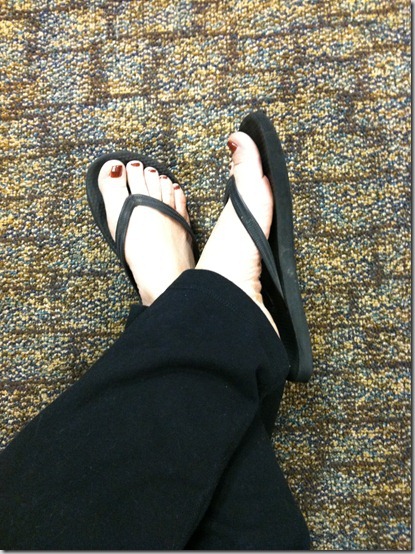 speaking of shoes…
WHY do some women insist on wearing 4" heels to the airport? news flash, ladies: standing in line to check in, then standing in line to go through security, then standing in line to get your fancy drink from starbucks at 8 PM, then walking to your gate, then walking to the bathroom, then walking back to your gate, then standing in line to board your flight is, in fact, NOT a runway fashion show. it's the airport. and your feet are going to really, really hurt tomorrow.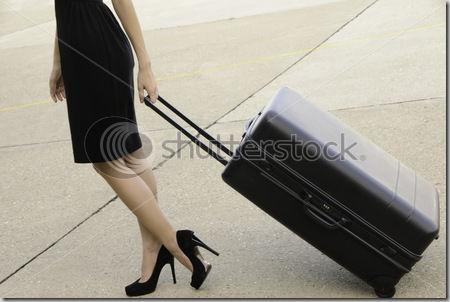 oh, and while we are on the subject of standing in line to board your flight…
WHY do people do this?!? YES, i want nothing more than to get a good spot at the front of the line to board the plane on which i have an ASSIGNED seat… so i can sit on said plane with zero personal space* while i wait for everyone after me to board the plane. oh, and if i happen to be in an aisle seat, i get to sit down, get settled, then stand up again when mister (or miss) window seat on my same row decides to board. how convenient does that sound?? news flash, folks: they aren't taking off until the last one in line boards. and that last one will always be me, because i would much rather hang out in the nice, big airport for as long as possible before being crammed on a tiny aircraft for the next couple/few hours.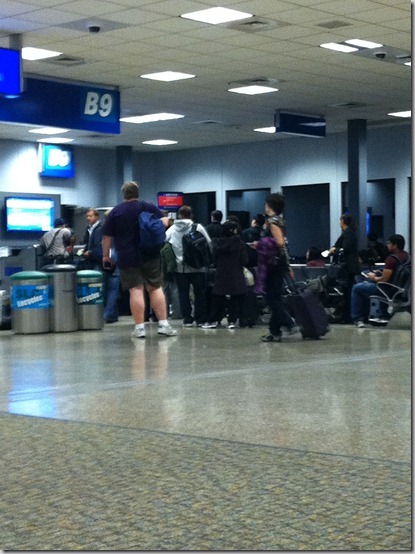 *first class passengers need not respond to this. i have never and will never be in first class, but if i WAS, then a mimosa and a warm washcloth pre-takeoff may change my tune.
WHY do i always get stuck next to a smelly individual or a seat hog? i am not even exaggerating. whenever i travel alone, i end up sending marshall or momma b (or both) a text regarding my seatmate (is that the proper term?) in this particular case, i lucked out with BOTH a space invader and a stinker.  i am already claustrophobic as it is—please get your leg and elbow out of my zone. oh, and by stinker i don't meat a farter, eden, i mean the body odor kind of stinky.
momma b had me looking on the bright side…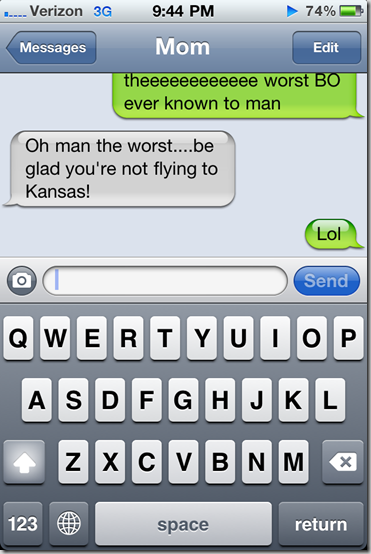 and marshall told me to be safe and to hold my breath.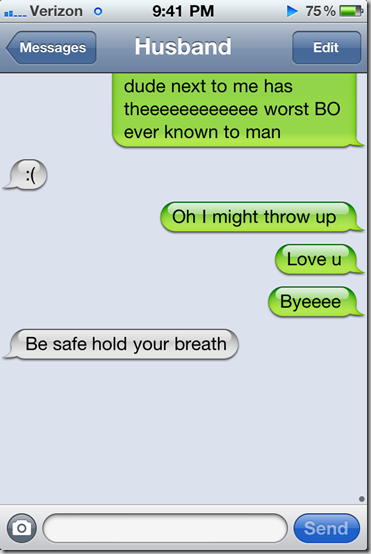 thanks, babe.. it's gonna be a long flight!
WHY is it always so damn cold on the actual airplane? i am typing this while in the air, en route to LA and my feet are FREEZING because the cold air is blasting them. that's what i get for not wearing socks, i guess. dirty feet from the security line and cold feet from the flight. i bed deb is excited for me and my awesome feet to crash on her couch tonight!
your turn! share your WHY? about the airport or airplanes.
xo. janetha g.