my sister gave me an awesome slider grill pan for my birthday… back in june. like any professional procrastinator, i have put off making sliders all summer long. awesome.
i recently received a sample of the new mini sandwich thins from arnold/orowheat.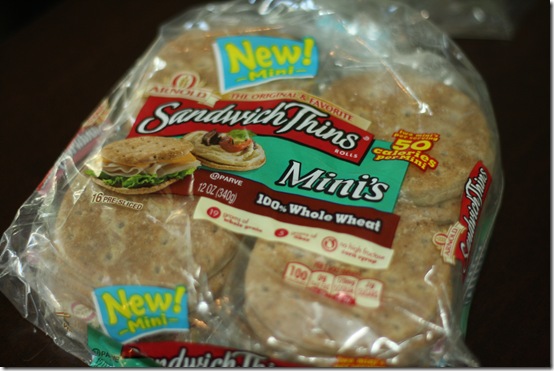 are you thinking what i'm thinking?
bingo. sandwich thin sliders!
for last night's dinner, i combined 1 pound of organic, 96% lean ground beef, minced garlic and trader joe's 21 seasoning salute. i separated the beef into eight 1/8 pound balls.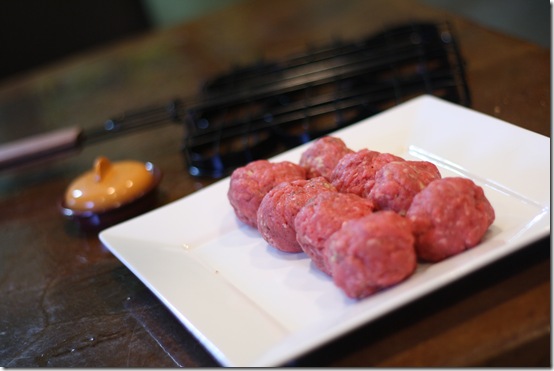 next, i used this handy dandy slider shaper that came with the grill pan. IS IT NOT SO ADORABLE?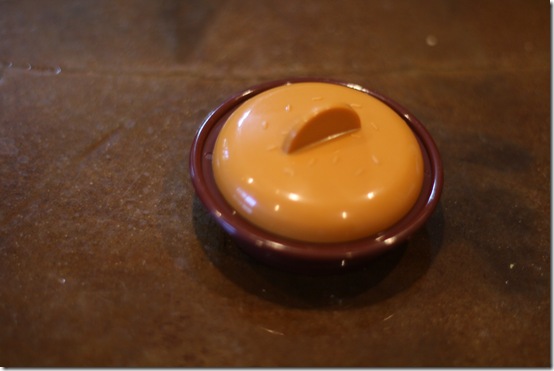 perfectly pressed!
i popped the sliders into the grill pan and turned it over to marshall to get them grilling.
i worked on the condiments—pickles, avocado, heirloom tomatoes, ketchup & mustard. i also baked some alexia chipotle sweet potato fries (hard work, folks.)
i fixed my mini slider sandwich thins and had them ready & waiting for the burgers.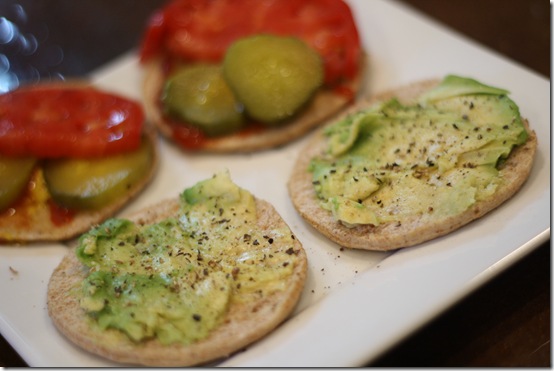 as you can see, the sliders shrunk a bit, but they were cooked perfectly.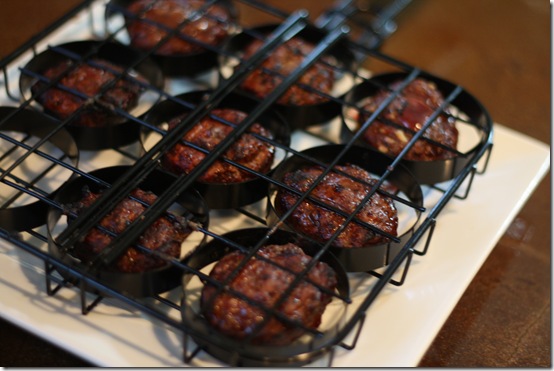 they were a little small in terms of bun-to-burger ratio, but it all worked out (and tasted the same.)
the sandwich thins were a good vehicle for the sliders, but by the time i started on my second slider, the sandwich thin was falling apart—maybe too much ketchup? (is there such a thing??) other than than, they were great. the sandwich thins are 50 calories apiece, 100% whole wheat and pack 2.5 grams of fiber and 2.5 grams of protein (per bun—two buns in a serving.)  thanks for the minibuns, arnold. (nobody paid me to review the buns but i did get them for free.)
and now, the second part of this post… menu monday! because "sunday sliders" wasn't enough alliteration for me.
it's a short week for me! i am heading to LA thursday night for a weekend with deb & eden. (woohoo!) here's my meal plan for the week:
dinners.
monday: chicken puffs & asparagus
tuesday: red chicken enchiladas (recipe to come)
wednesday: sweet potato shepherd's pie
thursday: something involving chicken and the crock pot since i will be catching a flight—any suggestions???
lunches:
breakfasts:
snacks:
i also plan to bake some pumpkin protein bars to take on the plane.. if they turn out, i will post a recipe.
a few items of business…
winner of the contigo coffee mug is #128, ty (i emailed you.)
as i mentioned above, i am going to be in LA friday through sunday. if you want to hang, email me! not sure what my agenda holds but i'd love to see as many people as i can while i am there.
the better breakfast challenge results will be posted later this week!
check ya later.
xo. janetha g.