right now i am laid up on my couch with a pounding headache and a strong urge to barf. haven't barfed yet, but i am not making any promises that i won't. it sucks that i am feeling ill because i am missing amber's birthday party right this very minute. i just wish my body would cooperate with me…
…instead, i will blog about happier times, like last night! (plus, i know you want to hear me complain about being sick about as much as marshall wants to eat a mushroom and ketchup birthday cake. oh, by the way, he hates mushrooms and ketchup. i know.)
my dear friend lindsay got married to her fiancé, brandon, last night. the wedding was located up millcreek canyon (in salt lake city) at log haven. i had never been to log haven before and was absolutely floored at how gorgeous the venue was.
the ceremony was held outside, overlooking the mountains, tress with color-changing leaves and a glorious waterfall. i didn't want to bust out my big camera for the ceremony, but i did snag an iPhone shot of the beautiful setting.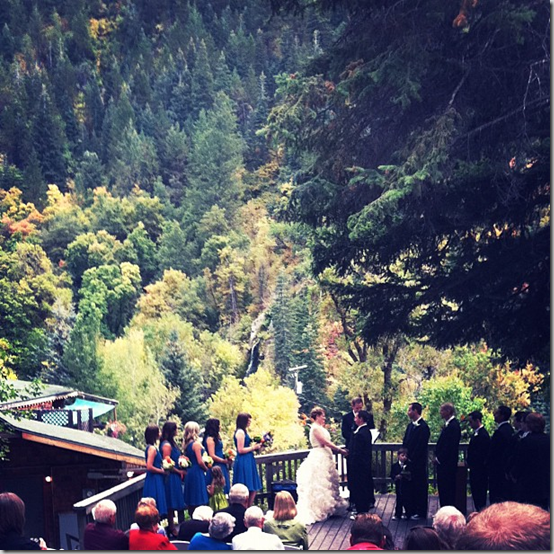 after the newlyweds' nuptials, we took it to the open deck for drinks and hors d'oeuvres.
there was a live string band (i have no idea what the real term for this type of band is called and am too lazy to google it) setting the mood and adding to the ambiance.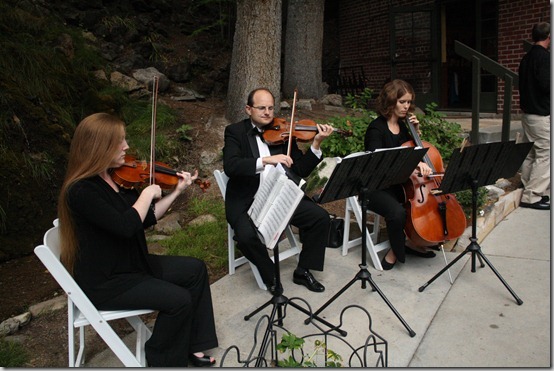 the mushroom filled pastries being passed around were incredible. i couldn't help going back for seconds.
i took a moment to sign this poster—they had this tree instead of a guest book. isn't it a great idea?! all the guests signed the leaves and they can hang it in their home to admire for years to come. clever.
after a bit of mingling, we sat down to enjoy a delicious dinner.  it started to sprinkle (luckily AFTER the ceremony) so they covered the deck with a canopy. the canopy paired with the later hour and low lighting meant one thing: flash photography. sometimes, you gotta.
my dinner consisted of chicken in a savory caper sauce, field greens and sundried tomatoes with balsamic vinaigrette, roasted asparagus and zucchini, grapes and an olive-infused roll.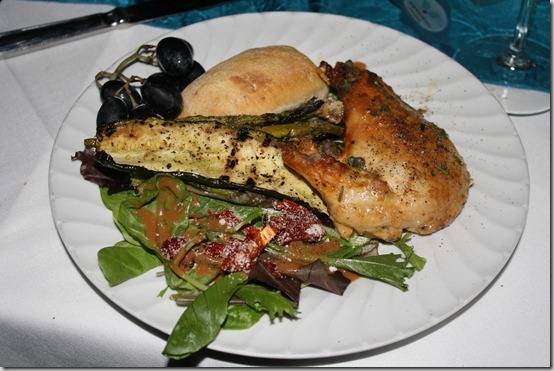 it was DELICIOUS. log haven has a restaurant that serves food from the same kitchen this delicious meal came from. i think i need to venture up the canyon to dine at the restaurant sooner rather than later.
my tablemates & wedding date~
kristen + rory.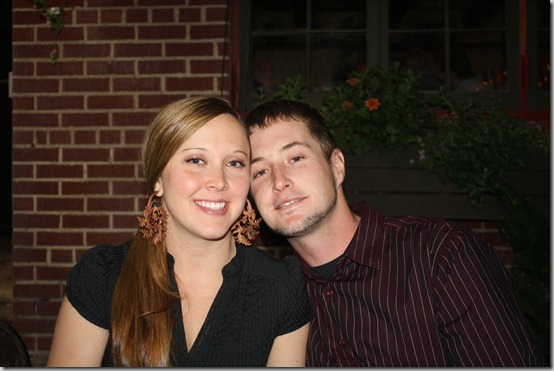 lindsay + greg.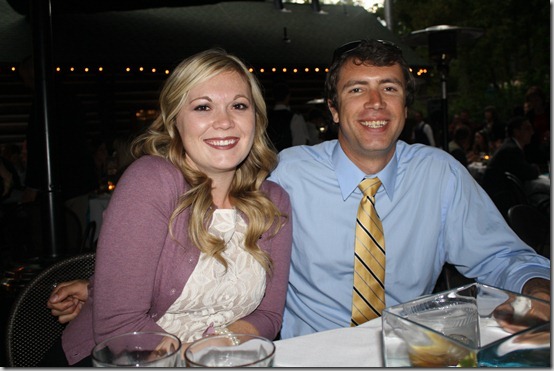 me + marsh.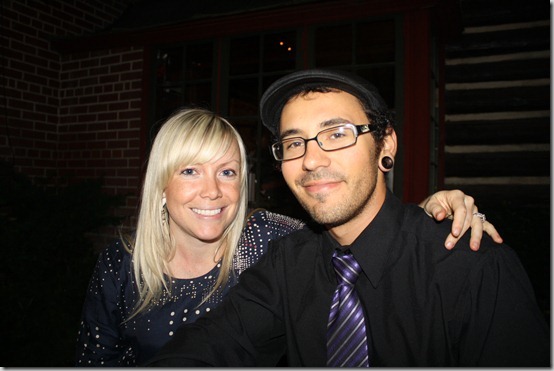 i managed to snag some face time with the happy couple—don't they make a great pair?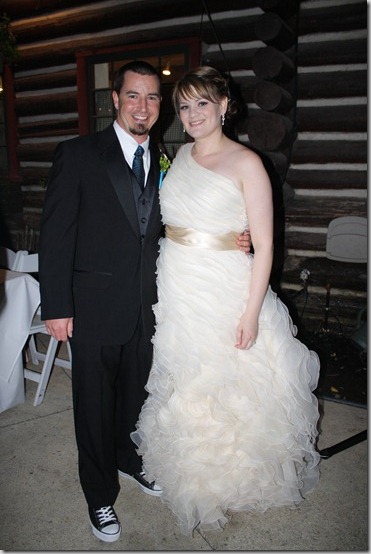 lindsay was a beautiful bride. her dress was stunning and when i first saw her walking down the aisle, it brought tears to my eyes. seriously breathtaking.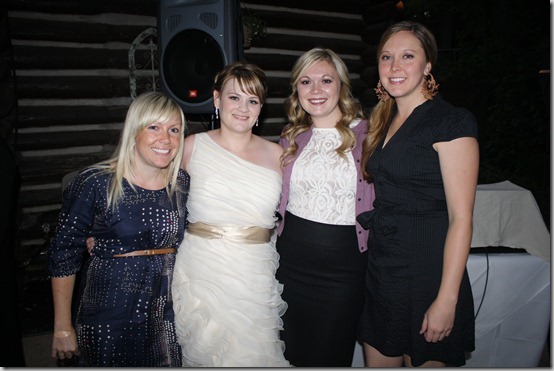 after dinner, there was the traditional wedding must-dos: first dances, toasts and cake cutting!
the carrot cake with whipped cream cheese icing was so (dare i say the word i hate so much) moist. there's just no other way to describe it. i am not a big icing fan, so i snagged a slice with a minimal amount.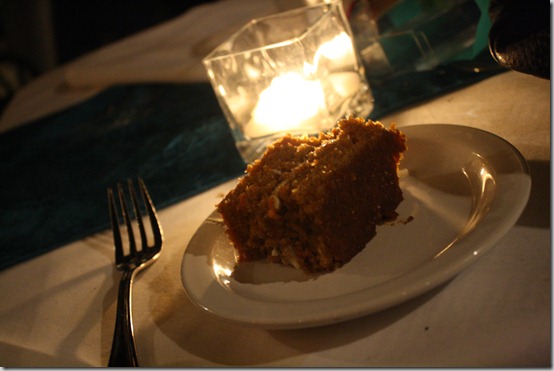 the rest of the evening was spent dancing the night away. i have two left feet when it comes to dancing, but i wanted to hang out with everyone so i was forced to shuffle around awkwardly on the dance floor. i caught a glimpse of marshall laughing at me from the sidelines (although he adamantly denies it!)
the evening ended with the traditional bouquet toss and garter throw. no wedding is complete without this!
we sent the couple off with tons and tons of eco-friendly confetti.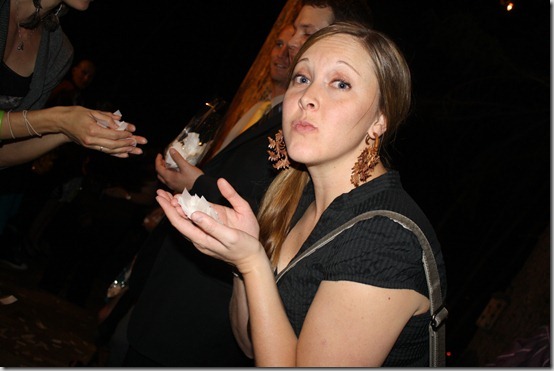 when the staff at log haven saw that all the guests had bags of confetti, they tried to veto the use of it because confetti isn't allowed to be thrown in the canyon. however, lindsay's mom is on top of it and made sure the confetti was eco-friendly! she really thought of everything.
it was a beautiful wedding for a beautiful couple. i am so happy they found each other, they make a great pair!
congratulations, lindsay, i love you.. MISSUS.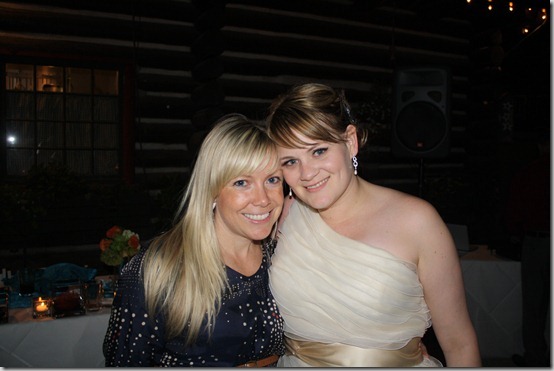 and now, if you will excuse me, i am going to go eat some saltines and sip on some lemon-lime soda.
xo. janetha g.