i had big plans for tonight's post.
enchiladas.
not just any enchiladas.
red ones.
100% of the time, i make green enchiladas. i know, i am missing out on 50% of the enchilada excitement available.  tonight, i was going to change all that.
this morning, i put two chicken breasts into my crock pot along with some salsa and red enchilada sauce so they could slow cook on low while i was at work. marshall had a relatively short day today and i knew he could turn the crock pot off once he got home and the chicken would be ready for me to shred after the gym. (it was hard to refrain from making a punny joke about shredding at the gym then shredding the chicken afterward…)
anyway, around 3 PM i received a horrible, awful, no good, very bad photo from marshall.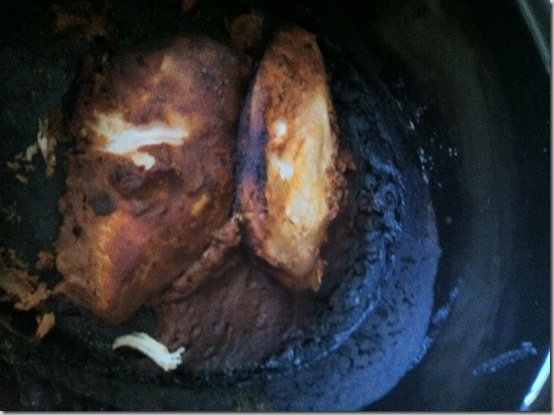 yeah. that's my chicken. we had a brief exchange of sad texts…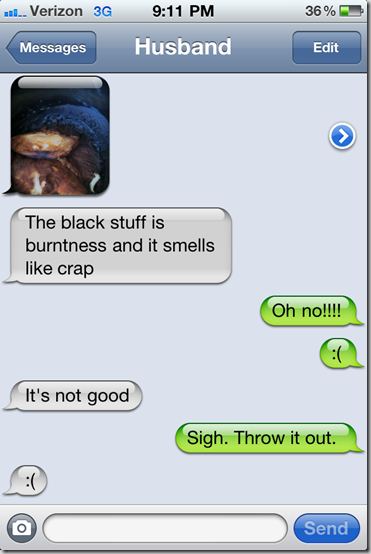 sigh.
luckily, i had another pair of chicken breasts in the fridge (hooray for costco!) and so i reverted to plan B.
marshall & i were at the gym at the same time today, but he left before me (since i had to do 30 minutes of dreaded cardio—ugh) and so i asked him to boil the chicken breasts so i could shred them right when i got home.
i got home from the gym, showered and headed to the kitchen to shred the chicken.  one look at the shriveled chicken breasts told me he'd boiled them a wee bit too long. one taste of the dry, rubbery chicken told me he'd boiled them more than a wee bit too long.
penny and randy thought the chicken tasted juuuust fine, mind you. hey, can't let it go to waste, right?
so, there we were, hungry and chickenless. the only four chicken breasts in the house had all been ruined—two by me and two by marshall. he tried to apologize, but i wouldn't let him. i told him that we're even.
it was already 8 o'clock by this time, so plan C involved the car, the debit card and food prepared by someone other than me or marshall—clearly we were struggling.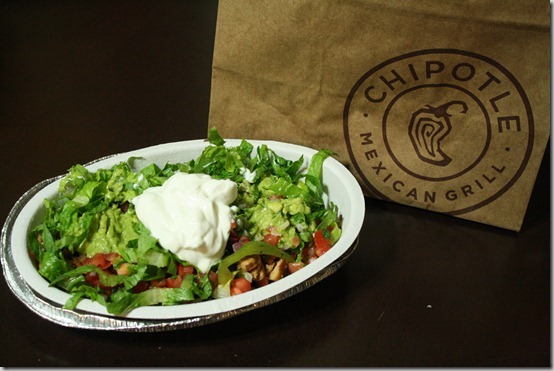 chipotle is the only place we ever grab takeout from. we live in a smallish town with limited options (aside from typical fast food joints) and chipotle is the one restaurant marshall & i both like. plus, their menu items try to be as local and/or organic as possible and their meat is all humanely raised, so we feel good about eating it.
i was super pleased to see that chipotle now has brown rice! i usually skip the rice and load up on the beans & fajita veggies, but this time i got half brown rice, half fajita veggies, black beans, chicken (that was not charred or dry, mind you), a pile of guacamole (theirs is the best, right?), lettuce, pico and then i added some greek yogurt on top when i got home.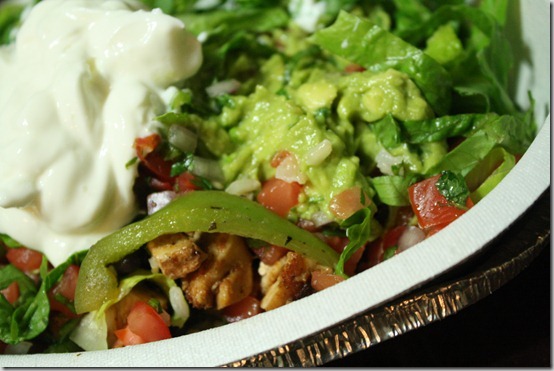 i must have been incredibly hungry, because this is the first time i have ever been able to polish off the entire burrito bowl.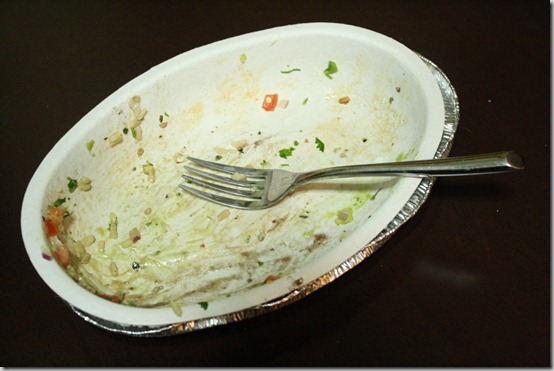 along with my fair share of chips—their chips are addicting. marshall threw half the bag away when we were done eating and then pulled it back out of the trash because we couldn't stop eating them.
well—that's all I've got! since my original recipe post was foiled, you get takeout tuesday. when i lived in london i got a huge kick out of the term "takeaway" instead of "takeout". not only does it sound more fun, it makes more sense! i think that the takeaway term needs to catch on in the U S of A.
and if that's not enough alliteration for you, please head over to lindsay's blog and check out this week's core workout for tuesday trainer! i submitted a side bend video and there are also a bunch of other fun moves to try out to strengthen your core.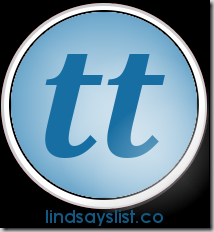 click the button!
well.. i gotta go. i am baking cookies for the second time this week. sunday night i made a chewy version of pumpkin chocolate chip cookies (recipe to come) and tonight i am making biscoff oatmeal cookies from maria's blog.
Qs~
1. where did you last snag takeout from/what did you order?
2. do you prefer dining at restaurants or getting your meal to go?
xo. janetha g.