i thought "wedding season" typically fell sometime in the summer. june, july.. you know. turns out, september 2011 is THE PRIME TIME to get married!
as you know, i have already attended one wedding and one bachelorette party this month (and i missed another bachelorette party because it was in vegas and i couldn't swing it) and this weekend doubled the fun with another wedding and another bachelorette party! there is one more wedding this coming friday to tie out the wedding-filled month of september.
i am going to break my weekend recap into two posts—there is WAY to much to pack into a single post. i know you may be sick of all these life-casting posts.. but when there is a lot going on, i have to life cast! i promise there will be recipes and regular rambles again soon. swear.
the festivities started on friday with jessica & simon's wedding. they chose to have their wedding at memory grove in the heart of salt lake city. i LOVE memory grove. marshall & i had quite a few of our own wedding photos taken there, including our family photo with the pups. memory grove is dog-friendly, so there were dogs all over the place when we arrived for the ceremony. awesome.
i visited jessica in the bridal room before she walked down the aisle. she was stunning (no surprise) and wasn't a bit nervous. she was ready to seal the deal.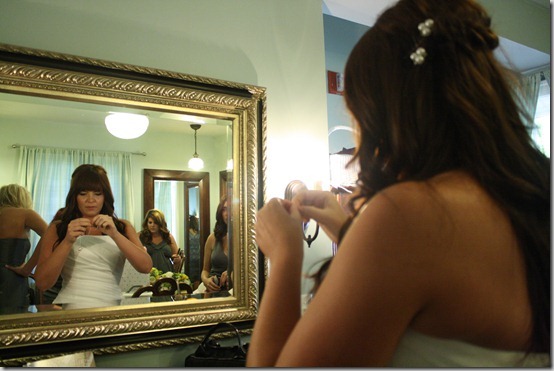 the ceremony was held outside. it was a gorgeous day—blue skies and warm sunshine. the scene couldn't have been more perfect for these two.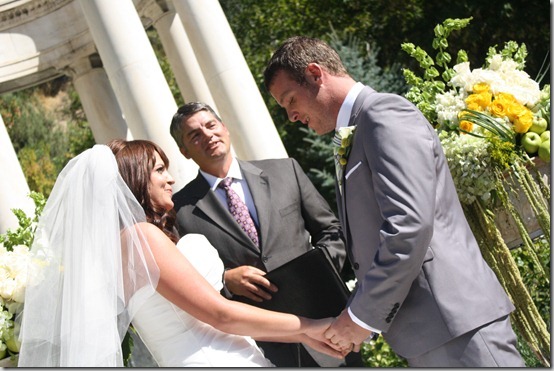 jessica and simon (who is from england) met randomly (and briefly) in an internet café in jamaica while simon was living there and jess was vacationing. simon came to utah to snowboard and they fell in love. isn't that so flipping romantic? i am so happy they found each other!
after the ceremony there was a large gap of time while the wedding party took photos, so kristen, rory, marshall and i headed to luna berry to escape the heat and cool off.
i got a plain frozen yogurt with strawberries.
marshall got a dark chocolate & strawberry crepe…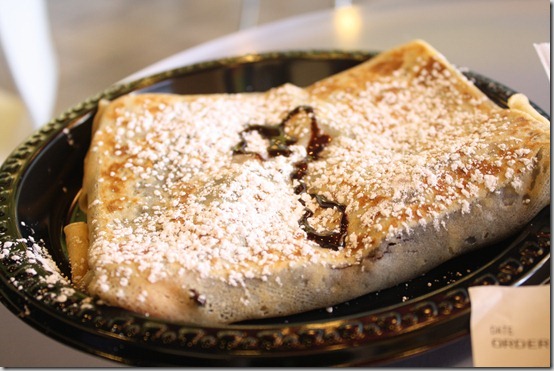 …and a mango smoothie with boba.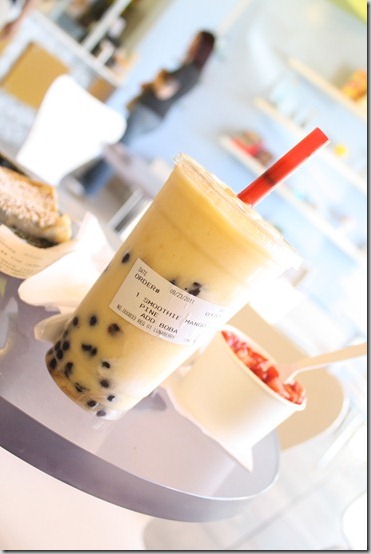 have you guys tried boba? they are huge balls of tapioca. they are amazing! this was my first time trying them and i had a hard time not hogging marshall's whole drink—i am definitely hooked on boba.
we headed back to memory grove for the reception.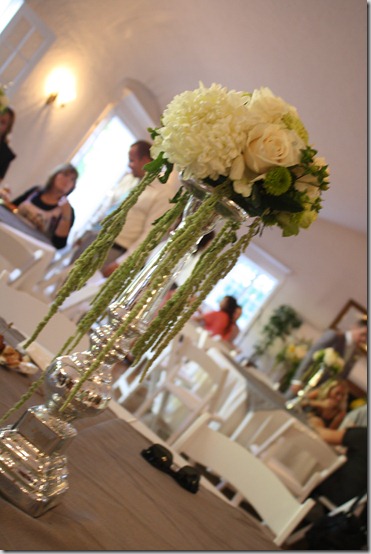 look who i ran into!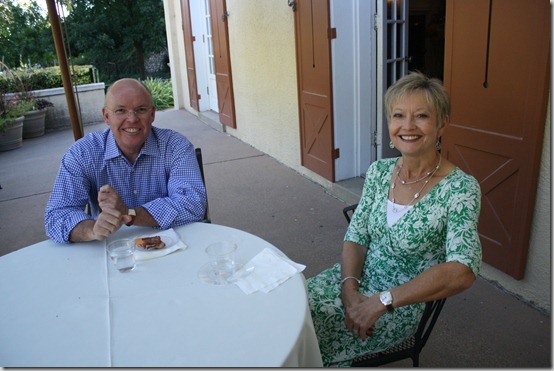 my parents paid the bride & groom a visit at the beginning of the night. i am glad they were able to come and wish jessica & simon congratulations.
the food at the reception was as appealing to the eye as it was to the taste buds—check out this awesome fruit display: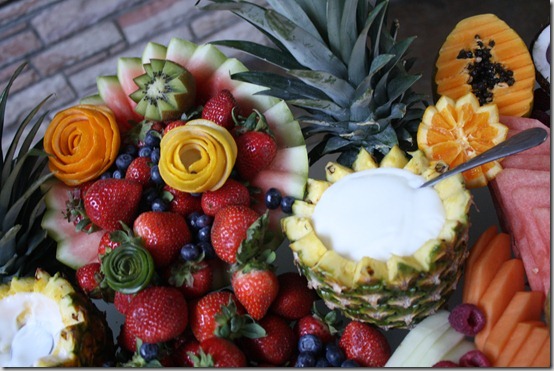 in addition to the fruit, there were a dozen types of cheese, crackers, chicken skewers, bacon wrapped steak, white bean crostini and probably more stuff that i can't think of right now.
jessica & simon didn't have booze at their wedding, but they did have a really unique create-your-own italian soda bar that i was ridiculously excited about.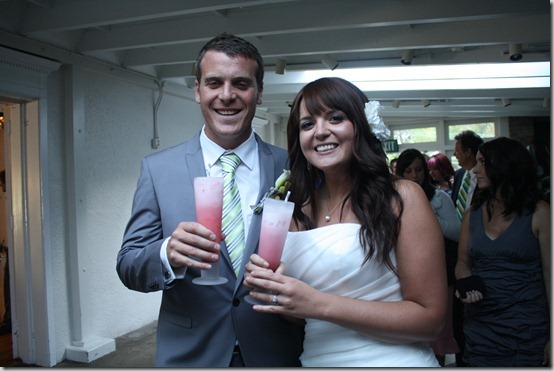 so many syrups!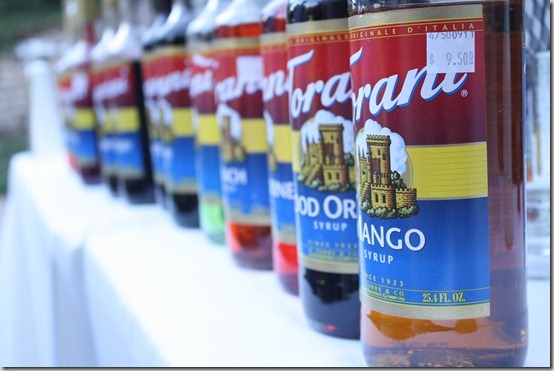 after selecting a flavor, the barista combined the syrup with soda and cream creating a delicious made-to-order sparkling beverage. i had peach.. no surprise there.
the biggest hit (culinarily speaking—and apparently i made up the term "culinarily" just now because windows live writer is giving me the red squiggly line) was the huge selection of miniature cupcakes. there were so many flavors!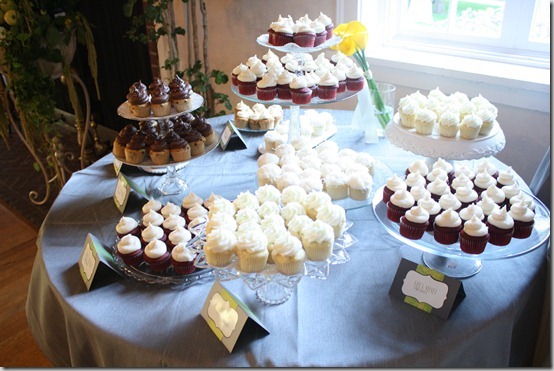 i made sure to sample every kind. coconut was my favorite, then key lime, then peanut butter, then carrot cake, then red velvet. i know you were curious.
the reception was so much fun! there was cake cutting, dancing (not me), bouquet tossing and lots of great memories made.
the newlyweds left in a horse-drawn carriage. SO perfect!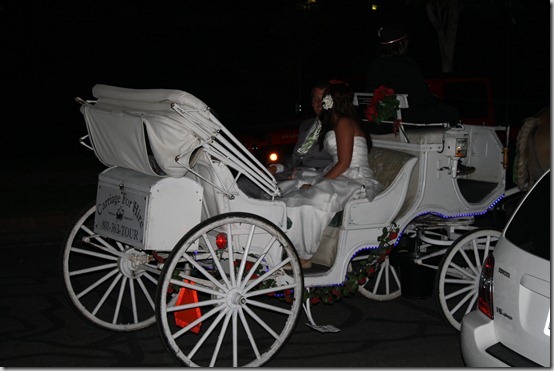 congrats, jessica & simon. i love you guys.
be back next time with a recap of lindsay's bachelorette party.
xo. janetha g.