IT'S TUESDAY! do you know what that means? i do. it's time for a new edition of tuesday trainer over at lindsay's list. the theme is core and there are a whole workout ready and waiting for you. i submitted a video of me doing the side bend.. check it out! (click the icon to head over to the workout.)
SO. last saturday night i went to lindsay's bachelorette party. lindsay is my longtime friend (over a decade!) and she is tying the knot this friday.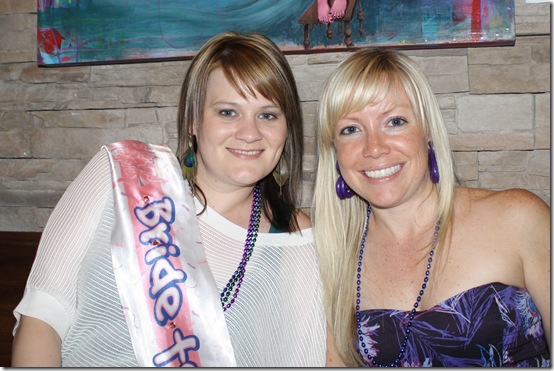 the bachelorette festivities started at the downtown marriott. i know i let you guys down last time with no penis-themed food, so i am making up for it now.
cookies (i know, the sprinkles make them so realistic, right?)
and brownies, complete with sex positions.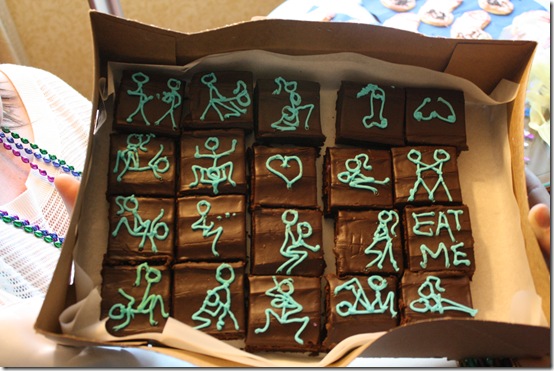 in addition to the sexual sweets, there was a penis piñata!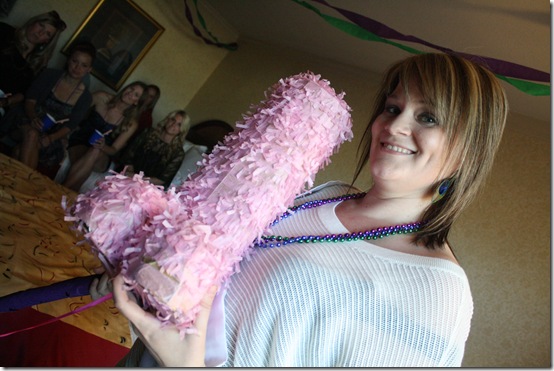 watching lindsay try to bust it open (while my friend summer held it in the air) was a real treat.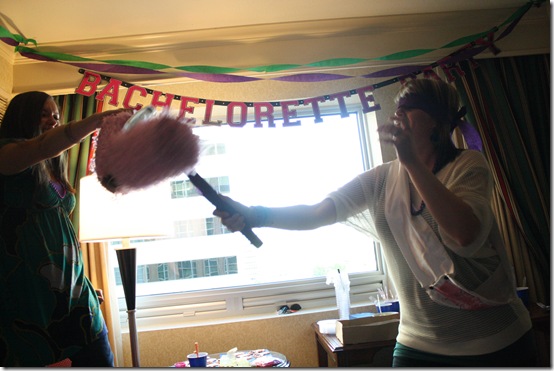 i am sure you are on the edge of your seat waiting to see what was inside, right?
of course—more penis stuff!
on my previous bachelorette party post, diana left this comment regarding the abundance of penis stuff at bachelorette parties: "I have already discussed with my friends a spa and wine day – not a crazy penis party, something I've honestly never understood. Once I'm married, am I supposed to miss the penis shaped cupcakes I enjoy every day of my single life? And by every day I mean never? Just don't get it."
it got me thinking about the whole penis fascination in conjunction with bachelorette parties. it really makes no sense and i don't get it, either, but it always makes me laugh.
we headed to stoneground for dinner. when we walked outside we found ourselves smack dab in the middle of the first annual undie run in SLC! the undie run was a 5k held to protest the uptight laws in utah.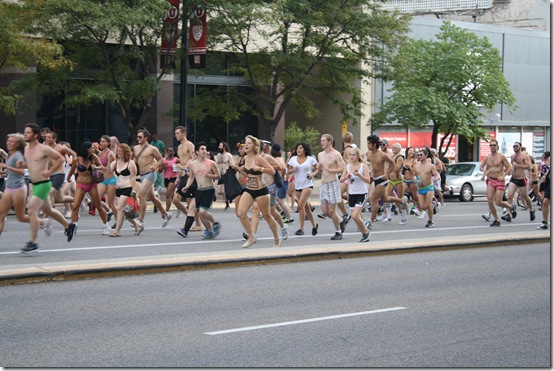 there were SO MANY RUNNERS.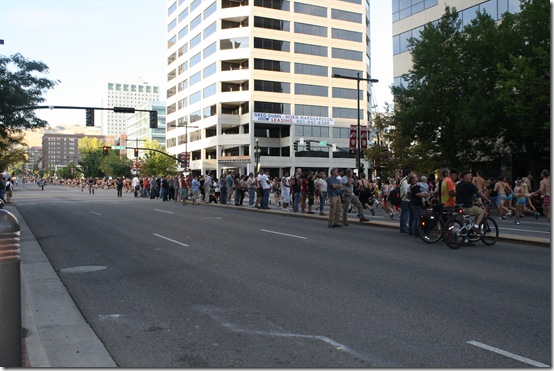 it was a good laugh—but not something i could ever do myself. i like to run in those compression shorts that hold me in in all the right places, thankyouverymuch.
anyway—back to dinner! stoneground is a great pizza & pasta restaurant located on 4th south in salt lake.
i ordered a salmon salad that had goat cheese, candied pecans, caramelized grapes and a honey balsamic vinaigrette. it was incredible. goat cheese never lets me down.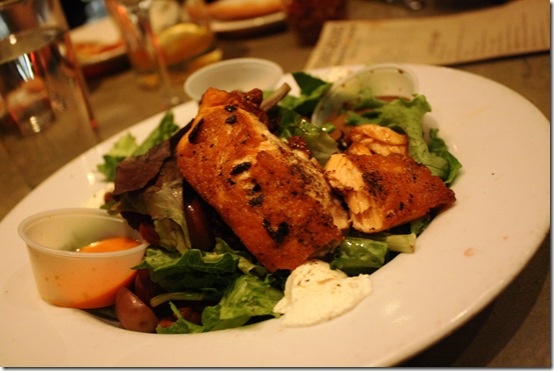 after dinner, we walked over to the tavernacle, which is a piano bar in downtown salt lake city. the name of the bar is, in fact, a play on the name of the tabernacle choir.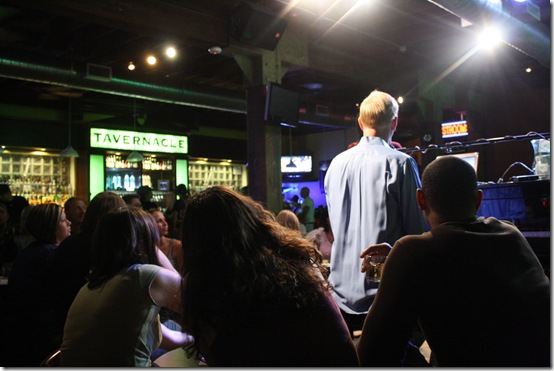 there were two pianists taking requests all night. we had a large group which made it a lot of fun to sing along together to all the songs.
the pianists took money for requests and each song could be vetoed if more money came in to stop the song. at one point, someone paid $20 to hear them play "a whole new world" from disney's aladdin.  someone else paid $21 to have it stopped… then the original person paid an additional $50 to have the pianists start over and play the whole song! it was hilarious.. and i love aladdin so it was all good.
lindsay was called up to dance on the pianos in honor of her bachelorette party—they played madonna's "like a virgin"—so fitting.
another notable tune was a fun rendition of "heads, shoulders knees and toes"… the birthday boy on stage had to do the actions to the song correctly. each time he messed up, he had to take an item of clothing off and try again. he got all the way down to just his underwear! they slowed the song down a LOT so he could get it right on the final try.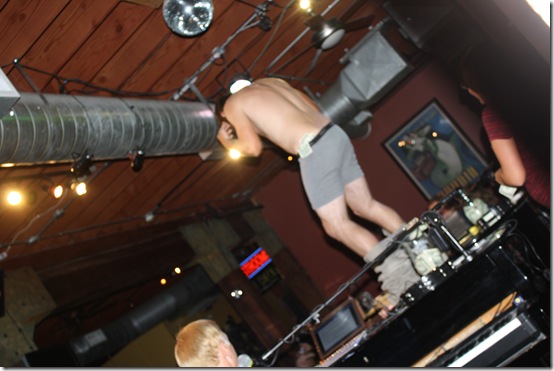 that was close.
the rest of the evening was filled with more songs and singalongs. we were all belting it out at the top of our lungs. it was fantastic.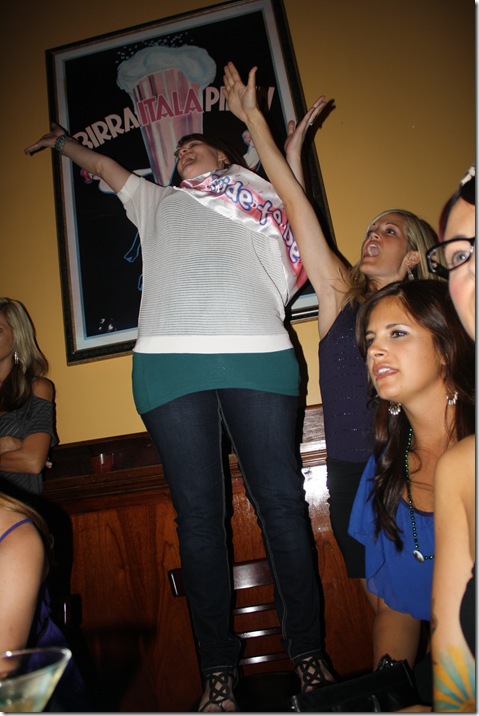 it's safe to say we showed lindsay a good time for her one last hurrah before she seals the deal with her fiancé. i can't wait for their big day on friday!
*********************************
since it seems like all i am doing lately is recap posts, i feel kind of out of touch with everyone as far as the day to day goes. SO, here are a couple highlights and lowlights for today.
two highlights of my monday:
#1: honeycrisp apple eating!  i stocked up on apples yesterday—including a few honeycrisp apples (from harmons in farmington) are roughly the size of penny's head. honeycrisp are my favorite variety of apple with braeburn coming in second. honeycrisps are SUPER pricey ($3.50 a lb) but worth the splurge for the short season they are around. plus.. they are apples, not cigarettes. i can totally justify the high price.
#2: i started phase two of jamie eason's 12 week trainer today. i haven't really talked about my moves lately, but i am still following her workouts closely. i am not following the eating plan—just the exercise portion of the plan. phase one was all lifting and no cardio. phase two introduces four days of cardio each week. wait—maybe this should be a lowlight? ;)
two lowlights of my monday:
#1: my stomach hurts tonight. bad. some nights are better than others. last night was horrible and tonight is just slightly less bad than last night. i have a CT scan scheduled for thursday.. haven't heard anything back about the endoscopy. i'll continue to keep you posted since lots of you asked that i do.
#2: uhhhh i can't think of another one. it wasn't a really bad day and i'm not overly pessimistic. SO—i will steal the downside of my highlight #2 and say the fact that i will be doing cardio 4x a week for the next four weeks doesn't exactly thrill me.
ohhh also, today was national pancake day! hope some of you celebrated.
Qs~
1. would you ever do an undie run?
2. what song would you request at a piano bar?
xo. janetha g.