hi guys! i know i was MIA yesterday and i actually really regret not being able to post because it was  momma b's birthday!
instead of being a good blogging daughter and typing up an amazing post about how fabulous she is, i spent the day working, then making her a gift, then hanging out with her at the state fair! so, mom, i am sorry about the lack of a tribute post.. but i think you know i love you lots :)
i have a massive recap post of the state fair pending, but that is going to take some serious time to finish. so, in the meantime, i wanted to show you what i made my mom for her birthday.
it's no secret that my mom and i are partners in crime. we love doing anything and everything together—including getting into our best shape. i know my mom has been wanting a little extra motivation lately, so i decided to make her a motivational workout journal to help her along the way.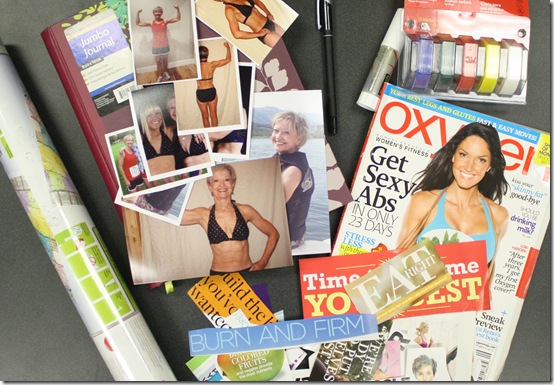 i first saw this tutorial post on then heather said (written by cynthia) back in december. i have been meaning to make a journal like this ever since! so, nearly a year later, i finally hopped to it and made it happen. it actually turned out to be super simple and a ton of fun.
to get a really awesome, detailed and step-by-step tutorial, check out cynthia's post. i will show you what i did to make momma b's journal.
first, i grabbed a few of my old fitness and food magazines. i have A LOT OF THEM. if you need a few old magazines, come on over to my place. i have nearly a hundred.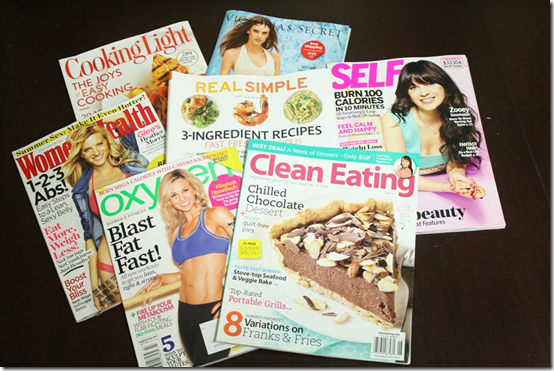 next, i grabbed the scissors and got to clipping. i cut out words, phrases and photos that i thought might be inspiring.  i made sure to cut out items large and small, so i could make a collage and fill in all the little gaps.  you really just need to think outside the box when clipping, because there will be some great phrases where you least expect it. some of the best phrases were actually found in ads. for example, there was something that said "the very best" and it was talking about a weight watchers snack cake. i clipped out the words and left the snack cake.
once i had all my magazine clippings, i went to my computer and picked out a few photos of my mom that focused on fitness. our "after" body for life photos, race photos, wakeboarding photos, etc. i always say that my biggest motivator and inspiration is photos of myself when i was at my very best, and i think my mom would agree!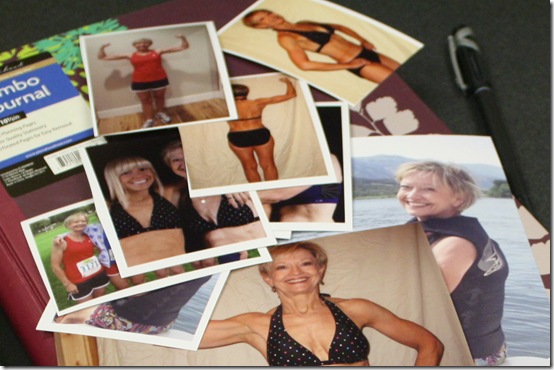 i had purchased a large journal at smith's marketplace—i picked a big one with a lot of pages that were lined.  other craft items i used:
a pen
colored electrician's tape
a glue stick
laminating paper
i laid out the collage on each side before gluing the pieces down—just to make sure i liked how it looked. i layered the larger pieces on the bottom (thanks for the tip, cynthia!)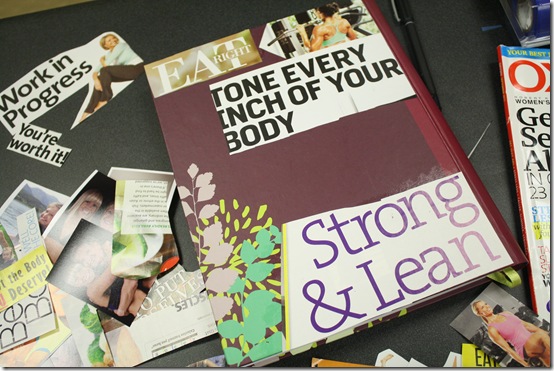 after some careful arranging and gluing, both sides of the journal were covered!
my favorite part: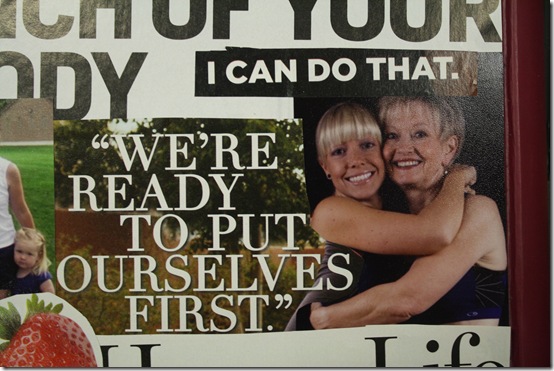 next, i laminated the journal. cynthia had used contact paper, but i couldn't find any. i picked up some laminating paper and it actually ended up working really well because if i messed up, i could peel it off without tearing the clippings from the journal. and yes, i messed up!
i trimmed the laminating paper to be just a bit bigger than the actual journal.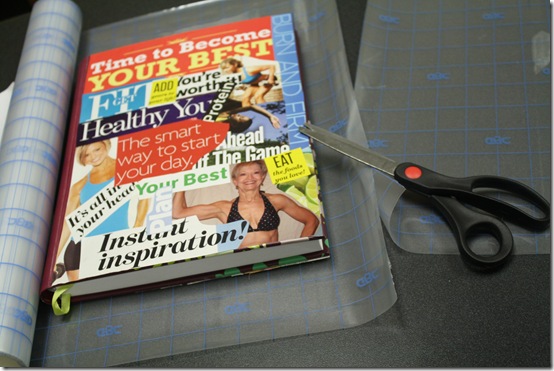 once the piece was cut, i removed the adhesive backing and carefully placed it on the journal.. this was the part where i messed up and got a lot of bubbles, but i was able to remove the paper and re-do it.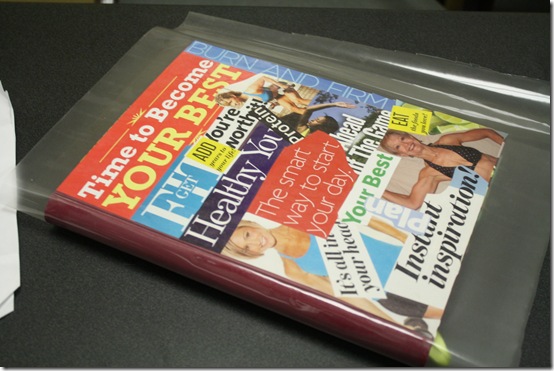 next, i trimmed the corners and folded them in.
and finally, i attached the pen using cynthia's method.
voila! the finished product.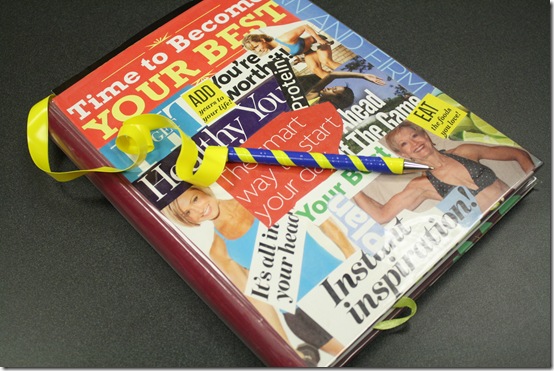 i wrote a nice note in the back and gave it to my mom, along with a vibram five fingers add letting her know marshall & i would be buying her a pair for her birthday!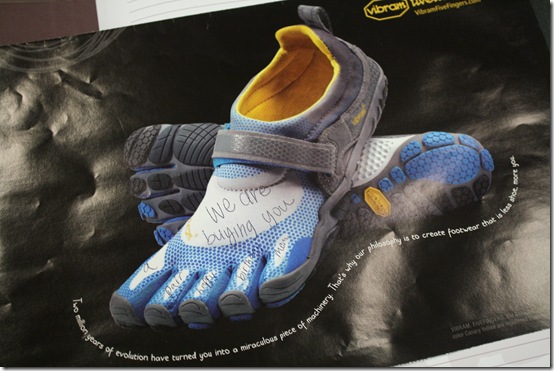 she loved the journal, it was a hit!
i had a ton of fun making the journal—clipping out inspiring quotes, phrases, words and pictures was a good time. i want to make more! anyone need a workout journal?
Qs~
1. are you crafty? what was the last thing you made by hand?
2. where do you look for inspiration and motivation?
xo. janetha g.