heyo! how's it going? glad you guys liked my balls. they're tasty, hope you try them.
happy birthday to my cat, blue! he's up in cat heaven eating butter. he loved to eat butter when he was alive, but it made him sneeze because he was allergic to milk. i know, a cat allergic to milk? poor guy.
today has been jam packed with a plethora of things. i had a dentist appointment this morning which i was suuuuper excited for.  i LOVE the dentist and getting my teeth cleaned!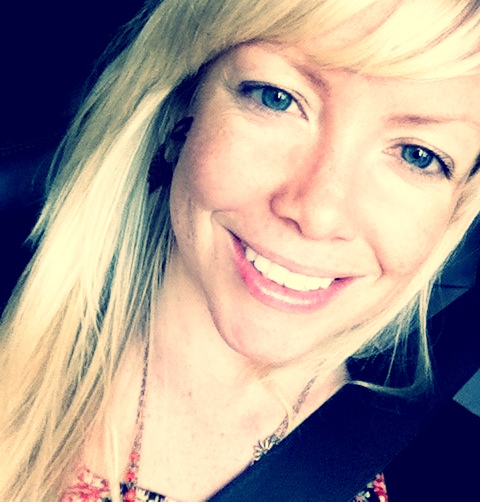 i thought i was the only on who loved the dentist, but after tweeting my post-teeth-cleaning excitement, i got a bunch of replies from fellow dental fanatics…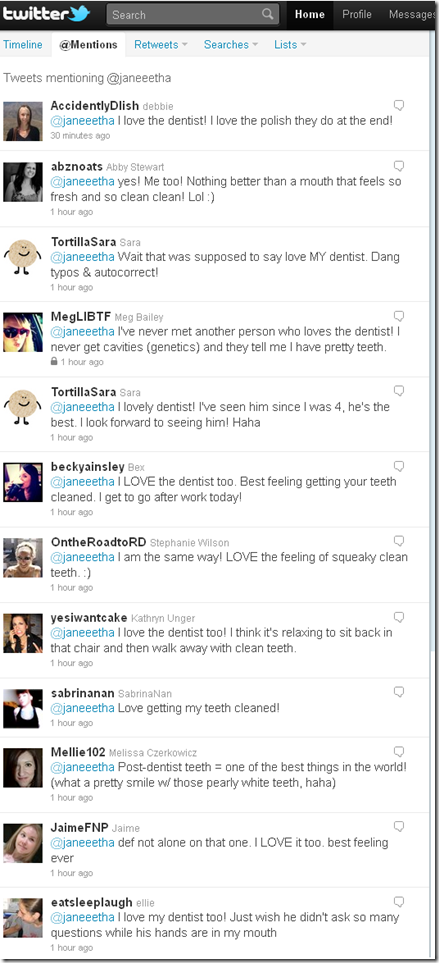 who knew? yay for dentist lovers.
actually, it had been a year since i last visited the dentist. WAY too long if you ask me! i usually get a cleaning twice a year like clockwork, but with the marriage and the move i let time get the best of me. some people i know never go to the dentist—they say it is too expensive—but they will spend $100 every 12 weeks to get their hair done. i don't get the logic, your teeth are way more important than your hair in my opinion!
i don't have dental insurance because i think it's a waste of money. my teeth are in good shape and i don't have much to worry about.  i went to a new dentist today, actually, and signed up for a super affordable plan they offer. it was $129 for a year and that includes two checkups, two cleanings, an annual xray session, two fluoride treatments and 25% off any work done (fillings, crowns, etc.)  since i was paying $150 for one set of xrays ALONE at my last dentist, i immediately signed up for this plan. it was a no brainer!
if you live in utah (his office is in bountiful) and are in the market for a great dentist for a great price, get at me and i will give you the details. and no, my dentist didn't hit me up to type this. i actually just loved my appointment this morning and was really satisfied with the price and the work and i am all about spreading the word about great services!

so, some of you had asked me to do a post where i show the calories, macros, measurements and time, so i went to the effort today to track those aspects for you. here it is!
*edited to add that i am posting my meals only, not my morning supplements, pre- or post-workout supplements or anything eaten after dinner. this list is by no means a representation of the number of calories i consumed all day long, i just am giving you a breakdown of the actual meals eaten because people were curious about my typical meals.
before my appointment this morning, i had time to make breakfast and actually eat it at the kitchen table instead of in my car. it was a beautiful thing.
five egg whites + a jazz apple (175 grams) + 1 T mighty maple peanut butter @ 8 AM.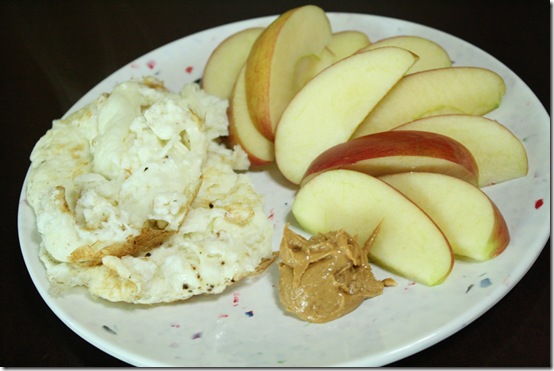 this clocked in at 250 calories, 8 grams of fat, 21 grams of protein and 34 grams of carbs. ohhh and 7 grams of fiber!
breakfast kept me surprisingly full for how low calorie it was. i kind of think the fluoride on my teeth may have had something to do with my desire to eat, though. breakfast was at 8 AM and i didn't eat lunch until 1 PM!
1/2 cup canned garbanzo beans + 1/2 cup low fat cottage cheese + 1/2 tsp ranch seasoning served over a bed of lettuces, broccoli slaw & a chopped bell pepper topped with 2 T light italian dressing @ 1 PM.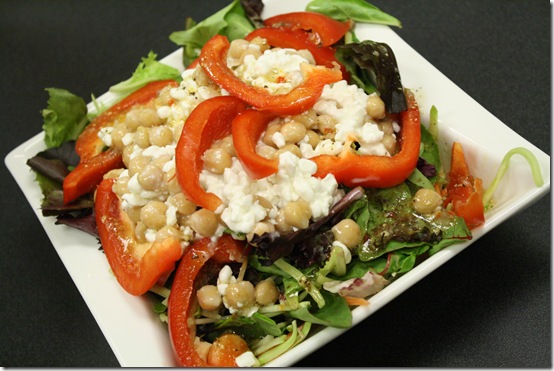 so detailed! this was 420 calories, 11 grams of fat, 32 grams of protein, 49 grams of carbs and 12 grams of fiber. i also had an adora disc for my after lunch sweet tooth added calcium.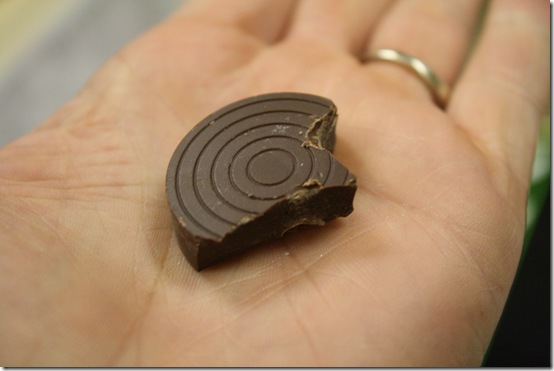 i worked a little late tonight—partially because it is month end and also because my dentist appointment cut into my morning at the office. i had my snack around five thirty.
3/4 cup plain 0% greek yogurt + one container of chobani champions verry berry greek yogurt + love grown foods simply oats granola @ 5:30 PM.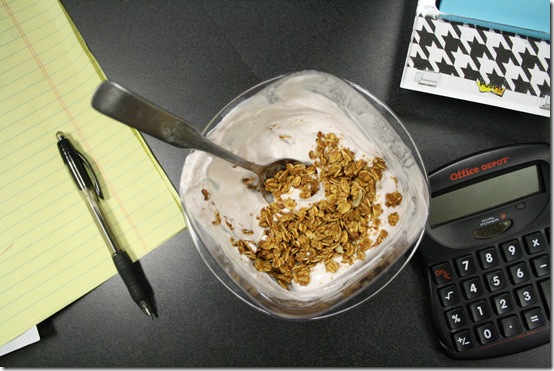 i like to mix the flavored yogurt with plain yogurt to amp up the protein content without upping the sugars and carbs too much. special thanks to tina for hooking me up with the love grown foods samples at HLS—i LOVE this granola! plus the single-serving packets i received=built in portion control. love that.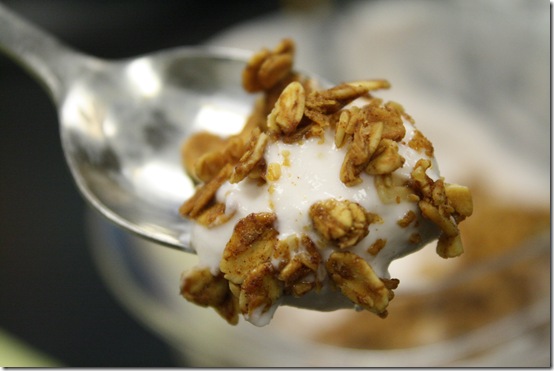 this snack clocked in at 320 calories, 6 grams of fat, 29 grams of protein, 38 grams of carbs and 2 grams of fiber.
after work, i headed to brody dezember's studio to check out our family photo proofs. i think we picked a good one! luckily we won't have to do family photos again until someone decides to have another baby and that shouldn't be for awhile. knock on wood.
i rushed home, changed for the gym and pounded out a quick lower body workout. i am following jamie eason's new training plan—more on that another day. maybe tomorrow? i want to tell you guys about it, i'm loving it so far.
i didn't get home until about 8:30, so i scratched my labor intensive dinner plans and went with WAFFLES!
low carb coconut protein waffle + peanut flour paste + fresh raspberries @ 8:45 PM.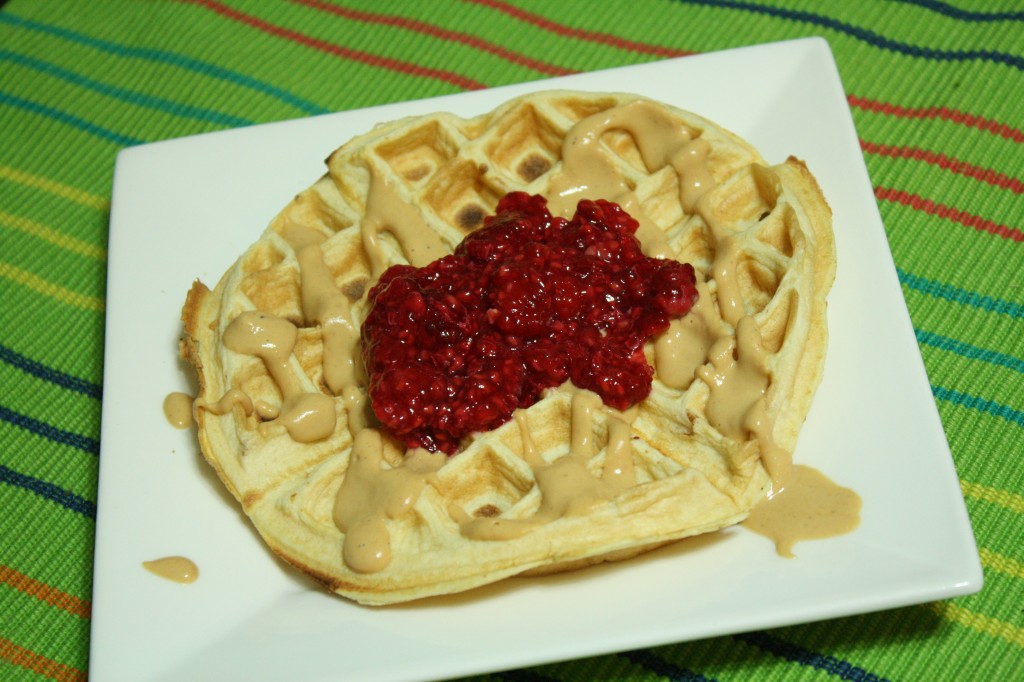 i used allie's low carb pancake recipe, nixed the blackberries and added a little coconut extract. i forgot how much i love this recipe! side note, i really miss allie. side side note, amanda, this recipe is gluten free! i watered down 1 T of trader joe's peanut flour to make a paste and drizzled it on the waffle along with 50 grams of mashed up fresh bear lake raspberries. SO good!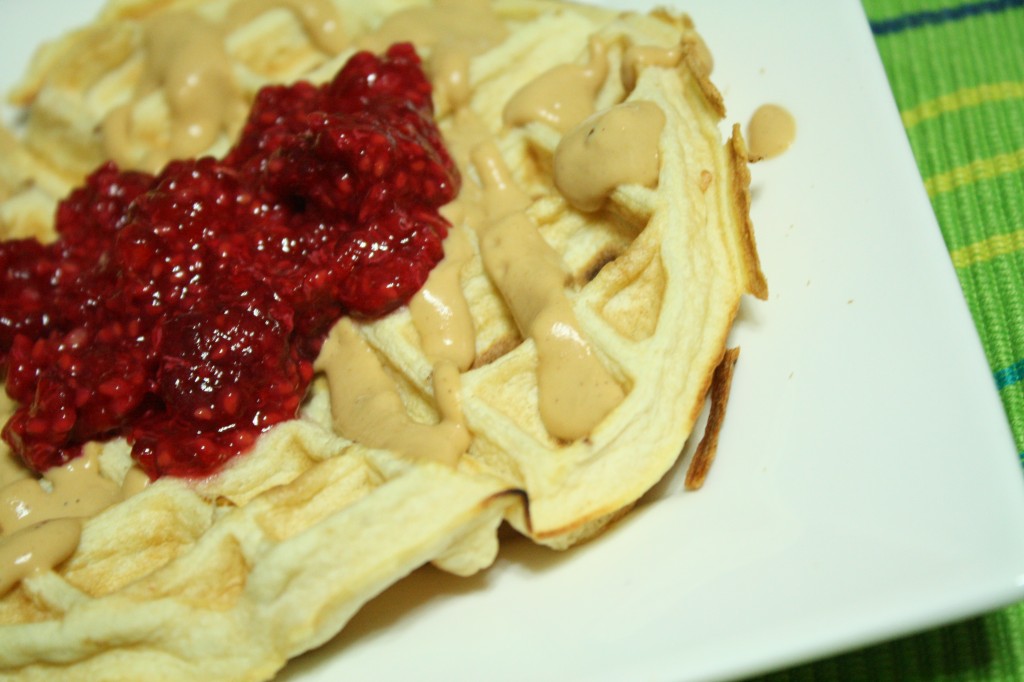 this was around 250 calories, 9 grams of fat, 22 grams of protien, 16 grams of carbs and 8 grams of fiber. love how fibrous coconut flour is! (it is the main ingredient of the waffle batter.)
i will eat one last time before calling it a night.. i usually eat five times a day. my last meal is something small, is usually sweet and contains protein powder or greek yogurt. still not sure what tonight will be!
hope you liked seeing the tracking, meal times, macros and calorie counts. it was a pain in the butt, but i did it all for you who asked.
i am glad i don't track my meals like this daily anymore. it's kind of a hassle. i am happy that i can rely on my eyeballing habits that i have perfected over the past three years, but it is nice to weigh and measure every once in awhile to keep things in check. it also keeps me from randomly grabbing handfuls of cereal, dried fruit, granola, crackers, chips, etc because i know i will have to track it and seeing the way those bites, licks and tastes add up really shocks and annoys me.
while i don't count calories or macros on a regular basis, i do believe doing it periodically is a good idea for me. i know it seems obsessive and detrimental to some, but for others, it's the only way to lose, gain or maintain their weight. i look at tracking my meals as a valuable tool but can only stand doing it maybe once a month.
good talk.
hasta luego!
Qs~
1. do you love or hate the dentist? how often do you go?
2. how often do you track your meals? never, sometimes or always? and what is your personal reason behind your answer?
xo. janetha g.