alternate titles for this post:
"nine egg whites later"
"when all else fails, make an egg sandwich"
"if at first you don't succeed, try again, and if that doesn't work, give up"
"i am an idiot"
marshall worked three hours from home today, so he was up at an abnormally early hour. i decided to get up a tad early, too, and had plenty of time to spare. i decided to make a "weekend breakfast," as i call them. one that takes a bit more time that blending a protein shake and darting out the door—something i typically do EVERY work day morning.
my plan? a protein waffle!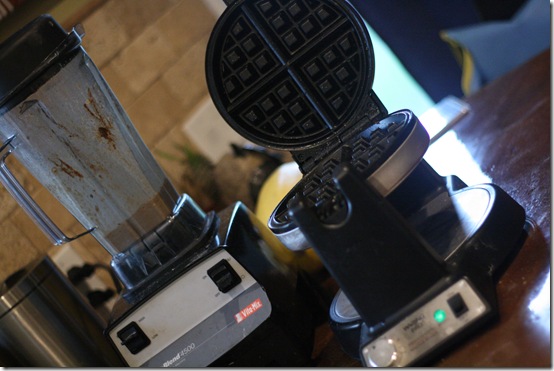 i dusted off the ol' waffle maker (no, literally, it was on top of my fridge and i hadn't used it in so long that it had collected dust!) and whipped up a single serving batch of my favorite protein waffle (or pancake) batter:
3 egg whites
1/3 cup old fashioned oats
1/3 cup low fat cottage cheese
1/2 tsp baking powder
1/2 tsp vanilla extract
1/2 tsp cinnamon
(blended in my vitamix)
i sprayed the iron with olive oil and cooked the waffle as i usually would, but when the waffle iron beeped to tell me it was done, this happened: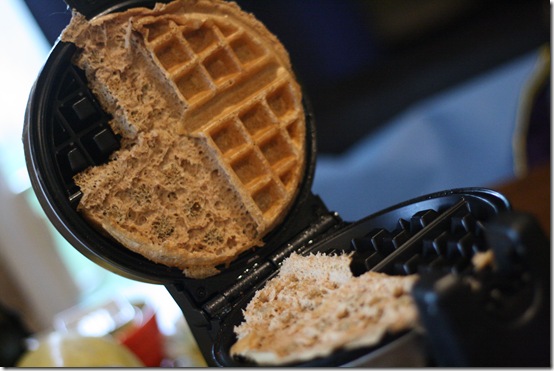 blast!!! i have no idea how that happened. i did nothing different—maybe my waffle iron was revolting because i have been neglecting it for so long?
i still had time to spare, so i decided to give it another go. i had my heart SET on a protein waffle or pancake. since my waffle attempt was a flop, i decided to go the pancake route. i never mess up pancakes!
i usually cook my protein pancakes on a griddle, but i didn't want to take the time to get it out, plug it in, let it heat up.. you get it.  instead, i decided to use one of our cast iron skillets to make one BIG protein pancake.  we have a full set of cast iron skillets that marshall's grandpa gave us—they are awesome and have years upon years of use. nicely seasoned!
i sprayed the skillet with olive oil, let it heat up while i whipped up another batch of batter and then poured the batter into the skillet.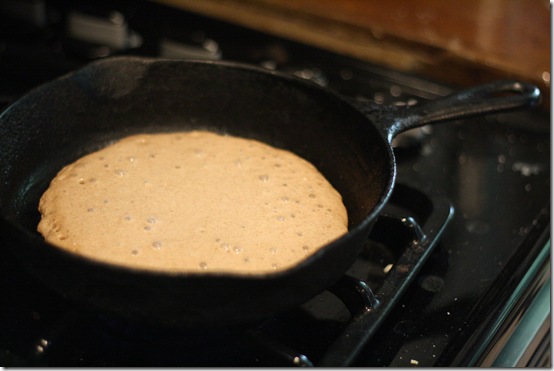 after all the bubbles had popped (that is when you know it's time to flip the flapjack) i grabbed a spatula and tried to flip—um, yeah, tried.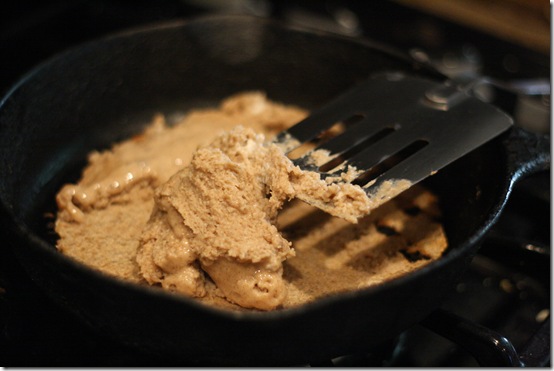 failed. what?!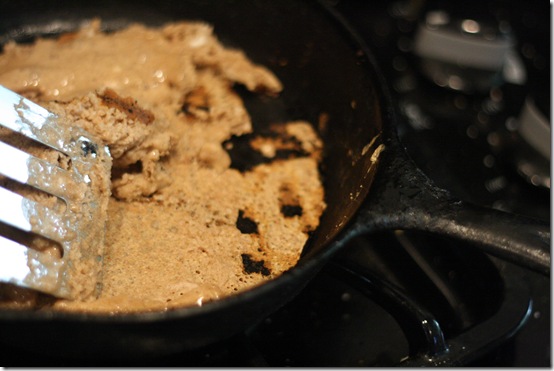 the pancake was STUCK to the skillet. it was a total mess. i don't know what i did wrong! i greased the skillet, i cooked it long enough before flipping, yet still—foiled.
by this time, it was almost time to leave for work. so much for getting up early to enjoy a leisure breakfast, right? i resorted to plan C, which was an egg white sandwich. that is one thing i knew for sure i wouldn't screw up. although, i'd never had a pancake disaster before, so i wouldn't put it past me to not screw up the sandwich.
i grabbed a smaller skillet and cooked three egg whites to perfection. they didn't stick. they didn't fall apart. thank goodness—if they had, i might have had a serious breakfast breakdown!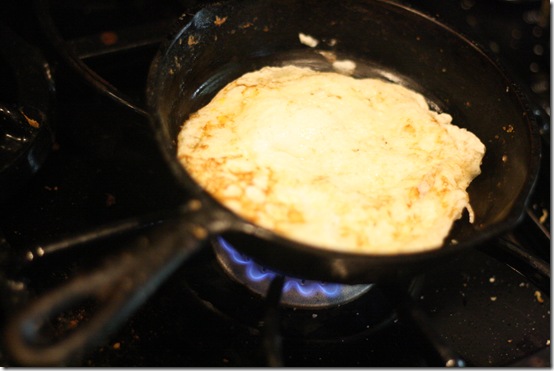 i toasted a whole wheat bagel thin, topped it with a wedge of laughing cow cheese, piled my perfect egg whites on top and added some ketchup.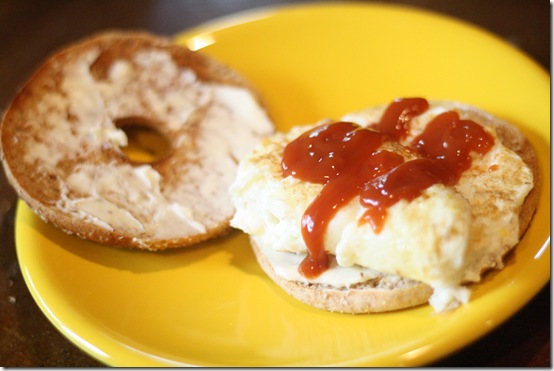 finally, an edible breakfast.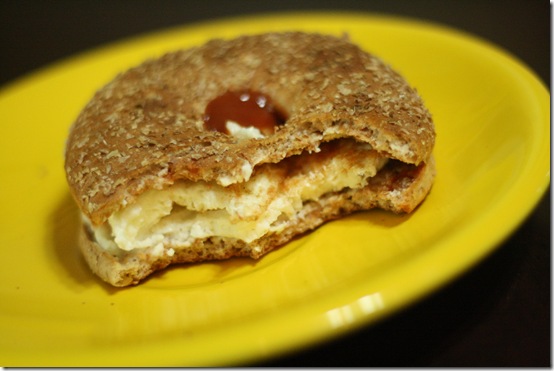 which, by the way, i had to eat the majority of in the car.. since i was late for work.
i was annoyed at first, but let's face it–shit happens! i was already laughing by the time i got to my office.
but i still really want a waffle.
Qs~
1. any kitchen mishaps to share with the class? i am notorious for dropping whole containers of things on the kitchen floor: jar of pickles (smelly), costco-sized container of blueberries (huge pain to clean up), entire vitamix full of protein shake (uhh..)—just call me butterfingers!
2. waffles or pancakes? i am NOT picky. i like them both so much! but if i had to pick, i'd say waffles because i love how they crisp up so nicely on the outside and, because of their structure, you get some bites that are thicker than others.
xo. janetha g.
p.s. i have a great recipe to share! i have been slammed lately and haven't had time to type it up. stay tuned!