something really strange happened today. absolutely, positively, downright weird.
i ran a 10k on the treadmill.
you guys know me. i hate running. i think it sucks.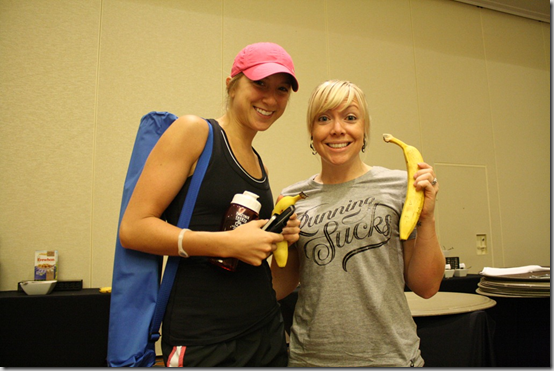 loud and proud, folks.
you may ask what exactly compelled me to hop on the treadmill and run the longest distance of my life today. yes—it was technically the longest distance of my life since i went 10.02k and my previous longest distance was 10k.
my motivation sprung from a combination of not working out since last thursday and the harsh realization that my 10k mud run obstacle course race thingamajig is now less than a month away. yikes.
i started out with a typical HIIT routine and the first 5k went like this:
5 minutes @ 6 mph
1 min @ 6.5 mph
1 min @ 7 mph
1 min @ 7.5 mph
1 min @ 8 mph
1 min @ 8.5 mph
repeat above sequence until hitting 5k
i paused the treadmill and filled up my contigo water bottle. i ramped it up to just a 0.5% incline for the second half of my run.
the second half was a little slower. it went something like this:
1 min @ 4 mph
1 min @ 6 mph
1 min @ 6.2 mph
1 min @ 6.4 mph
1 min @ 6.6 mph
1 min @ 6.8 mph
1 min @ 7 mph
1 min @ 7.5 mph
1 min @ 8 mph
1 min @ 8.5 mph
repeat similar sequence until hitting 10k (total)
so, as you can see, i did have a few slower minutes at 4 mph pace, but for the most part i was jogging or running. the total 10k took 57 minutes.  oh, and i was wearing my vibrams.. so i went from running 5k in them the last time i wore them to running10k today. hope i can walk tomorrow…
not gonna lie, i am pretty dang proud of myself. sure, running sucks, but after the run is over? the feeling is awesome!
i had my girl power playlist blaring in my ears the whole time i was plugging along on the treadmill. okay, okay, i didn't really make a "girl power playlist"—but i realized that EVERY band on my iPod shuffle at the moment has a girl lead singer!
since the tunes i was listening today played a big part in helping me hit that 10k mark, i thought i would share my favorite bands that have leading ladies.
oh.. and be prepared to read about musicians some of you may not have heard of or listened to. i run to a different tune than the typical treadmiller.
[source]
this swedish band is by FAR my favorite band to see live. i have a giant girl crush on maja, the lead singer of the sounds. not only does her voice rock, her quads do, too. i have even met her in person, which was basically the best ever. maja's performance on stage rivals the quality of the music itself.
favorite songs to run to: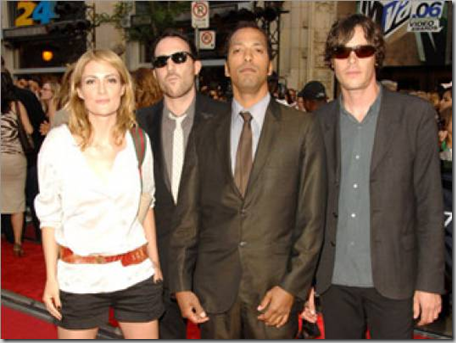 [source]
this canadian band is fronted by the incredible emily haines. metric rivals minus the bear as my favorite band! i have never had the pleasure to see the band perform live, but they happen to be at the very top of my list of "bands i want to see live." yes, there is a list. and unless metric decides to tour the states, i won't be seeing them soon. (i am not allowed into canada.)
favorite songs to run to: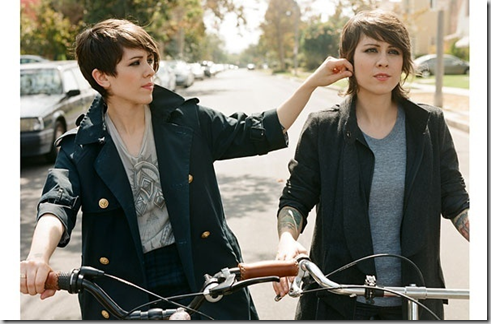 [source]
ah! i have missed their live show any and every time they have toured in utah. mark my words, i WILL see them the next time they are here. tegan & sara are identical twins.. their parents must have been doing something right since they made not one, but TWO amazing artists.  they write all their own music, play their own instruments and sing their own songs. they have been churning albums out since the nineties and are still going strong. yep, quite the duo.
favorite songs to run to: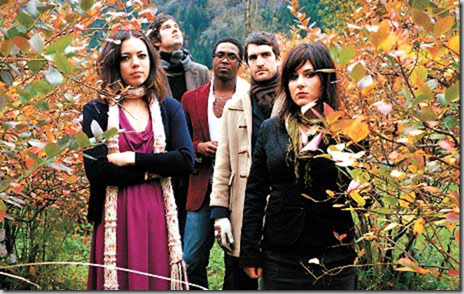 [source]
this band is no longer a band, but the songs that they recorded in the short six years they were together are all fantastic. i usually listen to PGMG while snowboarding, but have recently added some of their tunes to my running rotation and love it!
favorite songs to run to: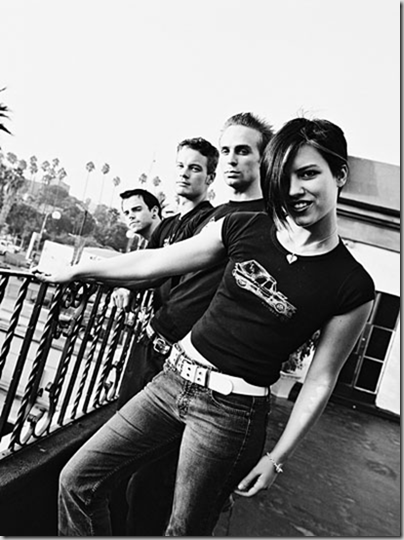 [source]
another great band that is no longer a band. these guys were around from '98-'05 and they made a lot of great music.  it's funny that the majority of the bands i am listing are mostly men with a strong leading lady for vocals. this band wouldn't have won my heart if it weren't for emily whitehurst's incredible voice.
favorite songs to run to:
*************************************
and that, friends, is the music that got me through my workout today.
you may notice that there is no britney spears, beyonce or lady gaga. yeah–i guess i don't listen to the typical mainstream music. in fact, whenever i read a playlist post from another blogger, i rarely know the songs they list (aside from the two susans!) but the ladies listed above are all incredibly talented and deserve some recognition.
hope you have had the chance to enjoy one or all of these bands before—and if not, give them a listen. you might find something new that you love!
Q~
who are some of your favorite leading ladies in music land?
xo. janetha g.